Trump: I Was Being 'Sarcastic' When I Called Obama A Founder Of ISIS
Donald Trump's strange relationship with reality continues to come to light,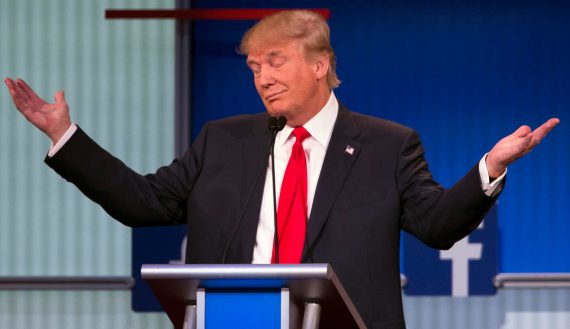 After two days of doubling down on the absurd comment that President Obama was a "Founder" of ISIS and insisting that he was absolutely serious when he made it, Donald Trump is now claiming that he was being "sarcastic":
Donald J. Trump tried to quash the latest controversy engulfing his campaign on Friday by claiming that he was not serious when he insisted on multiple occasions this week that President Obama and Hillary Clinton were the "founders" of the Islamic State terrorist group — an allegation that amounts to treason

The clarification raised new questions about the Republican presidential nominee's ability to communicate clearly to the American public. It also put his surrogates, who have strained to defend him during a tumultuous stretch, in the awkward position of having to explain remarks that he might not mean.

After making the suggestion at a rally on Wednesday night, Mr. Trump doubled down on the assertion on Thursday, insisting in interviews that he really did intend to say that the president and Mrs. Clinton created ISIS. But in an early-morning Twitter post, Mr. Trump said that he was just being sarcastic.

The turnabout was a reversal from just a day ago, when Mr. Trump said in a number of interviews that he was indeed serious about the charge. When the conservative radio host Hugh Hewitt tried to help Mr. Trump soften the remark by reminding him that Mr. Obama wants to destroy ISIS, the Republican presidential nominee would not have it.

"No, I meant he's the founder of ISIS. I do," Mr. Trump said. "He was the most valuable player. I give him the most valuable player award. I give her, too, by the way, Hillary Clinton."

(….)

Mr. Trump has used the sarcasm defense before. In late July, after he drew widespread criticism by appearing to suggest that the Russians should hack Mrs. Clinton's emails, he later explained his remarks by saying, "Of course I'm being sarcastic." The approach allows Mr. Trump to push the limits of political speech and dial it back as needed.
"I think it's a pattern of him testing certain messages that resonate with his fans, seeing how they play, and then 'clarifying' one way or another depending on the reaction," said Ruth Sherman, a communications expert who has been monitoring the language used by both candidates. "But I also think he's clever about his statements and knows they are vague enough to be filtered through various lenses."

Instead of toning things down for a general election audience, Mr. Trump has taken an even more caustic tone in recent days as his poll numbers have continued to tumble. A new NBC/Wall Street Journal/Marist poll released on Friday showed Mr. Trump trailing Mrs. Clinton by large margins in North Carolina, Virginia and Colorado and locked in a tight race in Florida.

While Mr. Trump generally tries to avoid apologizing for provocative things that he says, he often accuses his critics of misconstruing his words or misunderstanding his sense of humor. But as he faces heightened scrutiny during the final months of the presidential campaign, Mr. Trump's jokes have put his loyal allies in the uncomfortable position of having to publicly stand up for him no matter how provocative his remarks.

Rudolph W. Giuliani, the former New York City mayor who is one of Mr. Trump's most prominent surrogates, went to great lengths to defend the candidate in an interview with CNN on Thursday.

"I think what he's saying there is legitimate, political commentary," Mr. Giuliani said when questioned about the veracity of Mr. Trump's assertion about Mr. Obama and Mrs. Clinton having founded ISIS. "It is true in a sense that before Obama, ISIS was an almost unknown, small little organization, he who called it the jayvee, totally wrong, and here's why it happened, because he withdrew the truce from Iraq."

Most mainstream Republicans try to argue that the Obama administration, in which Mrs. Clinton served as secretary of state, allowed ISIS to fester by failing to aggressively manage the situation in the Middle East. Mr. Trump appeared to insinuate that they were actually in cahoots.

Ahead of rallies in Pennsylvania on Friday, Mr. Trump continued to lash out on Twitter at the news media for harping on his every word and for being biased against him. He mocked the "poor, pathetic" television pundits who try to figure him out and said, "They can't!".
This is, of course, part of a continuing problem when it comes Donald Trump. It's almost impossible to tell when he's being serious and when he's simply engaging in what the business community refers to as "sales talk" that is designed primarily to boost the reputation of a business or product and often plays fast and loose with things such as truth and reality. For example, after months of taking the position that he had proposed a complete ban on Muslim immigration to the United States, Trump now claims that he really meant a temporary ban on immigration from parts of the world known to have terrorist affiliations and problems with active terror cells even though there is news video of him specifically calling for a ban on all Muslims entering the country for a specifically period of time. On immigration, he has wavered back and forth between calls for the deportation of all immigrants who are in the United State illegally and claiming that he really wouldn't deport everyone and that most of the people who are here illegally would be allowed to stay as long as they follow some specific steps, a position not unlike the one contained in the immigration bill passed by the Senate in 2013. He's made comments about his intentions with regard to foreign policy that vacillate between all-out war against ISIS and suggesting that the U.S. essentially withdraw from the Middle East and let the Russians take care of ISIS. And, he's gone from suggesting that we ought to abandon the NATO alliance to proclaiming that Russia was able to take over Crimea because President Obama didn't stand up to Vladimir Putin. He has, in other words, the habit of taking completely opposing positions depending on nothing more than his whim and saying outrageous and controversial things and then claiming that the reaction to what he said is the media's fault because they didn't understand that he was being sarcastic.
Philip Bump gets it right in his analysis:
It's a nonsense excuse. Why Trump decided at this late hour that the comment needed excusing isn't clear. Of all of his various verbal transgressions, this one doesn't seem significantly more detrimental to his campaign than his past comments. Is it related to this upcoming meeting between his campaign and Republican Party leaders? Was it an attempt to, for some reason, keep the subject in the news for yet another day? Who knows?

Stuart Stevens, who worked on the presidential campaigns of George W. Bush and Mitt Romney, makes an excellent point: The only metric on which Clinton and Trump are tied is on how much time each has until polls close. Trump's comment means that he's spent another 24 hours of fewer than 90 days until the election litigating a point that doesn't seem like it will do much to close the gap between him and his Democratic opponent.

We do know why he did it, though. It was very clear in the moment that he hammered the point at that rally because he enjoyed the reaction. Saying Obama created the Islamic State formed a nice little feedback loop of applause.

It wasn't sarcastic. It also wasn't satire. It was Trump wanting and getting attention, a process he has mastered. That doesn't make the statement true or insightful — and it doesn't seem to have done much to smooth his path to the presidency.
That's really what a lot of this is about, of course. Donald Trump has been enjoying this run for the Presidency immensely not merely because, at least until now, he has been winning and that he spent the winter and spring vanquishing sixteen Republicans notwithstanding the fact that nobody thought he could it. He's also enjoying it because it gives him an opportunity to spout off in speeches and say ridiculous things that get hugely positive receptions from the adoring crowd that comes to hear him speak. It's all about stroking his ego, and as long as it continues he'll continue acting this way. The problem is that Trump is now engaged in more than just an ego trip. He is the nominee of the Republican Party for President of the United States, and there is at least some chance that he could become President himself. In that position, there's very little room for the kind of vacillation and sarcasm that marks Trump's rhetoric today. On the international stage, for example, misspoken words can lead to diplomatic consequences that can create huge problems between nations. Additionally, it's usually quite important that allies and opposing nations understand what an  American President is saying quite clearly lest a misinterpretation lead to problems down the road. Trump has displayed no evidence that he possesses either the discipline or the diplomatic skills necessary to accomplish this task, and more importantly the kind of rhetoric he often engages in poses the danger of creating problems around the world.
Perhaps Trump really was being 'sarcastic' in his initial comments, but not only didn't it appear that he was but he specifically denied that this was so on at least two occasions over the past two days. Now that the negative backlash to those comments is clear, Trump is engaging in what might be called the Emily Litella defense. The only problem is there is no "Never Mind" when you're President.
Update: Now Trump says that maybe he wasn't being sarcastic:
Trump on Obama as ISIS founder… "Obviously, I'm being sarcastic, but not that sarcastic to be honest."

— Domenico Montanaro (@DomenicoNPR) August 12, 2016
You can't make this stuff up folks.