ISIS Gaining Ground . . . But We've Stopped Their Momentum!
ISIS owns more territory than it did when the US bombing campaign began.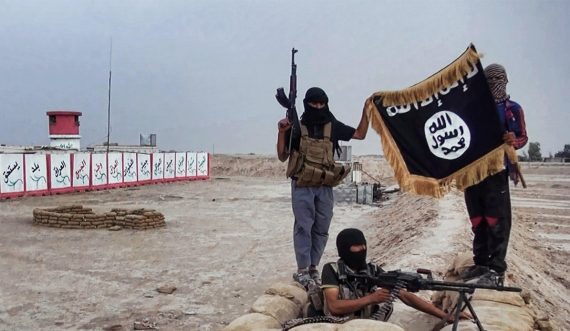 A Pentagon official says ISIS "has gained some ground. But we've stopped their momentum." That would seem a non sequitur.
The Daily Beast ("Exclusive: ISIS Gaining Ground in Syria, Despite U.S. Strikes"):
ISIS continues to gain substantial ground in Syria, despite nearly 800 airstrikes in the American-led campaign to break its grip there.

At least one-third of the country's territory is now under ISIS influence, with recent gains in rural areas that can serve as a conduit to major cities that the so-called Islamic State hopes to eventually claim as part of its caliphate. Meanwhile, the Islamic extremist group does not appear to have suffered any major ground losses since the strikes began. The result is a net ground gain for ISIS, according to information compiled by two groups with on-the-ground sources.

In Syria, ISIS "has not any lost any key terrain," Jennifer Cafarella, a fellow at the Washington, D.C.-based Institute for the Study of War who studies the Syrian conflict, explained to The Daily Beast.

Even U.S. military officials privately conceded to The Daily Beast that ISIS has gained ground in some areas, even as the Pentagon claims its seized territory elsewhere, largely around the northern city of Kobani. That's been the focus of the U.S.-led campaign, and ISIS has not been able to take the town, despite its best efforts.

Other than that, they are short on specifics.

"Yes, they have gained some ground. But we have stopped their momentum," one Pentagon official told The Daily Beast.

A map developed by the Coalition for a Democratic Syria (CDS), a Syrian-American opposition umbrella group, shows that ISIS has nearly doubled the amount of territory it controls since airstrikes began last year.

"Assessing the map, ISIS has almost doubled its territorial control in Syria. But more importantly, the number of people who now live under ISIS control has also increased substantially," CDS political adviser Mouaz Moustafa said.

With the fall of that much territory into ISIS hands, Syrians who once lived in ungoverned or rebel held areas are now under ISIS's grip. Of course, in an irregular war like this one, control of people is far more important than control of territory. In that regard, too, things appear to be going in the wrong direction.
As Dave Schuler comments, "Reports of the containment of ISIS have been greatly exaggerated." Certainly, if our stated goal of defeating and destroying ISIS is our actual goal, we're failing. But maybe we're really just worried about ISIS in Iraq and are happy to let the war in Syria play out?
In its public comments, the U.S. military has said repeatedly the effort against ISIS is on the right track. However it often does this by conflating its war in Iraq and Syria. Ask a question about what is happening in Syria, and U.S. officials will stress that ISIS has not gained ground in Iraq. Ask if the U.S. effort is working in Syria, and the military often points to the fact that ISIS has failed to take control of Kobani.

During a Jan. 6 press briefing, for example, when a reporter asked "where ISIS's relative strength is right now," Navy Rear Adm. John Kirby replied by talking exclusively about the U.S. effort in Iraq, naming cities were the military believed ISIS's momentum has been "halted."

When the reporter pressed for an answer on what was happening in Syria, Kirby struggled, saying, "I couldn't give you a—a specific point at which, you know, we believe, well geez, we've halted their momentum. It—it's come slowly, in various stages. But I think it's safe to say that over the last three to four weeks, we—we've been confident that that momentum has largely been blunted."

On Friday, Kirby proclaimed that ISIS had lost 700 square kilometers since the campaign began—over half the size of New York City or about four times the size of the District of Columbia. But the Pentagon spokesman could not say what percentage that area marked of total ISIS-controlled land. Nor could he say if that loss was in Iraq, Syria, or combined in both nations. As Kirby asserted: "I'm frankly not sure how relevant that is. I mean, it's—they have less ground now than they did before. They're trying to defend what ground that they have. They're not going on the offense much, and they're really trying to preserve their own oxygen."
In terms of Syria, that's simply not right: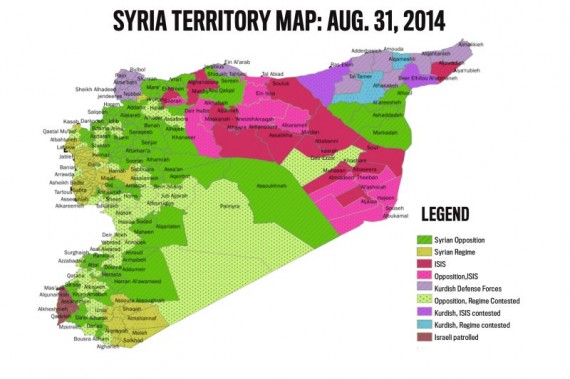 But maybe Syria isn't the the focus? Indeed, the article hints at that deep into the discussion:
The U.S. military stressed it is waging an "Iraq first" war, that is focused on eliminating ISIS from that country first. There, the U.S. can turn to Iraqi troops on the ground to assess its efforts. But there is no equivalent resource on the ground in Syria. Perhaps because of that, the U.S. military has offered a far more detailed assessment of the air campaign in Iraq than the one in Syria.
Interestingly, the greatest threat to ISIS right now isn't military at all:
The American military has not been able to take full advantage of the difficulties ISIS is facing. A worldwide drop in oil prices threatens the recently declared state's ability to raise revenue, while declining standards in public services, distribution of aid, and provision of electricity threaten to undercut the group's support across the territories it controls. ISIS has also not been able to follow through on its military quest to challenge the Iraqi government all the way to Baghdad.
It's not obvious to me that the US military needs to "take advantage" of the situation in the near term. ISIS could well wither of its own ineptitude if its funds dry up.
I've frequently described our policy here as "being on both sides of the Syrian civil war," a clearly untenable position. But we may be largely ignoring Syria and just concentrating on preventing the collapse of Iraq.