Trump To Order Withdrawal of American Troops From Syria
The Trump Administration is reportedly preparing to withdraw the small contingent of American troops from Syria. If it actually happens, this would be a good move.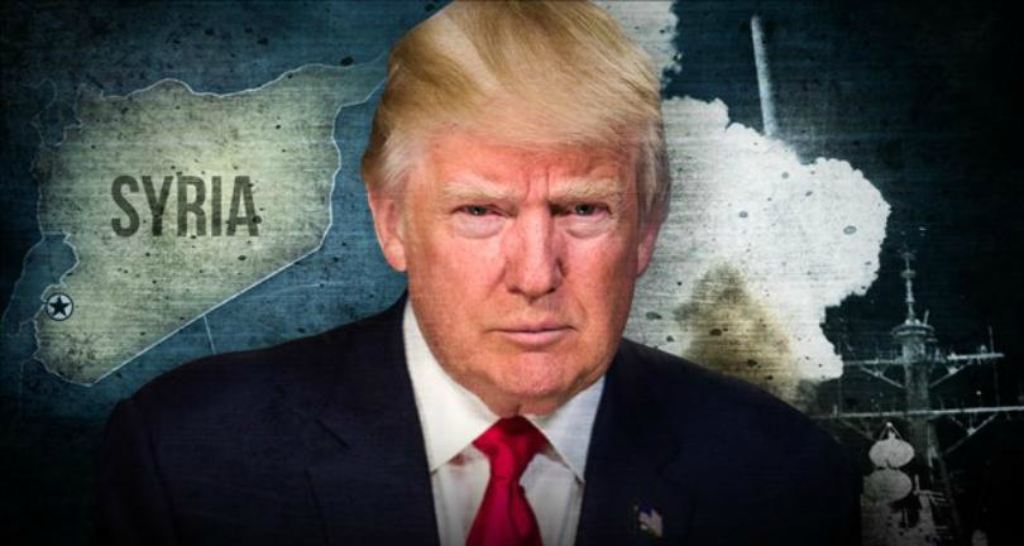 The Trump Administration is reportedly considering withdrawing all American troops from Syria after President Trump declared victory over ISIS:
WASHINGTON — President Trump is considering pulling 2,000 United States ground troops out of Syria in a move that would seek to describe the four-year American-led war against the Islamic State as largely won, officials said Wednesday.

"We have defeated ISIS in Syria, my only reason for being there during the Trump Presidency," the president said in a Twitter post on Wednesday morning. He offered no details on his plans for the military mission in Syria.

Sarah Huckabee Sanders, the White House press secretary, said in a statement that "we have started returning United States troops home as we transition to the next phase of this campaign." It was not clear if that was part of a full withdrawal of American forces from Syria, as the Trump administration is debating.

But Pentagon officials were still trying to talk the president out of the decision early Wednesday morning, arguing that such a move would betray Kurdish allies who have fought alongside American troops in Syria and who could find themselves under attack in a military offensive now threatened by Turkey.

"At this time, we continue to work by, with and through our partners in the region," Col. Rob Manning, a Pentagon spokesman, said in a short statement on Wednesday morning.

One official said the withdrawal of troops would be phased out over several weeks and that the American-led airstrike campaign against the Islamic State in Syria, which began in 2014, would continue. That official said the military hoped to rely on Kurdish fighters on the ground to help with targeting.

In a series of meetings and conference calls over the past several days, Defense Secretary Jim Mattis and other senior national security officials have tried to dissuade Mr. Trump from a wholesale troop withdrawal, arguing that such a significant national security policy shift would essentially cede foreign influence in Syria to Russia and Iran at a time when American policy calls for challenging both countries.

Abandoning the American-backed Kurdish allies, Pentagon officials have argued, will hamper future efforts by the United States to gain the trust of local fighters, from Afghanistan to Yemen to Somalia.

In addition, the Islamic State has not been full vanquished from the small territory it controls on the Syrian-Iraqi border. The Islamic State has held that territory for more than a year in the face of attacks by American-allied forces, and has used it as a launching pad to carry out attacks in Iraq and Syria.

But Mr. Trump promised during his presidential campaign to withdraw American troops from Syria, and has been looking for a way out since. He reluctantly agreed in April to give the Defense Department more time to finish the mission.

In recent days, President Recep Tayyip Erdogan of Turkey has given Mr. Trump just such a possible path: Mr. Erdogan has vowed to launch a new offensive against the Kurdish troops that the United States has equipped to fight the Islamic State in Iraq and Syria.

As the debate over withdrawing from Syria was raging inside the White House over recent days, Mr. Trump argued that the risk of a Turkish incursion could be a threat to the United States forces in Syria, officials said, although Mr. Erdogan would likely face huge reprisals if Turkish troops killed or wounded any Americans.

One possibility under discussion, officials said, was a phased withdrawal of American troops. But Mr. Trump, the officials said, seems to prefer pulling out all forces as soon as possible.
More from The Washington Post, which describes the move as one that would take place "immediately":
The Trump administration is planning to pull all U.S. troops out of Syria, a defense official said on Wednesday, as President Trump declared victory against the Islamic State.

The president, in a message on Twitter, said the United States had "defeated ISIS in Syria, my only reason for being there during the Trump Presidency."

His statement came shortly after news organizations reported that the White House had made a decision on Tuesday to abruptly remove the entire U.S. force of more than 2,000 troops from Syria and end the extended American ground campaign against the Islamic State.

Trump has long promised to conclude the campaign against the Islamic State, also known as ISIS, and has questioned the value of costly and dangerous military missions overseas. But U.S. troops, working alongside Syrian partner forces, have struggled to eradicate remaining pockets of militants in central Syria. An abrupt American withdrawal would raise questions about whether the militants would be more easily able to regain strength.

The decision is the latest twist in American leaders' unsuccessful quest to craft a solution for Syria's long civil conflict, which has drawn in U.S. allies and adversaries including Turkey, Russia and Iran.

Both the Trump and Obama administrations have resisted becoming more involved in Syria's larger civil war but many senior officials – including at the State Department and Pentagon – have supported an ongoing troop presence in Syria until security conditions improve and a political solution can be reached.

Defense officials, speaking on condition of anonymity to discuss a decision that has not yet been announced, said the withdrawal was expected to occur as quickly as possible and would affect the entire force of more than 2,000 U.S. service members. The Wall Street Journal first reported on Wednesday that U.S. troops would be removed from northeast Syria.
Generally speaking, I have been skeptical of the American mission in Syria so this seems to me to be a positive development. While it may be true that ISIS has not been completely obliterated, it has been reduced in power by a significant degree, although that is largely thanks to a combination of Iraqi forces attacking ISIS positions in that country and the aforementioned Syrian Kurdish forces. Additionally, one cannot discount the role that the Russian presence in Syria has played in the decline in ISIS's power, even though it's obvious that Russia's primary concern is and always has been providing support to the government of Bashar Assad. The American involvement, meanwhile, has largely consisted of a training and support mission that, given how successful the offensive over the past three years or so, would appear to be no longer necessary. To the extent the United States has contributed to the success of the mission against ISIS, it hasn't been through the relatively meager ground forces that would now be withdrawn but through an air-based campaign that has helped to soften and destroy ISIS defenses around the cities that it once controlled. In addition to this, the biggest danger of an American presence in Syria has always been the possibility that we would end up getting swept up into the broader civil war that continues to rage between the Assad government in Syria and rebels that include not only the Kurds and our so-called "moderate" Syrian allies but also more radical elements that seek to replace the government in Damascus with something akin to a radicalized state not unlike the one that ISIS itself tried to create in parts of Iraq and Syria. Taking all of this into account, the decision to withdraw troops at this time seems to me to be a step in the right direction.
Not surprisingly, this decision isn't sitting well with some of the more hawkish elements on Capitol Hill. Consider this, for example, from Senator Lindsey Graham, who took to Twitter to voice his opposition:
Withdrawal of this small American force in Syria would be a huge Obama-like mistake. https://t.co/atsjHUyJlB

— Lindsey Graham (@LindseyGrahamSC) December 19, 2018
With all due respect, ISIS is not defeated in Syria, Iraq, and after just returning from visiting there — certainly not Afghanistan.

— Lindsey Graham (@LindseyGrahamSC) December 19, 2018
President @realDonaldTrump is right to want to contain Iranian expansion.

However, withdrawal of our forces in Syria mightily undercuts that effort and put our allies, the Kurds at risk.

— Lindsey Graham (@LindseyGrahamSC) December 19, 2018
A decision to withdraw will also be viewed as a boost to ISIS desire to come back.

— Lindsey Graham (@LindseyGrahamSC) December 19, 2018
If in fact we are withdrawing our military forces from northeastern Syria, it is imperative we remove all American diplomats and aide workers ASAP. https://t.co/9Frox5QzY7

— Lindsey Graham (@LindseyGrahamSC) December 19, 2018
There will be much resentment and feeling of abandonment that will be directed toward American personnel.

The confusion surrounding our Syria policy is making life much more difficult and dangerous for Americans in the region.

— Lindsey Graham (@LindseyGrahamSC) December 19, 2018
Graham's response is, of course, entirely predictable, and entirely wrong. The idea that the fight against ISIS, to the extent that it still exists, will be drastically impacted by the removal of roughly 2,000 American ground forces is too absurd to be believed. To the extent that these forces made a difference, it was, as I said, in a support and training role that is arguably no longer necessary given that the forces actually doing most of the ground fighting seems to be doing just fine on their own. At this point, the most that keeping American forces in Syria was accomplishing was to allow these forces to serve as a target for terrorists and opportunists seeking to draw the United States further into a civil war in Syria that shows no sign of nearing an end. Additionally, as I noted above, the United States will continue its air campaign against ISIS targets as appropriate. Finally, it's worth noting that this decision doesn't have any impact on the status of the larger contingent of American forces across the border in Iraq, which appears to be where the fight against what is left of ISIS appears to be concentrated. As always, the devil is in the details when it comes to these decisions but this actually appears to be the right decision on the President's part notwithstanding the fact that Defense Secretary Mattis and others are advising against it.
Daniel Larison, meanwhile, is supportive but skeptical:
If this is true and if it actually happens, it will be the first smart thing that the Trump administration has done on foreign policy in two years. Trump has made noises about withdrawal before, and they have amounted to nothing. Administration officials have spent the better part of this year insisting that U.S. forces were remaining in Syria indefinitely, so I will believe that the withdrawal is happening once it is finished.

(…)

The U.S. military presence in Syria is illegal and was never authorized at any point over the last four years. Removing that presence from a country where we have no business being and where we have no interests at stake is long overdue. I hope that U.S. forces are finally extricated from a war that they should never have been involved in, but I'm not holding my breath that it will happen.
As Larison notes, Trump has proven himself to be mercurial and subject to changing his mind in these situations, so until this withdrawal actually happens his skepticism is warranted. He's also correct that the Syrian intervention itself is and always has been illegal given the fact that there has been no Congressional authorization for the mission and no effort by either the Trump or Obama Administration to even present the matter to Congress for debate. In the past, the Obama and Trump Administrations have argued that their actions were and are authorized by what is, to say the least, a very generous legal interpretation, of the Authorization for Use of Military Force that authorized the Afghan War aimed at al Qaeda and the AUMF that authorized the Iraq War. This argument relied on the argument that ISIS was in some sense an offshoot of al Qaeda in that it had originated as part of Al Qaeda in Iraq, which didn't manifest itself until after the 2003 American invasion and the toppling of the regime of Saddam Hussein. Because of this, the argument goes, the fight against ISIS is part of the so-called "War On Terror" that began in October 2001. The Obama White House also took the position that the AUMF authorizing the Iraq War provided further legal justification for military action against ISIS due to the connections between ISIS and that war. Both of these arguments were, to put it generously, a stretch. Given that, ending what is clearly a deployment not authorized by the law would be a good thing. Like Larison, though, I'll believe it when I see it.