Unless Congress Steps In To Authorize It, The President's War Against ISIS Is Illegal
As things stand right now, there is no legitimate legal authorization for the President's war against ISIS, and that's largely because Congress has failed to act.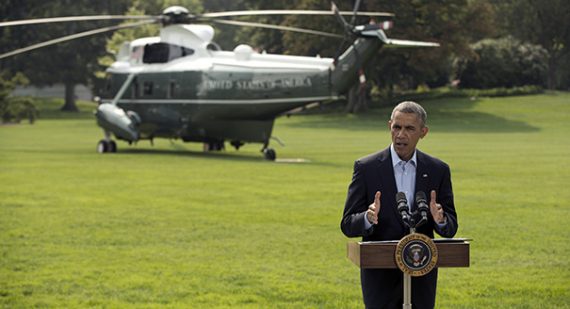 In testimony earlier this week before a Congressional Committee, Chairman of the Joint Chiefs of Staff General Martin Dempsey said that he could not rule out recommending to the President that the United States send ground troops to fight alongside Iraqi forces in the war against ISIS in Iraq:
President Obama's top military adviser said Thursday that he would consider deploying a limited number of United States forces to accompany Iraqi troops on complex offensive operations to retake Mosul and other areas under control of Sunni militants.

Gen. Martin E. Dempsey, the chairman of the Joint Chiefs of Staff, told the House Armed Services Committee that Iraqi troops — who initially fled under the onslaught of Islamic State militants — are now doing a better job of standing and fighting. But he added that he could not foreclose the possibility that as operations against the Sunni militants move into more complex phases of clearing out cities and other areas by the Islamic State, American troops might have to help their Iraqi counterparts.

"I'm not predicting at this point that I would recommend that those forces in Mosul and along the border would need to be accompanied by U.S. forces, but we're certainly considering it," General Dempsey said. Defense officials said that American Joint Tactical Attack Controllers could be used to call in airstrikes from tactical positions on the ground, most likely behind Iraqi forces. The tactical attack controllers often deploy in positions like hills and other high terrain so they can see operations and call in strikes.

General Dempsey did say that he did not anticipate expanding the American military presence in Iraq beyond what he called a modest force. "I just don't foresee a circumstance when it would be in our interest to take this fight on ourselves with a large military contingent," he said.

(…)

The congressional testimony on Thursday underscored the challenge facing Mr. Obama as he continues to insist to a war-weary public that the United States is not returning to ground combat in Iraq. He has maintained that American ground troops will not be used, even as his generals have increasingly hinted that there may not be a way to defeat the Sunni militant group without at least some American forces, particularly to call in airstrikes.
The Los Angeles Times has more details:
Hagel said more than $3.4 billion would support U.S. military operations, while $1.6 billion would help pay for training and equipping Iraqi forces. The remaining money would go to the State Department.

Hagel said that Iraq's military, which was routed by the militants earlier this year, won't be an effective fighting force unless it has more support from the new central government in Baghdad.

The United States will withhold some money until the Iraqi government and coalition partners provide at least $600 million of their own, he said.

"The Iraqi government must invest in its own security and its own future," Hagel said. "We cannot ensure a stable Iraq. The Iraqi people are going to have to do that themselves."

The United States has shipped more than $685 million in equipment and supplies to Iraq in the current campaign, he said. The lethal equipment includes grenades, small arms, tank ammunition and air-to-ground Hellfire missiles.

Defense hawks on the committee pressed the pair for stronger action.

"The Iraqi government must invest in its own security and its own future," Hagel said. "We cannot ensure a stable Iraq. The Iraqi people are going to have to do that themselves."

The United States has shipped more than $685 million in equipment and supplies to Iraq in the current campaign, he said. The lethal equipment includes grenades, small arms, tank ammunition and air-to-ground Hellfire missiles.

Defense hawks on the committee pressed the pair for stronger action.
As I've said before, the fact that people like Dempsey and Hagel are acknowledging that they are not ruling out certain recommendations to the President is, in and of itself, not surprising, shocking, nor particularly newsworthy. After all, their jobs are supposed to be to provide the President with the alternatives available to him based on the circumstances that the nation faces on the ground in the given conflict. To consciously decide that they are not going to recommend something to the President — even in a case where the President has explicitly stated that he doesn't want to consider that course of action — would arguably constitute dereliction of duty on their part. Ultimately, the decision about what course of action to follow belongs with the President, and it seems important that he have before him all the conceivable options before he does so, especially when it comes to something as consequential as committing, or not committing, American military forces to combat under circumstances that, in all likelihood, would set forces in motion that will lead to more American forces being required to commit the original task.
That being said, and as I've said before when General Dempsey and Army Chief of Staff Ray Ordinero have made similar comments about the commitment of American ground forces to this conflict, even in an initially limited role, the fact that these possibilities are obviously being actively considered raises real concerns about the cavalier attitude that the Administration has displayed toward consulting with Congress about the path forward and the need for Congressional authorization to do so. To date, the Administration continues to rely upon the argument that the Authorization for the Use of Military Force that was passed by Congress in the wake of the September 11th attacks is sufficient legal basis for them to proceed forward with the President's war against ISIS without seeking further authorization. This argument, however, relies largely on the fact that ISIS, which used to be called Al Qaeda in Iraq, is an "al Qaeda off-shoot," and therefore that actions against this group are covered by the the AUMF's general authorization to proceed against those responsible for the attacks, and anyone affiliated with them. While perhaps technically true, this argument ignores the fact that there has not been any kind of direct connection between al Qaeda and ISIS for years now, and that the groups in fact consider each other to be rivals at this point. Given those facts, the idea that Congressional action taken thirteen years ago in response to an attack on American soil by a specific group authorizes the ever expanding war against ISIS rests on the most tenuous, and difficult to accept, of legal threads.
For the most part, Congress seems to be ignoring its Constitutional responsibility to weigh in on the President's war against ISIS, but there are some signs that this may be changing. Kentucky Senator Rand Paul, for example, argued in The Daily Beast this week that, at present, the war against ISIS is illegal:
Yale Professor Bruce Ackerman puts it succinctly: "The war against the Islamic State is now illegal. The War Powers Resolution of 1973 gave President Obama 60 days to gain consent from Congress and required him to end 'hostilities' within 30 days if he failed to do so. This 90-day clock expired this week." And yet, there's been no consent, and no end to the fighting.

I believe the president must come to Congress to begin a war. I also believe the War Powers Act is misunderstood; President Obama acted without true constitutional authority even before the 90 days expired, since we were not under attack at that time.

But in either case, this war is now illegal. It must be declared and made valid, or it must be ended.

Congress has a duty to act, one way or the other.
Virginia Senator Tim Kaine, a Democrat, agrees although he focuses more on the AUMF issue than the War Powers Act:
Sen. Tim Kaine said Wednesday there's no legal authority for the current U.S. mission against ISIS in Iraq and Syria.

"We have been engaged in a war — that is not about imminent defense of the United States — without legal authority," the Virginia Democrat said at the Wilson Center on Wednesday, ahead of a panel discussion on the legal authority for military intervention, moderated by CNN's Jim Sciutto.

The mission is not covered by either the wording or intent of the 2001 and 2002 authorizations for use of military force as the White House argues, Kaine said, adding that such an argument is "ridiculous" and inconsistent with President Barack Obama's previously stated interpretation of the AUMF.

Kaine, a member of the Senate Foreign Relations Committee, has proposed a new, limited authorization, specifically targeted to the current mission against ISIS. "We should deal with it right away," he said, stressing that it could be accomplished in the lame-duck session in Congress.

He's also calling for changes to the War Powers Resolution that will result in a "better process" for war authorization.

In a statement last week, Kaine said he was "encouraged" by Obama's recent willingness to work with Congress on a new authorization, but also "troubled by suggestions today that Congress should wait until the new Congressional session in 2015 to take this vote."

"We have already asked too many U.S. service members to risk their lives without a political consensus behind this mission," he added.\
Kaine and Paul are, of course, absolutely correct. Under the timetable set forth in the War Power Act, the President is now well beyond the authority that law grants him, and, as I note above, the argument that the 2001 AUMF somehow authorizes the present operation in Iraq quite simply has no merit. Of course, given the way that these matters actually work, that is only half the battle. The War Powers Act is not self-enforcing, and no Court is going to step in to enjoin a President from proceeding forward in a situation like this. The ball is, in the end, in Congress's court. As has been the case in the past, most notably with the President's decision to bypass Congress entirely during the war in Libya, Congress can either ignore this matter entirely and continue to authorize the Pentagon's budget requests without any real debate about American strategy going forward in Iraq and Syria, or it can have a debate about the matter and put forward an authorization for the membership of both chambers to vote on. Preferably, this is an authorization that would be thoroughly debate and voted on by the new Congress when it convenes in January, because it strikes me as improper for a Congress made up of people who are retiring or who were defeated in their re-election bids to be making a decision of this sort. Of course, there could have been a debate and vote before the election, but neither party, and neither chamber of Congress was willing to stick their neck out and take responsibility for the duty the Constitution has conferred upon them. Until that happens, though, the Presidents war is going to continue unchecked. And the only body responsible for that unacceptable development is Congress itself.