Republicans Blocking Hagel Nomination, For Now
For the moment, Republicans appear to be blocking Chuck Hagel's nomination to be Secretary of Defense but they don't seem to know why they're doing it.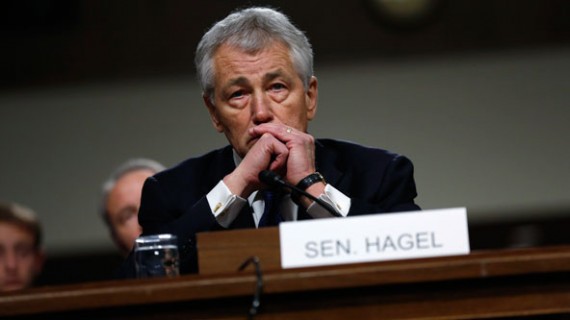 As they have been threatening all along, Senate Republicans are moving to block the nomination of former Senator Chuck Hagel to be Defense Secretary, and it's not entirely because of issues surrounding the Hagel nomination itself:
WASHINGTON — Leading Senate Republicans say that without new information from the White House, they will try to block the confirmation of Chuck Hagel, President Obama's nominee to be secretary of defense, setting up a showdown vote on Friday.

While Democrats had hoped that Mr. Hagel could clear the Senate by the end of the week, several Republican senators have now indicated they will not support an effort to end the debate and take a final vote on his nomination, leaving Republicans mounting what appears to be the first filibuster in history against a Pentagon secretary — a post usually filled with strong bipartisan support.

Mr. Hagel, a former Republican senator from Nebraska and decorated Vietnam veteran, had earlier appeared to have at least the 60 votes required to break a Republican filibuster. But Senator John McCain of Arizona and other Republicans who had said they might oppose Mr. Hagel but would not back a filibuster now say they will not support ending debate until they receive more detailed answers to questions about the administration's response to the attack on the American Consulate in Benghazi, Libya.

Specifically, a group of Republican senators including Mr. McCain and Lindsey Graham of South Carolina, have asked the president whether he spoke with anyone in the Libyan government to request assistance during the attack. They say they have not yet received an answer to the questions, which are not directly related to Mr. Hagel.

The White House strongly condemned Republican efforts to stall the vote, saying they were sending the wrong signal to the world. "We urge the Republicans in the Senate to drop their delay," Josh Earnest, a spokesman for the president, told reporters aboard Air Force One. "There is a clear majority in the United States Senate for Senator Hagel's confirmation. These delaying tactics are unconscionable, and they should end right away."

With Democrats controlling 55 of the Senate's 100 seats and a few Republicans saying they will back Mr. Hagel for the post, he appears to have the support to win confirmation if he can surmount the Republican procedural tactics. The current Pentagon secretary, Leon E. Panetta, is preparing to vacate his post imminently. A vote on the Democratic effort to end debate is set for Friday morning. With some Republicans remaining silent, it is still possible that Mr. Hagel will get the 60 necessary to cut off debate.

Senator Harry Reid of Nevada, the Democratic majority leader, took to the floor on Thursday to denounce Republicans for trying to use the confirmation process for political gain and accused them of undermining the nation's national security.

"This isn't a high school getting ready for a football game," Mr. Reid said. "We're trying to confirm somebody to run the defenses of our country, the military of our country."

He added: "For the sake of our national security, we need to put aside this political theater, and that's what it is. People are worried about primary elections. We know how the Tea Party goes after election when they aren't conservative enough. Is that something they need to have on their résumé? I filibustered one of the president's nominees? Is that what they want?"
Previously, there had been indications that there were enough Republicans willing to invoke cloture to allow the Democrats to get to their 60 vote margin quite easily, but that seems to have fallen apart. John McCain had previously stated he would not support a filibuster, but has not joined Lindsey Graham in vowing to delay the vote until the White House responds to additional questions regarding what happened during the September 11, 2012 raid on the U.S. Consulate in Benghazi. Additionally, Senator Roy Blunt, who had also said he would not support a filibuster and has objected in the past to the idea of setting a precedent with the Hagel nomination, is now hinting that he may be waffling by saying that failure to vote on Hagel this week would be a mere "delay," although it would be a delay of at least two weeks since the Senate is scheduled to go into recess after Friday. As of this moment, then, there are three Republicans who we know will vote to invoke cloture — Susan Collins, Mike Johanns, and Thad Cochran — which leaves Reid two votes short of the 60 he would need to get the nomination through tomorrow. As of the moment, both Politico and ABC News are reporting that Democratic insiders are saying that they do not believe that they have the votes to win tomorrow morning.
So, at least temporarily, the GOP seems to have the ability to delay the Hagel nomination but, as Daniel Larison notes, they are not exactly conducting themselves like statesmen while doing so:
The impressive thing about the anti-Hagel effort is how politically tone-deaf it is. It's not just that their opposition is misguided, but they stand to gain nothing from it. No one outside of a small core of hard-liners sympathizes with what Senate Republicans are doing. While they may not be losing any votes over this, they are making sure that all of the moderates, independents, and realists that they have alienated over the last ten years will keep running away from them. Except for dedicated partisans, no one can look at the display most Senate Republicans have put on over the last eight weeks and conclude that these people should be in the majority.

Many of Hagel's most vocal Senate critics right now were elected in the last two elections. For example, Cruz, Ayotte, and Lee have nothing personally at stake in defending the Iraq war or the wisdom of the "surge." None of them voted to support either of these, and many of them weren't in the Senate when Hagel was. I might be able to understand the hostility of older members that bear a grudge against Hagel, but the hostility of the new members is much stranger. They are damaging their reputations to defend the legacy of other Republicans' failures. Partisan loyalty I can understand. It's the attachment to the worst mistakes of the worst postwar Republican administration that I can't fathom.
Kevin Drum is similarly confused about what the GOP motives actually are here, and I have to admit I'm in the same boat. It seems rather clear at this point that the GOP is opposing Hagel largely because he stands against the neo-conservatism that has been the status quo foreign policy in the party, and as a mechanism for attempting to curry favor with those for whom blind loyalty to Israel is a political requirement. If they actually believed what they say about Hagel's competence, then one wonders why they'd oppose him at all. After all, if Hagel is defeated Obama would just nominate someone else, perhaps someone that would be even more of a problem for the GOP. What will they have won at that point?
For his own part, Hagel is making it clear that he's not withdrawing and there's absolutely no sign that the White House or Senate Democrats are giving up on the nomination. What's unclear, though, is whether or not they'll be able to get a vote in without delaying things. CNN Congressional Correspondent Dana Bash is reporting on Twitter that there are talks taking place regarding a deal that would delay the nomination, presumably until after the upcoming recess, but would then require only a 51-vote majority to get Hagel's nomination through, essentially eliminating the need to invoke cloture. If this deal is done, then Hagel's confirmation will be secured, albeit delayed, and this pointless Republican escapade will be at an end. What they think they will have accomplished I don't understand.