Conservative News Consumers Again Surprised By Obvious
The Hagel confirmation, like Obama's election, was big news to some avid news consumers.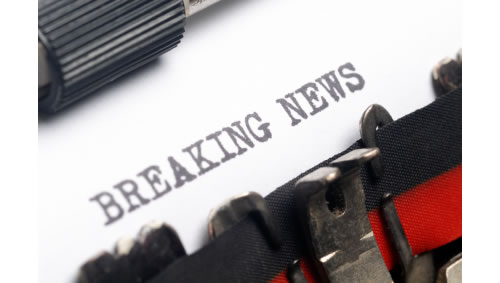 Many Americans who get their news exclusively from conservative outlets, my own mother among them, were truly shocked when Barack Obama was re-elected last November, despite every reputable poll for months predicting that outcome. Now, it seems, quite a few conservatives were shocked by the inevitable confirmation of Chuck Hagel as defense secretary yesterday.
Conor Friedersdorf ("Behold Movement Conservatism's Information Disadvantage: Chuck Hagel Edition"):
When Chuck Hagel was confirmed Tuesday as the secretary of defense, garnering 58 Senate votes from 52 Democrats, four Republicans, and two independents, most political observers were unsurprised. President Obama began this process with a comfortable Democratic majority in the Senate. The executive branch is generally afforded wide latitude in its cabinet selections. As Dan Drezner argued in a January 18 piece in Foreign Policy, "The moment Chuck Schumer endorsed Hagel's selection, this ballgame was over. No Senate election two years from now will hinge on this confirmation vote because — just to remind everyone for the nth time – voters don't care about international relations." By January 28, Roll Call was reporting that so far, "Senate Majority Whip Richard J. Durbin said that he has not counted a single Democratic 'no' vote on the question of whether former Nebraska Sen. Chuck Hagel should be confirmed as Defense secretary."

As January ended, Daniel Larison was declaring the anti-Hagel campaign failed, explaining in The Week that "despite the concerted efforts of a few outside Republican interest groups and a steady stream of hostile coverage from conservative media outlets, Hagel has received the public support of numerous former national security officials, diplomats, and retired military officers, as well as securing endorsements from several senators even before his hearing began." It appeared that, at the very worst, Hagel would go through with unanimous support from Democrats, and the presumption from the very beginning that he'd be confirmed would be vindicated.

But Americans who get their news from anti-Hagel conservatives discovered Tuesday that much of the analysis they've long been fed on this subject left them as misinformed about the likely course of events as they were about Mitt Romney's prospects for victory during Election 2012. Of course, a single nomination battle isn't nearly so consequential as a presidential election. This is nevertheless another reminder for the rank-and-file on the right: Demand better from the journalists whose work you patronize, or remain at an information disadvantage relative to consumers of a "mainstream media" that is regularly outperforming conservative journalists.

During the election, Jennifer Rubin of the Washington Post was the the quintessential example of a conservative writer letting what she wanted to happen affect her take on what was happening. Sadly, she did her readers the same disservice in the Hagel fight. Her opposition to the former Nebraska senator is grounded in earnest disagreement with his approach to foreign policy. She is a hawkish neoconservative in the model of Bill Kristol. Hagel is not. That she constantly argued against his confirmation is fine.
Rubin was by far the most egregious offender, cranking out more than one hundred anti-Hagel screeds on the blog that the Washington Post inexplicably allows to continue staining their masthead. Most of the examples Friedersdorf cites, in fairness, were from early enough in the process that it was at least plausible that Hagel wouldn't be confirmed. (In full disclosure, I predicted in early January that Hagel would still be chairman of the Atlantic Council, where I work, at the end of the year. My rationale was that President Obama would be too feckless to nominate him given that it would require a modest fight. I was happily wrong.)
But, yes, confirmation was all but a done deal when Shumer came out in favor. Moreover, even those Republicans holding out for a filibuster should have understood well in advance of yesterday's vote that the end was coming. As I tweeted the afternoon of February 14, when Harry Reid's bid to invoke cloture on a hold placed by Jim Inhofe failed, it was obviously a Pyrrhic victory:
Dear Twitter:This is a silly hissy fit by Senate Republicans. They'll vote for cloture next week, just like they said they will.

— James Joyner (@DrJJoyner) February 14, 2013
How did I know that? Simple: Several Senate Republicans, among them John McCain and Lindsay Graham, had repeatedly gone on the public record saying that they would allow a vote when the Senate returned from its recess. They were willing to back their colleague in his little stunt, ostensibly over Benghazi stonewalling by the administration, but not to set the precedent that a president's cabinet pick could be defeated by a filibuster.
But Rubin and many others with prominent perches in the conservative media establishment, especially at the Weekly Standard and National Review Online, continued to embarrass themselves by putting out wildly wishful nonsense under the mantle of analysis up to the final day. As Friedersdorf observes,
Once again, the conservative media, where non-conservative journalists are constantly maligned, has been thoroughly outperformed on this metric: Who best equipped readers to anticipate the outcome that actually happened? That isn't the only important metric in journalism, or even the most important, but failing at it so spectacularly surely demands some introspection.
Alas, there has thus far been little evidence of fallout. Yes, Fox News' audience has taken a big hit, but that's almost certainly a function of diminished enthusiasm for politics in the wake of Obama's easy win rather than ire at the network. Fox' audience isn't moving in droves to CNN, much less MSNBC; they're just not tuning in at the moment.
I expect partisan media outlets to be partisan. But it's one thing to be overly skeptical of the claims being made by one's opponents and overly deferential to those made by those on your team; it's quite another to simply ignore the facts on the ground.
Beyond being bad journalism and doing a woeful disservice to their readers/viewers, this facts be damned approach is damaging to the country. Tens of millions of people being led to expect something that the evidence in its totality showed was in fact damned unlikely to happen are going to have one of two reactions.
First, they could figure out that they're being lied to and no longer trust those sources. The problem with that is that those same sources have poisoned the well as to the other sources. The non-bubble media is a leftist plot to turn America into Roosha, if not France.
Second, and therefore more likely, is they'll sense a conspiracy. That is, Obama didn't win because he was fairly popular in the parts of the country that happened to contain the most people while Mitt Romney was largely thought to be a dishonest buffoon with no principles and unattractive policies. No, the election was stolen somehow.
Similarly, Hagel wasn't confirmed simply because the democratically elected Democratic president has a comfortable majority in the body that confirms defense secretaries. No, it's because Senate Republicans lacked "Simple wherewithal," AIPAC didn't love Israel enough to "oppose Hagel publicly," and no Democrat is "responsible on national security." Moreover, "Only one party considers national security serious enough to place it  above loyalty to the White House."
This mindset is poisonous. But apparently it generates enough pageviews that the Washington Post is willing to give it a platform.