Hagel Will Be Confirmed, But The Hagel Battle Tells Us Much About The GOP
Chuck Hagel will be confirmed, but the campaign against him tells us much about the current state of Republican foreign policy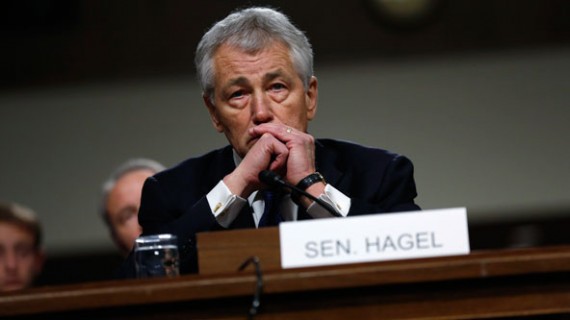 There's no word yet on when the Senate Armed Services Committee will be voting on the nomination of Chuck Hagel to be Secretary of Defense, but it appears quite certain that he will ultimately be confirmed by the Senate:
Washington (CNN) – CNN has learned there are now at least five Republican senators who would oppose a filibuster of former Sen. Chuck Hagel to be secretary of defense, all but ensuring the embattled nominee will be confirmed in the coming days.

According to a CNN survey of senators, the five are Thad Cochran of Mississippi and Mike Johanns of Nebraska -who both support Hagel taking over the top post at the Pentagon – and John McCain of Arizona, Richard Burr of North Carolina, and Tom Coburn of Oklahoma – who all oppose Hagel's nomination but also disagree with blocking it by filibuster.

At least four other Republican senators – Susan Collins of Maine, Lisa Murkowski of Alaska, Dean Heller of Nevada and Roy Blunt of Missouri – have said they are not inclined to back a filibuster but haven't made a final decision.

While no Republican senator has said definitively he or she will filibuster Hagel, several have suggested they might, including the two senators from Texas, Ted Cruz and John Cornyn who is the second-ranking Senate Republican.

If a filibuster were launched, it would take 60 votes to cut it off. There are 53 Democrats in the Senate plus two independents who regularly vote with them. So the additional five Republicans would provide the votes needed to break a filibuster.

Democratic aides tell CNN they expect no defections from their side.
I've seen reports that indicate that Collins and Blunt have been more forceful in their comments about a filibuster, and I doubt that Murkowski will be one who is likely to support taking the extraordinary step of filibustering a Presidential cabinet appointment rather than going to a vote on the merits. To my knowledge, that's something that's never happened before and I doubt it's going to happen this time. At the same time, though, we're likely to see a higher number of "no" votes than usually seen for a Cabinet nomination, especially one of a former Senator. Daniel Larison estimates about 20 Republicans voting "no," which I think is likely close to what we'll see in the end, and makes this observation:
Even if all of the remaining Republicans voted to confirm, that would still mean that nearly half of the Senators from Hagel's own party are voting the other way. It isn't surprising when the president's opposition votes in large numbers against a nominee from the president's party, but in this case Republicans are going out of their way to repudiate one of their own mostly because he is not enough of a jingoist and saber-rattler. Hagel will almost certainly be confirmed, but along the way Senate Republicans are confirming everyone else's worst fears about their foreign policy views.
While Hagel's performance at the hearing was less than ideal to say the least, it remains nonetheless true that the Republican members of the Armed Services Committee walked into that hearing last week already opposed to Hagel and on a mission to either undermine his nomination or, most likely, to use the hearing as an opportunity to score political points with their respective constituent groups. John McCain, for example, used the hearing to re-fight the battles of the Iraq War and the Surge in what one can only be described as a bizarre attempt to burnish his own legacy rather than ask any relevant questions. Senator Ted Cruz used his time to question Hagel based on things he said in the past, but didn't bother tell his fellow committee members that he misrepresented what Hagel said, not just once, but twice. Moreover, there was more time spent in the hearing talking about Israel than their was talking about Afghanistan, the Drone Wars, the upcoming defense sequestration cuts, issues regarding future force structure, the size of the Navy, or any of the other myriad of issues that the next Secretary of Defense. Of all the questioners, I've got to say that the one who seemed to actually ask the most relevant questions was Maine's Independent, Angus King, who asked Hagel about how he'd approach managing an entity as large as the Department of Defense in an era where we'll be winding down from yet another war and preparing for different challenges in the future.
In the end, the incoherent Republican opposition to Hagel is yet another symptom of what's wrong with foreign policy in the Republican Party today. Realism, which has historically played a large role in foreign policy in Republican Administrations going back to Eisenhower, Nixon, Reagan, and Bush 41, has been replaced with some bizarre version of the neoconservatism and support for preemptive war that was a hallmark of the Bush 43 Administration. Even after eight years in which it was proven that these ideas were an utter failure when put into practice, Republicans continue to hold onto them as if they are gospel, ignoring the realism that used to represent the party's message and of which Hagel is a failure good representation of its modern form. Add into that the fact that the "War On Terror" has caused an almost paranoid fear of anything Muslim to grip the right, and the fact that it now appears that the only acceptable views on the Middle East are those which involve sycophantic support of the right wing of Israeli politics. Hagel represents views that stand opposed to all of that, and that's why Republicans are so vehemently opposed to him. In the end, they'd do better to listen to what he has to say, though.