Obama Must Be Honest About The Possibility Of American Ground Troops In His War Against ISIS
President Obama is still insisting that his war against ISIS will not require American ground troops. He's not being honest with the American people.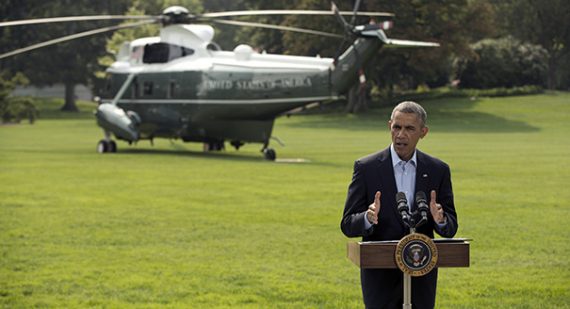 As I noted yesterday, Chairman of the Joint Chiefs of Staff Martin Dempsey raised some eyebrows he he stated that he would not rule out the use of American troops in a combat role in operations against ISIS in Iraq or, potentially, Syria notwithstanding the fact that the President and several members of the Administration have been repeating for weeks that there would be no American ground troops involved in the fight against ISIS. Today, the Army Chief of Staff essentially repeated Dempsey's comments during a visit to Germany:
WIESBADEN, Germany — The United States general who beat back Islamic extremists in Iraq in 2007 suggested on Wednesday that the battle against Islamic State jihadis would only succeed with the use of ground forces.

Speaking a day after his commander, Gen. Martin E. Dempsey, the chairman of the Joint Chiefs of Staff, told the Senate Armed Services Committee that American ground troops might be needed in Iraq, Gen. Ray Odierno was careful not to specify that those ground troops had to be American. But he made clear that success would be dependent on the presence of forces from all of Iraq's sectarian groups.

Airstrikes have halted the advance of the Islamic State, also known by the acronyms ISIS or ISIL, General Odierno, now the Army chief of staff, told journalists from four news organizations, including The New York Times, in what aides said were his first public comments on the current situation in Iraq. Ultimately, though, "you've got to have ground forces that are capable of going in and rooting them out," he said, referring to the Islamic extremists.

The airstrikes "will not be the end all and be all solution in Iraq," he said. Similarly, he added, the jihadis cannot be allowed to have a safe haven across the border in Syria.
Later in the day, though, after a meeting at Central Command in Tampa, President Obama was singing a far different tune from two of his top military advisers:
TAMPA, Fla. — President Obama on Wednesday repeated his vow to destroy Islamist terrorists in Syria and Iraq, but he insisted that the United States would not go it alone and promised a military audience that he would not send them back into direct combat.

"Whether in Iraq or in Syria, these terrorists will learn the same thing that the leaders of Al Qaeda already know: We mean what we say," Mr. Obama said at MacDill Air Force Base. "We've always known that the end of the war in Afghanistan didn't mean the end of threats or challenges to America."

But Mr. Obama also hailed the official end of America's combat mission in Afghanistan at the end of the year and said he was not starting another extensive war in the Middle East. He said the American troops currently in Iraq — they will soon number 1,600 — were not there to fight on the ground.

"The American forces that have been deployed to Iraq do not and will not have a combat mission," he said. "I will not commit you and the rest of our armed forces to fighting another ground war in Iraq."

Mr. Obama was at the base to meet with his top military commanders at United States Central Command, which oversees military operations in the Middle East, and his national security team, including Defense Secretary Chuck Hagel. A week ago the president told the nation that he was expanding the American military campaign against the extremists of the Islamic State, known as ISIS or ISIL.

Afterward Mr. Obama told servicemembers in a packed gym on the base that the United States had a unique responsibility and capability to lead the world in attacking the extremists, also known as ISIS.

But he vowed that "we are not going to do this alone" and said that more than 40 countries had offered to help the United States in assisting Iraqis and rebels in Syria to fight against the terrorists. He did not give any new information about which countries might provide ground troops in Iraq or Syria, but he said America's military partners would include a "broad coalition of countries that have a stake in this fight."

(…)

Mr. Obama's comments at the base came just a day after Gen. Martin E. Dempsey, the chairman of the Joint Chiefs of Staff and the president's top military adviser, generated headlines when he said that he might eventually recommend deploying ground troops in Syria if airstrikes were not sufficient to defeat the Islamic State extremists.

Aides later said that despite General Dempsey's comments to a committee on Capitol Hill, Mr. Obama would not deploy combat forces on the ground in Iraq or Syria. They said Mr. Dempsey was merely describing contingency plans that the military is responsible for developing as operations in the region move forward.
As I noted yesterday, there is a difference between the comments that Generals Dempsey and Odierno  made and the President's oft-repeated statements that American troops deployed to Iraq would not have a "combat role." The Generals are in some sense simply stating the fact that they would not rule out any ccontingenciesin making recommendations to the President and, as I said yesterday, that's exactly what they ought to be doing. At the same time, though, there is something at least slightly disingenuous between an Administration whose top military advisers are stating explicitly and repeatedly that we cannot rule out the possibility of a combat role for American troops and a President who is in fact ruling them out. Obviously, if this is what Dempsey and Odierno  are stating publicly, one in a Congressional hearing and the other in response to reporters questions, then we can be assured that they and other military advisers are saying this and more to the President and his advisers in private. Given that, I would suggest that the President isn't being entirely honest when he rules out the possibility that American forces will need to become involved in combat when it's obvious that his own Generals are telling him that such a possibility cannot be ruled out under the current plan. Indeed, Odierno's comments that airstrikes on their own will not be enough to accomplish the President's mission in Iraq would seem to suggest that the possibility of widening our military commitment beyond what the President outlined last Wednesday is already being actively considered. If that's the case, then the President owes it to the American people to be honest about that fact before they get behind his strategy against ISIS which, in all honesty, has not been very clearly articulated to begin with and appears to rely on an international coalition that has yet to take shape and "moderate" Syrian rebels that don't seem very trustworthy.
Another point worth bringing up is one that General Dempsey hit on in his testimony yesterday in response to a question about what the role of the American forces, on the ground and in the air were actually involved in at this point. Dempsey stated that, from his point of view at least, there were already American forces engaged in a Iraq in a combat role, specifically the airmen who have been attacking ISIS targets for the last two months. In that sense, then the idea that Americans aren't already involved in combat is really nothing more than a fiction that the Obama Administration is maintaining because the political costs of acknowledging that we may well be headed down the road of another American ground war in Iraq is more than the President and his political party want to bear at the moment. Regardless of the political cost, though, the President is committing the nation to what his own advisers are admitting is likely to be a mission that will last years, most likely into the term of the next President. Given that, he has an obligation to be honest with the American people about what that commitment could amount to as we get further sucked into this conflict. Anything less means that he isn't doing his job, and that he will likely pay a political price down the road if he finds it necessary to go back on the promise he has made to the American people, a promise that his own advisers seem to be admitting he likely won't be able to keep.