Obama's Anti-ISIS Coalition Seems To Exist Only In His Mind
Despite the President's assurances of an international coalition, the rest of the world doesn't seem all that interested in joining the fight.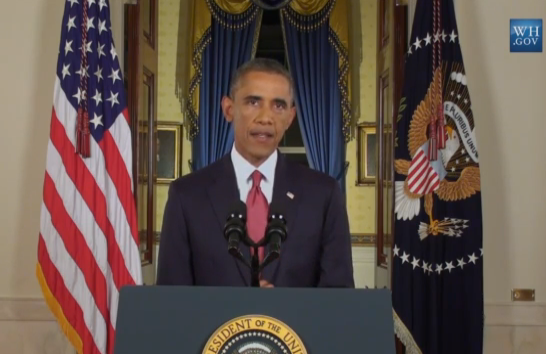 In his speech on Wednesday night, President Obama emphasized yet again that American military involvement in the fight against ISIS would be limited to airstrikes and providing material support for others who would be doing the actual ground fighting against a terrorist organization that has looked more and more like an army as the summer has passed. This would be made possible, he assured us then and Administration officials have assured Americans in subsequent comments on countless news programs, thanks to the cooperation and material assistance that would be provided by the coalition that the President intends to assemble to fight this new threat. Though nothing specific has been announced, this supposed coalition has been said to include everyone from Britain and other NATO allies to Iraq, Saudi Arabia, the Gulf States, Jordan, and Egypt. Left off the list, for obvious reasons, are nations such as the Islamic Republic of Iran, which has been as vehement as the President in its denunciation of ISIS, and the Assad regime in Syria, which is fighting a civil war against ISIS and other rebel organizations. Thanks to this coalition, we are being told, the United States will not need to worry about putting "boots on the ground," although that statement largely ignores the fact that there would inevitable be special forces and other troops that would be on the ground in Iraq and Syria to provide training and to act as surveillance and scouting for air strikes.
As it turns out, though, that coalition isn't coming together as easily as the Administration would like it to:
Many Arab governments grumbled quietly in 2011 as the United States left Iraq, fearful it might fall deeper into chaos or Iranian influence. Now, the United States is back and getting a less than enthusiastic welcome, with leading allies like Egypt, Jordan and Turkey all finding ways on Thursday to avoid specific commitments to President Obama's expanded military campaign against Sunni extremists.

As the prospect of the first American strikes inside Syria crackled through the region, the mixed reactions underscored the challenges of a new military intervention in the Middle East, where 13 years of chaos, from Sept. 11 through the Arab Spring revolts, have deepened political and sectarian divisions and increased mistrust of the United States on all sides.

"As a student of terrorism for the last 30 years, I am afraid of that formula of 'supporting the American effort,' " said Diaa Rashwan, a scholar at the Al-Ahram Center for Political and Strategic Studies, a government-funded policy organization in Cairo. "It is very dangerous."

The tepid support could further complicate the already complex task Mr. Obama has laid out for himself in fighting the extremist Islamic State in Iraq and Syria: He must try to confront the group without aiding Syria's president, Bashar al-Assad, or appearing to side with Mr. Assad's Shiite allies, Iran and the militant group Hezbollah, against discontented Sunnis across the Arab world.

(…)

The foreign minister of Egypt — already at odds with Mr. Obama over the American decision to withhold some aid after the Egyptian military's ouster last year of the elected president — complained that Egypt's hands were full with its own fight against "terrorism," referring to the Islamist opposition.

In Jordan, the state news agency reported that in a meeting about the extremists on Wednesday, King Abdullah II had told Secretary of State John Kerry "that the Palestinian cause remains the core of the conflict in the region" and that Jordan was focusing on the reconstruction of the Gaza Strip.

Turkey, which Mr. Kerry will visit on Friday, is concerned about attacks across its long border with ISIS-controlled Syria, and also about 49 Turkish government employees captured by the group in Iraq. Speaking on the condition of anonymity to discuss internal deliberations, an official advised not to expect public support for the American effort.

At a meeting in Jidda, Saudi Arabia, to build a coalition for the American mission, at least 10 Arab states signed a communiqué pledging to join "in the many aspects of a coordinated military campaign," but with the qualification "as appropriate" and without any specifics. Turkey attended the meeting but declined to sign.
The early prospects for this coalition that seems to exist only in President Obama's mind at the moment seem to have been brought even further into doubt with the announcement today that Turkey would not allow the United States to use its territory to attack ISIS:
Turkey will refuse to allow a U.S.-led coalition to attack jihadists in neighboring Iraq and Syria from its air bases, nor will it take part in combat operations against militants, a government official told AFP Thursday.

"Turkey will not be involved in any armed operation but will entirely concentrate on humanitarian operations," the official said on condition of anonymity.

The decision echoes the country's refusal to allow the U.S. to station 60,000 troops in Turkey in 2003 to invade Iraq from the north, which triggered a crisis between the two allies.

(…)

After a lightning advance, ISIS militants now control swathes of Iraq and much of northern Syria along the Turkish border.

Turkey now sees itself a victim of ISIS with Islamist militants holding 49 Turks hostage, including diplomats and children, abducted from the Turkish consulate in Mosul in Iraq on June 11.

Ankara is therefore reluctant to take a stronger role in the coalition against ISIS militants in apparent fear of aggravating the hostage situation.

"Our hands and arms are tied because of the hostages," the official told AFP.

Turkey can open Incirlik Air Base in the south for logistical and humanitarian operations in any U.S.-led operation, according to the official who stressed that the base would not be used for lethal air strikes.

"Turkey will not take part in any combat mission, nor supply weapons," he said.
Even some of our supposedly most dependable European allies are choosing to limit their involvement:
The foreign ministers of Germany and Britain said on Thursday they would not be taking part in air strikes in Syria against the Islamic State militant group.

German Foreign Minister Frank-Walter Steinmeier told a news conference in Berlin that Germany has not been asked to take part in the air strikes and would not be participating. "To quite clear, we have not been asked to do so and neither will we do so," Steinmeier said.

His British counterpart Philip Hammond said Britain "supports entirely the U.S. approach of developing an international coalition" against the Islamic State, whom he described as "barbaric", and said that in terms of how to help such a coalition "we have ruled nothing out".

But, asked by Reuters after his meeting with Steinmeier about President Barrack Obama's proposal for air strikes against IS in Syria, Hammond replied: "Let me be clear: Britain will not be taking part in any air strikes in Syria. We have already had that discussion in our parliament last year and we won't be revisiting that position."
As Marc Eisner notes, it is somewhat puzzling why the President would announce a plan that is heavily dependent on the existence of an international coalition before there are even the barest of indications that such a coalition can be formed. It's true that we have at least some level of support from the members of NATO, but as even President Obama admitted in his speech on Wednesday, no fight against ISIS can succeed without the support and involvement of the nations in the Middle East that are most threatened by the rise of this nascent nation state. More importantly, this kind of coalition would seem to be crucial to the President's ability to be able to keep his promise that American combat troops would not be sent back into Iraq, or into Syria or anywhere else that this fight against ISIS, which we seem to be committed to now for better or for worse, might bring us. Without that support, then the United States is likely to find itself faced at some point in the future with the choice of either accepting the fact that our "war" against ISIS will be a limited one, and that ISIS will likely be able to consolidate the gains it has made on the ground in Iraq and Syria, or introducing American ground troops into the war. For obvious political reasons, the President would like to avoid having to make this choice at all, but he may find himself forced into it if the coalition that he envisions ends up being a coalition of one.
The other point that the reluctance of other nations to join the fight brings up, of course, is whether the United States should even be engaging in this conflict if the people that are most directly impacted by it are not willing to do their share. As I noted before the President's speech, the most immediate threat that ISIS poses is to the regimes in the region, not just Iraq and Syria, but also Lebanon and, potentially, Jordan and Saudi Arabia. They are more likely to be interested in striking at Riyadh than they are Washington, D.C. at the moment. Given that, one would think that these nations would be the ones most strongly motivated to defend themselves. If they aren't willing to do so, though, then perhaps we need to ask ourselves why we are expending American blood, treasure, and international credibility on their behalf.