Before We Go To War Against ISIS, We Need To Answer Some Questions
If the President is going to increase American involvement in the Middle East, he needs to address some fundamental questions first.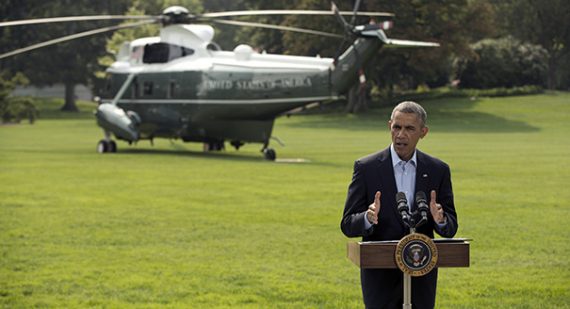 Tonight, the President will address the nation in prime time regarding the future course of American military actions against the Islamic State in light of its military advancements in Iraq, it's attacks on religious minorities in both nations, and its recent beheading of western journalist with the threat the more would follow. Given the fact that this is a prime time speech, we can anticipate that the President will be announcing some kind of significant escalation in American attacks on IS and, indeed, today The New York Times and other news outlets are reporting that the President is "ready" to authorize expansion of the air campaign in to Syria, although it's unclear whether he will be announcing such airstrikes tonight. In any case, however, it does appear that we are headed for a major expansion of American involvement in Iraq and, before long, Syria, in response to the supposed threat that IS poses to American national interests.
Before we head down that road, though, David Ignatius has some questions that probably ought to be answered:
● What's the exit strategy? As Obama begins his effort to "degrade and ultimately destroy" the Islamic State, his aides told the New York Times the campaign could take three years. How will the United States and its allies know when they have "won"? Or will this be more like the Cold War, a decades-long ideological battle punctuated by periods of intense local combat? If so, are the American people ready for such a long and patient struggle?

● If Obama is serious about using U.S. military power against the Islamic State, why has he initially been so tentative? Militarily, a sudden, sharp attack makes more sense than a drizzle of airstrikes. There may be sound political reasons for the cautious U.S. approach, to force countries in the region to step up and make commitments themselves, but this goes against military logic.

● The United States may begin with the limited goal of helping allies fight the Islamic State, but what if the campaign goes badly, or it spreads more widely to Pakistan and Saudi Arabia, or the U.S. homeland is hit in retaliation? We may plan a restrained campaign, but the enemy gets a vote. Won't the United States inevitably have to escalate if it seems to be losing?

● What about the jihadists' haven in Syria? The United States learned in Vietnam and Afghanistan that it's almost impossible to stop an insurgency that maintains a strong logistical base across a protected border. If the United States intends to strike targets in Syria eventually, how does it avoid becoming the air force of Syrian President Bashar al-Assad?
In all of the reading that I have done on this burgeoning conflict in the past several months, and all of the commentary we've seen about it from talking heads, Members of Congress, foreign policy analysts, and Administration officials on the various news programs that seem to crowd the television schedule, I can't say that I have seem very many coherent answers given to these or any of the other questions that Ignatius poses in his piece. Instead, there is much commentary about how the Islamic State — or ISIS or ISIL or whatever you choose to call it at this point — is a grave threat to American interests, how they have threatened to strike in the United States and Europe, and how they threaten to redraw the map of the Middle East. We've also heard plenty of reports of the human rights abuses that the group has committed against religious minorities in Iraq and, of course, the beheadings of journalists James Foley and Steven Sotloff. Even accepting all of this as true, though, none of it answers the serious questions that ought to be discussed before we escalate our involvement in this conflict to the point where extracting ourselves will prove to be difficult if not impossible while further escalation will be inevitable, just as we saw in Vietnam, Iraq, and Afghanistan.
For example, as Ignatius asks, later on the article, how are we going to extract IS and its supporters from the urban centers that it has taken control of in Iraq and Syria. We've learned by now that air power has a limited ability when it comes to targets in large cities, and extracting determined fighters from such areas requires boots on the ground. Presumably, the Obama Administration hopes that the Iraqis will be able to do this by themselves, but their own record of fighting IS on the ground has been less than stellar. What happens if they can't do it? Do we then send American ground forces in notwithstanding the Presidents vows in the past months, which he will presumably repeat tonight, that there would be no American "boots on the ground?" Even if we don't want to do that, we may find ourselves with no choice in the matter once we commit ourselves to the fight. Nobody intended that the invasion of Iraq or the war in Afghanistan would turn into decades-long occupations that resulted in the deaths of thousands of Americans, but that's exactly what happened. What assurances can the President and those Republicans in Congress beating the drums for war provide us that the same thing won't happen again?
Dave Schuler raises a related question, that is probably one that we ought to get an answer to before even getting to the ones Ignatius raises:
What is the U. S. interest? If it's avenging the deaths of two young Americans who put themselves in harm's way with foreseeable consequences, it returns to the point I made a couple of weeks ago about the War of Jenkins Ear. Is that really a reason to go to war?

If it's to remove threats to our security, our security will remain threatened as long as the factors that produce and enable the threat are in place. Those factors are both at home and abroad. As long as those factors remain going after Osama Bin Laden or Al Qaeda or Afghanistan or Saddam Hussein or IS are just disconnected actions without strategic unity.

As I've said repeatedly, I don't object to not going to war. I do object to lurching uncontrollably into war without articulating our interests or objectives. It's up to President Obama to articulate those interests, lay out the objectives, and produce a plan to achieve them.
This, it seems to me, is the first question that must be answered.
Notwithstanding the hyperbole of the media, it seems rather apparent that IS is not an immediate threat to the United States despite the threats that they have made to bring the battle to America's shores. In no small part, this is because it seems clear that, leaving aside their military success against an Iraqi Army that doesn't seem to want to fight and "moderate" Syrian rebels that are clearly weaker than IS forces, they don't have the capability to strike in the same way that al Qaeda did (and even in  that regard it's worth noting that that 9/11 attacks took several years of planning.) Additionally, though, it seems clear that IS's ambitions lie elsewhere at the moment. If anyone should be concerned about the immediate threat from IS, it should be nations like Lebanon, Jordan, and Saudi Arabia, which bears at least some responsibility for all of this given their role in providing arms to the Syrian rebels regardless of whether they were "moderates" or jihadists. Given that, it seems fairly clear that describing IS as an immediate and grave threat as much of the current rhetoric has done is extremely hyperbolic to say that least.
If the President wants to accomplish something tonight, he would answer these questions. Unfortunately, he probably won't.