Neither The United States Nor Russia Have A Coherent Policy In Syria
With Russia now launching its own airstrikes in Syria, it's become obvious that U.S. policy in the Syrian Civil War is irrational and contradictory. And Russia's policy isn't any better.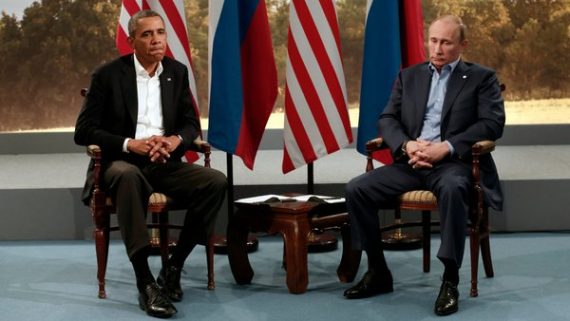 The situation in Syria, which includes both the civil war that has been going on in that country for some four years now and the fight against ISIS forces that have taken control of vast swaths of the area, has taken a turn with Russia's decision to intervene on behalf of its Syrian allies:
WASHINGTON — Russian aircraft carried out a bombing attack against Syrian opposition fighters on Wednesday, including at least one group trained by the C.I.A., eliciting angry protests from American officials and plunging the complex sectarian war there into dangerous new territory.

Russia's entry into the Syrian conflict, foreshadowed by a rapid military buildup in the past three weeks at an air base in Latakia, Syria, makes the possibility of a political settlement in Syria more difficult and creates a new risk of inadvertent incidents between American and Russian warplanes flying in the same area. And it adds a powerful but unpredictable combatant to a civil war that has already resulted in hundreds of thousands of deaths and a flood of refugees.

President Vladimir V. Putin of Russia justified his country's entry into the conflict by saying that Russia was acting "preventatively, to fight and destroy militants and terrorists on the territories that they already occupied, not wait for them to come to our house."

But American officials said the attack was not directed at the Islamic State but at other opposition groups fighting against the government of the Syrian president, Bashar al-Assad, whom Mr. Putin has vowed to support. American officials said Russian warplanes and helicopter gunships had dropped bombs north of the central city of Homs, where there are few, if any, militants of the Islamic State, also known as ISIS or ISIL.

"By supporting Assad and seemingly taking on everybody fighting Assad," Defense Secretary Ashton B. Carter said Wednesday, Russia is "taking on the whole rest of the country that's fighting Assad." Some of those groups, he added, are supported by the United States and need to be part of a political resolution in Syria.

"That's why the Russian position is doomed to fail," Mr. Carter said.

Both Mr. Carter and Secretary of State John Kerry were critical of Russia for failing to fully inform American officials ahead of time of their mission. The notification consisted of contacting the American Embassy in Baghdad one hour before the strikes with the warning that American planes should avoid Syrian airspace. No effort was made to coordinate the airstrikes with American air operations in the region.

Illustrating the widening complexity of the war, the United States conducted its own airstrikes in Syria on Wednesday, near Aleppo, without warning to the Russians. "No, we did not," an American official said afterward. "It should come as a surprise to no one that we're conducting airstrikes in Syria."

Mr. Kerry raised Russia's handling of the mission Wednesday morning with Sergey V. Lavrov, the Russian foreign minister, and after a late-afternoon meeting at the United Nations, Mr. Kerry told reporters that the two sides had agreed to begin talks on avoiding unintended confrontations in Syria and clarifying which targets the Russians are picking as soon as possible, maybe even Thursday.

"It is one thing, obviously, to be targeting ISIL," Mr. Kerry said. "We are concerned, obviously, that is not what's happening."

Though Russia and the United States remain far apart on the critical question of whether Mr. Assad should remain in power, Mr. Kerry said the two sides had agreed to explore "options" to ease the conflict. "We think we have some very specific steps that may be able to help lead in the right direction," said Mr. Kerry, who did not provide any details. "That needs to be properly explored."

At least one and possibly more Syrian opposition groups that have been secretly armed and trained by the C.I.A. were among the rebel groups targeted by the Russian airstrikes, a senior United States official said. The official would not identify which group or groups were attacked or where they were located. Nor would he assess the damages or casualties suffered by the Syrian fighters other than to say, "It was not minor." American officials said they were still sorting through the battle damage reports coming in from the field.

While the Pentagon's $500 million program to train and equip Syrian fighters has largely failed — at one point this month only four or five American-trained combatants were in the fight in Syria — the C.I.A.'s covert program to train other fighters has weathered some setbacks to produce 3,000 to 5,000 fighters in the nearly two years it has been operating.

Mr. Kerry, speaking to the Security Council, warned Russia not to carry out airstrikes in areas of Syria in which the Islamic State is not believed to be operating. With his Russian counterpart in the chair, Mr. Kerry said that the Obama administration would welcome "any genuine effort" by Moscow to target the Islamic State and the Nusra Front, Al Qaeda's branch in Syria.

But Mr. Kerry made clear that the United States would have "grave concerns" if the Russians bombed other moderate rebel groups, and he repeated the American position that Mr. Assad would eventually need to leave power as part of a political transition that would be intended to bring peace to Syria. He also said that the United States-led coalition is poised "to dramatically accelerate" airstrikes against the Islamic State.
For it's part, Russia is defending its actions in Syria and indicating that there will be more to follow, and the response from the international community, specifically the United States' putative ally Iraq, has been interesting to say the least:
MOSCOW — Russian officials vehemently defended the country's airstrikes in Syria on Thursday as blows to Islamic State militants even as evidence mounted suggesting that U.S.-backed rebels and others were facing the brunt of Moscow's attacks.

And while Russian officials and diplomats rallied behind President Vladi­mir Putin, the Kremlin's stance appeared further clouded by acknowledgments that the missions have already extended beyond solely the Islamic State.

In Paris, the Russian ambassador to France, Alexander Orlov, said the Russian attacks also targeted an al-Qaeda-linked group, Jabhat al-Nusra, or al-Nusra Front.

Syria's ambassador to Russia, Riad Haddad, echoed that the joint hit list for Russia and the Syrian government included Jabhat al-Nusra, which is believed to have some coordination with the Islamic State but is still seen mostly as a rival.

"We are confronting armed terrorist groups in Syria, regardless of how they identify themselves, whether it is Jabhat al-Nusra, the ISIL or others," he said, using one of the acronyms for the Islamic State.

"They all are pursuing ISIL ends," he added, according to the Interfax news agency.

The ambassadors did not specifically mention any U.S.- and Western-backed rebel groups.

But the comment was certain to deepen suspicions by Washington and allies that Putin's short-term aim is to give more breathing space to Syria's embattled President Bashar al-Assad, whose government is strongly supported by Moscow.

(…)

The United States and Russia agree on the need to fight the Islamic State but not about what to do with the Syrian president. The Syrian civil war, which grew out of an uprising against Assad, has killed more than 250,000 people since March 2011 and sent millions of refugees fleeing to countries in the Middle East and Europe.

Accusing Russia of "pouring gasoline on the fire," Defense Secretary Ashton B. Carter vowed that U.S. pilots would continue their year-long bombing campaign against the Islamic State in Syria, despite Moscow's warning that American planes should stay away from its operations.

"I think what they're doing is going to backfire and is counterproductive," Carter said on Wednesday.

Yet Russia's military flexing in Syria brought quick overtures from neighboring Iraq, where the Islamic State also holds significant territory but the government is within Washington's fold.

Iraq's prime minister, Haider al-Abadi, told France 24 that he "would welcome" Russia joining the U.S.-led airstrikes against Islamic State targets, but there have been no specific discussions.

Joining the protests against the Russian airstrikes was Saudi Arabia, a leading foe of Assad and one of Washington's top Middle East allies.

At the United Nations late Wednesday, the Saudi ambassador, Abdallah al-Mouallimi, demanded that the Russian air campaign "stop immediately" and accused Moscow of carrying out attacks in areas outside the control of the Islamic State.

In Iran, Assad's main regional backer, Foreign Ministry spokeswoman Marzieh Afkham called Russia's military role a step "toward resolving the current crisis" in Syria.
The most obvious immediate danger of Russian involvement in Syria, of course, is the potential that it could lead to an inadvertent confrontation with American and other forces involved in the air campaign against ISIS. While there apparently have been some discussions between Moscow and Washington about coordination of air sorties and other matters designed to avoid potential dangers, the fact that Wednesday's attack was preceded by a one hour notice from Russia, and that the U.S.'s own attack on ISIS target was apparently not communicated to the Russians at all, raises the danger that there could end up being a confrontation between Russian and American (or British, French, or Turkish) fighter jets in the skies over Syria. While it's unlikely that we'd actually get to the point where U.S. and Russian forces actually end up fighting each other, a situation where one side's plane shoots the other side's plane out of the sky isn't one that can be dismissed as nothing. As we saw with the downing of Malyasian Air Flight 17 in Ukraine last year, even an "accidental" shoot down can have tragic and unintended consequences. If the Russians are going to continue with this campaign, then one would hope that there would be at least some coordination between them and the U.S.-led coalition to prevent accidental confrontations that could spiral out of control. Otherwise, the situation could get even more tense than it already is.
Beyond the risk of accidental confrontation, though, the real importance of Russia's intervention is that it demonstrates the incoherence of American policy in Syria, and to some extent Iraq, at the moment. Right now, American policy has two goals that are seemingly contradictory, and it seems guaranteed to create conditions even worse than what we're facing today. On the one hand, the United States and other nations such as the United Kingdom and France have committed to attacking ISIS positions in Syria and elsewhere in order to slow the ability of that group to turn their territorial gains into something resembling a functioning state from which terrorist attacks could be launched. At the same time, though, we have also adopted as a policy goal the removal of Bashar Assad from power in Syria. Toward that end, we have engaged in a program to arm and train so-called "moderate" Syrian rebels that has largely been a failure, not the least because many of these so-called "moderates" have been caught selling the arms they received from the West to ISIS and other radical elements, who is on the same side as they are in the fight against Assad. Moreover, as the war against Assad's government has gone on it has been blindingly obvious that ISIS has benefited the most because it has been able to use the chaos created by the war. If Assad's government were to fall, the chaos of war would most likely be replaced by the chaos of what would amount to anarchy. Under present conditions, that would be a prefect breeding ground for ISIS to expand its power, not to mention the fact that it would likely open up a entirely new war as Syria's various ethnic and religious groups battle each other for power in the wake of the fall of the strongman. Given all of this, a policy that involves fighting ISIS at the same time we are trying to depose Assad makes no sense whatsoever, and seems doomed to fail in much the same way that our invasion of Iraq led to the chaos that has created the mess that is modern day Iraq.
This isn't to say that the Russians are in the right in Syria either, of course. Their efforts on behalf of the Assad Government are mainly motivated by their desire to protect the one nation in the Middle East where they still have any real influence, and to protect their naval base on Syria's Mediterranean coast, which is the only warm-water Russian naval base outside of Russia itself. There's little reason to take them at their word that they are primarily concerned with fighting ISIS as well. Additionally, even accepting the argument that removing Assad should not be an immediate priority, it seems clear that if Syria is ever going to function again as a state, it will have to be without Assad and his cronies in power. Hundreds of thousands of people have died, millions more have become refugees. In the long term, a Syria led by Assad simply isn't possible, and Russia is foolish if it thinks otherwise. From that point of view, if Russia wants to involve itself in the Syrian civil war quagmire then perhaps we should just let them do it; in the end, it's likely to cause them more harm then benefit. At the same time, though, it is true that the United States and Russia do have a common enemy in ISIS and that cooperation of some kind in that fight would be rational for both nations. In order for that to happen, though, the United States would have to give up its insistence that Bashar Assad must be deposed and Russia will have to accept that Assad's day are likely numbered regardless of what happens to ISIS. Given the current relationship between the two nations, though, that kind of cooperation seems unlikely. Instead, it would seem as though both nations are headed blindly down their own paths in Syria. It seems very unlikely that this will turn out well.