Is Syria Already A Quagmire For Putin?
Some analysts are already suggesting that Russia's two month old intervention in Syria is becoming a quagmire. That seems to be a premature judgment, but it's not accomplishing much more than anything the West is doing.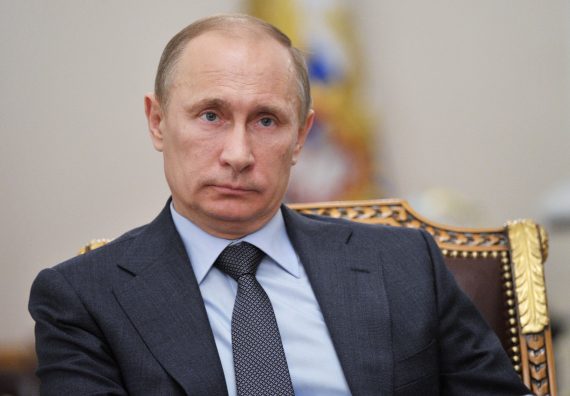 It's only been about two months since Russia began its stepped-up involvement in the Syrian civil war, which the government in Moscow continues to describe as an effort to combat ISIS and other terrorists, and there's already talk of Vladimir Putin finding himself stuck in a quagmire:
As Secretary of State John Kerry heads to Moscow next week to meet with Vladimir Putin, U.S. and Israeli officials say Putin's intervention in Syria is showing slower results than the Russian president had hoped, possibly making Putin more willing to cooperate with U.S. efforts to settle Syria's civil war.

Kerry has sidestepped the issue, declining to answer a reporter who asked during a Paris news conference this week whether he thinks Putin regrets his military intervention there. But speaking privately, administration officials offer a more candid take on the Kremlin's mood. "The Russians thought they would make a lot more progress on the ground fast," said one official. "They haven't made really any… It's measured by low-digit kilometers at the most."

Putin had hoped his late September intervention would kick off a decisive three-month offensive producing major territorial gains for the Syrian regime, according to Israeli defense minister Moshe Ya'alon.

"The whole idea of the Russian presence in Syria is to launch an offensive," Ya'alon told the Brookings Institution's annual Saban Forum on Friday. "It seems to be a failure."

Both the U.S. and Israel oppose Putin's Syria's intervention and have an incentive to spin it negatively. But some independent experts see trouble signs for the Russian president, including a surprisingly stiff response from Syrian rebel fighters.

"The Syrian regime has had tactical gains, but Russian air strikes have not been a game-changer in terms of allowing the Syrian army to move in" and hold territory, said Chris Kozak, an analyst at the Institute for the Study of War, a think tank that closely tracks the Syrian battlefield.

Kozak added that Russia had achieved its "immediate priority" of blunting rebel momentum and preserving the embattled regime of Syrian President Bashar Assad. "The balance has clearly shifted and the rebels are on the defensive," he said.

Even so, Obama officials increasingly offer a "told-you-so" line towards Putin's intervention, which caught the White House off guard when it began in late September. At the time, Obama warned that Putin risked getting caught in a quagmire abroad while courting terrorism at home. Since then, a Russian airliner departing from Egypt was downed by a bomb, killing all 224 aboard. In late November, Turkey infuriated Moscow by shooting down a Russian Su-24 bomber that it said had crossed into its airspace. Rebels on the ground killed a Russian pilot and a Russian marine and destroyed a Russian helicopter participating in a rescue mission.

Now Putin confronts a stalemated battlefield and, according to some sources, tensions with his allies on the ground in a Syrian war theater that U.S. officials liken to a concert mosh pit.

Russian planes and cruise missiles began striking Syrian rebel forces in late September to buck up Assad, a longtime Moscow ally. Days later, Assad's rag-tag army began a ground offensive to reclaim territory from rebels suffering Russian attacks. (Russia has mostly targeted rebel fighters not affiliated with the Islamic State, also known as ISIL, because the former pose a greater near-term threat to regime-held territory.) The Syrians were assisted by some 2,000 Iranian-led fighters, including religious militias and a small number of troops and commanders from Iran's Islamic Revolutionary Guard Corps (IRGC).

But that ground offensive has mostly sputtered, thanks to what sources called poor coordination with Syrian and Iranian forces, leaving the battlefield map little changed.

(…)

Officials said Putin's own frustration with the battlefield effectiveness of Assad's forces and their allies on the ground helps explain his willingness to join peace talks that have convened twice in Vienna this fall. Obama and Kerry hope that an agreement among the many countries that are party to the conflict—including Iran, Saudi Arabia and Turkey—will begin a process that removes Assad from power, something they call a prerequisite to ending the wider Syrian conflict and allowing for the defeat of ISIL.

"The lack of significant military progress by pro-regime forces only emphasizes the failure of Assad's leadership, which explains why Putin has been so willing to publicly back the idea of Assad's departure as part of a political settlement," said one U.S. intelligence official.
Ilya Arkhipov and Henry Meyer make a similar argument in a piece at Bloomberg Business:
Many senior officials in Moscow underestimated how long the operation in support of Bashar al-Assad would take when Putin entered Syria's civil war on Sept. 30 and no longer talk in terms of just a few months, with one saying the hope now is that it won't last several years.

With the mission in its third month, Putin is pouring materiel and manpower into Syria at a pace unanticipated by lawmakers already struggling to meet his spending goals. The plunging price of oil is sapping revenue and prolonging Russia's first recession in six years, prompting the Defense Ministry this week to postpone some new weapons programs.

"This operation will last a year at a minimum," said Frants Klintsevich, deputy head of the Defense Committee in the upper house of parliament. "I was expecting more from Syria's army."

Russia initially earmarked just $1.2 billion for the war for all of 2016, an official familiar with the matter said. Outlays were running at about $4 million a day before Putin's mid-November surge in troops and hardware, which doubled the cost to $8 million, or almost $3 billion on an annualized basis, according to the Royal United Services Institute, or RUSI, a military research group based in London.

But there's no backing down for Putin, who vowed to destroy Islamic State for the Oct. 31 bombing of a passenger jet over Sinai that killed 224 Russians.

(…)

While Syrian forces backed by Russian firepower have had some successes, such as breaking Islamic State's two-year siege of a strategic air base near Aleppo, Putin is only now starting to realize that he can't defeat the group through air power alone, said Anton Lavrov, a Russian military analyst.

While the U.S. and its allies have complained Putin's focus has been on protecting Assad rather than stopping Islamic State, that strategy may have shifted. Russia is increasingly targeting the group's oil operations and, for the first time in the campaign, launched missiles this week from a submarine at Raqqa, the heart of the self-declared caliphate.

Putin last month more than doubled the fleet of warplanes involved in bombing missions to about 70 and increased the number of ships in the operation to 10. Six of those are in the Mediterranean, including one carrying Russia's most advanced air-defense system, the S400, which can cover all of Syria.

Russia now has as many as 5,000 servicemen on the ground, more than double the original estimate of 2,000, according to RUSI researcher Igor Sutyagin. While Putin continues to rule out a land offensive, hundreds of advisers are already embedded with the Syrian army, he said.
Given the fact that we're less than three months into the Russian intervention in the civil war, it strikes me that it's probably premature to describe Russia as being stuck in a "quagmire" in Syria. Additionally, notwithstanding the reports it strikes me as hard to believe that the Russians, who have been working closely with the Syrians for decades and no doubt had access to information regarding the real state of the regime, the Syrian military, and the state of the war, really believed that after nearly five years of war the Syrian Army was organized and prepared sufficiently to be able to rapidly take advantage of the impact of Russian air power on rebel positions, or that the rebels, whether ISIS, Kurdish, or otherwise, who have been hardened by five years of battle would be so easy to defeat from the air. It's possible, I suppose, that the Russians were so self-confident of their own superiority and the impact that their intervention would have that they overestimated the impact their intervention would have. To a large degree, though, it seems to me as though what we're seeing here is a lot of wishful thinking on the West's part being reflected in the reporting. This is especially ironic given the fact that the United States and the West don't have much of a Syrian strategy of their own and, arguably, are already on the road to being caught up in their own quagmire of endless escalation with no clear strategy in mind.
All that being said, there does seem to be some truth to the argument that the Russian intervention isn't having the impact that many might have expected from it. While reporting on the ground out of Syria is almost none existent, it doesn't appear that the Syrian military has been able to make major gains against the rebels. What has been most surprising, though, is the fact that Russia doesn't appear to have significantly changed its strategy, or even taken action in direct response, to the downing of Metrojet 9268, which Russia confirmed just nearly a month ago now was brought down by a bomb likely planted by a group in the Sinai Peninsula that has pledged allegiance to ISIS. Instead, Russia seems to have been distracted by the downing of a Russian bomber by Turkish jets, which has led to mutual sanctions and recriminations from both countries. Given past behavior, one would have expected some kind of overwhelming Russian response to the downing of a passenger airliner that resulted in the deaths of hundreds of civilians but so far at least that doesn't seem to have happened, and that's an oddity that seems quite notable.
Putin, of course, is well aware of the risks of quagmire:
Putin is keenly aware of the risk of getting bogged down in an intractable conflict like the Soviet Union did after its invasion of Afghanistan in 1979, when Russians last fought in a Muslim land to suppress a revolt backed by the U.S. and Saudi Arabia. The Afghan War, which caused the deaths of 15,000 Soviet soldiers, drained the economy at a time of low oil prices and sounded the death knell for global communism.

But avoiding another quagmire will depend on forging an international front against Islamic State, which Putin and his French counterpart Francois Hollande both favor. Obama has refused to join forces with Russia, though he has tempered his demands for Assad to step down, now saying the Syrian leader must eventually depart while leaving his military and institutions intact.

(…)

"I think Mr. Putin understands that with Afghanistan fresh in the memory, for him to simply get bogged down in an inconclusive and paralyzing civil conflict is not the outcome that he's looking for," Obama said in Paris last week. "It is possible, over the next several months, that we'll see a shift in calculations by the Russians."

Maybe, but right now what those Russians are calculating is how best to maximize the combined capabilities of Syrian and Russian forces on land, in the air and at sea, according to Leonid Reshetnikov, a retired Foreign Intelligence Service general who now heads a Kremlin advisory group.

Assad's fate isn't an "insurmountable obstacle" but this isn't an issue that can be resolved now, Reshetnikov said. "At the moment we need to concentrate on the fight against Islamic State."
That's a keen observation, and likely largely correct, but how you get there from where either Russia or the West are now is not easy to figure out. Ideally, of course, there would be some sort of common strategy because as long as the two major forces from outside the region are fighting at essentially cross purposes it doesn't seem likely that anything is going to be accomplished. With Russia committed to the survival of the Assad regime, or at least some form of Alawaite-controlled government based on Damascus, at the same time the United States and the West continues to believe that removing Assad from power will somehow help in the fight against ISIS, though, it's not clear how anyone involved can come to the kind of agreement that working together would require.