Turkish Forces Cross Border Into Northern Syria, Hit Kurdish Areas
Just days after President Trump agreed to remove American forces from the scene, Turkish forces are entering northern Syria and Kurdish forces say they ar ready for war.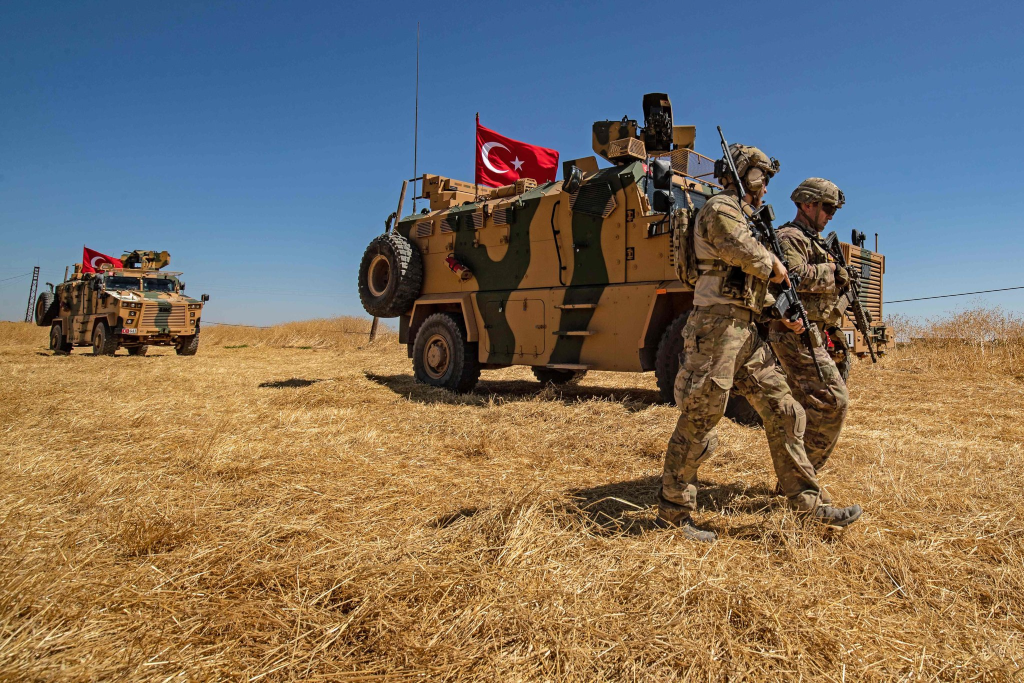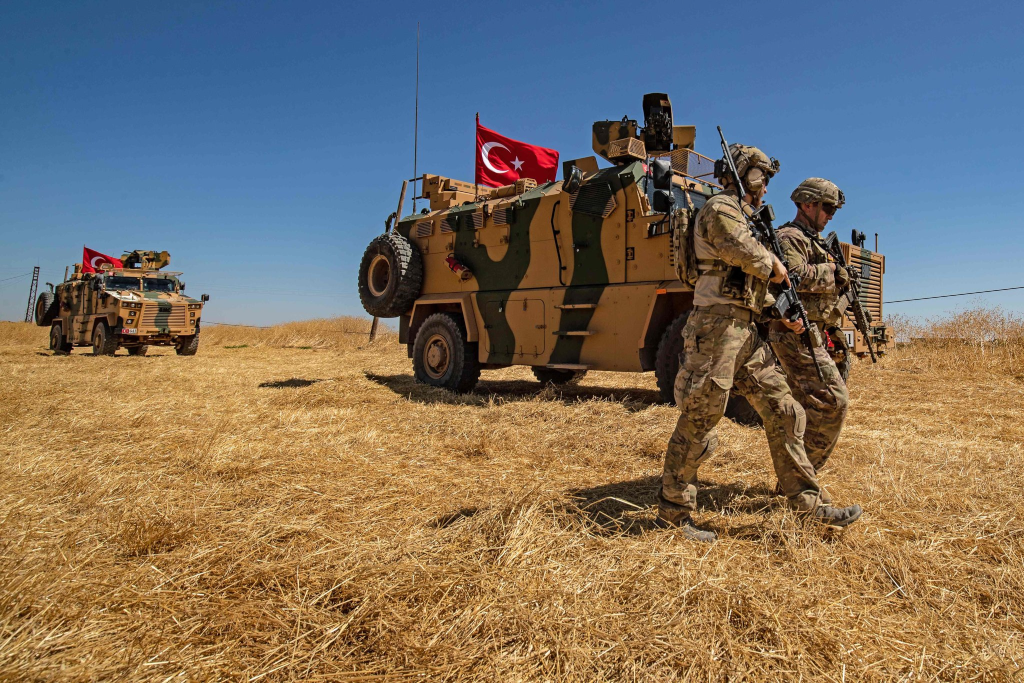 Just days after President Trump approved the removal of American troops from northern Syria, a move that seemed guaranteed to permit the Turkish military to make a move against Kurdish rebels that have worked alongside the United States in the fight against ISIS, Turkey appears to have begun that offensive:
BEIRUT, Lebanon — Turkey launched a ground and air assault on Wednesday against a Syrian militia that has been a crucial American ally in the fight against ISIS, days after President Trump agreed to let the operation proceed.

As Turkish warplanes bombed Syrian towns and troops crossed the border, the chaos in Washington continued, with President Trump issuing seemingly contradictory policy statements in the face of strident opposition from his Republican allies in Congress.

Mr. Trump acquiesced to the Turkish operation in a call with Turkey's president on Sunday, agreeing to move American troops out of Turkey's way despite opposition from his own State Department and military.

On Wednesday, hours after the operation began, he condemned it, calling it "a bad idea."

By that time, Turkish fighter jets were streaking through the sky over Syrian towns, while artillery shells boomed overhead. Traffic was jammed with terrified civilians fleeing south in trucks piled high with possessions and children.

After about six hours of airstrikes, Turkish troops and their Syrian rebel allies crossed the border, opening a ground offensive.

At least seven people were killed in the Turkish attacks on Wednesday, according to the Rojava Information Center, an activist group in northeastern Syria. The Syrian Observatory for Human Rights, a conflict monitor based in Britain, put the toll at eight.

Turkey's long-planned move to root out American-allied Kurdish forces in northeastern Syria could open a dangerous new front in Syria's eight-year-old war, pitting two United States allies against each other and raising the specter of sectarian bloodletting. Even before it began, it had set off fierce debates in Washington, with members of Congress accusing Mr. Trump of betraying the militia that fought beside the United States to defeat ISIS.

There were also concerns that the militia, the Syrian Democratic Forces, would shift its forces to the north to fight Turkey, creating a power vacuum elsewhere that could benefit President Bashar al-Assad of Syria, his Russian and Iranian allies, or the Islamic State.
More from The Washington Post:
ISTANBUL — Turkey's government launched a long-expected offensive into northeastern Syria on Wednesday, with airstrikes and shelling targeting Syrian Kurdish fighters who have played a central role in aiding the U.S.-led battle against the Islamic State militant group.

The operation — with some ground forces crossing the border later — came just days after President Trump's startling announcement that the United States would not stand in Turkey's way, bringing sharp rebukes from even the president's Republican allies.

The Turkish foray threatened to further fracture a war-shattered Syria as Ankara moved to create a "safe zone" after failing to agree on its size and nature during negotiations with the United States.

Turkey's goal is to push back the Syrian Kurds — considered enemies by Turkey — from the border region. Turkey also claims the buffer region would be fit for the resettlement of millions of Syrian refugees residing in Turkey.

But aid agencies warned that the offensive could create a new humanitarian crisis, as well as a fresh wave of displaced people and refugees.

An even greater worry was the thousands of Islamic State prisoners and their families held by the Syrian Kurdish forces after the fall of the militant group's self-declared caliphate. A security breakdown at the detention camps could open the way for the fighters and others to slip away.

Already, frightened people were on the move in Syria. Cars, trucks and motorcycles — with no empty seats — streamed away from the border. Smoke rose from some buildings. Fires broke out.

Some Turkish ground forces moved into Syria after nightfall. A statement from the Turkish military said a "land operation" began in an area east of the Euphrates River but gave no further details on the scope of the incursion.

(…)

In the first hours of the operation, Turkish warplanes and artillery shelled towns along a 250-mile swath, stretching from Ain Issa, about 30 miles from the Euphrates River, to Malikiyah, near Syria's border with Iraq.

Turkish shelling killed at least five civilians, according to the U.S.-allied Syrian Democratic Forces (SDF), as the Syrian ­Kurdish-led militias are known. Mortar fire from Syria landed in at least two Turkish towns, but caused no injuries, Turkish media reported.

The offensive has presented the Trump administration with a dilemma as it has sought to balance Washington's partnership with Turkey and its links to the Syrian Kurdish forces that helped beat back the Islamic State.

Ankara views the Syrian Kurdish fighters as terrorists because of their links to Turkey's Kurdistan Workers' Party, or PKK, which has waged a decade-long battle in southeastern Turkey for greater autonomy. Turkey has launched cross-border attacks on PKK bases in northern Iraq since the 1990s.

(…)

Erdogan's government has watched nervously for years as Syria's Kurds have built an autonomous enclave along Turkey's border. It railed against the United States for relying on the Kurds as a military partner and bristled as its enemies accumulated weapons and territory.

For years, the United States and Turkey have been engaged in negotiations aimed at soothing Ankara's security concerns.

There was also the risk that American troops still positioned in Syria could get caught in the crossfire.

A U.S. official said the Trump administration had provided Turkey with a list of no-strike locations where U.S. personnel were stationed.
If you believe the official Turkish press releases, and there is quite honestly little reason to do so, then the sole purpose of the operation is to create a buffer zone between the Turkish border and the Syrian Kurdish forces to assuage Turkish security concerns. It has also been reported that the Turks intend to use this buffer zone to relocate at least some portion of the Syrian refugee population it has hosted since the Syria civil war began eight years ago. In reality, the fear is that the incursion will be used to crush the Syrian rebel forces and inflict as much pain as possible, both to eliminate the alleged threat posed by the Syrian Kurdish rebel forces and to send a message to the Kurdish population inside Turkey which has been somewhat encouraged by the rise of Kurdish power in both Syria and in Iraq, where Kurds operate something as close to an independent state as the Kurds have ever seen. This makes it probable that the conflict will expand rather than contract.
Another seeming guarantee that the Turkish incursion will lead to a wider conflict in northern Syria is the fact that Kurdish forces appear to be promising just that:
BEIRUT, Lebanon — The commander of the American-backed militia in Syria said Tuesday that it would attack Turkish forces if they entered northeastern Syria, while Turkey's president, Recep Tayyip Erdogan, indicated that such an operation was imminent.

"We will resist," Mazlum Kobani, commander of the Kurdish-led militia, said in an interview with The New York Times. "We have been at war for seven years, so we can continue the war for seven more years."

Mr. Erdogan, speaking to reporters on a flight to Serbia, said the operation might happen before the news could be printed. Turkish troops were being bused to the Syrian border in preparation for an incursion, Turkish media reported. And the Turkish Defense Ministry said on Twitter that preparations to enter Syria "had been completed."

The escalating challenge came after President Trump agreed to let the Turkish operation go forward and to move American troops out of the way. On Monday, American troops withdrew from posts near two Syrian towns near the border.

The threat of armed resistance from the militia, a force trained and armed by the United States, raises the risks for Turkey as it weighs sending troops into Syria, and for the United States, which could find itself on the sidelines of a new front in Syria's war — this time between two of its allies.

(…)

Speaking by telephone from Syria, Mr. Kobani said he had been frustrated by the White House's announcement on Sunday that the United States would stand aside for a Turkish incursion, and that the lack of clear, predictable policies from Washington had made it hard to plan.

"There should not be any ambiguity," he said.

He spoke of United States troops who had helped his forces fight the Islamic State as comrades-in-arms and said any rupture in that partnership could destabilize the region.

"We fought with U.S. forces to get rid of terrorism, and we are still in this continuing battle," he said.

He called on Americans to "put pressure on their political and military leaders to stop the Turkish attack," which he said would lead to "big massacres."
Meanwhile, the invasion is raising concerns about the fate of ISIS prisoners, many of them Europeans who traveled to Syria to train and fight with the Islamic State. For years now, those prisoners have been guarded by Kurdish forces under an agreement with the United States and other nations that are part of the increasingly fragile international coalition against ISIS. In the days since President Trump announced his agreement with Turkish President Erdogan, several diplomats and analyss have expressed concern that a conflict between the Kurds and the Turks is likely to draw Kurdish forces away from guarding the prisoners, a development that could lead to those prisoners escaping and returning to Europe where they could resume the ISIS-inspired terror attacks that have largely receded in Europe over the past several years since the major incidents in France, Belgium, and the United Kingdom. The Pentagon has already said that American forces are not equipped to take over the guard duties, so it's unclear who if anyone could take the place of the Kurds should they abandon guard duty in the near future.
In other words, there appears to be no good that is going to come from this Turkish offensive or from the green light that the President has given for it. Even if you agree, as I do, that American forces should not be in Syria, it's clear that the manner in which the President is conducting that withdrawal is ill-informed and potentially dangerous. Additionally, the fact that he did not get any enforceable guarantees from Erodgan to protect the Kurds, or indeed get anything in return, once against puts the lie to his reputation as a "dealmaker." Finally, this seemingly callous abandonment of an ally that has been by our side for seven years since precisely the wrong message, as the head of the Kurdish forces political arm makes clear in a Washington Post Op-Ed:
The sacrifices we made to defeat the Islamic State were not just a service to our people but also a service to the United States, Europe and the entire international community, who faced a real and present threat from terrorism. We expected our sacrifice and commitment to be repaid in kind.

Instead, now we have been betrayed. President Trump has ordered U.S. troops in our territory to withdraw, exposing us to an invasion by Turkish troops who aim to destroy us.

The American decision not only puts the lives of countless thousands at risk. It also increases the likelihood of a resurgence of the global terror threat we worked so hard together with the US and its allies to defeat. Thousands of Islamic State fighters are in our custody. Guarding them takes huge amounts of resources. Now that we are forced to fend off a Turkish invasion, we will have no choice but to redirect our forces who are guarding the Islamic State prisoners. Many of them are European passport holders. Their escape would pose a grave danger to Europe and beyond. This is not a threat, merely a reality — we cannot both defend against Turkey and maintain security over the Islamic State prisoners. Our people and our homes must come first. It is our obligation.

We acknowledge Turkish military strength. But we are self-confident and full of resolve. Now that we are under attack, all of us — including me — will pick up our weapons and fight to the end. Self-defense is our right. We are a capable defensive army that has millions of supporters. And we will be protecting hundreds of thousands of people who belong to persecuted minorities: Kurds and Assyrians, Christians and Yazidis.
The message this sends to potential future allies is simple. The United States cannot be trusted to hold up its end of an alliance. That makes it less likely that such alliances will be possible in the future, and that will make things much more difficult and much more dangerous in the future.