U.S. Intelligence: Russian Passenger Jet Likely Brought Down Over Sinai Peninsula By A Bomb
American intelligence officials are saying that a Russian passenger jet that went down over Egypt's Sinai Peninsula was most likely brought down by a bomb.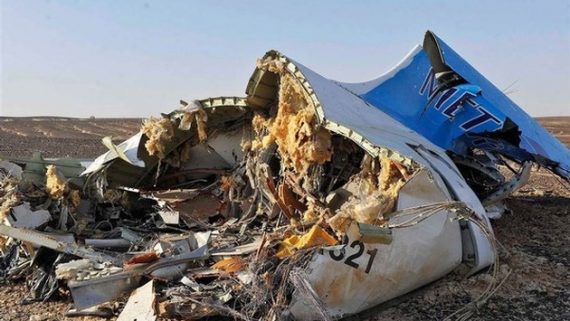 On Saturday, a chartered Russian Airbus A321-200 with the call sign Metrojet 9268 taking mostly Russian and Ukrainian passengers home from vacations at the Egyptian Red Sea resort of Sharm el-Sheikh went down over the Sinai Peninsula, killing all 224 people on board. In the immediate aftermath of the incident, an ISIS affiliated group based in the Sinai claimed that it had shot down the plane, but that claim was largely dismissed due to the fact that the plane was already at its cruising altitude of 31,000 feet at the time it went down and there is no evidence that any of the Islamist groups that have taken up residence in the desert in the years since the Egyptian Revolution in 2011 had access to the type of weapons that could take out an airliner at that altitude. At most, these groups are believed to have access to shoulder-fired weapons that can at best reach 15,000 to 16,000 feet, and even then only under the most ideal circumstances. Instead, initial speculation centered on possible mechanical trouble on the plane, including the fact that the plane had apparently suffered some kind of damage to its tail section nearly two decades ago. Although that damage had been repaired and the plane deemed flight worthy, some experts stated that undetectable flaws created by such an accident could cause problems even many years later under the right circumstances.
As the days since the incident went on, though, the possibility of something nefarious being involved in the downing of the plane seemed to increase. The plane's owner issued a stated ruling out mechanical failure that was mostly self-serving, but still taken seriously. Then, this morning, there were reports that American satellites over the area had detected some kind of explosion in the moments before the plane went down, but it could not be determined if the explosion was due to a bomb on the plane, a mechanical failure that led to a fuel tank explosion, or some other factor. Even though the cause of the crash had not yet been determined the United Kingdom and other countries announced today that flights from the airport where the flight had originated would be halted as a precaution. Now, CNN is reporting that U.S. intelligence believes that it was an explosive device planted on the plane at the airport that brought the plane down:
The latest U.S. intelligence suggests that the crash of Metrojet Flight 9268 was most likely caused by a bomb on the plane planted by ISIS or an ISIS affiliate, according to a U.S. official familiar with the matter. The official stressed that there has not been a formal conclusion reached by the U.S. intelligence community. "There is a definite feeling it was an explosive device planted in luggage or somewhere on the plane," the official told CNN's Barbara Starr.

The assessment was reached, the official said, by looking back at intelligence reports that had been gathered before Saturday's plane crash and intelligence gathered since then. The United States did not have credible or verified intelligence of a specific threat prior to the crash, however, the official said, prior to the incident, "there had been additional activity in Sinai that had caught our attention."

Another U.S. official said the intelligence regarding ISIS is in part based on monitoring of internal messages of the terrorist group. Those messages are separate from public ISIS claims of responsibility, that official said.
NBC News is reporting similar information, albeit in a slightly more qualified manner:
Evidence indicates a bomb brought down Russia's Metrojet Flight 9268 over the Sinai Peninsula last weekend, and U.S. investigators are focusing on ISIS operatives or sympathizers as the bombers, a U.S. official told NBC News on Wednesday.

Questions have swirled over whether foul play or terrorism may have downed the Metrojet-operated Airbus A321 since it crashed in Egypt on Saturday, killing all 224 people aboard. A group claiming to be affiliated with ISIS took credit for the crash via social media media Wednesday.

The U.S. official said investigators are looking at the possibility that an explosive device was planted aboard the plane by ground crews, baggage handlers or other ground staff at the Sharm el-Sheikh airport before takeoff. U.S. officials had earlier told NBC News that an intelligence scrub of the passenger manifest and the flight crew aboard the jet showed no one with suspected ties to any terrorist group.

Rear Adm. John Kirby, the Pentagon's senior spokesman, told reporters Wednesday that while investigators were still examining data, but he said, "We need to advise U.S. workers not to go to the Sinai."

The news tracks with a statement earlier Wednesday by British Prime Minister David Cameron, who said the plane could have been brought down by a bomb. Cameron issued a delay on U.K.-bound flights from Sharm el-Sheikh, saying he wanted U.K. aviation experts to assess security there before travel resumed.
Assuming that all of this proves to be true, and it seems unlikely that intelligence officials would be giving this information to the media if they weren't quite confident that it is, we are arguably looking at a potential game changer in the world's confrontation with ISIS specifically and international terrorism in general. Ever since the September 11th attacks, various terrorist groups with ties to al Qaeda and other groups have made efforts to bring down airliners, especially at significant times of the year. Most notably, of course, we have the examples of Richard Reid, who attempted to ignite a crude explosive device contained in his shoes that resulted in new TSA restrictions that continue to this day that require us all to remove footwear when going through airport security. Another attempt came in the person of Umar Farouk Abdulmutallab who apparently had a device of some kind under his clothes. Finally, in late 2010 there were reports that an al Qaeda affiliate in Yemen had perfected a method of shrinking a bomb to the size of a toner cartridge that could be placed among normal commercial packages or in the luggage section of a passenger plane, and that bombs had also been fashioned to look like other common and hard to detect items. None of these plots succeeded, of course, but they all led to further security restrictions and expansion of counter-terror operations.
If confirmed, the news that a Russian jet was brought down by an apparent bomb is likely to change the game significantly. The first question, of course, will be to find out how a bomb could have been gotten on the plane to begin with, although the most likely scenario there would be a security failure at the Sinai airport that the flight originated from. The fact that the Peninsula has been a hotbed of extremist activity for several years now suggests that its possible that airport security could have been infiltrated at some point. If that's the case, then it wouldn't have been that difficult for someone on the inside to do something nefarious. Beyond that, the fact that this apparent attack occurred within just over a month after Russia began its campaign in Syria suggests that this may have been some kind of retaliatory move. Whatever the reason, though, the fact that a Russian plane was chosen rather than the several British and other planes that leave from that airport every day is interesting and, possibly intended to send a message. How Russia will react to it assuming that a bomb is indeed confirmed will be very interesting to see.
In any case, it looks like the Sinai Peninsula, which has basically been quiet since the Camp David Accords led to the Israeli withdrawal from the region and the presence of a United Nations peacekeeping force that remains there to this day, may be about to become a focus of the world's attention.