Hundreds Killed In Terrorist Attack On Mosque In Egypt
A horrible terror attack in Egypt.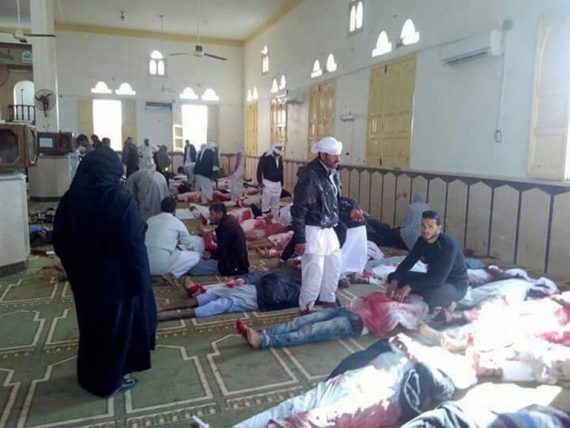 Hundreds of people are dead, and hundreds injured, in a terror attack on a mosque on Egypt's Sinai Coast:
CAIRO — Islamist militants detonated explosives and sprayed gunfire at a crowded Sufi mosque near Egypt's Sinai coast on Friday, killing at least 235 people and wounding 109 more, in one of the deadliest attacks on civilians in the country's modern history.

Attacks on mosques are rare in Egypt, where the Islamic State has targeted Coptic Christian churches and security officials in recent years. So the devastating attack on the mosque in Beer al-Abd, 125 miles northeast of Cairo, sent shock waves across the country.

"I can't believe they attacked a mosque," a Muslim cleric in the town said by phone. He requested anonymity for fear he could also be attacked.

Even by recent standards in Egypt, where militants have blown up Christian worshipers in church pews and gunned down pilgrims in buses, it was an unusually ruthless and deadly assault.

The attackers, who traveled in four-wheel-drive vehicles, exploded bombs inside the mosque, then sprayed worshipers with gunfire as they fled, state media reported. A military official said that a suicide bomber was involved in the attack.

The gunmen lingered at the scene even as emergency workers arrived to treat the injured, and opened fire on several ambulances, Ahmed el-Ansari, a senior government health official, said on state television.

Many of the wounded were rushed to the general hospital in the main town in Sinai, El Arish, where medics described chaotic scenes as staff struggled to deal with a flood of dead of injured.

"They pretty much have bullets in every part of their bodies," said one medical official, speaking by phone, referring to gunshot victims. Others had extensive burns or lost limbs due to the explosion.

"We are swamped. We don't know what to say. This is insane," he said, asking not to be named out of fear he could be victimized by either the militants or the security forces.

The worshipers at the mosque were Sufi Muslims, who practice a mystical form of Islam that some orthodox Muslims and Sunni extremists consider heretical. The Islamic State had threatened and killed a number of Sufis in Bir al-Abd in recent months, but the group never targeted a place of worship, the cleric said.

President Abdel Fattah el-Sisi convened an emergency meeting of top security officials including the interior minister, spy chief and defense minister. He declared three days of mourning. Nabil Sadek, Egypt's top prosecutor, ordered an investigation into the attack.

The Egyptian military, which has been battling a local affiliate of Islamic State in northern Sinai for years, declared a curfew in Bir al-Abed and El Arish. Violence in Sinai surged after 2013, when Mr. Sisi came to power in a military takeover that deposed the democratically elected president Mohamed Morsi of the Muslim Brotherhood.

(…)

In addition, Egyptian security forces have been closely monitoring returning Islamic State fighters from Syria and Iraq, amid worries that an influx of battle-hardened jihadis could inject a volatile new element into Egypt's militant mix.

The bombing comes as the Egyptian authorities have been hoping to stem the tide of Islamist violence in Sinai, thanks to their sponsorship of a Palestinian peace initiative involving Hamas, the militant group that controls Gaza.

Islamic State militants have previously used tunnels into Gaza to source weapons and get medical treatment for wounded fighters. One benefit for Egypt of the peace initiative, which Egypt's General Intelligence Directorate has mediated, is greater control over those tunnels.

The Egyptian security forces have been closely monitoring returning Islamic State fighters from Syria and Iraq, amid worries that an influx of battle-hardened jihadis could inject a volatile new element into Egypt's militant mix.
As noted, this isn't the first terror attack on the Sinai Peninsula. Ever since the revolt in Cairo that led to the overthrow of Egypt's longtime dictator Hosni Mubarak, the Sinai has become something of a lawless regime notwithstanding the presence of both the Egyptian military and an international peacekeeping force that has been stationed there since the Camp David accords and the peace treaty between Israel and Egypt that led to Israel returning control of the Sinai to Egypt after having captured it during the 1967 war and held on to it in the Yom Kippur War in 1973. For the most part, the Sinai has been peaceful since then, or at least until recent years when terror groups have taken up residence in the area. Most recently, in 2015 a chartered Russian Airbus A321-200 with the call sign Metrojet 9268 taking mostly Russian and Ukrainian passengers home from vacations at the Egyptian Red Sea resort of Sharm el-Sheikh went down over the Sinai Peninsula, killing all 224 people on board. In the immediate aftermath of the incident, an ISIS-affiliated group based in the Sinai claimed that it had shot down the plane, but that claim was largely dismissed due to the fact that the plane was already at its cruising altitude of 31,000 feet at the time it went down. Subsequently, it was confirmed that the plane was brought down by a bomb that was apparently smuggled on the plane at the airport at Sharm el-Sheikh. Since then, the region has become the scene of other minor attacks and confrontations between the Egyptian military and militants, as well as attacks inside Egypt itself such as those against Coptic Christians.
In any case, there's not much to say about what happened today. We've seen similar attacks on mosques all over the Middle East in the past, so it's not surprising to see one in Egypt itself. At the very least, it demonstrates the reality of jihadist terrorism, which is that the worst victims have been Muslims in the Middle East rather than Americans and other westerners. Something that kinds of puts the lie to the idea that these people are acting in the name of Islam as people such as Pamela Geller, Ann Coulter, and Donald Trump would have you believe. That's why rather than being our enemies, the world's Muslims ought to be seen as our natural allies in the fight against jihadist terror.