Egyptian Airliner With 66 On Board Crashes In Mediterranean Sea
An EgyptAir jetliner with 66 on board disappeared from radar just before beginning its decent into Cairo.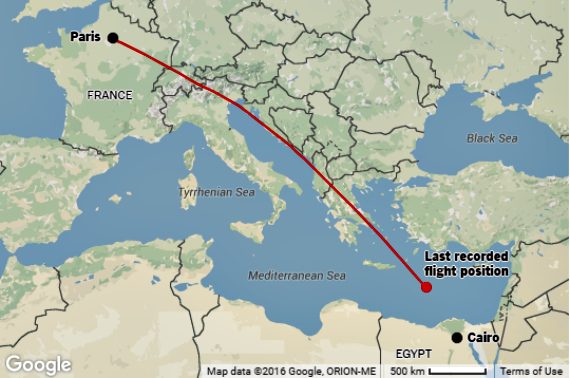 An EgyptAir Flight from Paris to Cairo has gone down in the Mediterranean Sea after disappearing from radar just minutes before it was set to begin its decent into Cairo:
CAIRO — An EgyptAir passenger jet that took off from Paris with 66 people on board suddenly disappeared over the Aegean Sea on Thursday morning, shortly before it was due to land in Cairo.

As Egyptian and Greek authorities mounted a search-and-rescue operation focused around the island of Karpathos, President François Hollande of France confirmed that the plane had crashed and acknowledged that "the terrorist hypothesis" was one of several that investigators were looking into.

"The information that we have been able to gather — the prime minister, the members of the government, and of course the Egyptian authorities — unfortunately confirm for us that this plane crashed at sea and has been lost," Mr. Hollande said at the Élysée Palace, after speaking by telephone with President Abdel Fattah el-Sisi of Egypt.

Mr. Hollande said that "no hypothesis was being ruled out," and that the three countries were hoping to recover "debris that would enable us to know the truth."

He added, "When we have the truth, we must draw all the conclusions, whether it is an accident or another hypothesis, which everybody has in mind, the terrorist hypothesis."

Aviation security in Egypt has been under intense scrutiny since a bombbrought down a Russian airliner over the Sinai Peninsula in October, killing all 224 people on board. And France has tightened airport security after a series of terrorist attacks last year.EgyptAir Flight 804 departed Paris at 11:09 p.m. on Wednesday and disappeared at 2:45 a.m., shortly after it entered Egyptian airspace, EgyptAir said on Twitter. The plane had been traveling at an altitude of37,000 feet and was carrying 56 passengers, including three children; seven crew members; and three members of airline security personnel.

EgyptAir said it had last made radar contact with the plane at 2:30 a.m., when it was 175 miles off the Egyptian coast. The plane's pilot had spoken to Greek air traffic controllers four minutes earlier, and had not indicated that there was any problem, according to a spokesman for the Hellenic Civil Aviation Authority. "Within three minutes, communication was lost," he said.

At 3:14 a.m. Cairo time, the Greek authorities began a search operation, deploying a C-130 military transport plane. At 4:26 a.m. — nearly two hours after the last radar contact — the plane emitted a signal, although it was not clear whether that was an emergency distress signal sent by a crew member or an automated signal from the plane's onboard computers.
More from The Washington Post:
CAIRO — Search vessels and aircraft combed the Mediterranean on Thursday after an EgyptAir flight from Paris disappeared from radar at 37,000 feet, raising fears of a possible sudden and catastrophic disaster minutes after the plane with 66 people aboard entered Egyptian airspace.

Aviation officials in Egypt and Europe said there was nothing immediately pointing to why the plane lost contact with radar tracking about 45 minutes before its scheduled landing in Cairo.

French President François Hollande said the plane had "crashed," but gave no more details on what could have brought the plane down.

"We cannot rule anything out," Egyptian Prime Minister Sherif Ismail told reporters at Cairo airport. In Paris, the prosecutor's office announced into also opened an investigation.

"No hypothesis is favored or ruled out at this stage," said the French statement.

But the mysterious and instant cut from ground control contact raised inevitable parallels with similar incidents at cruising altitude that were caused by attacks or bombs rather than technical malfunctions.

There was conflicting information about whether officials received a distress signal from the aircraft. The airline said it did receive a distress signal from the Airbus A320, but the Egyptian armed forces later said they were unaware of such a signal.

Airbus expressed regret over the "loss" of the aircraft in a Facebook statement on Thursday.

Flight MS804 departed from Charles de Gaulle Airport in Paris at 11:09 p.m local time and was expected to land in Cairo at about 3:15 in the morning Cairo time. It disappeared from radar 45 minutes before its landing time, the airline announced on Twitter. The A320 had flown 10 miles into Egyptian airspace when it lost contact with the tracking system, according to initial reports.

Search and rescue operations were focused on an area 40 miles north of the Egyptian coastline, EgyptAir Vice Chairman Ahmed Adel told CNN.

A statement posted to Egyptian army spokesman Mohamed Samir's Facebook page on Thursday said a number of airplanes and navy vessels have been dispatched. In coordination with Greek officials, a state of emergency has been declared at military hospitals and disaster operations centers.

Of the 66 people on board, 56 were passengers, including two infants and one child, seven were crew members and three were security personnel.

French authorities told reporters at a news conference on Thursday that it is usual practice for EgyptAir to have three security officers aboard.

Among those on board, according to the airline, were 30 Egyptians, 15 French nationals, two Iraqis and one passenger each from England, Belgium, Kuwait, Saudi Arabia, Sudan, Chad, Portugal, Algeria and Canada. No Americans were on the flight.

The pilot of the plane had more than 6,000 hours of flight experience, including more than 2,000 hours flying the same model aircraft, EgyptAir said. The co-pilot had nearly 3,000 flying hours. Adel told CNN they had no problems leaving Paris.

Manufactured in 2003, the plane was powered by International Aero Engines.
It's obviously too early to say for sure what happened to Flight 804, but given the circumstances initial speculation is centering on a few rather obvious conclusions. The fact that the plane disappeared from radar so quickly and that the plane's last check-in only minutes earlier would seem to argue against mechanical failure or something similar to that, and the fact that there were no subsequent communications from the plane would seem to indicate some kind of catastrophic break-up of the aircraft at high altitude, which in the past has been indicative of either a failure of the airframe or an explosion, and it usually ends up being an explosion. Additionally, at least one report said that radar showed the plane, or part of it, dropping some 20,000 feet within less than a minute before completely disappearing completely from radar. Electrical failure is also a possibility, and would explain the lack of communication, although it would not explain the sudden loss in altitude or the fact that the plane completely disappeared from radar in such a short period of time.
This morning reports about a missing jetliner near Egypt immediately brought to mind the Metrojet 9268, a Russian passenger jet that went down over the Sinai Peninsula in early November of last year under similar suspicious circumstances. In that case, the downing occurred just shortly after the plane had reached cruising altitude after having taken off from an Egyptian airport and its disappearance was quickly followed by a claim of responsibility by an ISIS affiliated group that has been acting in the Sinai for several years now. While the initial claim from the group that it had shot the plane down was dismissed, it didn't take long for U.S. intelligence to conclude that the plane had been taken down by a bomb, a conclusion that the Egyptians apparently continue to reject but which Russian intelligence also quickly came to accept. In that case, it was determined that the plane was brought down by an explosive device contained in a soda can brought on board the airplane and that it apparently had been detonated remotely, most likely by a passenger. Whether something similar could have happened in this case is obviously something that is too early to tell, but it is worth noting that prior to departing from Paris this same plane had been in two locations in North Africa, including Tunisia, suggests that something could have been planted on the plane before it ever arrived at Charles de Gaulle Airport.
The good news, to the extent that there is any, is that the search air for debris in this case should be much smaller than other recent cases involving planes that have disappeared over water such as Malaysian Air Flight 370, which investigators are now apparently conceding may never be found. Water depth in this area of the Mediterranean Sea is roughly no more than 2,000 feet and the sea floor has already been fairly well mapped so searchers should be able to find wreckage, along with the cockpit voice and flight data recorders, relatively quickly, which will go a long way toward giving investigators at least a preliminary idea of what happened in the early morning skies over the Mediterranean.