U.S. Ambassador To Libya Dead, U.S. Embassy In Cairo Attacked, In Protests Over Obscure Film
A day of protests over a film nobody has ever heard of has lead to the death of the U.S. Ambassador to Libya.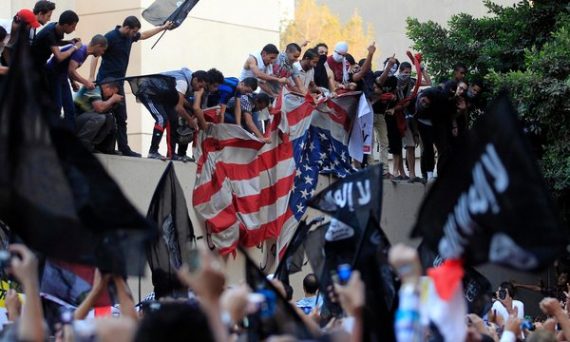 The United States Ambassador to Libya, along with three other American diplomats, was killed yesterday in an attack on the U.S. Consulate in Benghazi that topped off a day of protests in both Libya and Egypt apparently sparked by an obscure, Internet-based, film that has been described as anti-Muslim:
CAIRO – The Libyan government said Wednesday that United States ambassador Christopher Stevens was killed along with three of his staff in an attack on the consulate in Benghazi Tuesday night. It was the first death of an American envoy abroad in more than two decades.

The State Department declined to confirm or deny the reports and said the previous night that only a single unnamed embassy employee had been killed. But if confirmed, the killing, during an attack by an armed mob angry over a short American-made video mocking Islam's founding prophet, threatens to upset Washington's relations with the new Libyan government that took over after the ouster of Col. Muammar el-Qaddafi and sour American public opinion about the prospects of the democratic opening of the Arab Spring.

Mr. Stevens, a veteran of American diplomatic missions in Libya, served in Benghazi during the uprising against Colonel Qaddafi, and he was widely admired by the Libyan rebels for his support of their struggle to overthrow Colonel Qaddafi.

The news emerged as violence spilled over the American consulate in Benghazi, Libya, and demonstrators stormed over the fortified walls of the United States Embassy in Cairo.

Few details of the events in Benghazi were immediately available, but the killing of the ranking American official in Libya raised questions about the vulnerability of American officials at a time when the profound changes sweeping the Arab world have hardly dispelled the rage against the United States that still smolders in pockets around the region.

Tuesday's violence came on the 11th anniversary of the terrorist attacks of Sept. 11, and were inspired by Egyptian media reports about a 14-minute trailer for the video, called "Innocence of Muslims," that was released on the Web.

Earlier, an unidentified Libyan official in Benghazi told Reuters that the American ambassador in Libya and three other staff members were killed in Benghazi "when gunmen fired rockets at them." It was not clear where in the city the attack took place. The Libyan official said the ambassador was being driven from the consulate building to a safer location when gunmen opened fire, Reuters said.

In a message on Twitter, Deputy Prime Minister Mustafa Abu Shagur of Libya said on Wednesday that he condemned "the cowardly act of attacking the U.S. consulate and the killing of Mr Stevens and the other diplomats."

Agency France-Presse quoted the Libyan Interior Ministry as saying Ambassador J. Christopher Stevens and three staff members were killed when a mob attacked the consulate in Benghazi. Al Jazeera's English-language Web site said Mr. Stevens died of smoke inhalation after a mob set fire to the consulate.

The Associated Press identified three Libyan officials confirming that the envoy had died as Wanis al-Sharaf, the deputy interior minister for eastern Libya; Benghazi security chief Abdel-Basit Haroun; and Ahmed Bousinia, a Benghazi city council and security official.

Mr. Stevens arrived in Tripoli in May 2012, as United States Ambassador to Libya, according to the State Department Web site, after serving two previous terms in Libya since 2007 as an American envoy before and after the 2011 revolution that overthrew Col. Muammar el-Qaddafi.

Mr. Stevens, conversant in Arabic and French in addition to English, worked at the State Department since 1991 after a spell as an international trade lawyer in Washington. He taught English as a Peace Corps volunteers in Morocco from 1983 to 1985, the State Department Web site said.
Ambassador Stevens's death followed a day that started in Cairo when a large crowd, apparently whipped into action by Muslim clerics, scaled the walls of the U.S. Embassy in Cairo:
(Reuters) – Egyptian protesters scaled the walls of the U.S. embassy on Tuesday, tore down the American flag and burned it during a protest over what they said was a film being produced in the United States that insulted Prophet Mohammad.

In place of the U.S. flag, the protesters tried to raise a black flag with the words "There is no God but God, and Mohammad is his messenger", a Reuters witness said.

Once the U.S. flag was hauled down, some protesters tore it up and showed off pieces to television cameras. Others burned the remains outside the fortress-like embassy building in central Cairo. But some protesters objected to the flag burning.

Many Muslims consider any depiction of the Prophet to be offensive.

"This movie must be banned immediately and an apology should be made," said 19-year-old Ismail Mahmoud, a member of the so-called "ultras" soccer supporters who played a big role in the uprising that brought down Hosni Mubarak last year.

He called on President Mohamed Mursi, Egypt's first civilian president and an Islamist, to take action, without giving details of the film that angered him or other protesters.

About 20 people stood on top of the embassy wall, while about 2,000 protesters gathered outside. The demonstrators were mainly supporters of Islamist groups or "ultras" youths.

Rafik Farouk, 38, an Egyptian Christian, also took part. "I am here because I am Egyptian and reject anything that insults Islam or anything that sparks division in Egypt," he said.
Over at The Atlantic, Max Fisher provides some background information about the "film," which turns out to be associated to some extent with Terry Jones, the Florida pastor who made a name for himself by burning a Koran last year:
The movie is called Innocence of Muslims, although some Egyptian media have reported its title asMohammed Nabi al-Muslimin, or Mohammed, Prophet of the Muslims. If you've never heard of it, that's because most of the few clips circulating online are dubbed in Arabic. The above clip, which is allegedly from the film (update: Kurt Werthmuller, a Coptic specialist at the Hudson Institute, says he's confirmed the clip's authenticity*) is one of the only in English. That's also because it's associated with Florida Pastor Terry Jones (yes, the asshole who burnt the Koran despite Defense Secretary Robert M. Gates' pleas) and two Egyptians living in the U.S., according to Egyptian press accounts.* The Egyptians are allegedly Coptic, the Christian minority that makes up about a tenth of Egypt.

(…)

What exactly does the film say? It's still not clear, but it appears to compare Mohammed to a goat and Muslims, according to one translation, to "child-lovers." The New York Times' Liam Stack, offering some offhand translations of the scene shown above, called it a "doozy." The man in the scene says of his donkey, "This is the first Muslim animal." He asks the goat if it likes girls; when it doesn't answer, he bursts into laughter and says, "He doesn't like girls," according to Stack. Other scenes in the above clip seem to portray Muslim Egyptian characters, who for some reason all have strong New York accents, as immoral and violent, particularly toward the Christians whom they pursue with near-genocidal fervor. A number of Islam's founding figures, including the prophet, are accused of homosexuality and child molestation.

The movie, like Terry Jones himself and his earlier Koran-burning stunt, have received attention far beyond their reach, which would be modest if not for obsessively outraged media. And yet, here the movie is, not just offending apparently significant numbers of people, but producing real-world damage
I've got to part company with Fisher here. We've covered Terry Jones several times here in the past year or so, and there's no question that he is an ignorant, bigoted, attention-grabbing troglodyte. I haven't seen any of this "film" he's involved in, which apparently is only available on You Tube, and you can check out the clips that Fisher has at his site if you wish. However, it really doesn't matter what it says, because the film is not responsible for the riots in Cairo or the four murders in Benghazi, the people who committed those acts are, as are the "clerics" who quite obviously lied to them and goaded them into violence and murder. As offensive as it might be, Terry Jones and the makers of this film have a right to free speech and Chris Stevens had a right not to be murdered in cold blood because some people were offended by a film that they had never actually seen. There is no justification for what these people did, not even the offensive speech of Terry Jones.
Bizarrely, though someone at the United States Embassy in Cairo thought it would be a good idea to release this statement:
The Embassy of the United States in Cairo condemns the continuing efforts by misguided individuals to hurt the religious feelings of Muslims – as we condemn efforts to offend believers of all religions. Today, the 11th anniversary of the September 11, 2001 terrorist attacks on the United States, Americans are honoring our patriots and those who serve our nation as the fitting response to the enemies of democracy. Respect for religious beliefs is a cornerstone of American democracy. We firmly reject the actions by those who abuse the universal right of free speech to hurt the religious beliefs of others
The Embassy's Twitter account also sent out a number of Tweets that appeared to be sympathetic to those protesting, including some that may have been sent out while the protests were going on. It's worth noting that most of the senior Embassy staff had apparently been evacuated from the embassy before the protests got bad, so it's unclear who may have been responsible for this. Nonetheless, the statements were, of course, idiotic and unconscionable. It isn't at all proper for an American Embassy to issuing statements like this, and it wasn't long before the White House turned around and repudiated the statement:
The Obama administration is disavowing a statement from its own Cairo embassy that seemed to apologize for anti-Muslim activity in the United States.

"The statement by Embassy Cairo was not cleared by Washington and does not reflect the views of the United States government," an administration official told POLITICO.

(…)
"Some have sought to justify this vicious behavior as a response to inflammatory material posted on the Internet.  The United States deplores any intentional effort to denigrate the religious beliefs of others.  Our commitment to religious tolerance goes back to the very beginning of our nation.  But let me be clear:  There is never any justification for violent acts of this kind," Secretary of State Hillary Clinton said in a Tuesday statement.
The protests outside the embassy have resumed this morning, although there is apparently a much larger Egyptian security force there today, something that makes one wonder why there wasn't a larger security force yesterday. Details about the situation in Libya are murkier largely because there isn't much of a media presence in the city, or in the country as a whole for that matter. Fortunately, there doesn't seem to be much of an indication that these protests are spreading to other parts of the Middle East as of yet.
Where things go from here is unclear. It's rather obvious that all of this happened largely because large crowds of people were whipped up into a frenzy by people who basically lied to them. According to some reports, the people protesting in Cairo actually believed that these anti-Muslim "film" was premiering nationwide in movie theaters in the United States on the anniversary of the 9/11 attacks. They had no idea that the "film" was, in reality, an obscure piece of bizarre propaganda that nobody had heard of until yesterday, and which is apparently only available online. There's no indication in either Libya or Egypt that there were government forces behind the attacks, although it is worth noting that while the Libyan Government has denounced the attack in Benghazi but there has been no similar condemnation from the Egyptian Government. In either case, though, it's hard to see what exactly we can do about this situation. Finding the responsible party in an act of mob violence is next to impossible, and it's not like there's anything that we can do militarily about this. In the end, perhaps the best we can do is evacuate non-essential personnel until such time as things cool down.
Photo via The New York Times