Malaysia Airlines 777 Crashes In Eastern Ukraine, May Have Been Shot Down
Another incident involving a Malaysia Airlines 777, but this one could be far more serious.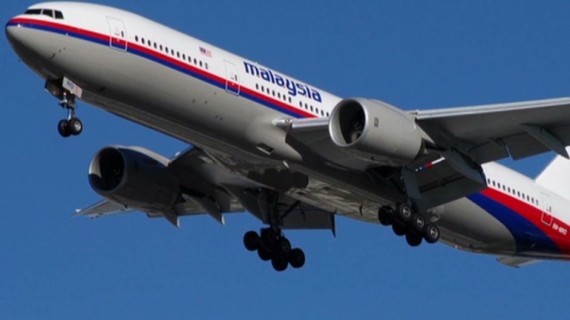 A Malaysia Airlines Boeing 777 filing from Amsterdam to Kuala Lampur has crashed somewhere in eastern Ukraine, and some allegations are being raised that the plane may have been shot down:
MOSCOW — A Malaysia Airlines Boeing 777 with nearly 300 people aboard crashed in eastern Ukraine near the Russian border on Thursday, the Ukraine government and a regional European aviation official reported, and the Interfax news agency said it had been shot down.

Ukraine's president, Petro O. Poroshenko, said in a statement that he was calling for an immediate investigation of the crash. He did not rule out that it might have been shot down.

A regional airline official said the plane had been flying at about 33,000 feet when radar trackers lost it over eastern Ukraine near the Russian border.

Eastern Ukraine has been roiled for months by a violent pro-Russian separatist uprising in which a number of military aircraft have been downed. But this would be the first commercial airline disaster resulting from the hostilities in Ukraine.

Malaysia Airlines, still reeling from the mysterious loss of another Boeing 777 flight in March, said it had lost contact with the flight, MH17, from Amsterdam to Kuala Lumpur over Ukraine but offered no further details immediately. Malaysia's president, Mohd Najib Tun Razak, said in a Twitter post that he was "shocked by reports that an MH plane crashed. We are launching an immediate investigation."

Hishammuddin Hussein, Malaysia's defense minister, responded to reports that the aircraft had disappeared and might have been shot down by posting a series of terse messages on Twitter: "Monitoring this closely," said one. In another, he referred to the Ministry of Defense in saying that, "I have directed MINDEF to get confirmation."

Andrei Purgin, deputy prime minister of the Donetsk People's Republic, the insurgent group in eastern Ukraine, denied in a telephone interview that the rebels had anything to do with the downing of the passenger jet. He said the rebels had shot down Ukrainian planes before but that their anti-aircraft weapons could only reach to around 4,000 meters, far below the level of passenger jets.

"We don't have the technical ability to hit a plane at that height," he said. He said the plane apparently came down in an area of Ukrainian military operations and that it was not out of the question that Ukrainians themselves shot it down.
Further details from NBC News:
Malaysia Airlines jet with 295 people on board crashed in Ukraine near the Russian border on Thursday, according to the Interfax news agency, and an adviser to the Ukrainian government said that it had been shot down.

The reports could not immediately be confirmed by NBC News, but Malaysia Airlines said on its Twitter account that it had lost contact with an aircraft, Flight 17 from Amsterdam to Kuala Lumpur. A Reuters correspondent in eastern Ukraine reported seeing the burning wreckage of a plane and bodies on the ground.

More than four months ago, Malaysia Airlines Flight 370, flying from Kuala Lumpur to Beijing with 239 people on board, disappeared in the greatest mystery in modern aviation. Multi-nation searches of swaths of land and ocean have turned up no sign of that aircraft.

A adviser to the Ukrainian interior ministry said that Flight 17, a Boeing 777, had been shot down over a town in the east of the country, The Associated Press reported. Pro-Russian separatists have been fighting Ukrainian security forces in that region for months.

The adviser, Anton Gerashenko, said on his Facebook page that the plane was flying at 33,000 feet when it was hit by a missile fired from a launcher known as a Buk. A similar launcher was seen by Associated Press journalists near the eastern Ukrainian town of Snizhne earlier Thursday.

Malaysian Prime Minister Najib Razak said on Twitter: "I am shocked by reports that an MH plane crashed. We are launching an immediate investigation."

The Malaysian defense minister, Hishammuddin Hussein, said that there was no confirmation that the plane had been shot down. He said on Twitter that the Malaysian military had been instructed to "get on it."

President Barack Obama was briefed and directed his team to be in close touch with senior Ukrainian officials, press secretary Josh Earnest said. Officials at the Pentagon scrambled to learn more and assess who might have had the capability to shoot down an airliner.
MOSCOW — Malaysia Airlines said Thursday that it lost contact with an airliner that was flying in Ukrainian airspace, raising fears that the plane may have been shot down over eastern Ukraine.

"We lost contact with Flight MH17 in Ukraine," said Najmuddin Abdullah, who works in Malaysia Airlines' press office.

An adviser to Ukraine's interior minister wrote on Facebook that a Buk antiaircraft missile system shot down the plane over the village of Torez, about 25 miles east of the city of Donetsk and within territory held by pro-Russian separatist rebels.

The plane was carrying 280 passengers and 15 crew members, Anton Herashenko, the Interior Ministry adviser, wrote on his Facebook page, without revealing how he knew the information. He blamed the rebels for the attack.

(…)

Herashenko said on Facebook that "local patriots" reported the movement of the Buk missile system Thursday morning from Torez in the direction of Sneznoye. He said the Malaysian plane en route to Kuala Lumpur was flying at 10,000 meters.

The missile system was "generously provided" to the rebels by Russian President Vladi­mir Putin, Herashenko charged. "There is no limit to the cynicism of Putin and his terrorists!" he said.

"Europe, Canada, the USA, the civilized world — open your eyes! Help us with everything you can!" he pleaded.

Herashenko said video from the site shows that "some jerks were shouting: Look, how wonderful it is burning! Beautiful!"

For their part, leaders of the separatists' self-proclaimed Donetsk People's Republic denied any involvement in bringing down the airliner.

"The plane was shot down by the Ukrainian side," said Serhiy Kavtaradze, a member of the rebels' security council, according to the Russia's Interfax news agency. "We simply do not have such air defense systems." He said rebels' shoulder-launched antimissile weapons "have a firing range of only 3,000 to 4,000 meters" and that passenger jets fly at a much higher altitude.
As is always the case with breaking news stories like this, it's worth keeping in mind that initial reports are often incomplete and untrue. Additionally, the claims from Ukrainians should at least initially be taken with a grain of salt given the conflict going on in the region and the fact that it would be in their interests to pin responsibility for what happened here on either the Russians or on pro-Russian separatists. We may learn that the plane experienced engine trouble of some kind or some other kind of mechanical trouble that caused it to drop from the sky in this manner, although its worth noting that at the moment at least there are no reports that crew was making any indication of such trouble. Other possible causes of what could have happened, of course, would include a bomb on the plane or terrorist hijacking, but that takes us into realms of speculation that its not really a good idea to get into without further evidence.
All that being said, there certainly does seem to be some evidence for the Ukrainian claim that the plane was shot down. Radar date tracked by Flight Aware shows the plane disappearing from radar with no indication of a rapid loss in altitude, for example. Additionally, there has been a decided up-tick in tensions in eastern Ukraine and along the Ukrainian-Russian border over the past week or so including, just on Monday, a Ukrainian transport plane that was allegedly shot down by some means from the Russian side of the border. CNN, meanwhile, is reporting that one representative of the separatists was making claims that his group had shot down a Ukrainian plane about an hour prior to the news of the crash becoming public. The veracity of that claim, though, seems difficult to accept given the fact that, by all accounts, the separatists do not have the type of weaponry that would be needed to shoot down a plane flying at 33,000 feet.
If the plane was indeed shot down, then it obviously raises memories of Korean Airlines Flight 007, which was shot down by Soviet fighters after it had strayed from its intended flight plan from New York City to Soeul, accidentally straying close to the Soviet base at Sakalin Island. In that case, the Soviets claimed that the plane had been shot down in error due to perceived threats, although few people outside the USSR believed that the pilots could have not known that the plane they were tracking was a passenger airliner. In this case, it also should have been very easy for military radar to figure out that Flight 17 was not a military plane due both to its radar signature (assuming that its transponder was working properly) and the fact that it was flying at an altitude typically used by commercial airliners. At the same time, though, it seems inconceivable that this would have been a deliberate action, either by the Russians or by the separatists.
Mistake or not, though, it doesn't take much to realize that this could end up being a very serious incident if it does indeed turn out that the plane was shot down.  For that reason alone, it's essential that we let the facts play out at their own pace and avoid the kind of speculation that could lead to unnecessarily increased tensions.
This post will be updated as necessary, or we'll cover other aspects of this news in new posts as warranted.
Update: Reuters is reporting that there were American citizens on the plane:
#BREAKING: Number of dead from crash of #MH17 more than 300, includes 23 U.S. citizen: Interior Ministry adviser, quoted by Interfax

— Reuters Top News (@Reuters) July 17, 2014
The United States was likely to be involved in any investigation of this crash in any case, but this guarantees that we will be doing so I would think.
Update: U.S Intelligence sources are reporting that Malaysia Airlines Flight 17 was brought down by a surface to air missile.