U.S. Intelligence Sources Confirm Malaysia Airlines Flight Hit By Surface-To-Air Missile
Someone took down a Boeing 777 over Ukraine today.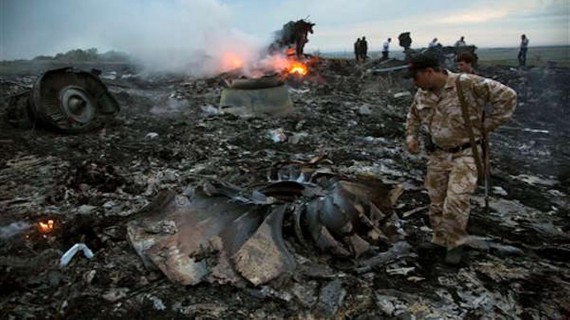 Sources in the U.S. intelligence community are telling reporters that it has been confirmed that Malaysia Air Flight 17 was brought down by a surface-to-air missile over eastern Ukraine earlier today:
A Malaysia Airlines plane carrying 295 passengers and crew came down Thursday while flying over the battle-torn east Ukraine region of Donetsk, after it was hit by what U.S. intelligence agencies said was a surface-to-air missile.

The intelligence sources didn't say whether the missile was fired by Ukrainian forces or pro-Russia separatist rebels.

Malaysia Airlines said contact was lost with Flight 17 about 50 kilometers (30 miles) from the Russia-Ukraine border.  The Boeing 777 77 departed from Amsterdam around noon on Thursday and was due to arrive in Kuala Lumpur early Friday.

Ukraine's state air-traffic control service confirmed the flight had crashed and said a special investigation commission has been rushed to the scene.

The plane went down near the village of Hrabove in the Donetsk region while flying at a height of about 10,000 meters (32,800 feet), according to Anton Gerashchenko, an adviser to Ukraine's Interior Ministry.

The crash immediately sparked speculation about the cause. For months, Ukrainian forces have been trying to subdue pro-Russia separatists who seized towns across the region in April and declared an independent republic. The fighting escalated this week when Ukrainian authorities reported that one of its military cargo planes and one of its military fighter jets had been downed in the area.

The disaster comes as a new trauma for Malaysia Airlines, the carrier already at the center of a global mystery over the disappearance of one of its flights in March, another Boeing 777 that went missing en route from Kuala Lumpur to Beijing.

Footage captured by locals from the wreckage site showed a massive grey plume of smoke emerging from a field before sunset. Subsequent images pictured Ukrainian emergency forces hosing down the wreckage, as well as passports, tickets and pieces of bodies found in tact near the crash site.

The war of accusations kicked off immediately after the crash. In a phone call with The Wall Street Journal, Mr. Gerashchenko alleged that pro-Russia rebels had set up a ground-to-air missile battery near the Russian border by the town of Snizhne.

"They clearly thought that it was a military transport plane that they were shooting at," he said. "They were the ones who did this." His claims couldn't be verified.

In a Facebook post, Mr. Gerashchenko alleged that the separatists had obtained a Buk surface-to-air missile system that he said locals saw them parading near the towns of Snizhne and Torez during the day on Thursday. He said a convoy with the anti-aircraft missile was seen heading toward Shakhtarsk, a town not far from the crash site, about an hour before the plane went down late Thursday afternoon.

In late June, separatist leaders told the Russian news outlets RIA Novosti and Interfax that they had taken control of a Ukrainian air-defense base near the village of Oleksiivka equipped with Buk missiles. The Donetsk People's Republic also posted a photo of the missiles, sometimes known as Gadfly systems, on its official Twitter feed at the time, declaring a victory in having seized the weaponry.

But on Thursday, separatist leaders denied that they had surface-to-air missiles such as the Buk system that were powerful enough to shoot down a Boeing 777 flying at such a height.

Sergei Kavtaradze, one of the leaders of the separatist Donetsk People's Republic, accused Ukrainian forces of having shot down the plane.

"The plane was shot down by the Ukrainian side," he told the Interfax news agency. "We simply don't have those kind of air defense systems."

Ukraine's president and prime minister didn't immediately assign blame for the incident.

Prime Minister Arseniy Yatsenyuk ordered a special investigation into the crash, as well as the downing of a Ukrainian AN-26 military cargo aircraft and a Ukrainian SU-25 fighter jet in the same area earlier this week.

"This is the third tragic incident in recent days after the AN-26 and SU-25 were shot down," Ukrainian President Petro Poroshenko said in a statement. "We can't rule out that this plane was also shot down, but we underscore that the Ukrainian armed forces were not carrying out any actions to strike airborne targets."
More from CNN:
The United States has concluded the Malaysian airline was shot down, a senior U.S. official told CNN's Barbara Starr. One radar system saw a surface-to-air missile system turn on and track an aircraft right before the plane went down Thursday, according to the official. A second system saw a heat signature at the time the airliner was hit, the official said. The United States is analyzing the trajectory of the missile to try to learn where the attack came from.

In other developments:

– "We must and we will find out precisely what happened to this flight. No stone will be left unturned," Malaysian Prime Minister Najib Razak told reporters. He called for an international team to have full access to the crash site. "If it transpires that the plane was indeed shot down, we insist that the perpetrators must swiftly be brought to justice," he said.

– U.S. Vice President Joe Biden said Thursday that Ukraine's president accepted an offer of U.S. experts to investigate the crash of a Malaysia Airlines jetliner there, adding "they will be on their way rapidly to see if we can get to the bottom of this."

Biden said the plane was apparently shot down, adding "not an accident, blown out of the sky."
The biggest question, of course, is who might be responsible for this attack and why it happened. All of the various sides in the conflict in eastern Ukraine are, not surprisingly, blaming each other but the focus at this point seems to be on the pro-Russian separatists in Donetsk, who may have gotten their hands on some very sophisticated anti-aircraft equipment. In apparent support of that hypothesis, the Ukrainians have released what they claim is the transcript of a conservation between pro-Russian separatists and a Russian military intelligence officer that seems to confirm that the separatists believed that they had shot down a Ukrainian plane. While it's always advisable to take a report like this from a source that obviously has something to gain in the matter with a grain a salt, this report does seem to corroborate some of the reports we saw earlier today in which a separatist leader had apparently initially claimed credit for shooting down what he seemed to think was a Ukrainian plane, only to delete those social media posts almost immediately after the reports of the downing of MH 17 were starting to become public. All of that would indicate that the downing of the plane was a mistake, which certainly makes sense under the circumstances since there would seem to be no rational reason why anyone involved in the conflict in eastern Ukraine would want to deliberately target civilian jetliners from nations that have nothing to do with the conflict.
As for how the attack might have been pulled off, the primary suspect in that regard appears to be the Buk Missile System, a Russian anti-aircraft missile system that can reportedly aircraft flying at the level that MH 17 was at when it was hit, as well as far higher. According to some reports, the Donetsk separatists had captured at least one Buk system from a Ukrainian base during an attack several weeks ago, so that theory does seem to have some degree of plausibility to it. What's unclear is how the separatists would have gained the knowledge needed to operate the system and whether the Russians that are known to have been provided assistance to these groups over the past several months played any role in that.  In any case, it appears that while the system would allow them to track aircraft flying even as high as MH 17 was, it may not be able to differentiate between military an civilian targets unless its tied into a wider air traffic control system, which would obviously not be the case here. So the most plausible explanation would be that the separatists spotted what they assumed was a Ukrainian plane and opened fire without realizing what they were doing.
Mistake or not, though, the consequences of their action are the same, and it seems fairly obvious that this act is going to have wide repercussions for the conflict in Ukraine and the international community's response to that conflict. The U.N. Security Council has already announced that it will hold a meeting tomorrow morning to discuss the incident, and most international airliners have announced that they will not be flying over Ukraine in light of what happened today. Tensions between Ukraine and Russia had already been on the upswing in the past week or so, and this incident is only likely to make that worse. For his part, Russian President Putin has said publicly that the incident is ultimately Ukraine's fault because of their decision to renew their offensive against the separatists over the past several weeks. Ukrainian officials, of course, see the matter quite differently, with Ukrainian President Petro Poroshenko blaming the separatists and calling the attack an act of terrorism. One can only assume that the rhetoric will get worse over the coming days. Somewhere in the middle of all of this, it will be important to keep an eye on discovering the truth of what actually happened and, if possible bringing the people responsible to justice. Whether that will be possible under these circumstances, though, is an open question.
Photo of Malaysia Airlines Flight 17 crash scene via ABC News