Vladmir Putin Looks To Be Throwing The 'Pro-Russian' Ukrainian Separatists Under The Bus
In the end, the separatists in eastern Ukraine have always been expendable as far as Vladimir Putin is concerned.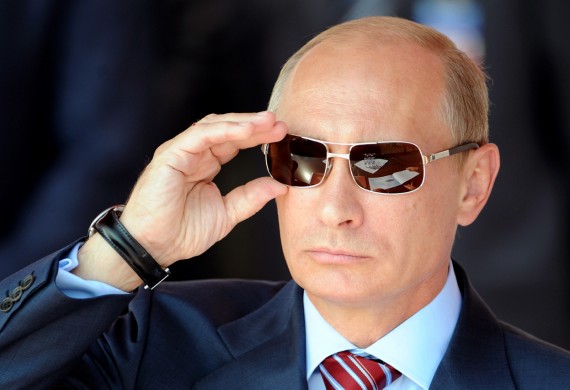 Julia Ioffe at The New Republic notes that Vladimir Putin seems as though he's turning his back on his pro-Russian separatist allies now that the tide of war is turning against them:
As the Ukrainian army chases separatists from the strongholds they've held for months, Moscow has barely said anything—despite its springtime rants about protecting Russians wherever they may be in the world. Instead, as Kiev's armies are finally uprooting the rebellion in places like Slovyansk and Kramatorsk, Russian Foreign Minister Sergei Lavrov made a tepid and noncommittal statement,saying that "a quick end to the bloodshed is in our common interest."

As I wrote back in May, now that he's sown chaos in Ukraine—but uneager to participate in someone else's civil war—President Vladimir Putin has thrown the rebels under the bus. In June, rebel leader Igor Strelkov saidthat "Putin betrayed us," and that betrayal has only deepened as Kiev launched its all-out offensive last week. Moscow, having started all this, has offered no help to the rebels.

The betrayal, it seems, may be even nastier than that. According to a Ukrainian security council spokesman, the Russians have sealed their border, shutting down three key crossings. Not only are they not letting men and materiel into Ukraine from Russia, but they're also blocking men and materiel from flowing in the opposite direction. That is, the very men that Moscow has riled up to the extent that they have taken up arms and are ready to die in order to get the region out of Ukraine and into Russia are not welcome to seek refuge in Russia.
Assuming that these reports are true, it should not be entirely surprising, of course.
Even when it was obvious that the separatists were getting Russian backing and material aid, it always seemed as though Putin was always keeping them at a distance. If they scored successes that he could exploit, he no doubt would have acted in some way. However, that never really happened. Outside of strongholds in areas like Donetsk, they separatists have never been able to get much of an upper hand against Ukrainian forces and, now, the recent successes that Ukraine has had in the east quite obviously have them on the run toward what could end up being a final standoff at Donetsk.  If that's the fate that the separatists are headed for, then it makes sense that Putin would make the rather cold-blooded decision to cut off their aid and decline to provide them refuge. They have already served whatever purpose he may have had for them.
It's always possible, of course, that Putin will change his mind and resume assistance to the separatists, but that is going to require a number of developments. Quite obviously, the separatists themselves would have to score some kind of victory against the Ukrainians that would indicate to Putin that they are anything other than a rebellion that will either be crushed in the near future or simply whither away over time. Additionally, it would require Putin to determine that it would be in Russia's/his interest to get deeply involved in Ukraine yet again even when the prospects for victory seem low, and it's unclear what "victory" actually entails. Notwithstanding the threat that was posed earlier this year by the Russian forces poised on the border with eastern Ukraine, it seems clear that invasion is pretty far down the list of viable options in Russia's plans. The only way that might change would be if there were, or had been, some kind of popular uprising in the east against the government in Kiev. That has not materialized, though, and the military success that the Ukrainian military has had recently are likely to ensure that it won't happen in the near future. Given all of that, Putin walking away from the separatists seems like the most likely outcome barring a significant change on the ground. While some might see this as a "defeat" for Putin, as Kevin Drum notes, he would walk away from the affair with Crimea back under Russian control for the first time in sixty years. Notwithstanding the ongoing sanctions regime, that is unlikely to change. One wonders if that's what he had in mind all along.
Meanwhile, David Patrikarakos notes that the pro-Russian seperatists are indeed digging in around Donetsk:
The Ukrainian army allowed separatist forces to leave unmolested in convoys from Slovyansk, and thousands of armed pro-Russian rebels were on the move. Inside the administration building, rumors were flying that Igor Strelkov, a veteran of the Russian special forces who commanded the DNR troops in Slovyansk, was on his way to Donetsk. His convoywas originally supposed to head to Kramatorsk, a small city between Slovyansk and Donetsk,but then news filtered through the DNR administration building that the Ukrainian army had taken control of that town, too. Donetsk will be the last redoubt. Divisions of DNR fighters were expected to begin arriving in the city, but still no one knew when or how many are coming.

Discussion in the office turned to worst-case contingencies: what happens when Donetsk comes under attack. Accurate information is almost nonexistent, and speculation dominates conversation among DNR officials, civilians, and journalists alike. One second, people are shouting to evacuate the building, and everyone runs down the stairs. The next, a gaggle of DNR officials regroup outside and relax. An airstrike isn't coming. A portly man with longish, curly brown hair and sunglasses smokes a cigarette with some soldiers, a Kalashnikov slung languidly across his back.I am told he is the DNR's minister of communications.

Back inside headquarters, I met Andrei Purgin, one of the founding members of the DNR. He was in a belligerent mood. The fall of Slovyansk, he said, was the Ukrainian army's attempt to "eliminate the civilian population" there. He claimed that DNR forces have removed the remainder of the population from the line of fire. "The Ukraine army did not use infantry," he said. "It used heavy artillery — over 100 pieces — wiping thetown off the face of the Earth. There was no humanitarian corridor. Forty-five thousand people were effectively condemned to death."

Purgin's casualty figures are wildly inflated, but even in the information black hole of Donetsk, it is clear that several hours of sustained shelling from the Ukrainian army finally forced the insurgents to withdraw from Slovyansk. With much of the city in ruins, rebel positions had become increasingly difficult to defend.

(…)

A siege or stalemate looks like the most likely option. Poroshenko is determined to recover the east, but shelling Ukraine's most important industrial city would be disastrous both for the economy and for any hope of reconciling in the future. Meanwhile, the separatists can defend their positions, but the chances of making gains are now unlikely in the extreme.

The only real chance now for the rebels to fight back would be if their allies in Moscow accepted separatists' demands for direct military assistance. But this is equally unlikely, and even the otherwise confident rebels know it. "Of course Russian military aid would resolve the problem very quickly," said Gubarev, almost forlornly. "But we understand that it is not possible at the moment. We will respect any decision Russia makes."
If the above reports are any indication, then it would appear that the rebels in Donetsk are going to be left high and dry. If nothing else, that should cause "pro-Russian" separatists elsewhere in the region to think twice before accepting assistance or support from Putin's Russia in the future should it be offered.