Putin Invades Ukraine in Defiance of West
The much-anticipated escalation has happened. Now to see how the United States and its allies respond.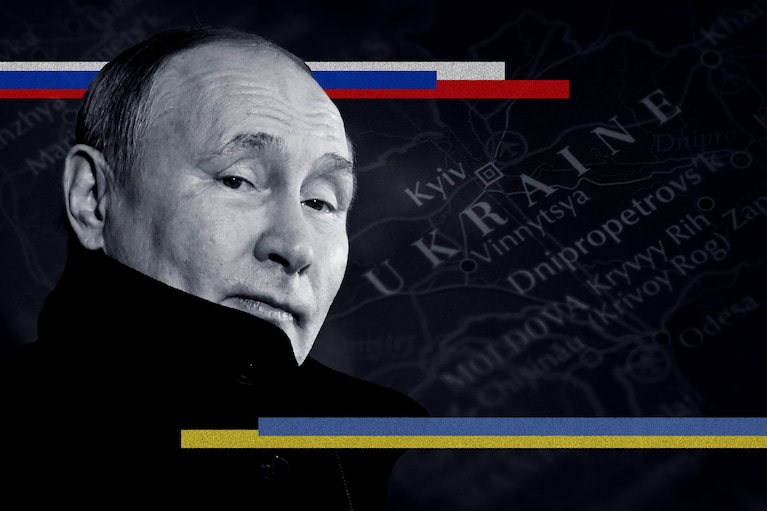 The basic facts:
WSJ ("Putin Orders Deployment of Troops to Breakaway Regions in Ukraine"):
Russian President Vladimir Putin ordered Russian troops into two breakaway regions of Ukraine after recognizing their independence, a move that threatened to scuttle negotiations with the West over the future security of Eastern Europe.

His two decrees were published on the Russian government's legal portal after a televised address late Monday in which Mr. Putin laid out grievances about the West's support of Ukraine after the collapse of the Soviet Union and Western arms deliveries to Kyiv against the backdrop of a massive Russian troop buildup near its borders.

A column of Russian military vehicles entered Donetsk overnight, according to witnesses and footage posted on social media. The local authorities, however, haven't made any announcements. Eduard Basurin, one of the leaders of the so-called Donetsk People's Republic, said he wasn't aware of the Russian troops' arrival, according to the Moscow's RIA news agency.

Ukrainian President Volodymyr Zelensky said Tuesday that Russia's decision to recognize the Donetsk and Luhansk statelets simply "legalizes its troops that were in fact already deployed in the occupied regions of Donbas since 2014."

"A country that has been fomenting war for eight years cannot be working for peace as it claims," he said in a past-midnight speech to the nation. He urged Ukrainians to keep calm. "We know the difference between provocations and an offensive by the aggressor troops," he said. "For now, there is no reason for chaos. We have long been ready for anything. There is no reason for you to have a sleepless night."

A senior Biden administration official said that in response, the U.S. will impose new sanctions on Russia by Tuesday.

Mr. Putin said the unspecified number of Russian forces would act in a peacekeeping role once Russia has signed mutual assistance with the two regions.

"The situation in Donbas is becoming critical," Mr. Putin said of the eastern area of Ukraine, where the two breakaway regions are located. "Ukraine is not just a neighbor. It is an inherent part of our own history, culture and spiritual space," he said.
WaPo ("Putin orders troops to eastern Ukraine after formally recognizing two Moscow-backed separatist regions"):
Russian President Vladimir Putin on Monday recognized the independence of two Moscow-backed separatist regions in eastern Ukraine and ordered Russian forces onto their territory for "peacekeeping" purposes, a dramatic escalation in a crisis that is threatening a full-scale war.

Putin's action — in direct defiance of U.S. and European warnings — was swiftly condemned by Washington and Brussels, with top officials promising sanctions in response to the recognition of the self-declared republics. Secretary of State Antony Blinken decried the recognition as "a clear attack on Ukraine's sovereignty and territorial integrity."

But amid reports of Russian military columns already appearing in the breakaway territories late Monday, the White House stopped short of announcing the full-fledged sanctions that President Biden had said Russia would face in the event of an invasion.

For weeks, Putin has been holding the world on tenterhooks, with some 190,000 Russian personnel and enabling forces amassed around Ukraine's borders, even as top Russian officials have denied plans to mount an offensive in Ukraine.

In a televised address to the Russian nation Monday, Putin dropped much of the pretense, recognizing the Donetsk People's Republic and the Luhansk People's Republic, and demonstrating to the international community that feverish rounds of diplomacy had left the 69-year-old former KGB officer undeterred.

"Ukraine has never had its own authentic statehood," Putin said during a seething speech that delved into Soviet history to undermine the idea of Ukraine as an independent nation.
NYT ("'There will be losses': Ukraine braces for possible conflict."):
With the dispatch of armed forces by Russia and the promise of sanctions by the United States, the Ukraine conflict entered a perilous new chapter on Tuesday as the path to a diplomatic solution quickly narrowed.

President Vladimir V. Putin of Russia has been unsparing in terms of what lies ahead, calling Ukraine little more than a "puppet" of the United States, and Kyiv's leaders solely responsible for whatever "bloodshed" may come next. Mr. Putin has also raised the specter of fighting after ordering troops to the two breakaway regions of Ukraine that Russia just recognized.

"As for those who captured and are holding on to power in Kyiv," he said, referring to the Ukrainian capital, "we demand that they immediately cease military action."

Ukraine's leaders braced for the possibility of an intense fight to defend their territory, offering a somber message to troops on Tuesday. "Ahead will be a difficult trial," the defense minister, Oleksiy Reznikov, said in a statement released by the military. "There will be losses. You will have to go through pain and overcome fear and despondency."

White House officials have said that President Biden will impose economic sanctions on the separatist regions of Ukraine, and that a further Western response will be announced on Tuesday. By then, several of Mr. Biden's aides said, they already expected to see Russian forces rolling over the border into Ukraine, crossing the line that Mr. Biden had set for imposing "swift and severe" sanctions on Moscow.

In recent weeks, some 150,000 to 190,000 Russian troops, by Western estimates, have gradually drawn a noose around their neighbor, and the United States has warned repeatedly that the question about a Russian invasion was not if but when.

Video clips of military convoys moving through the separatist territories were circulating on social media on Tuesday, but there was no immediate official confirmation that these were Russian troops rather than the forces of Russian-backed separatists.

On the Ukrainian side, similarly unconfirmed reports on social media appeared to show the Ukrainian Army moving heavy weaponry, such as self-propelled artillery guns and tanks, toward the front line with the separatist enclaves.
The US and Allied Reaction:
NYT ("U.S. Offers Limited Initial Response to Russia as It Weighs Stiffer Sanctions"):
Russia's decision to order troops into Ukraine on Monday presented the United States and Europe with the challenge of deciding how quickly to move in imposing stiff sanctions on Moscow, seeking to balance punishment, deterrence and maintaining unity among the allies.

President Biden's initial reaction was cautious, limited to issuing a narrow set of sanctions aimed at two regions in eastern Ukraine that are partly controlled by Russian-backed separatists and that President Vladimir V. Putin of Russia recognized as independent on Monday.

The targeted nature of the penalties appeared intended to allow the United States and its European allies to hold in reserve the most aggressive sanctions they have threatened to impose on Moscow if Mr. Putin carries out a full-scale assault to bring down Ukraine's democratically elected government.

In private, administration officials have conceded that Mr. Putin did not seem interested in further negotiations that did not address his core demands that NATO stop expanding to the east, and speculated that he had tolerated diplomatic overtures mostly to gain time to mass his forces.

White House officials said a further Western response would be announced on Tuesday, by which time several of Mr. Biden's aides said they expected to see Russian forces rolling over the border into Ukraine, crossing the line that Mr. Biden had set for imposing "swift and severe" sanctions on Moscow.

That response will include at least some sanctions, a White House official said late Monday, in response to "Moscow's decisions and actions." But officials declined to provide details about how far Mr. Biden and his allies planned to go in punishing Mr. Putin.

The harshest of the sanctions that administration officials have previewed in recent weeks include cutting Russia's largest banks off from the global economic system, starving Russian heavy industry of semiconductors and other advanced technology, and — if it comes to it — arming an insurgency as Ukrainians fight for their freedom.

But it was not clear that Mr. Biden or his more reluctant allies — especially Germany and Italy, which are dependent on Russian gas imports — were ready to unleash the full sanctions package.

Mr. Putin's incremental approach to ratcheting up the pressure on Ukraine appears intended to exploit any fissures in what has been a quite unified NATO and European posture. Some nations may be reluctant to reach for the most punishing sanctions if Mr. Putin's forces remain in Russian-speaking eastern Ukraine, where Russia has exercised great influence during an eight-year conflict.

Yet the limited geographic reach of Mr. Putin's initial claim on Ukrainian territory stood in sharp contrast to the implication in his winding, hourlong speech on Monday that the entire country was a part of Russia.

He made clear his wider ambition was to reclaim Ukraine and continue rebuilding the empire that collapsed with the end of the Soviet Union three decades ago. At one point he said it outright: "Modern-day Ukraine was in full and in whole created by Russia — Bolshevik, Communist Russia, to be precise."
WaPo ("White House wrestles with whether Russia has 'invaded' Ukraine"):
The White House on Monday confronted the reality that its months-long effort to avert a Russian invasion of Ukraine would likely be futile, as officials grasped for last-ditch ways to head off what one called "military action that could take place in the coming hours or days."

Russian President Vladimir Putin spent the holiday weekend effectively closing off one diplomatic path after another, suggesting ever more clearly that he would not be swayed by diplomacy or deterred by sanctions. And by announcing that he was recognizing two pro-Russian separatist regions of Ukraine and ordering troops into them, he forced the United States into an uneasy dilemma about whether that constituted an invasion.

The Biden administration sought to hit back at Russia's aggressive action while stopping short of declaring that it had officially invaded Ukraine, which would have triggered the array of hard-hitting sanctions President Biden has been warning about for months.

Instead, amid meetings Monday with his national security advisers and calls with several foreign leaders, Biden and his team reiterated their grim assessment of the crisis and imposed a smaller set of sanctions prohibiting U.S. investment and trade specifically in the breakaway regions.
NPR ("U.N. leaders condemn Putin after he orders 'peacekeepers' to Ukraine"):
Russian President Vladimir Putin on Monday recognized two regions in Ukraine as independent and ordered Russian troops to conduct "peacekeeping" operations there, raising fears that Russia is paving the way for an attack. The move set off a round of international condemnation and further isolation at the United Nations, sanctions from the United States, and a promise from the United Kingdom that it, too, would sanction Russia.

[…]

The United Nations Security Council held an emergency meeting Monday evening in response, where ambassador Linda Thomas-Greenfield, U.S. representative to the U.N., said Putin had "torn the Minsk agreement to shreds" and warned that Russian forces escalating further would create "a devastating loss of life" and cause a refugee crisis across Europe.

She warned that Putin's ambitions reach beyond Ukraine, and that he has asserted Russia's claims to all former territory of the former Russian Empire.

"Putin wants the world to travel back in time. To a time before the United Nations," she said. "To a time when empires ruled the world. But the rest of the world has moved forward. It is not 1919. It is 2022."

Russia's Vasily Nebenzya in turn accused Ukraine of aggression and of shelling civilians in the Donbas conflict, while Ukrainian representative Sergiy Kyslytsya said Russia's recognition of the regions was "illegal and illegitimate."

"Negotiation is the only way to address the existing differences," said Rosemary DiCarlo, the United Nations chief political officer. "We call on all relevant actors to focus their efforts on the immediate cessation of hostilities."

The meeting adjourned without any collective statement or action.
POLITICO ("EU, UK leaders vow sanctions over Putin's recognition of breakaway Ukraine regions"):
Leaders from the European Union and the United Kingdom vowed Monday to impose sanctions over Russian President Vladimir Putin's decision to recognize two separatist regions in eastern Ukraine as independent.

In a brief statement, European Council President Charles Michel and European Commission President Ursula von der Leyen said they "condemn in the strongest possible terms the decision by the Russian President to proceed with the recognition of the non-government controlled areas of Donetsk and Luhansk oblasts of Ukraine as independent entities."

"This step is a blatant violation of international law as well as of the Minsk agreements," the two leaders said, referring to peace accords agreed in 2014 and 2015. "The Union will react with sanctions against those involved in this illegal act."

They did not provide any details of the sanctions to be imposed, nor the precise targets of the measures.

U.K. Trade Secretary Liz Truss said separately on Twitter that her country would coordinate with the EU "to deliver swift sanctions against Putin's regime and stand shoulder-to-shoulder with Ukraine," after speaking with top EU diplomat Josep Borrell. Truss had indicated in a prior tweet that the U.K. would give more details on Tuesday.

No. 10 Downing Street said in a statement that U.K. Prime Minister Boris Johnson will on Tuesday morning lead an emergency COBR committee meeting "to discuss the latest developments in Ukraine and to coordinate the UK response including agreeing a significant package of sanctions to be introduced immediately."

[…]

Western leaders have long vowed to impose severe sanctions on Moscow should it decide to invade Ukraine. But Putin's decision on Monday is likely to only trigger a portion of the economic penalities the EU, U.S., Britain and others have been preparing in case of all-out war.

Psaki stressed that point in her statement, saying the U.S. measures are only the start of a raft of punishments the U.S. has lined up should Putin go further.

"To be clear: these measures are separate from and would be in addition to the swift and severe economic measures we have been preparing in coordination with Allies and partners should Russia further invade Ukraine," she said.
Analyses:
WaPo Editorial Board ("This is the way the postwar world ends"):
This is the way the postwar world ends, and the post-Cold War world, too: not yet with a bang, and not with anything close to a whimper, but with a rant. In an extraordinary soliloquy viewed live around the world Monday, President Vladimir Putin of Russia attacked and delegitimized not just independent Ukraine and its government but all facets of the security architecture in Europe, declaring both to be creatures of a corrupt West — headed by the United States — that are unremittingly hostile toward Russia.

[…]

Rebutting Mr. Putin's arguments is almost beside the point — it's doubtful even he believes his wild accusations about Ukraine as a future platform for NATO aggression — but not entirely. The truth is that Ukraine is a member state of the United Nations, whose security Russia itself undertook to respect 28 years ago, in exchange for Ukraine's nuclear disarmament. Ukraine has not been waging "genocide" against a Russian-speaking ethnic minority, as Mr. Putin alleged, but defending itself from a 2014-2015 Russian destabilization campaign that created the breakaway regions and engineered the seizure of Ukraine's strategic Crimean region on the Black Sea. Mr. Putin's pseudo-history about the kinship of Russians and Ukrainians ignores those facts. His true reason for targeting Ukraine is not Russian national security but to preserve his own power in Moscow, which would be threatened by a successful democratic experiment in a former Soviet republic of Ukraine's size and cultural importance.

Mr. Putin's aggressive words and deeds followed a plea Sunday from Ukraine's president, Volodymyr Zelensky, to assembled world leaders in Munich, in which he chided the United States and Europe for their failure to counter Mr. Putin sooner. In that city where Britain and France cut a foolish and short-lived deal with Nazi Germany in 1938, Mr. Zelensky used the historically freighted word "appeasement." We would respectfully disagree, to the extent that after years of Western temporizing about Russia, President Biden has so far effectively rallied NATO to condemn and oppose Mr. Putin's aggression in recent weeks.

After Monday, it is unfortunately clear that Mr. Putin has not been deterred, war is likely, and there is no longer any reason to wait in imposing sanctions — even extending them beyond the breakaway regions, which the White House immediately targeted. That would be the first step in decisively responding to this geopolitical crisis, but it can hardly be the last.
Tom Nichols, The Atlantic ("Putin Chooses a Forever War"):
Russian President Vladimir Putin, in a long speech full of heavy sighs and dark grievances, made clear today that he has chosen war. He went to war against Ukraine in 2014; now he has declared war against the international order of the past 30 years.

Putin's slumped posture and deadened affect led me to suspect that he is not as stable as we would hope. He had the presence not of a confident president, but of a surly adolescent caught in a misadventure, rolling his eyes at the stupid adults who do not understand how cruel the world has been to him. Teenagers, of course, do not have hundreds of thousands of troops and nuclear weapons.

[…]

Putin then suggested that international sanctions are "blackmail"—a word used almost daily in the old Soviet press about the West—and are aimed at weakening Russia and undermining its existence as a nation. "There is only one goal," Putin said. "To restrain the development of Russia. And they will do it, as they did before. Even without any formal pretext at all." This is nonsense, and either Putin knows it (which is likely) or he has become so detached from reality that he has come to believe it (which is not impossible).

Putin left no room for negotiation with the Biden administration. He is prepared for sanctions, which he says will come no matter what Russia does. He asserts that Western hostility is permanent (perhaps because it would be too painful to his ego to admit that most people in the West, if given the choice, would not think about Russia or its leaders at all).

In short, Putin is now embracing a Russian tradition of paranoia, an inferiority complex that sees Moscow as both a savior of other nations and a victim of great conspiracies, a drama in which Russia is both strong enough to be feared and weak enough to be threatened. The West, in this story, is motivated not to seek peace and security, but to undermine Russia, and Putin has cast himself as the beleaguered Russian prophet who must subvert the evil plans drawn against his people.
Stephen Fidler, WSJ ("Putin's Endgame: Unravel the Post-Cold War Agreements That Humiliated Russia"):
The world's attention is on eastern Ukraine, where Moscow's forces circle. Yet Russian President Vladimir Putin's ambitions extend far beyond. He wants to renegotiate the end of the Cold War.

Whatever follows Russia's large-scale military maneuvers, and the announcement Monday to recognize the independence of two breakaway Ukrainian regions and orders to send troops there, Mr. Putin has made clear he wants to redraw the post-Cold War security map of Europe.

[…]

The Russian leader is trying to stop further enlargement of the North Atlantic Treaty Organization, whose expansion he sees as encroaching on Russia's security and part of the West's deception and broken promises. He wants NATO to scale back its military reach to the 1990s, before it expanded east of Germany. The demands would reverse many of the extraordinary changes in Europe that took place in that decade.

In sum, Mr. Putin seeks to undo many of the security consequences of the Soviet Union's collapse in 1991, an event the Russian leader has called the "greatest geopolitical catastrophe" of the 20th century.

[…]

Mr. Putin's approach is aimed squarely at the U.S., over the heads of the other NATO countries, and it reflects several of his beliefs: that the world's affairs should be settled by the great powers, which include Russia; NATO is a U.S. instrument in the way the Warsaw Pact was a Soviet one, and its other members lack agency; and Moscow should control its own backyard, as it did in the Soviet era.
Robert Kagan, WaPo (""):
Let's assume for a moment that Vladimir Putin succeeds in gaining fullcontrol of Ukraine, as he shows every intention of doing. What are the strategic and geopolitical consequences?

The first will be a new front line of conflict in Central Europe. Until now, Russian forces could deploy only as far as Ukraine's eastern border, several hundred miles from Poland and other NATO countries to Ukraine's west. When the Russians complete their operation, they will be able to station forces — land, air and missile — in bases in western Ukraine as well as Belarus, which has effectively become a Russian satrapy.

Russian forces will thus be arrayed along Poland's entire 650-mile eastern border, as well as along the eastern borders of Slovakia and Hungary and the northern border of Romania. (Moldova will likely be brought under Russian control, too, when Russian troops are able to form a land bridge from Crimea to Moldova's breakaway province of Transnistria.) Russia without Ukraine is, as former secretary of state Dean Acheson once said of the Soviet Union, "Upper Volta with rockets." Russia with Ukraine is a different strategic animal entirely.

The most immediate threat will be to the Baltic states. Russia already borders Estonia and Latvia directly and touches Lithuania through Belarus and through its outpost in Kaliningrad. Even before the invasion, some questioned whether NATO could actually defend its Baltic members from a Russian attack. Once Russia has completed its conquest of Ukraine, that question will acquire new urgency.

One likely flash point will be Kaliningrad. The headquarters of the Russian Baltic Fleet, this city and its surrounding territory were cut off from the rest of Russia when the Soviet Union broke up. Since then, Russians have been able to access Kaliningrad only through Poland and Lithuania. Expect a Russian demand for a direct corridor that would put strips of the countries under Russian control. But even that would be just one piece of what is sure to be a new Russian strategy to delink the Baltics from NATO by demonstrating that the alliance cannot any longer hope to protect those countries.

Indeed, with Poland, Hungary and five other NATO members sharing a border with a new, expanded Russia, the ability of the United States and NATO to defend the alliance's eastern flank will be seriously diminished.

The new situation could force a significant adjustment in the meaning and purpose of the alliance. Putin has been clear about his goals: He wants to reestablish Russia's traditional sphere of influence in Eastern and Central Europe. Some are willing to concede as much, but it is worth recalling that when the Russian empire was at its height, Poland did not exist as a country; the Baltics were imperial holdings; and southeastern Europe was contested with Austria and Germany. During the Soviet period, the nations of the Warsaw Pact, despite the occasional rebellion, were effectively run from Moscow.

Today, Putin seeks at the very least a two-tier NATO, in which no allied forces are deployed on former Warsaw Pact territory. The inevitable negotiations over this and other elements of a new European security "architecture" would be conducted with Russian forces poised all along NATO's eastern borders and therefore amid real uncertainty about NATO's ability to resist Putin's demands
Michael Schwirtz, Maria Varenikova and Rick Gladstone, NYT ("Putin Calls Ukrainian Statehood a Fiction. History Suggests Otherwise.")
In his speech to the Russian nation on Monday, President Vladimir V. Putin buoyed his case for codifying the cleavage of two rebel territories from Ukraine by arguing that the very idea of Ukrainian statehood was a fiction.

With a conviction of an authoritarian unburdened by historical nuance, Mr. Putin declared Ukraine an invention of the Bolshevik revolutionary leader, Vladimir Lenin, who he said had mistakenly endowed Ukraine with a sense of statehood by allowing it autonomy within the newly created Soviet state.

"Modern Ukraine was entirely and fully created by Russia, more specifically the Bolshevik, communist Russia," Mr. Putin said. "This process began practically immediately after the 1917 revolution, and moreover Lenin and his associates did it in the sloppiest way in relation to Russia — by dividing, tearing from her pieces of her own historical territory."

As a misreading of history, it was extreme even by the standards of Mr. Putin, a former K.G.B. officer who has declared the Soviet Union's collapse the greatest geopolitical catastrophe of the 20th century.

Ukraine and Russia share roots stretching back to the first Slavic state, Kievan Rus, a medieval empire founded by Vikings in the 9th century.

But the historical reality of Ukraine is complicated, a thousand-year history of changing religions, borders and peoples. The capital, Kyiv, was established hundreds of years before Moscow, and both Russians and Ukrainians claim it as a birthplace of their modern cultures, religion and language.

Kyiv was ideally situated along the trade routes that developed in the ninth and 10th centuries, and flourished only to see its economic influence diminish as trade shifted elsewhere. The many conquests by warring factions and Ukraine's diverse geography — with farmland, forests and a maritime environment on the Black Sea — created a complex fabric of multiethnic states.

The history and culture of Russia and Ukraine are indeed intertwined — they share the same Orthodox Christian religion, and their languages, customs and national cuisines are related.

Even so, Ukrainian identity politics and nationalism have been irritants in Russia since the feudal czarist times that predated the Russian Revolution. Ukraine is seen by many Russians as their nation's "little brother" and should behave accordingly.
My Two Cents:
That Putin hasn't been deterred is hardly shocking. He's weak at home and the Russian nationalism card, historically flawed though its premises are, is powerful. Russians desperately want to be thought of as a regional hegemon and great power and the sense that the West, and the United States in particular, stopped thinking of them in that way after the collapse of the Soviet Union is not without merit. And, as I've noted repeatedly since this phase of the crisis started weeks ago, Putin knows damned well that the West isn't willing to risk World War III over Ukraine, a non-NATO member.
The Biden White House's dithering over whether this latest escalation amounts to an "invasion" makes us look weak after so many weeks of bluster. But it comes from a recognition that there are limited options at our disposal and that some NATO allies, notably Germany, are considerably more susceptible to Russian blowback than we are.
In an ideal world, I would like to strip Russia of its status as a permanent member of the UN Security Council. It has consistently shown itself unwilling to play by the most fundamental rules of the system. But, realistically, there's no mechanism for making that happen.
More practically, in addition to the most powerful sanctions regime for which we can muster international support (and Biden has already escalated existing US sanctions) it would be useful to send a powerful signal that the West is united. Adding Sweden and Finland to NATO, which seemed incredibly unlikely not long ago, would be just that. It would put the Alliance right at Russia's borders but not with a former Warsaw Pact state but a former neutral.