Russia Really Invades Ukraine
Putin's forces are in Kyiv.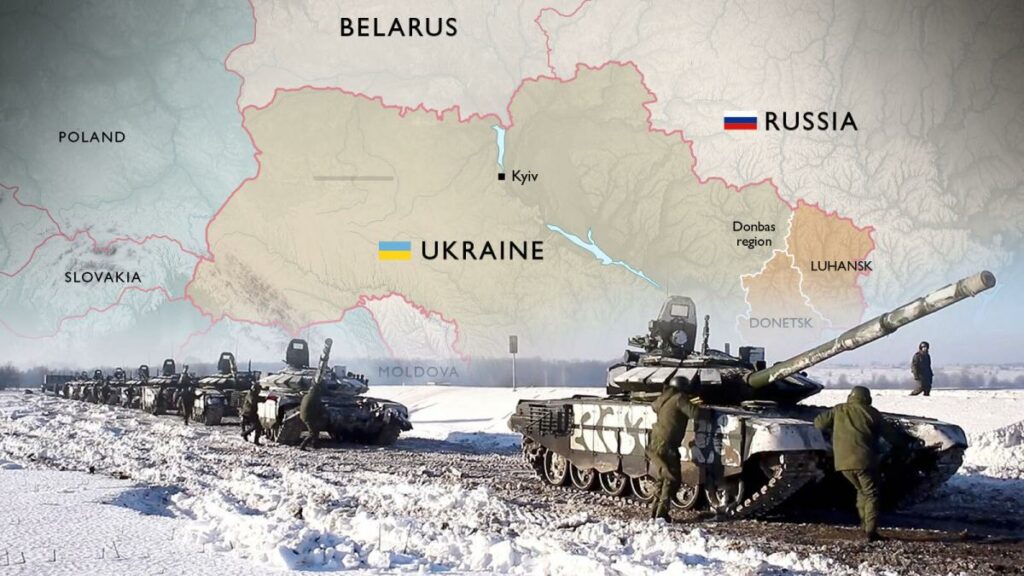 The News:
NYT ("Russia Attacks Ukraine From Land and Sea"):
Early Thursday, just as President Vladimir V. Putin of Russia announced on television that he had decided "to carry out a special military operation" in Ukraine, explosions were reported across the country.

Blasts were heard in Kyiv, the capital; in Kharkiv, the second largest city; and in Kramatorsk in the region of Donetsk, one of two eastern Ukrainian territories claimed by Russia-backed separatists since 2014.

Ukraine's Interior Ministry said that Russian troops had landed in the southern port city of Odessa and were crossing from Russia into Kharkiv. Footage captured by security cameras showed Russian military vehicles crossing into Ukraine from Crimea, the peninsula that Russia seized in 2014.

Rocket attacks targeted Ukrainian fighter jets parked at an airport outside Kyiv, and Ukraine closed its airspace to commercial flights, citing the "potential hazard to military aviation."

As air raid sirens blared in Kyiv, the western city of Lviv and other urban areas, residents rushed to take shelter in bus and subway stations. In Kyiv, people packed up their cars and waited in long lines to fill up with gas on their way out of the city. In eastern Ukraine, early signs of panic appeared on the streets as lines formed at A.T.M.s and gas stations.

With attacks across the country, it quickly became clear that Russia's campaign, whatever Mr. Putin meant by a "special military operation," was aimed at far more than the rebel territories in the east. Within an hour, Ukraine's state emergency service said that attacks had been launched in 10 regions of Ukraine, primarily in the east and south, and that reports of new shelling were "coming in constantly."

Dmytro Kuleba, Ukraine's foreign minister, called it "a full-scale invasion of Ukraine" and said his country would defend itself, while calling on the world to "stop Putin."
WSJ ("Russia Attacks Ukraine, Drawing Broad Condemnation"):
Russian troops and tanks pushed into Ukraine and airstrikes hit the country's capital and more than a dozen other cities early Thursday after President Vladimir Putin said he ordered a military operation to "demilitarize and de-Nazify Ukraine" and bring its leaders to trial.

Ukrainian officials said an initial wave of strikes targeted military installations, airfields and government facilities across the country, as well as border-force installations. Ukraine's border service said its troops came under attack all along the country's frontiers with Russia and Belarus.

Video posted online by the border service showed columns of Russian tanks and armored personnel carriers moving into southern Ukraine, while in Kharkiv, eastern Ukraine's largest city, residents said a large fire was visible after what appeared to be a hit at a weapons depot.

[…]

Ukrainian President Volodymyr Zelensky said the country's armed forces were putting up a strong resistance. "The enemy has sustained serious losses," he told reporters, saying his government was handing out weapons to citizens who were ready to defend Ukrainian territory.

"Russia carried out a villainous attack on our state in the early morning. The same as fascist Germany did in the time of World War II," he said. "From today our states are on different sides of world history. The Russian state is on the path of evil."
WaPo ("Russia launches attacks across Ukraine; Biden vows 'consequences'"):
Russia launched a broad attack on Ukraine from multiple directions early Thursday, bombarding cities, towns and villages and advancing toward the capital, Kyiv, as Ukrainian forces tried to stem the onslaught of Russian ground forces and air power.

Ukraine's Interior Ministry said Russian troops were fighting to break into the wider Kyiv region and crossed the regional border, where Ukrainian forces were battling to repel them.

As reports of mounting casualties emerged, large crowds of Ukrainians and foreigners fled the capital, Kyiv, and other cities by trains and buses.

President Biden called it an "unjustified attack" that signals "a premeditated war that will bring a catastrophic loss of life and human suffering," and he promised that the United States and allies would respond decisively. "The world will hold Russia accountable," Biden said.
The Guardian ("Russia-backed hackers behind powerful new malware, UK and US say"):
A cyber report published by intelligence agencies in the UK and US on Wednesday has attributed insidious new malware to a notorious Russia-backed hacking group.

The findings come amid concerns of potential Russian cyber-attacks against Ukraine as the threat of war in the region grows.

The joint research was published by the National Cyber Security Centre in the UK and US agencies including the National Security Agency. It warned that a Russian state-backed hacker group known as Sandworm had developed a new type of malware called Cyclops Blink, which targets firewall devices made by the manufacturer Watchguard to protect computers against hacks.
The Fallout:
CNN ("Russian stocks crash and ruble plunges to record low"):
Russian stocks crashed by more than 40% and the ruble hit a record low against the dollar on Thursday.

The Moscow market rout was triggered by news that Russian troops had launched an attack on Ukraine, a move that is likely to trigger a new wave of "full scale" sanctions aimed at President Vladimir Putin's inner circle and Russia's oil-dependent economy.

A broad offensive by Russian forces targeted military infrastructure across Ukraine as well as several airports. The assault began hours before dawn and quickly spread across central and eastern Ukraine as Russian forces attacked from three sides. Putin warned of bloodshed unless Ukrainian forces lay down their arms.

The Moscow stock exchange had suspended trading earlier on Thursday but when dealing resumed, stocks went into free-fall.

The MOEX index plunged as much as 45%, while the RTS index — which is denominated in dollars — was down more than 40% at 4.15 a.m. ET. The crash wiped about $75 billion off the value of Russia's biggest companies.

Russian banks and oil companies were among the hardest hit in volatile trading, with shares in Sberbank (SBRCY) — Russia's largest lender — at one stage losing 57% of their value. Rosneft, in which BP (BP) owns a 19.75% stake, plunged as much as 58%. BP shares dropped 5% in London.

The ruble was trading at 85 to the dollar, down 4%, after earlier hitting a new record low of 89.60. The Russian central bank said it would intervene in the currency market and provide extra liquidity to the banking sector.
CNN ("Global oil prices soar above $100 and could go much higher"):
Oil prices surged above $100 per barrel after Russia launched an invasion of Ukraine, piling pressure on a global economy already reeling from rampant inflation.

[…]

Russia is the world's No. 2 oil producer and a major exporter of natural gas. Supply disruptions could drive retail prices higher, making it more expensive for people around the world to fuel their cars and for Europeans to heat their homes. Gasoline prices are already at record levels in parts of Europe.
Some Opinions:
Elliot Cohen, The Atlantic ("Arm the Ukrainians Now"):
In the short term Russia can, if it wishes, occupy all of Ukraine. The steady buildup around Ukraine's borders and the preparation for the invasion by subversion, cyberattacks, and political warfare have, for the moment, put the Russians in the stronger position. But Putin's position is not what he or Western pessimists believe it to be.

The Russian military is very different from the massive Red Army of the Cold War. It is a fraction of the size (900,000 active-duty personnel, of whom perhaps 375,000 are in the army and airborne forces, together with several hundred thousand paramilitary troops and a large special-operations force). It relies on volunteers (kontraktniki), although it retains conscription. It makes extensive use of mercenaries, and in particular the Wagner Group, which operates in close partnership with Russian special forces. It is technologically advanced in many areas, if more narrowly and less formidably than its American counterparts. And it possesses robust capabilities for cyberattacks and information warfare. But it also has its weaknesses.

The Russian army is built around battalion tactical groups, which have a great deal of long-range firepower and rather little infantry. As became apparent during the last intense round of fighting, in 2014, they are vulnerable to enemy units that can get close in and maneuver quickly—what the Vietnamese used to call, in their war against the United States, "hanging on to the enemy's belt." These units will not do well in cities, unless they are prepared to administer to Kyiv the same treatment Russia doled out to Grozny in 1999 and 2000, killing thousands of civilians and leaving the city in ruins. But this is Europe, and unlike in the Chechen war, the videos of such slaughter and ruin will be ubiquitous, alienating Europeans and making even many Russians queasy. Meanwhile, as the United States discovered in Iraq and Afghanistan, no matter how large, technologically advanced, and proficient an army is, motivated insurgents can still inflict casualties in the tens of thousands.

The Ukrainian army is far better trained and equipped than it was a decade ago. Most important, it, and the volunteers who will join it, are motivated. The Soviet Union took years to quell an insurgency in Ukraine after World War II, and Russia would take longer to do the same now. This is, moreover, an operation an order of magnitude greater than the Chechen or earlier Ukrainian campaign, one in which the mundane issues of casualty replacements, unit rotations, logistical support, and maintenance would become burdensome over time. After a year or two of occupation and guerrilla warfare, the magnitude of the strategic debacle would become clear.

[…]

The key vulnerability of Russia does not lie in susceptibility to economic sanctions. Having made extensive use of these tools for decades now, the U.S. is in the position of a doctor who promiscuously prescribes antibiotics, thereby accelerating the appearance of medicine-resistant bugs. Sanctions will hurt, no doubt, but make little difference to the daily lives of those who run the country, who will exploit them for propaganda purposes at home and abroad. Only one thing, in fact, can cause Russia to rethink and even abandon its program of conquest: coffins.

And if Ukraine's friends continue to support the Ukrainians who want to fight for their freedom, an abundant supply of those will be coming back to Russia.

That is why the United States and its Western partners must help nourish an insurgency that will cause the occupiers to bitterly regret, and then reverse, their attempt to crush Ukrainian independence. This strategy does not require sending troops, except to protect NATO allies; it does require providing weapons, training, and intelligence without stinting.
Richard Haass, NYT ("The West Must Show Putin How Wrong He Is to Choose War"):
The West should aim to penalize Russia and to discourage it from further aggression. Germany's suspension of the Nord Stream 2 pipeline is a strong start, as are the financial sanctions targeting two Russian banks and Russia's sovereign debt announced by President Biden on Tuesday. Additional targeted measures ought to follow, and the military capacities of both Ukraine and NATO, particularly in countries close to Russia, should continue to be enhanced. Mr. Putin must be made to understand that the moves he's already made will have meaningful consequences.

But if the Russian intervention is a prelude to an attempt to assert control over the entirety of Ukraine and oust its government, as it's likely to be, the United States and its NATO allies must go much further. The aim then should be to expand support to Ukraine — military, intelligence, economic and diplomatic — to such an extent as to significantly raise the costs of any Russian occupation.

That should be possible, not least because Russia's approximately 190,000 troops and Russian-backed separatist forces that are in or near Ukraine are unlikely to be able to readily pacify a country of Ukraine's size and population. For Russia, the costs will already be high. Though far from a panacea, sanctions against a wider set of people and financial institutions close to Mr. Putin and critical for Russia's economy can raise them higher still — as would increasing oil and gas production in the United States and the Middle East. Removing the Kremlin's cushion of high energy prices, which have long been a windfall for the government, would be the best sanction.

The United States should also continue to make public its intelligence that sheds light on Russian intentions to spoil surprises. Traditional and social media with the potential to reach Russian journalists and civil society should counter the Kremlin's narrative. And images of what is taking place inside Ukraine should reach the world, leaving no doubt about the toll in innocent lives caused by Mr. Putin's adventurism.

On a more strategic level, the United States should try to build some distance between China and Russia. That won't happen overnight, but the Biden administration should step up its private diplomacy with China, highlighting the economic and strategic risks — including financial punishment and increasing anti-China sentiment in the West — of it being closely associated with an aggressive Russia. Now would also be a good time to restart a high-level strategic dialogue with China and search for issues, on Afghanistan, say, and climate change, where the two governments might cooperate.
My Two Cents:
Our options are decidedly limited. As Cohen rightly notes, we have been applying rather powerful and targeted sanctions against Putin and his cronies since 2014; there's only so much we can escalate. And, with oil at its highest price in a decade, Russia has the means to replenish the coffers, albeit through the back door.
Arming the Ukrainian resistance, as he suggests, is an obvious move but not one without risk. As Cohen himself notes,
Ukraine is bordered by four NATO members—Poland, Slovakia, Hungary, and Romania—through which such aid must flow, and Russia is sure to menace and perhaps even lash out at these weaker Western allies. Russia lacks the resources and capacity to invade them successfully and would hesitate before action that would invoke NATO's Article V obligations for mutual defense. But it will go right up to the edge.
While Haass' suggestion to leverage China in this situation is the standard playbook, it strikes me as exceedingly unlikely. After all, we announced a "Pivot to Asia" under the Obama administration in 2011 and have been quite open about China being the "pacing threat" for military planning and acquisition strategy ever since. If anything, Beijing is likely to leverage this distraction to further consolidate its gains in the South China Sea and to expand on its Belt and Road strategy.