A Paradigm Shift for the International Community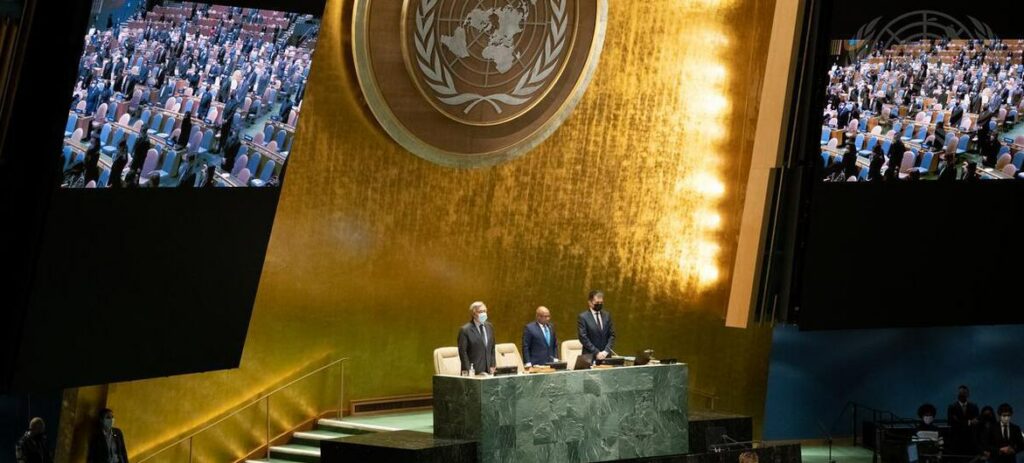 The News:
WaPo ("With almost all Russian forces inside Ukraine, Moscow and Kyiv explore limited cease-fire"):
Russia has sent nearly all its assembled combat power into Ukraine and on Thursday unleashed some of the most intense fighting since the invasion began, with local officials pleading for help as ground troops seized or encircled strategically important southern cities.

Russian President Vladimir Putin said Moscow's mission was "going according to plan and in full compliance with the timetable," despite widespread agreement among Western military analysts that the invasion had been slowed by unexpectedly fierce Ukrainian resistance.

Amid an ongoing exodus of people across the country, Ukraine and Russia said they had agreed to temporary local cease-fires to create "humanitarian corridors" so civilians can be evacuated and food and medicine can be delivered. But the cease-fires would not apply everywhere, Ukrainian presidential adviser Mykhailo Podolyak said — and logistical details remained unclear.
WSJ ("Russia's Shelling of Ukrainian Nuclear Power Plant Sparks Alarm"):
Russian shelling in southern Ukraine caused a fire at Europe's largest nuclear power plant before Russian troops moved into the facility, according to local authorities and international observers, highlighting the increasingly indiscriminate nature of Moscow's war while raising fears that it could lead to a global environmental disaster.

The fire, extinguished Friday morning, erupted at the Zaporizhzhia power plant's training facility which is adjacent to its six nuclear reactors in the town of Enerhodar, Ukraine's emergency service said. None of the six reactors, one of which is currently operational, were affected by the fire and there was no radiation leak at present.

Advance Russian forces pushing from the south reached Enerhodar on Wednesday. After attempted surrender negotiations failed, a large column of Russian forces attacked the city on Thursday. Webcam footage showed a large fireball rising behind a church in the city, a short distance from the nuclear facilities, and then two munitions, possibly illumination rounds, landed on the compound itself.
WaPo ("After call with Putin, Macron convinced that 'the worst is yet to come' and that Russia wants to take all of Ukraine"):
Russian President Vladimir Putin called French President Emmanuel Macron on Thursday, in what appeared to have been a markedly more tense exchange than previous conversations between the two leaders.

The 90-minute call failed to deliver a diplomatic breakthrough, and a senior French official said it left Macron convinced that "the worst is yet to come" and that Putin aims to take control of all of Ukraine.

"Your country will pay dearly because it will end up as an isolated country, weakened and under sanctions for a very long time," Macron told Putin, according to a French official, who added that Macron "called on Vladimir Putin to not lie to himself."
Business Insider ("A Russian businessman has put a $1 million bounty on Vladimir Putin's head, calling for military officers to arrest him as a war criminal"):
A Russian investor has put a $1 million bounty on Russian President Vladimir Putin's head, asking for Russian military officers to arrest Putin as a war criminal.

"I promise to pay $1,000,000 to the officer(s) who, complying with their constitutional duty, arrest(s) Putin as a war criminal under Russian and international laws," said crypto investor and California-based businessman Alex Konanykhin in a Facebook post on Wednesday.

Konanykhin claimed that Putin had violated the Russian constitution by "eliminating free elections" and "murdering his opponents."

"As an ethnic Russian and a Russia citizen, I see it as my moral duty to facilitate the denazification of Russia. I will continue my assistance to Ukraine in its heroic efforts to withstand the onslaught of Putin's Orda," Konanykhin said, using the Russian word for "horde."
WSJ ("China Declared Its Russia Friendship Had 'No Limits.' It's Having Second Thoughts."):
In the months leading up to Xi Jinping making common cause with Russian President Vladimir Putin, the Chinese leader was focused on one country, and it wasn't Ukraine.

His ambitions for alignment with Mr. Putin had one main purpose: presenting a united front against the U.S. The result, according to Chinese officials, foreign-policy advisers to Beijing and an analysis of public statements, was the Feb. 4 China-Russia declaration that the countries' friendship had "no limits."

Russia's subsequent invasion of its neighbor is forcing Beijing into adjusting its foreign policy in a way that risks damaging relations with the U.S.-led West and undoing years of efforts to paint itself as a responsible world leader.

In Beijing, the ripple effects of a move that may cost China dearly are now sinking in, say the officials and advisers. Some officials say they are fearful of the consequences of getting so close to Russia at the expense of other relationships—especially when Russian aggression against Ukraine is isolating Moscow in much of the world.

Already, many politicians from Washington to Brussels have grouped Beijing together with Moscow as a new "axis"—a term giving Western alliances more reason to disengage from China and form closer ties among themselves.

"Elevating the partnership with Russia on the eve of its invasion of Ukraine was a massive foreign-policy blunder by Xi," said Jude Blanchette, a China specialist at the Center for Strategic and International Studies, a Washington think tank focused on international relations. "The cost is very real for China and is exposing the limits of Xi's policy."

[…]

This year, during which Mr. Xi is expected to break with precedent and seek a third term in power, he is facing an economic downturn at home that is largely a result of his own policies—and a geopolitical shift in which China has placed itself on one side of a gulf that has almost all of the rest of the world on the other side.
NYT ("Washington's Newest Worry: The Dangers of Cornering Putin"):
Senior White House officials designing the strategy to confront Russia have begun quietly debating a new concern: that the avalanche of sanctions directed at Moscow, which have gained speed faster than they imagined, is cornering President Vladimir V. Putin and may prompt him to lash out, perhaps expanding the conflict beyond Ukraine.

In Situation Room meetings in recent days, the issue has come up repeatedly, according to three officials. Mr. Putin's tendency, American intelligence officials have told the White House and Congress, is to double down when he feels trapped by his own overreach. So they have described a series of possible reactions, ranging from indiscriminate shelling of Ukrainian cities to compensate for the early mistakes made by his invading force, to cyberattacks directed at the American financial system, to more nuclear threats and perhaps moves to take the war beyond Ukraine's borders.

The debate over Mr. Putin's next moves is linked to an urgent re-examination by intelligence agencies of the Russian leader's mental state, and whether his ambitions and appetite for risk have been altered by two years of Covid isolation.

[…]

It suggested that Mr. Putin's effort to "sanctions-proof" his economy had largely failed. And at least for now, there is no discernible off-ramp for the Russian leader short of declaring a cease-fire or pulling back his forces — steps he has so far shown no interest in taking.

At a news briefing at the White House on Thursday afternoon, Jen Psaki, the press secretary, said that she knew of no efforts to show Mr. Putin a way out. "I think right in this moment, they are marching toward Kyiv with a convoy and continuing to take reportedly barbaric steps against the people of Ukraine. So now is not the moment where we are offering options for reducing sanctions."

Yet a senior State Department official, asked about the debates inside the administration on the risks ahead, said there were nuances in the administration's approach that point to possible outs for the Russian leader.
NYT ("How Ukraine's Military Has Resisted Russia So Far"):
Ukraine's soldiers have blown up bridges to halt advancing Russian ground troops. Its pilots and air defenses have prevented Russian fighter jets from conquering the skies. And a band of savvy Ukrainian cyberwarriors are so far beating Moscow in an information war, inspiring support at home and abroad.

To the surprise of many military analysts, Ukrainian troops are mounting a stiffer-than-expected resistance to Russian forces up and down battle lines across a country the size of Texas, fighting with a resourcefulness and creativity that U.S. analysts said could trip up Russian troops for weeks or months to come.

The Ukrainians are also exploiting a bungled beginning to Russia's all-out assault. Armed with shoulder-fired anti-tank weapons, they have attacked a mileslong Russian armored convoy bearing down on Kyiv, the capital, helping stall an advance plagued by fuel and food shortages, and stretching a march that was expected to take a handful of days into possibly weeks.

To be sure, Russia's invasion is only a week old. The strategic southern city of Kherson fell on Wednesday; the Kremlin's army has intensified its bombardment of Kyiv and other cities; and, despite a flow of fresh arms pouring in from the West, Ukrainian leaders say they desperately need more weapons to destroy Russian tanks and down Russian warplanes.

And while the Ukrainian government has publicized its victories and Russian attacks that killed civilians, it has said far less about battlefield losses of its mechanized units. For their part, Russian officials are keen not to present the operation as a war, and so they have not put out information about the engagements their forces have won.

The result, in these early days of the invasion, is that the Ukrainians are turning the tables on the Russians in the information campaign.

On the battlefield, the Ukrainian military is conducting a hugely effective and mobile defense, using their knowledge of their home turf to stymie Russian forces on multiple fronts, Gen. Mark A. Milley, the chairman of the Joint Chiefs of Staff, said on Thursday.

General Milley said some of the tactics employed by Ukrainian troops included using mobile weapons systems to bedevil the Russians wherever they could. Ukraine's forces, he told reporters traveling with him in Europe, are "fighting with extraordinary skill and courage against Russian forces."

U.S. officials have been impressed with the fighting prowess of the Ukrainians, but their assessment that Russia has the superior military has not changed.
WSJ ("Putin Thought Ukraine Would Fall Quickly. An Airport Battle Proved Him Wrong."):
[…]

Russia's bid to seize the airport embodied its military planners' ambitious assumptions that Ukrainian defense would collapse under overwhelming firepower. Russian officials and propagandists have for years boasted that Moscow's forces could overrun its smaller neighbor in days.

But the resistance by Ukraine's army and soldiers such as Lt. Kharchenko, backed by volunteer fighters, has slowed the Russian advance, halting it entirely in the area around Hostomel Airport after a day of back-and-forth fighting. The airport standoff has emerged as the key to Ukrainian resistance and one big reason Russian forces have become bogged down so far. On Thursday, the Russian military made gains in the south, penetrating the city of Kherson and pushing toward Zaporizhya.
BuzzFeed ("Biden Will Allow Ukrainian Immigrants In The US To Obtain Temporary Protected Status"):
The Biden administration will allow Ukrainians in the US to apply for temporary protected status, shielding them from deportation and allowing them to obtain work permits as Russia continues to invade and bombard their home country, officials announced Thursday.

Immigrant advocates and Democratic politicians have been pushing for the TPS grant since the full-scale invasion launched last week. Since then, Russian forces have attacked by air, land, and sea, sending missiles over major cities across Ukraine, including in residential areas, and threatening the lives of millions. More than a million Ukrainians have fled the country, while those who remained have sought safety in bomb shelters and subway systems or taken up arms to help defend their country.

The designation of temporary protected status will apply to Ukrainians who were in the US as of March 1. The protections will last for 18 months. More than 75,000 Ukrainians in the US are expected to be eligible for the protections.
Some Opinions:
Jon Sindreu, WSJ ("If Russian Currency Reserves Aren't Really Money, the World Is in for a Shock"):
"What is money?" is a question that economists have pondered for centuries, but the blocking of Russia's central-bank reserves has revived its relevance for the world's biggest nations—particularly China. In a world in which accumulating foreign assets is seen as risky, military and economic blocs are set to drift farther apart.

After Moscow attacked Ukraine last week, the U.S. and its allies shut off the Russian central bank's access to most of its $630 billion of foreign reserves. Weaponizing the monetary system against a Group-of-20 country will have lasting repercussions.

[…]

Yet the entire artifice of "money" as a universal store of value risks being eroded by the banning of key exports to Russia and boycotts of the kind corporations like Apple and Nike announced this week. If currency balances were to become worthless computer entries and didn't guarantee buying essential stuff, Moscow would be rational to stop accumulating them and stockpile physical wealth in oil barrels, rather than sell them to the West. At the very least, more of Russia's money will likely shift into gold and Chinese assets.

Indeed, the case levied against China's attempts to internationalize the renminbi has been that, unlike the dollar, access to it is always at risk of being revoked by political considerations. It is now apparent that, to a point, this is true of all currencies.
Aaron Rhodes, WSJ ("Ukraine War May Prove Clarifying for the West"):
Russia's war against Ukraine could restore Western societies' appreciation for freedom and democracy. These principles have been eroded for decades by leftist ideologies and illiberal philosophical fads.

Vladimir Putin's invasion has exposed the reality of power politics, in which competing blocs of free and despotic states are again driving history. Multilateral groups like the United Nations Human Rights Council have been co-opted by malign actors. Such organizations had little influence on Mr. Putin's decision to proceed.

The war in Ukraine also has begun to unite the West. Fence-sitters, in particular Germany, have abandoned passive policies of moral equivalence and joined the American- and British-led effort to help Ukraine defend itself. The anti-American left's reflexive habit of blaming the North Atlantic Treaty Organization for Russian paranoia and aggression isn't working this time. NATO, which offers members collective defense and guarantees citizens of member states that their militaries will remain under civilian control, has new love around the world. Divisions between Western and Eastern Europe are yielding to a more unified identity that has long eluded the Continent.
Anthony Faiola, WaPo ("Europe awakens to the Russian threat"):
For decades, Russian money, energy and military strength held Europe in thrall. But as the rockets of Russian President Vladimir Putin rain down on Ukrainian cities, a clarion call is echoing through the halls of power, boardrooms and cultural spheres of a continent: No more.

Western Europe saw Putin for years the way much of the globe still sees climate change: As an intangible threat, worth serious debate, but not yet real or existential enough to warrant society-altering action. Now that the danger is lapping at Europe's doorstep, the continent has begun to awaken.

In Germany, a nation that shrunk from confrontation with Moscow after the fall of the Berlin Wall, the evidence is a historic military buildup announced in response to Putin's invasion of Ukraine. Berlin also suspended a new pipeline set to power German factories with Russian gas for generations. But just as telling of the tectonic shift is the way Gerhard Schröder — a former German chancellor who'd cozied up to Putin — is now becoming a national pariah.

[…]

Eastern European countries — Poland and the Baltic states — rang the alarm bells on Russia for years. Now, western portions of the continent are not only listening — but leading on punishing sanctions against Putin and a regional defense rethink to rise to the Russian threat.

In France, where President Emmanuel Macron sought a meeting of the minds with Putin before the invasion, a new poll showed 84 percent of respondents believe you can't "negotiate" with Putin and 7 out of 10 backed arms deliveries to Ukraine. Surprisingly, a majority — 53 percent — even backed a step ruled out by leaders in Washington and the capitals of Europe: the intervention of NATO's armed forces in Ukraine.
My Two Cents:
Nothing that's happened since yesterday's roundup has altered my basic take on the situation. The two most interesting bits from above are the suggestion that China is finding itself increasingly isolated from the global community and the musings about what the massive sanctions regime imposed on Russia means for the future of "money" as a construct. They're ultimately related, showing how quickly change can come once people change their perspective.
It's been obviously corrupt for some time to hold international sporting events in Russia, China, and other authoritarian states. But international organizing committees have turned a blind eye in exchange for higher payouts and fewer of the pesky regulations imposed by democratic governments. Overnight, the invasion of Ukraine seems to have changed this. In the first emergency session of the UN General Assembly in four decades, the only countries voting against censuring Russia were Eritrea, North Korea, and Syria. China, naturally, abstained.
I've remarked many times about how stunning the European turnaround, particularly, Germany's, has been. Another excerpt from Faiola's piece illustrates how stunning it has been:
In Germany, a nation that shrunk from confrontation with Moscow after the fall of the Berlin Wall, the evidence is a historic military buildup announced in response to Putin's invasion of Ukraine. Berlin also suspended a new pipeline set to power German factories with Russian gas for generations. But just as telling of the tectonic shift is the way Gerhard Schröder — a former German chancellor who'd cozied up to Putin — is now becoming a national pariah.

The former leader who secured lucrative posts with Russian companies has watched allies dump him, and outraged staffers quit in the wake of his failure to denounce the invasion. Even his favorite German soccer club, Borussia Dortmund, fired him from an honorary post.

When Moscow annexed Crimea and Russian-backed forces seized parts of eastern Ukraine in 2014, the German titans of industry demurred, urging then-Chancellor Angela Merkel to tread lightly. In contrast, they're now standing up to be counted. Munich-based industrial giant Siemens — whose chief executive even traveled to Moscow to court Putin in March 2014 — has suspended most operations in Russia. BMW and Mercedes-Benz have halted exports and production in Russia. Bavaria-based Adidas pulled a commercial deal with the Russian Football Union.

[…]

To understand the sea change, you need to grasp the German mind-set: There's a craving for stability and peace in Europe after the horrors of Adolf Hitler, and a certain acquiescence to Moscow as an acceptable price for peace. Since reunification, Germany coexisted as both NATO member and sympathetic interlocutor between the West and Russia. When Merkel sought to impose sanctions on Russia following its initial aggression in Ukraine in 2014, polls showed a majority of Germans against them.

Fast forward to now. Germany — which embraced pacifism in the wake of World War II — dropped its long resistance to sending arms to conflict zones and has dispatched weapons to Ukraine. More importantly, new Chancellor Olaf Scholz, once a word-parsing waffler on Moscow, announced a historic ramp up in military spending to meet the Russian threat. The nature of German "remilitarization" will require serious domestic debate and will be deeply opposed by some. But in a bracing recognition of the new Russian threat, a recent poll showed 78 percent of the Germans backed Scholz's plan.

"Germans don't want war, they don't want nuclear weapons, and there will be a discussion on how to react right without provoking more action by Russia," Stefan Meister, a policy expert at the German Council on Foreign Relations, told me. "It's still not clear where opinion will go in the next weeks. But [the invasion of Ukraine] is a shock to society. If Russia wins this war, which is very likely, the question is, what's next?"
I don't think Germany will be going back to its old ways once the Ukraine crisis is over. Nothing in politics is permanent but the events of the past week has yielded a paradigm shift. Eritrea, North Korea and Syria