Putin Getting Desperate?
The Russian leader is isolated and under tremendous pressure.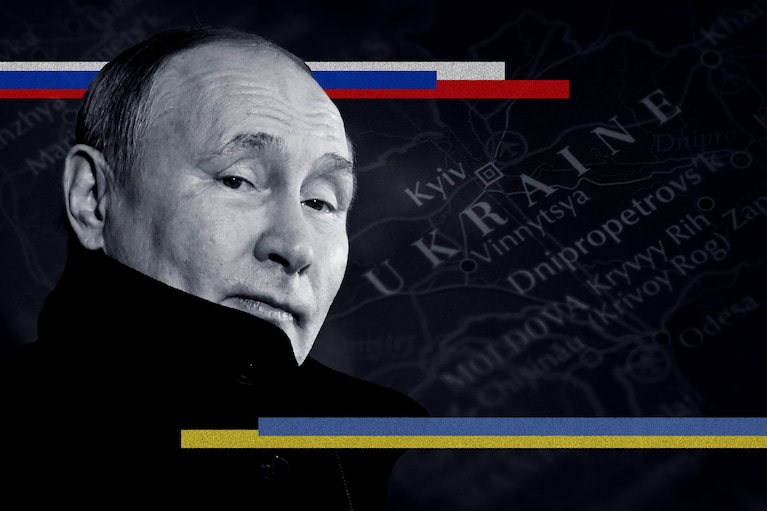 The News:
WSJ ("Ukraine's Kharkiv Front Line Holds Despite Russian Bombardment"):
Russian forces pounded Kharkiv, Ukraine's second-largest city, with airstrikes in a bid to break the will of Ukraine's resistance on the seventh day of the war unleashed by President Vladimir Putin.

Kharkiv residents said the city suffered heavy bombardment overnight and into the morning, including airstrikes that hit residential areas and civilian infrastructure. Kharkiv's police headquarters and the nearby university building were severely damaged and caught fire. Authorities reported 21 dead and 112 injured in the past 24 hours.

Russian forces also attempted to seize the city's military hospital, local authorities said. However, the front line held and the city of 1.4 million people remained under Ukrainian control, they said.

The assault on civilian areas shows how Moscow has switched to a strategy of indiscriminate aerial assaults. Its focus at the start of the war on military and strategic targets has fallen away as it tries to demoralize Ukraine's population.

Kharkiv, whose population is mostly Russian-speaking, appeared to bear the brunt of bombardments that continued across Ukrainian cities Wednesday. The northeastern city has mounted stiff resistance to Russia's invasion, despite Mr. Putin having cited alleged discrimination against Ukraine's Russian speakers as one of his reasons for the military campaign.
NYT ("Russian Troop Deaths Expose a Potential Weakness of Putin's Strategy"):
When Russia seized Crimea in 2014, President Vladimir V. Putin was so worried about Russian casualty figures coming to light that authorities accosted journalists who tried to cover funerals of some of the 400 troops killed during that one-month campaign.

But Moscow may be losing that many soldiers daily in Mr. Putin's latest invasion of Ukraine, American and European officials said. The mounting toll for Russian troops exposes a potential weakness for the Russian president at a time when he is still claiming, publicly, that he is engaged only in a limited military operation in Ukraine's separatist east.

No one can say with certainty just how many Russian troops have died since last Thursday, when they began what is turning into a long march to Kyiv, the capital. Some Russian units have put down their arms and refused to fight, the Pentagon said Tuesday. Major Ukrainian cities have withstood the onslaught thus far.

American officials had expected the northeastern city of Kharkiv to fall in a day, for example, but Ukrainian troops there have fought back and regained control despite furious rocket fire. The bodies of Russian soldiers have been left in areas surrounding Kharkiv. Videos and photos on social media show charred remains of tanks and armored vehicles, their crews dead or wounded.
WaPo ("In Putin, intelligence analysts see an isolated leader who underestimated the West but could lash out if cornered"):
As the Russian invasion of Ukraine enters its second week, U.S. and European intelligence officials say that Russian President Vladimir Putin appears isolated and reliant on a small coterie of advisers who have not told him the truth about how difficult and costly conquering Ukraine is turning out to be.

In Putin, analysts see a leader on edge, fueled by paranoia after underestimating the unified resolve of the West, and at risk of lashing out when he feels cornered. Those concerns have led some policymakers to repeatedly note that NATO will not intervene in the war lest there be any doubt in Putin's mind.

Putin's military campaign, which has killed civilians, as well as his order to place Russian nuclear forces on a higher level of alert, has prompted fresh requests from U.S. policymakers in recent days to the intelligence agencies for insights on his thinking, according to several U.S. officials familiar with the matter.

Understanding what's in a leader's head is one of the most difficult tasks intelligence analysts face. But in Putin's case, it's crucial for decision-makers to understand how he might act so they can calibrate their responses and to try to find some way to end the war in Ukraine.

Intelligence agencies routinely conduct analyses of world leaders, and it's customary for those profiles to be updated and reexamined during a crisis. Now analysts are scrutinizing Putin's every utterance and movement for indications about his mental state, his temperament and his plans and intentions.

"We ask a lot of our intelligence colleagues these days [about] Putin's mind-set," said a U.S. administration official, who, like others, spoke on the condition of anonymity to describe sensitive discussions. "We understand that he has been isolated during covid and is surrounded by 'yes men.' Everyone is looking for fissures when it comes to his grip on power, but we're not seeing any significant cracks."

Before the invasion, U.S. and British intelligence analysts had warned that Putin was being misinformed by his advisers, who gave him an overly rosy picture of how easily the invasion was likely to go. Those concerns have been heightened now as the Russian military prepares for what may be a long and bloody battle for the capital city, Kyiv.
WSJ ("U.S. Diplomatic Push for Ukraine Falters in a Middle East Influenced by Russia"):
The Biden administration is pushing its closest Middle East partners to back Ukraine in its deepening war with Russia and for help alleviating the economic fallout—without much to show for it.

From the Persian Gulf's oil-rich monarchies to Israel, U.S. allies and partners are staying neutral or tempering their criticism of Moscow in a revealing sign of Russia's growing influence in the region.

Saudi Arabia, the de facto OPEC leader, has rebuffed U.S. requests to pump more oil to help tame surging crude prices, which topped $100 a barrel amid concerns over supply after Russia invaded Ukraine. The United Arab Emirates, which hosts U.S. troops, ignored U.S. lobbying and abstained from a U.N. Security Council resolution condemning the Russian invasion.

Even Israel, the U.S.'s closest ally in the region, has refused a Ukrainian request for weapons and other military equipment, such as helmets and protective vests, according to Ukraine's ambassador, Yevgen Korniychuk. Israel fears that choosing sides too openly against Moscow could prompt Russian forces in Syria to respond by interfering with its long-running air campaign against Iranian-backed militias there, Israeli officials said.
Some Opinions:
Mark Hannah, senior fellow at the Eurasia Group Foundation, WSJ ("The U.S. Shouldn't Interfere While Putin Loses in Ukraine"):
In his speech announcing the invasion of Ukraine, Vladimir Putin referenced the United Nations charter, praised "the high values of human rights and freedoms," and claimed his war represents the only "opportunity to protect Russia and our people." This from a man regarded by many American commentators as an archrealist who makes hardheaded observations about the world as it is and cunningly employs power to reshape it according to Russia's interests. In Mike Pompeo's appraisal, the Russian president is a "very talented statesman" and "very shrewd."

In reality, Mr. Putin's latest war of aggression is motivated by a toxic mix of nostalgia and fantasy that seems likely to prove self-destructive. Mr. Putin has so far behaved like a man blind to the true stakes and probable consequences of this conflict. And the U.S., which is currently recovering from its own bout of military overreach, has the opportunity to revive a spirit of clear-eyed pragmatism that has been absent from major national security decisions in recent decades.

[…]

The notion that Mr. Putin's invasion poses a threat not only to Ukrainian sovereignty but to "global democracy" or freedom itself leads some to propose extraordinary responses. Evelyn N. Farkas, who served as deputy assistant secretary of defense for Russia, Ukraine and Eurasia in the Obama administration, has called for an international coalition to enforce a no-fly zone over Ukraine. So far, the Biden administration has prudently ignored this and other such options, recognizing that America's interests in Ukraine don't justify risking war with a nuclear-armed Russia. Eliot Cohen has proposed that the U.S. should arm a hypothetical Ukrainian insurgency—which the Biden administration has reportedly considered—to raise the costs for Russia and deter other nations that might be considering malign activities. But Ukraine is a flat country unsuited to guerrilla warfare. Backing an insurgency could ignite a wider conflict between the U.S. and Russia, and increase the violence inflicted on Ukrainian civilians.

The Biden administration should see this conflict for what it is: a big Russian mistake. Mr. Putin is a revanchist leader, seemingly driven more by resentment than reality, who is reaching beyond his grasp. He can't stamp out Ukrainians' persistent desire for independence or inspire allegiance to Moscow on the strength of his military might alone. Hearts and minds aren't won with bombs and bullets. The best he can hope for is the installation of unpopular pro-Russian political leaders propped up by a costly occupation. All the while, crippling U.S. and European sanctions will jeopardize his support among wealthy elites, and Russian military casualties will jeopardize his popularity with the Russian public. Polling last spring by my organization, the Eurasia Group Foundation, found that ordinary Russians are concerned by U.S. foreign policy, and Mr. Putin exploits these concerns to gain popular support. An unprovoked invasion of a neighboring country where many Russians have familial and cultural ties will only weaken Mr. Putin's self-styled image as a bulwark against Western aggression.
David Ignatius, WaPo ("Distraught dictator or rational actor? With Putin and Ukraine, the evidence is chilling."):
Recent images of Vladmir Putin convey his isolation and arrogance. The Russian president sits at the end of long tables in the Kremlin, yards away from his visitors — alone and aloof even as he issues threats of nuclear war against the West.

The inescapable question, as the world watches Putin defy international law to hammer Ukraine, is whether he is a rational actor. Is he serving what he sees as Russia's national interests, or is he a distraught dictator driven by an obsessive desire to force Ukraine into a neo-imperial dream?

Public discussion about Putin's rationality has grown in recent days. Sen. Marco Rubio (R-Fla.), the vice chairman of the Senate Intelligence Committee, tweeted Friday that "something is off" with Putin. Sen. Mark R. Warner (D-Va.), the committee's chairman, tweeted Monday that Putin was "increasingly isolated."

Based on Putin's record and discussions with U.S. officials, his mental attitude appears to be more of a fixation on Ukraine than a broader instability. This isn't necessarily comforting, given Putin's extraordinary willingness to take chances where Ukraine is involved.

U.S. officials believe that Ukraine for years has been Putin's most sensitive issue — one where his normal political calculus doesn't seem to apply. CIA Director William J. Burns warned at a business event this past December: "I would never underestimate President Putin's risk appetite on Ukraine." Putin broods about Ukraine, rages about its tilt toward the West, and schemes to bring it back under Russian domination, U.S. officials believe.
My Two Cents:
lf Putin was anticipating a quick annexation of Ukraine, being greeted as a liberator by the Russian-speaking parts of the population, he was clearly mistaken. That he has surrounded himself by people who tell him what he wants to hear is not only plausible but likely.
As to the question of Putin's rationality, I side with my colleague Steven Taylor: he may well have miscalculated but he's clearly calculating. His obsession with Ukraine may make little sense to us but it simply means he weighs the risks and rewards differently than we do. And I'm afraid that makes him dangerous: he may well escalate this crisis rather than admit defeat.
As to the Middle East gambit, of course it failed. The oil-producing states are giddy that their chief export is suddenly soaring in value. Why would they not want to take advantage of that? And I can't imagine why Israel would jeopardize their obvious interests in Syria over Ukraine, which is of little obvious interest.