Biden 'Leading from Behind' on Ukraine
The American President is once again leading the free world.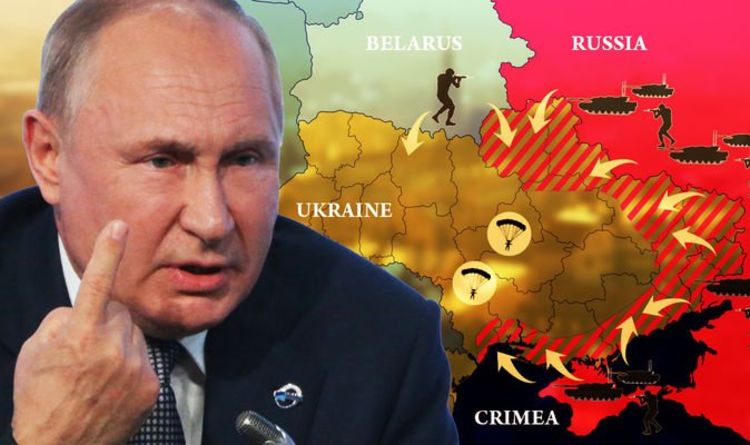 The Big Picture:
WSJ ("Russia Targets Ukrainian Civilian Areas in Tactical Shift and Strikes Kyiv TV Tower"):
Russian forces bombarded the Ukrainian city of Kharkiv and hit the capital's TV tower as Moscow, frustrated in its plans for a quick victory, shifted to a new strategy of pummeling civilian areas in an attempt to demoralize Ukrainian resistance.

On Tuesday afternoon, Russia's Defense Ministry said it would strike Ukrainian intelligence and communications facilities in central Kyiv that it said are being used for "information attacks" against Russia, and urged residents living nearby to leave for their own safety. Western diplomats took the warning as a signal that a massive strike on Kyiv's residential areas was imminent. Some of the remaining staff at foreign embassies left Ukraine's capital.

Live-cam footage from Kharkiv's central Freedom Square showed a missile landing just outside the local government's headquarters at 8:01 a.m. local time, with a fireball charring nearby buildings and cars. Ukraine's national emergency service said seven people were killed and 24 injured in the strike.

Later in the day, additional Russian airstrikes hit Kharkiv's residential neighborhoods, killing more than 10 civilians, local authorities said.

"A missile targeting the central square of a city is open, undisguised terrorism," said Ukrainian President Volodymyr Zelensky, adding that numerous children had died in other attacks. "It's terrorism that aims to break us, to break our resistance."
WaPo ("Kremlin's forces near Kyiv as Kharkiv faces heaviest shelling since invasion began"):
The Russian military is continuing to advance on Kyiv in what a senior U.S. defense official has called an apparent attempt to encircle the Ukrainian capital, fueling concerns the Kremlin will adopt the same siege tactics there that have been seen in Kharkiv — the country's second-largest city — which was bombarded Monday with some of the heaviest shelling since the invasion began.

Five hours of talks between Russian and Ukrainian delegations near the Belarus border Monday failed to yield a breakthrough, with the two sides agreeing only to continue their discussions in coming days. Meanwhile, satellite images showed a massive convoy of Russian ground forces making its way toward Kyiv, drawing within 20 miles of the center of the capital on Monday.
NYT ("Explosions Shake Kyiv and Ukraine's Second-Largest City"):
On Day 6 of Russia's invasion of Ukraine, Moscow appeared to target civilian areas with increasingly powerful weapons and a 40-mile-long convoy of Russian tanks and vehicles sat about 20 miles north of Kyiv, a menacing presence that raised the possibility that Moscow could attempt an encirclement of the capital.

Raising already high tensions, the Russian Defense Ministry threatened to conduct strikes against facilities in the city belonging to Ukraine's security service and to a special operations unit to prevent information attacks against Moscow. Video showed a projectile hitting Kyiv's main radio and television tower, forcing television stations off the air, according to Ukrainian officials.

On Tuesday morning, an explosion devastated a large administrative building in the main square in Kharkiv, the country's second-largest city, killing seven people, according to Ukrainian officials. And the city's mayor told the Ukrainian station 24 TV that a rocket attack on a residential neighborhood had destroyed a hospital and resulted in several deaths and injuries.

Videos showed Russian troops patrolling Kherson, in the south of Ukraine, as well as an explosion at an apartment building, although Ukrainians kept control, according to Janes, an intelligence analyst. The mayor of Mariupol, a critical port city, said residents lacked electricity and heat after days of intense fighting. Capturing Mariupol would allow Russian forces in the south to join with Russian-backed separatists in the east, isolating Ukrainian troops in the region.

The United Nations said that at least 136 civilians, including 13 children, were killed in the first five days of the invasion.
NYT ("Some Russian troops are surrendering or sabotaging vehicles rather than fight, a Pentagon official says."):
Plagued by poor morale as well as fuel and food shortages, some Russian troops in Ukraine have surrendered en masse or sabotaged their own vehicles to avoid fighting, a senior Pentagon official said on Tuesday.

Some entire Russian units have laid down their arms without a fight after confronting surprisingly stiff Ukrainian defense, the official said. A significant number of the Russian troops are young conscripts who are poorly trained and ill-prepared for the all-out assault. And in some cases, Russian troops have deliberately punched holes in their vehicles' gas tanks, presumably to avoid combat, the official said.

The Pentagon official declined to say how the military made these assessments — presumably a mosaic of intelligence including statements from captured Russian soldiers and communications intercepts — or how widespread these setbacks may be across the sprawling battlefield.

But taken together, these factors may help explain why Russian forces, including an ominous 40-mile convoy of tanks and armored vehicles near Kyiv, Ukraine's capital, have come to a near crawl in the past day or two, U.S. officials said.
The Fallout:
WSJ ("As Russia Sanctions Intensify, Several Oligarchs Speak Out Against Ukraine War"):
Several Russian oligarchs are rushing to distance themselves from Russian President Vladimir Putin, as Western countries threaten to squeeze their assets with an unprecedented sanctions drive.

In recent days a parade of Russian businessmen burnished their antiwar stances as governments tightened a noose around Kremlin-connected businesses and property. Oligarch Roman Abramovich, who hasn't been sanctioned, said that he was helping Ukraine negotiate peace with Russia. Oleg Tinkov, the billionaire founder of Russia's Tinkoff Bank, a unit of TCS Group Holding PLC, highlighted the work his foundation does to help children and his desire for no war. Mr. Tinkov also hasn't been sanctioned. Oleg Deripaska, a raw-materials magnate who was previously sanctioned in the U.S., wrote on social media Sunday that peace "is very important."

"Please don't draw an equal sign between Russians, the Russian state and the Government of [the] Russian Federation. There are many Russians strongly opposing the current military action, and I am one of them," said Andrey Yakunin, the founder of private-equity group VIY Management and son of Vladimir Yakunin, former president of OAO Russian Railways. The elder Mr. Yakunin was sanctioned in the U.S. a few years ago.

The events in Ukraine over the past week have ruptured a delicate compact between Western governments and Russian businessmen. For years, the West tolerated funneling billions of dollars out of the ruins of the Soviet Union into high-end property, business and art. The benefit to governments was massive investment by many of these individuals, boosting local economies. Western governments now hope that punishing a cadre of well-connected people with deep links to Russia will in turn put pressure on Mr. Putin.
WaPo ("Biden lets European leaders take center stage on Ukraine"):
President Biden did not announce sanctions against Russian President Vladimir Putin personally until after the 27-nation European Union had done so on Friday. The United States joined the move to cut Russian banks out of the SWIFT financial system after Europeans agreed on Saturday. And it was Germany that announced the cancellation of Nord Stream 2, a project that Biden initially pledged would end if Putin invaded Ukraine.

Over the past few days, leaders in European capitals — not Washington — have taken the public lead on many of the most punishing actions designed to persuade Putin to halt his invasion.

But Biden administration officials say the latest steps against Russia simply reflect the culmination of what they describe as a months-long, behind-the-scenes strategy to fortify Western unity in the face of a Russian invasion of Ukraine. The result, they add, is a testament to the strength of the transatlantic alliance, with who takes the lead — and when — often determined by logistical and regulatory considerations.

Biden has seen one of his major goals as rebuilding global alliances that he viewed as recently tattered, and persuading leaders with disparate interests and varied domestic concerns to come together. As Russia prepared its attack, officials say, Biden engaged in discreet diplomacy with European allies, and in recent weeks he has encouraged them to take action.

"They avoid the political downside of having the view that somehow big brother is corralling or forcing the junior partners to do its own bidding," said Aaron David Miller, a veteran diplomat and senior fellow at the Carnegie Endowment for International Peace. "It's not just Joe Biden and the United States carrying the load."

Even while much of the process may be stage-managed by the United States, he added, it helps European leaders domestically by presenting the response as a widespread global alliance and not just one orchestrated by Washington. The strategy is not without risk for Biden's own domestic political concerns, depriving him of opportunities to tout achievements as he faces low approval ratings and attacks from Republicans who call his response weak.
WaPo ("Democrats, Republicans begin to rally around large Ukraine aid package"):
Congressional Democrats and Republicans are rallying around a new push to provide billions of dollars in aid to Ukraine, hoping to address a fast-worsening humanitarian crisis and bolster the region's defenses against any further Russian incursion.

In a Capitol often wracked by partisanship, the two parties have found early, common ground this week in calling for prompt passage of an emergency spending package, which some lawmakers believe will ultimately exceed the Biden administration's initial request to deliver roughly $6 billion in foreign assistance.

"I've heard some senators talking about as much as $10 billion," said Sen. Tim Kaine (D-Va.), a top lawmaker on the chamber's armed services panel, adding he "suspect[s] we will act in a very vigorous way."

Setting the stage for the debate to come, congressional leaders on Tuesday tried to rally lawmakers to move swiftly. In the Senate, Majority Leader Charles E. Schumer (D-N.Y.) called on Democrats and Republicans to act on a "bipartisan basis, and in lockstep with the Biden administration, to pass a strong aid package."

"The strongest signal we can send to [Russian President] Vladimir Putin right now is the United States stands together, together, with the people of Ukraine," Schumer said in a speech to open the chamber floor.
WaPo ("Rapid escalation of Ukraine crisis fuels fear of confrontation between Russia and the West"):
Russia, careening toward economic crisis under the weight of devastating Western sanctions, has put its nuclear forces on alert as the Kremlin's siege of Ukraine intensifies.

The United States and its NATO partners have sent thousands of troops and advanced weaponry to harden defenses in the alliance's eastern flank while funneling billions of dollars worth of military hardware to Kyiv — moves met by the Kremlin with threats of "consequences."

There is no deconfliction line — nor, according to U.S. officials, does Moscow seem interested in one.

The rapid escalation, observers say, has made the once-theoretical risk of direct confrontation between Russia and the West a tangible possibility with little hope of the tension subsiding, maybe for years to come.

"My worry is that there's a miscalculation, a misunderstanding, an accident, a mistake" that touches off more widespread conflict, said Jim Townsend, who managed Europe and NATO policy at the Pentagon during the Obama administration.
Reuters ("Over 660,000 people flee Ukraine, UN agency says"):
More than 660,000 people, mostly women and children, have fled Ukraine to neighbouring countries in the last six days since Russia invaded, the U.N. refugee agency said on Tuesday.

Shabia Mantoo, spokesperson of the U.N. High Commissioner for Refugees (UNHCR), told a briefing in Geneva there were reports of people waiting for up to 60 hours to enter Poland, while queues at the Romanian border are up to 20 km long.
WSJ ("As Russian Bombs Turn Kyiv Into a War Zone, Residents Scramble to Escape"):
This one's purely anecdotal but shines a light on the state of terror.
My Two Cents:
I continue to be pleasantly shocked at how big the European allies—and even the likes of Switzerland, which was officially neutral during World War II and the Cold War—have stepped up. While there's room for quibbling on the margins, President Biden has handled the crisis brilliantly—successfully doing the thing President Obama was mocked for during the Libya campaign: "leading from behind." He has ratcheted up the economic pressure as the Europeans came on board to great effect. And, for the first time in a very long time, the United States is winning the information war, selectively putting out intelligence to villainize and embarrass Putin.
There is perhaps no one in Washington more qualified to analyze the state of play here than my former Atlantic Council colleague Jim Townsend. If he's worried that this thing could escalate into a hot war involving NATO, you should be, too.
And I don't think the massive outflow of Ukrainians is getting enough attention. My colleague Jill Goldenziel, a leading expert on the law and politics of global migration, notes that the Europeans are being unfairly criticized for their being more enthusiastic about accepting this influx than they were Syrians and other Middle Easterners fleeing that conflict. After all, the Ukrainians are likely going to want to go back home after this is all over. But absorbing that many people in such short order is a nightmare.
Finally, we'll see how much of that $10 billion package comes to fruition. Seeing a truly bipartisan bill sending massive aid to Ukraine would be welcome, indeed. Not only because it's the right thing to do but because it would be a small return to normalcy. That Trump and the Fox News crowd spent years lionizing Putin for cheap political points is a giant stain on my erstwhile party.