Russia Sanctions Itself in Retaliation for Western Sanctions
Vladimir Putin is banning commodity exports.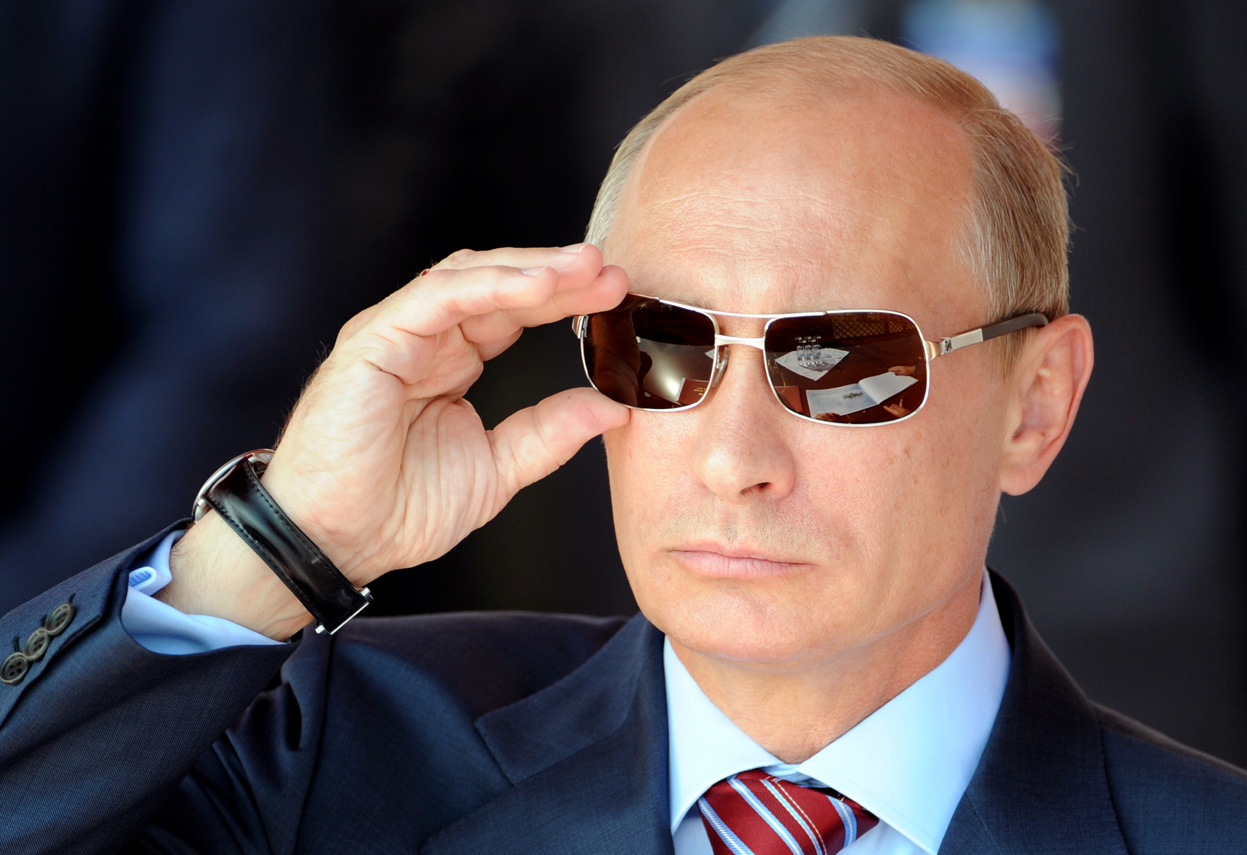 The News:
WSJ ("Russia Set to Ban Commodity Exports Following Western Sanctions"):
Russian President Vladimir Putin is banning exports of certain commodities and raw materials, according to a decree issued Tuesday evening in Moscow.

The actual commodities that will be banned from export will be determined by the Russian cabinet, the decree said. Mr. Putin gave them two days to come up with a list of countries subject to the ban.

The decree came hours after President Biden said that the U.S. would ban imports of Russian oil over the country's invasion of Ukraine and the European Union said it would aim to cut imports of Russian natural gas by two-thirds this year. The U.K. government also said Tuesday it was phasing out Russian oil imports by the end of 2022 and is exploring options to end Russian gas imports altogether.

Russia is the third-largest oil producer in the world and the biggest exporter of natural gas. The exports fuel Russia's economy and the West was believed to be too dependent on them to quit easily. The invasion of Ukraine changed that dynamic.
NPR ("Stalled and frustrated, Putin will likely 'double down' in the coming weeks, CIA says"):
CIA Director William Burns said Tuesday that Russia's invasion of Ukraine has fallen far short of Vladimir Putin's expectations and that he believes the Russian president is likely to escalate military operations.

"I think Putin is angry and frustrated right now. He's likely to double down and try to grind down the Ukrainian military with no regard for civilian casualties," Burns testified before the House Intelligence Committee. "His military planning and assumptions were based on a quick, decisive victory."

Burns was one of several intelligence chiefs who appeared before the committee's annual hearing on worldwide threats.

The CIA director said Putin premised his war on four false assumptions: He thought Ukraine was weak, he believed Europe was distracted and wouldn't mount a strong response, he thought Russia's economy was prepared to withstand sanctions and he believed Russia's military had been modernized and would fight effectively. "He's been proven wrong on every count," said Burns, who served as the U.S. ambassador to Russia from 2005 to 2008.

The CIA director says he now expects Putin to escalate military operations while the Ukrainians will continue to resist fiercely. The likely result, he says, is "an ugly next few weeks" of fighting for control of Ukraine's cities, including the capital, Kyiv.
WaPo ("'Every inch of NATO': Blinken seeks to deter any Russia thought of pushing beyond Ukraine"):
At nearly every stop on his whirlwind European tour over the last week, U.S. Secretary of State Antony Blinken had an identical message seemingly directed straight at Russian President Vladimir Putin.

"We will defend every inch of NATO territory with the full force of our collective power," he said during a visit to Tallinn, Estonia, on Tuesday, in what became a verbatim refrain throughout his six-day sprint from Brussels to the Baltics.

Blinken's trip, capped by a brief stopover in Paris on Tuesday for talks with President Emmanuel Macron, was an attempt to illustrate Western unity and a warning to Putin to banish any thought of lashing out at NATO nations as he presses deeper into Ukraine. It unfolded as Putin's invasion becomes more deadly and the West's unprecedented economic reprisals sends tensions with Moscow to levels not seen in generations.

The sole exceptions to Blinken's delivery of carbon-copy comments came during an overnight stop in Moldova, the tiny, constitutionally neutral nation where Russian forces occupy a breakaway region; and during a 15-foot incursion into Ukraine, when he strolled past the Polish border with his Ukrainian counterpart as part of a visit to Poland's border with Ukraine. Because neither Moldova nor Ukraine is a NATO member, they fall outside the curtain of mutual defense that alliance leaders now feel more urgently compelled to defend.

Blinken's message, which echoed President Biden's State of the Union address, was especially pointed during his stops in Latvia, Lithuania, Estonia and Poland. Those countries could be among those affected should Putin act on his wish to roll back the presence of NATO troops and equipment in Europe back to lines of the late 1990s, before the alliance admitted former Soviet republics and Warsaw Pact nations.

While most Baltic officials have said they do not see an immediate military threat from Moscow — in part because Russian forces are now bogged down in Ukraine — countries across the alliance have been unnerved by Putin's willingness to use force and his ominous references to "consequences" for countries that obstruct him. As the Russian leader appears increasingly isolated, questions have intensified about his decision-making and access to accurate information.
WaPo ("Ukraine says Russia thwarting wider civilian evacuations as Sumy corridor opens, thousands flee"):
The desperate effort to secure safe passage for civilians trapped in Ukrainian cities under attack by Russian forces remained deeply precarious on Tuesday: A single evacuation route opened, allowing thousands to escape safely, while Ukraine accused Russia of shelling another proposed corridor.

Ukraine's foreign ministry said the Russian military violated a cease fire by shelling an evacuation route out of the besieged city of Mariupol. It was the fourth day in a row that Ukraine has accused Moscow of firing on routes used by civilians to flee the fighting.

As the situation in several cities grows more dire — with hundreds of thousands lacking power, heat and water and facing regular bombardment — Ukraine is seeking to avert a further humanitarian disaster. More than 2 million people, half of them children, have fled to neighboring countries since Feb. 24 when the conflict began.
Some Opinions:
Paul Krugman, NYT ("How the Putin Shock Might Affect the World Economy"):
When Vladimir Putin invaded Ukraine, I think it's fair to say that most observers expected him to get away with it. Surely Russia's huge military would take Kyiv and other major cities within a few days; surely the West would respond with its usual timidity, giving Russia no more than a minor slap on the wrist.

Instead, here we are, 13 days in, with Kyiv and Kharkiv still standing and invading forces bogged down by fierce Ukrainian resistance (helped by a rapid influx of Western weapons) and disastrous logistical problems. At the same time, Western sanctions on the Russian economy are clearly already having severe effects and may get even stronger.

[…]

Unfortunately, standing up to aggression doesn't come free. Events in Ukraine and Russia will, in particular, impose serious costs on the world economy. The question is, how serious?

My tentative answer is that it will be bad, but not catastrophic. Specifically, the Putin shock seems unlikely to be nearly as bad as the oil shocks that roiled the world economy in the 1970s.

As in the 1970s, the blow to the world economy is coming from commodity prices. Russia is a major exporter of oil and natural gas; both Russia and Ukraine are — or were — major exporters of wheat. So the war is having a big impact on both energy and food prices.

[…]

My biggest concern for the United States, at least, is political. You mightn't think that Republicans could simultaneously demand that we stop buying Russian oil and attack President Biden for high gasoline prices. That is, you mightn't think that if you'd spent the past 25 years sleeping in a cave. In fact, that's exactly what's about to happen.

Politics aside, food may actually be a bigger issue than energy. Before Putin's war, Russia and Ukraine combined accounted for more than a quarter of the world's wheat exports. Now Russia is sanctioned and Ukraine is a war zone. Not surprisingly, wheat prices have shot up from less than $8 a bushel before Russia began massing its forces around Ukraine to around $13 now.

In wealthy regions like North America and Europe, this price surge will be painful but for the most part tolerable, simply because advanced-country consumers spend a relatively small percentage of their income on food. For poorer nations, where food is a huge fraction of family budgets, the shock will be much more severe.

Finally, what impact will the Ukraine war have on economic policy? Spiking oil and food prices will raise the rate of inflation, which is already uncomfortably high. Will the Federal Reserve respond by raising interest rates, hitting economic growth?

Probably not. The Fed has long focused not on "headline" inflation but on "core" inflation, which excludes volatile food and energy prices — a focus that has stood it in good stead in the past. So the Putin shock is exactly the kind of event that the Fed would normally ignore. And for what it's worth, investors appear to believe that it will do just that: Market expectations of Fed policy over the next few months don't seem to have changed at all.

Overall, the Russian shock to the world economy will be nasty, but probably not all that nasty. If Putin imagines that he can hold the world to ransom, well, that's probably yet another fatal miscalculation.
David Von Drehle, WaPo ("Xi Jinping is surely rethinking his grand bromance with Putin"):
Russia's clumsy, brutal and doomed invasion of its law-abiding neighbor Ukraine is the best advertisement for the Western alliance since, well, Russia's invasions of Czechoslovakia in 1968 and of Hungary in 1956, not to mention Russia's blockade of West Berlin in 1948. Nothing makes friends for the U.S.A. like the rumbling of Russian tanks.

But it's worse than that, from Chinese President Xi Jinping's perspective. His Russian wingman has reanimated the West while using tanks that immediately lost their rumble. The picture of mile after mile after mile of Russian military hardware bogged down along a single road north of Kyiv suggests that Xi's Moscow partner is not just reckless but also feckless.

And brainless. It's increasingly clear that Russian troops crossed the border with no idea where they were going, much less why. Invasion planners — or whatever you'd call them — assumed the Kyiv airport would be easily seized (wrong), the Ukrainian government would quickly collapse (wrong), and the population would be welcoming (wrong). Russia's nuclear umbrella prevented NATO jets and missiles from wiping out the entire stalled column between one nightfall and the next dawn.

[…]

Xi must be feeling lonely now that his buddy has blown it. Chinese authorities are busy scouring their Internet to hide evidence of their leader's poor taste in friends. But what other thoughts might be going through his head?

He might be rethinking his hurry-up schedule for absorbing Taiwan. The anti-communist island has been beefing up its defenses. If Ukraine can so easily become a graveyard for Russian tanks, what might Taiwan be for amphibious Chinese troops? China has spent a lot of money on its military in recent years, and the country does lots of training exercises. But Chinese generals and their troops aren't battle-tested, and a contested assault on Taiwan could be a battle such as the world has not seen.

[…]

Meanwhile, as he mulls, Xi must factor in the awakened West.

China has enjoyed a terrific 30 years thanks to a world of wealthy, well-disposed customers. In a matter of days, however, Putin has turned that world into a wall of resolve. Xi might realize this is a bad time for China to go rogue. Chinese economic growth is already braking. Short-term efforts to stimulate growth are at cross-purposes with long-term efforts to mature the Chinese economy. Demographic trends are terrible.

In short, China should be cautious about triggering worldwide economic sanctions. Admittedly, China is an economic powerhouse, while Russia is a relative pipsqueak, but trends matter, and China's aren't good. Resolute sanctions on China would greatly accelerate the already approaching date when its economic miracle reaches high water and begins to ebb.
David Ignatius, WaPo ("Travels with Milley: The general brings his 'big green map' to NATO's flank"):
Gen. Mark A. Milley carries what his staff calls the "big green map" of Ukraine with him everywhere he goes — inside the Pentagon, at White House meetings with President Biden and on foreign trips such as the five-day tour of NATO front-line nations that he just completed.

Milley's map is a compendium of U.S intelligence about Russia's pitiless assault on Ukraine. The paper version isn't actually big or particularly fancy, just a foot-square chart showing the locations, numbers and likely assault paths of the vast Russian force battering Ukraine. But the map documents what Milley, the chairman of the Joint Chiefs of Staff, and his top aides believe might be the most comprehensive operational intelligence in the history of warfare.

[…]

Maps are the most basic tools of military strategy. They allow commanders to chart a course through the fog of war; they organize the chaos of the battlefield. Milley huddling with his staff around his battle plan of the Ukraine theater conjures similar scenes through history, as generals from George Washington to Dwight D. Eisenhower leaned over maps to study the enemy's formation and plot strategy.

Milley ordered aides to begin assembling the map in late October, when startling intelligence reports signaled that Russia was gathering an invasion army on Ukraine's border. The Russian forces were no exercise; intercepted messages showed that Russia was actually planning an attack.

Milley began quizzing aides about the coming invasion: "How many? Where are they? What can we see? What's hidden? What's the intent?" Though Milley doesn't like using sports analogies for war, he believes the battlefield is not a football game with neat, linear advances. It's more like the hockey he once played, fluid and dynamic with sudden spasms of action.

[…]

On the eve of Russia's Feb. 24 invasion, Biden ordered Milley and Director of National Intelligence Avril Haines to brief Congress on what the map showed — and then to give the same briefing, on "deep background," to the Pentagon press corps. This was a declassified version of code-word intelligence, drawn from communications intercepts, surveillance satellites and spies on the ground. America's best weapon against Putin, Biden decided, was the truth. The administration had found a way to weaponize intelligence.

[…]

Though it's largely invisible to the public, the United States has moved an astonishing military presence forward in Europe, from a mere 200 in Hungary and 350 in Bulgaria to 2,500 in the Baltic states, 10,000 in Poland and 38,500 in Germany — forces in 17 countries, bolstered by 11,000 in ships at sea. It's a forbidding display of force.

[…]

Milley's army is preparing for a war he hopes it will never have to fight. It's eerie, traveling this NATO arc, to see U.S. and NATO forces arrayed like a picket line. NATO, once a seeming anachronism, is reenergized. Putin is cornered with his reckless adventure in Ukraine.

As Milley tells the story conveyed by his map, the Russian leader began a war that he will have great difficulty completing — and any attempt to expand it will summon a devastating response.
Gerard Baker, WSJ ("The Terrifying Paradox of Russian Weakness"):
Although Vladimir Putin has a somewhat warped view of Russian history, he, like his compatriots, knows his country's story well enough to understand what is at stake for him and them—and ultimately the rest of us—in Ukraine.

[…]

It already seems that a possibly inconclusive struggle for Ukraine is a likely outcome, but history suggests there are only two alternatives for the Russian leader—a victory of some sort, at any cost, or the collapse of his regime.
Walter Russell Mead, WSJ ("Putin's War Will Get Uglier"):
Vladimir Putin is beginning to understand the immense difficulty of the war he cavalierly launched in Ukraine. He knows now that his corrupt and time-serving generals lied to him about the effectiveness of the military machine they had built. He knows that the flattering "experts" who reinforced his prejudices about the weakness of Ukrainian national identity were talking through their hats. He knows that even German fecklessness has limits and that Americans still know how to fight cold wars. He has no illusions now about the power of Western economic sanctions, and he knows that families all over Russia will soon be mourning their sons as the death toll mounts in Ukraine.

[…]

From where Mr. Putin sits in the Kremlin, however, history seems to teach a different lesson. The empire of the czars was not built on freedom, nor did freedom result when it fell. The Soviet Union that rose from the ruins of Romanov power was not based on the idea of human freedom. Stalin wasn't deposed by Russians hungry for freedom; he died in bed. The feeble liberals who tried to introduce Western-style democracy into post-Soviet Russia were soon sidelined in the power struggles of the Yeltsin era. Mr. Putin simply does not think that "freedom always wins" and his likely reaction to the failure of his initial strategy for the absorption of Ukraine into his domain will be to double down on repression.

[…]

We should not delude ourselves about how far Mr. Putin could go. Since the outbreak of the war, he has been cracking down in Russia—closing the last remnants of a free press, arresting critics and tightening the laws against protest and dissent. But the Soviet era saw much more totalitarian controls and much greater terror than anything that exists in Russia today.

Would Mr. Putin rebuild the Gulag Archipelago and re-create the terror through which Stalin ruled Ukraine? If the alternative is to flee Moscow in disgrace and pass the remaining years of his life as a state pensioner in China, he will almost certainly move in that direction. Mr. Putin cemented his hold on power by deploying ruthless violence against civilians in Grozny to crush the Chechen drive for independence. Why would he yield power without using every available method to hold on?
Thomas Friedman, NYT ("Putin Has No Good Way Out, and That Really Scares Me"):
If you're hoping that the instability that Vladimir Putin's war on Ukraine has wreaked on global markets and geopolitics has peaked, your hope is in vain. We haven't seen anything yet. Wait until Putin fully grasps that his only choices left in Ukraine are how to lose — early and small and a little humiliated or late and big and deeply humiliated.

I can't even wrap my mind around what kind of financial and political shocks will radiate from Russia — this country that is the world's third-largest oil producer and possesses some 6,000 nuclear warheads — when it loses a war of choice that was spearheaded by one man, who can never afford to admit defeat.

Why not? Because Putin surely knows that "the Russian national tradition is unforgiving of military setbacks," observed Leon Aron, a Russia expert at the American Enterprise Institute, who is writing a book about Putin's road to Ukraine.

[…]

In the coming weeks it will become more and more obvious that our biggest problem with Putin in Ukraine is that he will refuse to lose early and small, and the only other outcome is that he will lose big and late. But because this is solely his war and he cannot admit defeat, he could keep doubling down in Ukraine until … until he contemplates using a nuclear weapon.
My Two Cents:
The trendlines continue to be bad for Putin and good for the Western alliance. President Biden's quiet leadership ahead of the crisis, including a truly brilliant information operations campaign, maximized the negative impact of the bad news for Putin and helped galvanize the international reaction.
Krugman's analysis of the economics strike me as reasonable and further good news for the West: we're going to feel some pain but not nearly as much as Putin and his cronies. Von Drehle's take is likely more wishful thinking than hard analysis but I certainly hope he's right.
Mead, Baker, and Friedman have all written variations of the same column and express the fear that I did on my last post on this crisis: the lack of a way for Putin to lose small while saving face. If his only way out is humiliation or assassination, his incentives to escalate the brutality are high, indeed. Do I think he's going to launch nuclear missiles? No. But only because I think someone will put a bullet in his head before it comes to that.