Milley's Soft Coup
While well-intentioned, the Chairman's actions were illegal and dangerous.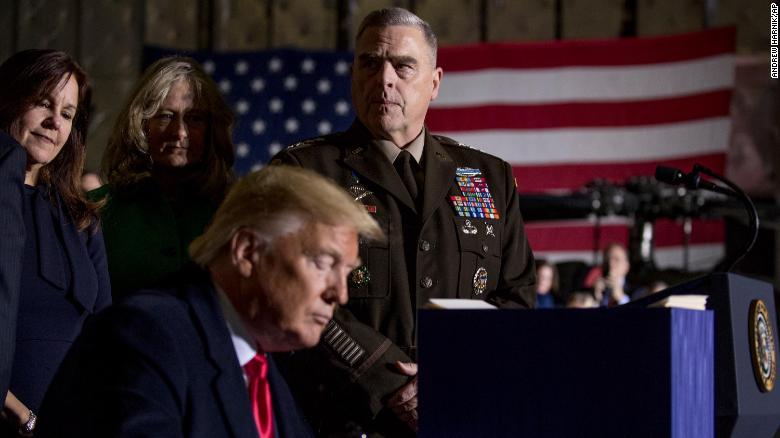 See my follow-up "Milley and Woodward Revisited"
Chairman of the Joint Chiefs Mark Milley repeatedly exceeded his legal authority and violated professional norms to check what he saw was a rogue President, according to a new book by Bob Woodward and Robert Costa.
CNN ("Woodward/Costa book: Worried Trump could 'go rogue,' Milley took secret action to protect nuclear weapons"):
Two days after the January 6 attack on the US Capitol, President Donald Trump's top military adviser, Joint Chiefs Chairman Gen. Mark Milley, single-handedly took secret action to limit Trump from potentially ordering a dangerous military strike or launching nuclear weapons, according to "Peril," a new book by legendary journalist Bob Woodward and veteran Washington Post reporter Robert Costa.Woodward and Costa write that Milley, deeply shaken by the assault, 'was certain that Trump had gone into a serious mental decline in the aftermath of the election, with Trump now all but manic, screaming at officials and constructing his own alternate reality about endless election conspiracies.'Milley worried that Trump could 'go rogue,' the authors write.

"You never know what a president's trigger point is," Milley told his senior staff, according to the book.

In response, Milley took extraordinary action, and called a secret meeting in his Pentagon office on January 8 to review the process for military action, including launching nuclear weapons. Speaking to senior military officials in charge of the National Military Command Center, the Pentagon's war room, Milley instructed them not to take orders from anyone unless he was involved.

"No matter what you are told, you do the procedure. You do the process. And I'm part of that procedure," Milley told the officers, according to the book. He then went around the room, looked each officer in the eye, and asked them to verbally confirm they understood."Got it?" Milley asked, according to the book.

"Yes, sir."

[…]

Milley's fear was based on his own observations of Trump's erratic behavior. His concern was magnified by the events of January 6 and the 'extraordinary risk' the situation posed to US national security, the authors write. Milley had already had two back-channel phone calls with China's top general, who was on high alert over the chaos in the US.

Then Milley received a blunt phone call from House Speaker Nancy Pelosi, according to the book. Woodward and Costa exclusively obtained a transcript of the call, during which Milley tried to reassure Pelosi that the nuclear weapons were safe.

Pelosi pushed back."What I'm saying to you is that if they couldn't even stop him from an assault on the Capitol, who even knows what else he may do? And is there anybody in charge at the White House who was doing anything but kissing his fat butt all over this?"Pelosi continued, "You know he's crazy. He's been crazy for a long time."

According to Woodward and Costa, Milley responded, "Madam Speaker, I agree with you on everything."
WaPo ("Top general was so fearful Trump might spark war that he made secret calls to his Chinese counterpart, new book says") adds:
Twice in the final months of the Trump administration, the country's top military officer was so fearful that the president's actions might spark a war with China that he moved urgently to avert armed conflict.

In a pair of secret phone calls, Gen. Mark A. Milley, the chairman of the Joint Chiefs of Staff, assured his Chinese counterpart, Gen. Li Zuocheng of the People's Liberation Army, that the United States would not strike, according to a new book by Washington Post associate editor Bob Woodward and national political reporter Robert Costa.

One call took place on Oct. 30, 2020, four days before the election that unseated President Donald Trump, and the other on Jan. 8, 2021, two days after the Capitol siege carried out by his supporters in a quest to cancel the vote.

The first call was prompted by Milley's review of intelligence suggesting the Chinese believed the United States was preparing to attack. That belief, the authors write, was based on tensions over military exercises in the South China Sea, and deepened by Trump's belligerent rhetoric toward China.

"General Li, I want to assure you that the American government is stable and everything is going to be okay," Milley told him. "We are not going to attack or conduct any kinetic operations against you."

In the book's account, Milley went so far as to pledge he would alert his counterpart in the event of a U.S. attack, stressing the rapport they'd established through a backchannel. "General Li, you and I have known each other for now five years. If we're going to attack, I'm going to call you ahead of time. It's not going to be a surprise."

[…]

Milley also summoned senior officers to review the procedures for launching nuclear weapons, saying the president alone could give the order — but, crucially, that he, Milley, also had to be involved. Looking each in the eye, Milley asked the officers to affirm that they had understood, the authors write, in what he considered an "oath."

The chairman knew that he was "pulling a Schlesinger," the authors write, resorting to measures resembling the ones taken in August 1974 by James R. Schlesinger, the defense secretary at the time. Schlesinger told military officials to check with him and the chairman of the Joint Chiefs before carrying out orders from President Richard M. Nixon, who was facing impeachment at the time.

Though Milley went furthest in seeking to stave off a national security crisis, his alarm was shared throughout the highest ranks of the administration, the authors reveal. CIA Director Gina Haspel, for instance, reportedly told Milley, "We are on the way to a right-wing coup."
In addition to my longstanding view that reporters who have information vital to the public have a duty to publish that information as soon as it is vetted rather than saving it to juice future book sales, this raises troubling questions about the propriety of Milley's actions. Regular readers know that I agree with his assessment of Trump's mental state and fitness to serve as Commander-in-Chief. But it is the job of civilian policymakers, not the armed forces—much less the Chairman—to check an unstable President.
Milley is not in the chain of command. His perch is the most prestigious in the US armed forces but his role is to serve as the principal uniformed advisor to the President, the Secretary of Defense, and the National Security Council. He can not, therefore, "pull a Schlesinger." The Secretary of Defense is second in command of the armed forces, appointed by the President, confirmed by the Senate, and empowered by statute to make policy.
Were the President to decide, against the advice of the Chairman, to launch a surprise attack on China, Milley would have a handful of options. He could, of course, obey orders and help execute the mission. If he believed the attack to be illegal under US or international law, he could certainly go to Congress and express his concerns. He could resign and take his concerns public. But it would be an act of literal treason for the Chairman to call his Chinese counterpart to warn him.
Nor is the Chairman a decider on the use of nuclear weapons. That call, again, is that of the President. By law, the Secretary of Defense has to verify the order of the President and, as a Senate-confirmed policymaker, his refusal to carry out the President's order would carry a lot of weight. But, ultimately, the President makes the call. Telling other officers to defy the orders of the Commander-in-Chief until the Chairman could be consulted is a huge, huge red flag.
Further, while it's perfectly reasonable for the Chairman to assure the Speaker of the House that there are protocols in place to prevent the rash use of nuclear weapons, expressing his opinion that the President is crazy is at best unprofessional and quite arguably a violation of the Uniform Code of Military Justice's Article 88 prohibition of "contemptuous words" against certain officials.
Look, I get that Trump is an unusual case and that desperate times call for desperate measures. Vice President Pence and most of the cabinet consistently displayed spinelessness. But I agree with my PME colleague Carrie Lee (who I'm 99 percent sure is considerably to my left politically) that Milley's actions will further damage civil-military relations.
Despite public disagreement about whether Milley's alleged actions were appropriate, the reporting on these events will have long-term effects on civil-military relations in three ways.

First, it decreases trust between the president and the chairman of the Joint Chiefs of Staff. As the nation's elected leader, the president must be able to enact his agenda, and do so without concern that he is being actively undermined by subordinate military leaders. For good strategic assessment, the president must be confident that the chairman's military advice is impartial, honest and comprehensive.

Indeed, concerns about military agendas have led to significant dysfunction in decision-making processes in the recent past, and experts have long identified trust as a critical component of the civil-military relationship. Milley's alleged actions would likely damage not only his relationship with the president but also the relationships between future chairmen and presidents.

[…]

Further, in today's negative and polarized political environment, Milley's alleged actions reinforce concerns that military leaders may ignore the president's ultimate authority over nuclear weapons at their own discretion.

Finally, Milley's reported actions will likely further politicize a military that is already under significant stress. Despite a professed commitment to being apolitical, military leaders already increasingly identify with a political party, openly express partisan sentiments on social media, and adhere less frequently to established norms.

Political leaders have also increasingly used the military to further their partisan political agendas, breaking civil-military norms. Milley found himself at the center of partisan controversy during Congressional hearings on the defense budget where the subject of critical race theory was raised. New allegations that Milley sought to undermine presidential authority, coupled with partisan beliefs about civilian control, will likely only accelerate the politicization of the armed forces, which can be damaging to democratic health.
Again, I'm sure most OTB readers will cheer Milley's actions as that of a patriot. And I have no doubt that he was motivated by patriotism and believed his duty to the Constitution was higher than his duty to the law or professional norms. But granting an exception on the basis that Trump was a one-time phenomenon drastically changes the terms of our governance.