Shaman Formerly Known as QAnon Pleads Guilty
Jacob Chansley has agreed to spend 41 to 51 months in prison for his role in the 6 January riots.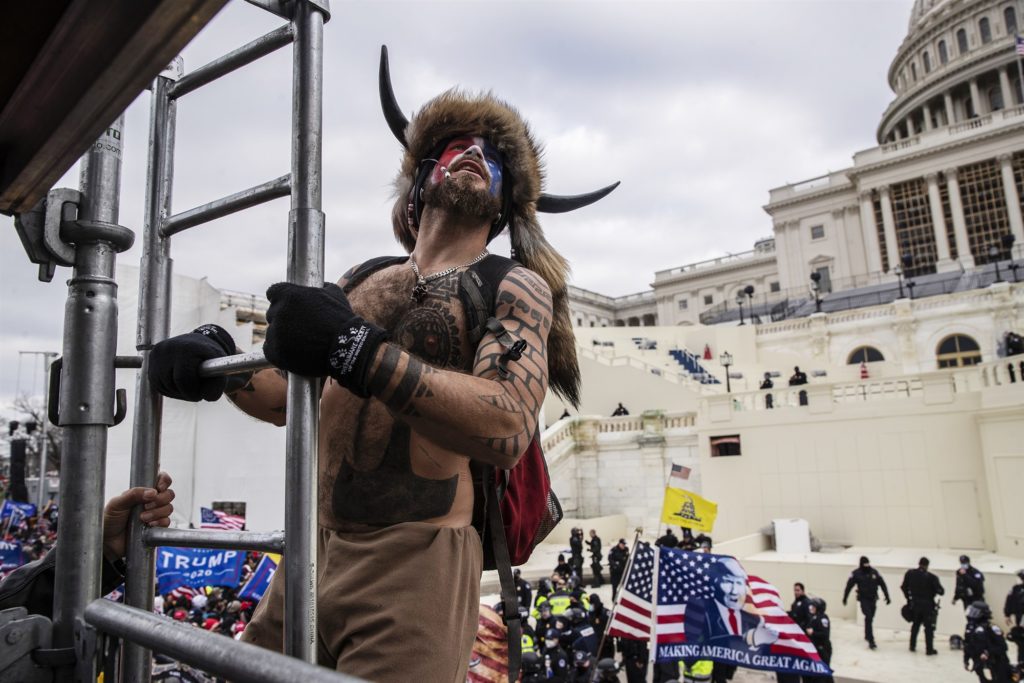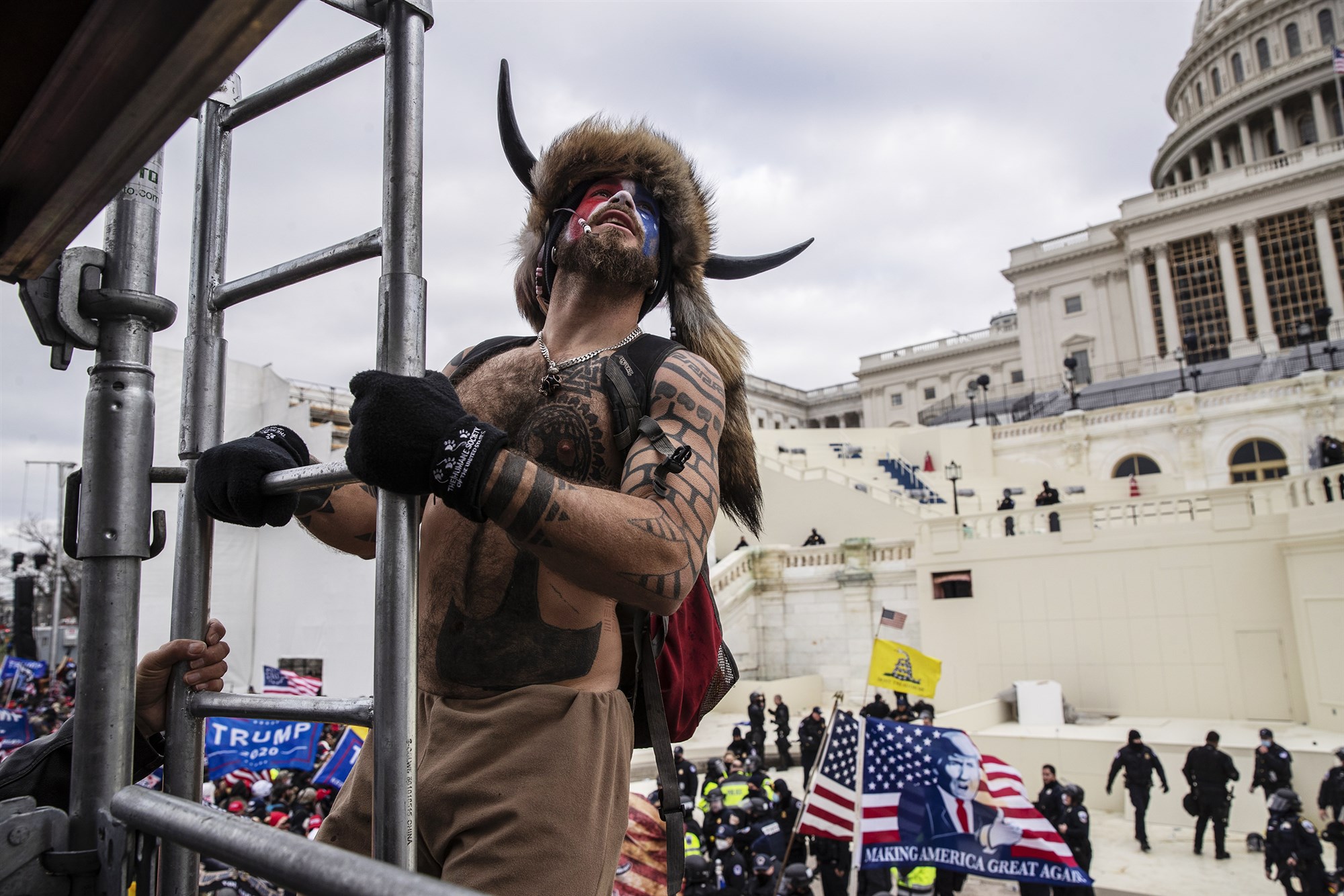 NPR ("Jacob Chansley, Self-Styled 'QAnon Shaman,' Pleads Guilty To Felony Over Capitol Riot"):
An Arizona man who sported face paint, no shirt and a furry hat with horns when he joined the mob that stormed the U.S. Capitol on Jan. 6 pleaded guilty Friday to a felony charge and wants to be released from jail while he awaits sentencing.

Jacob Chansley, who was widely photographed in the Senate chamber with a flagpole topped with a spear, could face 41 to 51 months in prison under sentencing guidelines, a prosecutor said. The man who called himself "QAnon Shaman" has been jailed for nearly eight months since his arrest.

Before entering the plea, Chansley was found by a judge to be mentally competent after having been transferred to a Colorado facility for a mental health evaluation. His lawyer Albert Watkins said the solitary confinement that Chansley faced for most of his time in jail has had an adverse effect on his mental health and that his time in Colorado helped him regain his sharpness.

"I am very appreciative for the court's willingness to have my mental vulnerabilities examined," Chansley said before pleading guilty to a charge of obstructing an official proceeding.

U.S. District Judge Royce Lamberth is considering Chansley's request to be released from jail while he awaits sentencing, which is set for Nov. 17.

Chansley was among the first wave of pro-Trump rioters to force its way into the Capitol building. He yelled into a bullhorn as officers tried to control the crowd, posed for photos, profanely referred to then-Vice President Mike Pence as a traitor while in the Senate. He wrote a note to Pence saying, "It's only a matter of time, justice is coming." He also made a social media post in November in which he promoted hangings for traitors.

[…]

His attorney has said Chansley was previously "horrendously smitten" by Trump and believed like other rioters that Trump called him to the Capitol, but later felt betrayed after Trump's refusal to grant Chansley and others who participated in the insurrection a pardon.

After spending his first month in jail, Chansley said he re-evaluated his life, expressed regret for having stormed the building and apologized for causing fear in others.
Reuters ("Capitol rioter 'QAnon Shaman' pleads guilty, disappointed Trump didn't pardon") adds:
The U.S. Capitol rioter nicknamed the "QAnon Shaman" is disappointed former President Donald Trump did not pardon him, his defense lawyer said on Friday after the man pleaded guilty to taking part in the Jan. 6 unrest.

[…]

While in detention, Chansley underwent mental examinations and was diagnosed by prison officials with transient schizophrenia, bipolar disorder, depression and anxiety.

[…]

Watkins noted that prosecutors had acknowledged Chansley was "not a planner or organizer" of the riot. Watkins later told reporters that Chansley had cooperated with Jan. 6 investigations and informed on a group he saw stealing classified materials from a Senate office.
NYT ("Capitol Rioter Known as QAnon Shaman Pleads Guilty") adds:
His plea hearing in Federal District Court in Washington on Friday departed from the circuslike atmosphere that has surrounded the case from the start. He did not speak other than to answer yes-or-no procedural questions. Under the terms of his deal, Mr. Chansley agreed to accept a recommended 41 to 51 months in prison. He is scheduled to be sentenced on Nov. 17.

Another defendant who pleaded guilty to the same charge this year was given eight months at a sentencing hearing in July.

[…]

More recently, however, Mr. Watkins has said that Mr. Chansley — like other rioters — felt betrayed by Mr. Trump. He also said that Mr. Chansley has repudiated the QAnon cult and would like to be known merely as a shaman, not the QAnon shaman.

"The path charted by Mr. Chansley since Jan. 6 has been a process, one which has involved pain, depression, solitary confinement, introspection, recognition of mental health vulnerabilities and a coming to grips with the need for more self-work," Mr. Watkins said in a statement on Thursday.

At a news conference after the hearing, Mr. Watkins told reporters that Mr. Chansley had been under pressure from his family not to plead guilty. His family, Mr. Watkins said, believed that Mr. Trump was going to be reinstated as president and could issue Mr. Chansley a pardon — a baseless theory of the sort once promoted by QAnon that continues to circulate among some Trump supporters.

"It took a lot of courage for a young man who was raised by his mother to say, 'No,'" Mr. Watkins said.

With Mr. Chansley's plea, 51 of the roughly 600 people who have been charged in connection with the riot have entered guilty pleas, most for misdemeanor offenses like disorderly conduct. At least another 11 defendants are scheduled to plead guilty by the end of October.
Granting that attorneys exist to present their clients in the best possible light, Chansley certainly comes across as a pitiable figure. He is almost certainly suffering from some mental illness. And he was surrounded by people who shared his delusions that the election was stolen from Trump and that he was doing justice by storming the Capitol.
I haven't studied the differences between Chansley's case and that of Paul A. Hodgkins, the aforementioned person who received an eight-month sentence for the same charge, enough to know exactly how comparable their offenses were. It does seem that Chansley's offense was more serious, though. First, he was literally on the front wave that broke into the Capitol; Hodgkins came in later. And Chansley not only broke into private Congressional office spaces, he left a threatening note for then-Vice President Pence. Still, he has already served eight months; another 41 months, the low end of the plea deal, seems excessive.
UPDATE (November 18): Chansley was sentenced to 41 months, with credit for the 10 months already served.