Milley and Woodward Revisited
A follow-up to yesterday's analysis.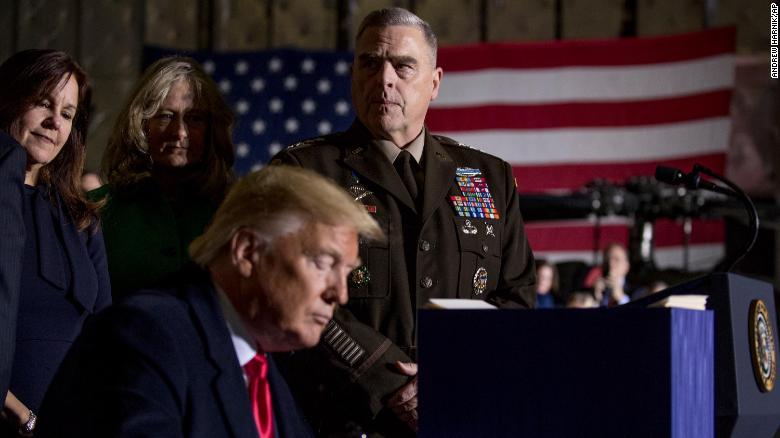 A lot of folks pushing back on the excerpts regarding Chairman of the Joint Chiefs of Staff Mark Milley in Bob Woodward's latest book (co-authored with Robert Costa) have pointed to a 2013 Slate essay by Tanner Colby. (It's also reproduced in full at National Post for those who aren't Slate Plus subscribers.)
Over the course of a year, page by page, source by source, I re-reported and rewrote one of Bob Woodward's books.

Wired is an anomaly in the Woodward catalog, the only book he's ever written about a subject other than Washington. As such, it's rarely cited by his critics. But Wired's outlier status is the very thing that makes it such a fascinating piece of Woodwardology. Because he was forced to work outside of his comfort zone, his strengths and his weaknesses can be seen in sharper relief.

Wired is an infuriating piece of work. There's never a smoking gun like an outright falsehood or a brazen ethical breach. And yet, in the final product, a lot of what Woodward writes comes off as being not quite right — some of it to the point where it can feel quite wrong. Getting the facts is only part of the equation. You have to present those facts in context and in proportion to other facts in order to accurately reflect reality. It's here that Woodward fails.

Over and over during the course of my reporting I'd hear a story that conflicted with Woodward's account in Wired. I'd run back to Woodward's index, look up the offending passage, and realize that, well, no, he'd put down the mechanics of the story more or less as they'd happened. But he'd so mangled the meaning and the context that his version had nothing to do with what I concluded had actually transpired.

[…]

Like a funhouse mirror, Woodward's prose distorts what it purports to reflect, and misses the bigger picture.

[…]

Woodward's detractors like to say that he's little more than a stenographer — and they're right. In Wired, he takes what he is told and simply puts it down in chronological order with no sense of proportionality, nuance or understanding.
Among those referencing the essay is defense journalist Wesley Morgan who observes, "Anyone who's been deep in the weeds on the Iraq and Afghanistan wars, and then read Woodward's distorted, DC-centric versions of those wars, will recognize this—the facts right, some of them new and interesting, but the context and analysis all wrong."
It's not fully clear that that is what's happened here but there are preliminary signals in that direction.
Milley's PAO put out the following message yesterday:
The Chairman of the Joint Chiefs regularly communicates with Chiefs of Defense across the world, including with China and Russia. These conversations remain vital to improving mutual understanding of U.S. national security interests, reducing tensions, providing clarity and avoiding unintended consequences or conflict.

His calls with the Chinese and others in October and January were in keeping with these duties and responsibilities conveying reassurance in order to maintain strategic stability. All calls from the Chairman to his counterparts, including those reported, are staffed, coordinated and communicated with the Department of Defense and the interagency.

Also in keeping with his responsibilities as senior military advisor to the President and Secretary of Defense, General Milley frequently conducts meetings with uniformed leaders across the Services to ensure all leaders are aware of current issues. The meeting regarding nuclear weapons protocols was to remind uniformed leaders in the Pentagon of the long-established and robust procedures in light of media reporting on the subject.

General Milley continues to act and advise within his authority in the lawful tradition of civilian control of the military and his oath to the Constitution.
This is wildly different from the account in the Woodward-Costa book, as reported by WaPo:
In a pair of secret phone calls, Gen. Mark A. Milley, the chairman of the Joint Chiefs of Staff, assured his Chinese counterpart, Gen. Li Zuocheng of the People's Liberation Army, that the United States would not strike, according to a new book by Washington Post associate editor Bob Woodward and national political reporter Robert Costa.

One call took place on Oct. 30, 2020, four days before the election that unseated President Donald Trump, and the other on Jan. 8, 2021, two days after the Capitol siege carried out by his supporters in a quest to cancel the vote.

The first call was prompted by Milley's review of intelligence suggesting the Chinese believed the United States was preparing to attack. That belief, the authors write, was based on tensions over military exercises in the South China Sea, and deepened by Trump's belligerent rhetoric toward China.

"General Li, I want to assure you that the American government is stable and everything is going to be okay," Milley told him. "We are not going to attack or conduct any kinetic operations against you."

In the book's account, Milley went so far as to pledge he would alert his counterpart in the event of a U.S. attack, stressing the rapport they'd established through a backchannel. "General Li, you and I have known each other for now five years. If we're going to attack, I'm going to call you ahead of time. It's not going to be a surprise."
So, the calls were "secret" in the sense of being classified, not in the sense of being furtive. In the context of an open meeting in which Milley and others were simply reassuring a worried Chinese defense chief that the United States is not planning a surprise attack on that country, the conversation seems much more innocuous. Dispelling misconceptions and allaying fears is why chiefs of defense maintain an open dialog.
In the context of a series of reports that Milley was trying to reign in a rogue President by any means necessary, a furtive call to the Chinese CHOD telling him that he would warn him in the event said President launched an attack is outrageous. But, in a forum with so many people present, it seems vastly different—a simple reminder that there's regular dialog going on and his counterpart would damn well know if tensions were so high that an attack were imminent. (An Axios report makes it more innocuous still: One source familiar with Milley's conversations with his Chinese counterpart would only broadly characterize them as Milley saying something to the effect of: "We'll both know if we're going to war… there's not gonna be some surprise attack and there's no reason for you to do a pre-emptive strike.")
Readers have also pointed me to Adam Silverman's essay last evening at Balloon Juice, "Everyone Needs To Stop the Hysterics Regarding General Milley and Read What Is Actually Being Reported." Aside from his admonition that there is "NO WAY TO CHECK THE SOURCING because ALL OF HIS SOURCES ARE ANONYMOUS!" he pushes back at the notion that Milley was doing anything unusual when he "secretly" gathered his senior officers and told them to check with him in the event Trump issued go orders.
The US Air Force's own doctrine places the Chairman of the Joint Chiefs of Staff in the process, not to countermand orders, not to contradict them, but to transmit them from the president and/or the president's advisors (Assistant to the President-National Security Advisor, Chief of Staff, Secretary of Defense) to the appropriate combatant commanders. Provided Woodward and Costa's reporting is correct, what GEN Milley appears to have done was to clarify the doctrinal process and procedure. And there's a very good reason he did that. There was no lawfully, Senate approved Secretary of Defense. There was no lawfully, Senate approved Undersecretary of Defense for Intelligence. In the White House, Mark Meadows was the Acting Chief of Staff, whatever acting really means in regard to a position that does not require Senate confirmation and in which the person holding the job serves at the pleasure of the president. Additionally, the Acing Chief of Staff, to the acting Secretary of Defense, was Kash Patel, who is one of Devin Nunes' stooges.

I think a good argument could be made that the civilian portion of civilian control of the military had broken down. The only people in the chain of command at that point who were lawfully in their positions were Trump who was president and the senior uniformed leadership.
While I agree that there was room for debate as to whether Christopher Miller (who has expressed his outrage over Milley's purported actions) was lawfully serving as Acting Secretary of Defense pursuant to the provisions of the Vacancies Act, I disagree that it had any bearing here. It's the job of Congress and the courts to police such matters, not that of military officers or other bureaucrats. Certainly, for Milley to simply appoint himself the De Facto SECDEF (which, I hasten to add, there's no reason to believe he had) would be far more outrageous than the elected President bypassing his appointed Deputy SECDEF for the Senate-confirmed Director of the National Counterintelligence Center who had previously been Senate-confirmed as Assistant Secretary of Defense.
But, more to the point, Silverman is right that it is normal order for the Secretary of Defense to issue orders to his Combatant Commander through the person of the Chairman. (It's never been clear to me why that's the process but it's been the practice for a very long time.)
Still, in the context of a neither confirmed nor denied story that Milley had reassured Speaker of the House Nancy Pelosi that Trump would not be able to launch a nuclear strike without military interference, this still raises a red flag. To be sure, military officers are obligated—as are other government officials—to refuse to carry out illegal orders. But the first military officer in the relevant chain of command here is the commanding general of US Strategic Command, not the Chairman. (While the presumption is that any order coming from the President is legal, I do think that the STRATCOM chief would balk at an out-of-the-blue order to launch a nuclear first strike on China, North Korea, Iran, or whomever and demand more information. And rightly so.)
Again, I fully recognize that Trump was a uniquely bad and dangerous President who never should have had the proverbial keys to America's nuclear arsenal. Our system is predicated on the commander-in-chief being a decent human being in full control of his faculties and surrounded by a Vice President and Cabinet prepared to have him removed if he is no longer fit. But I continue to think those wishing for our military leaders to appoint themselves the ultimate guardians of the Republic on the basis that Milley seemed prepared to disobey Trump will not be happy for that to become the new norm.