Trump Knew COVID Was Far More Dangerous Than He Was Telling the Public
The President admits that he intentionally downplayed the threat posed by the epidemic.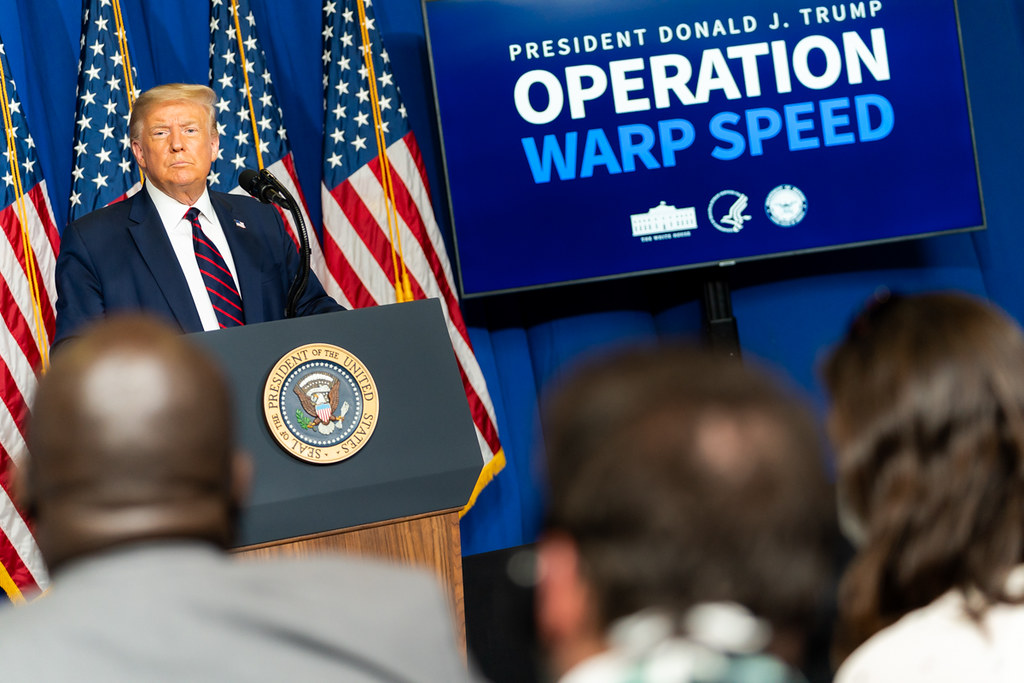 President Trump sat down for a series of interviews with Bob Woodward and said some outrageous things. They were finally reported yesterday as part of an effort to sell a book.
Washington Post ("Woodward book: Trump says he knew coronavirus was 'deadly' and worse than the flu while intentionally misleading Americans"):
President Trump's head popped up during his top-secret intelligence briefing in the Oval Office on Jan. 28 when the discussion turned to the coronavirus outbreak in China.

"This will be the biggest national security threat you face in your presidency," national security adviser Robert C. O'Brien told Trump, according to a new book by Washington Post associate editor Bob Woodward. "This is going to be the roughest thing you face."

Matthew Pottinger, the deputy national security adviser, agreed. He told the president that after reaching contacts in China, it was evident that the world faced a health emergency on par with the flu pandemic of 1918, which killed an estimated 50 million people worldwide.

Ten days later, Trump called Woodward and revealed that he thought the situation was far more dire than what he had been saying publicly.

"You just breathe the air and that's how it's passed," Trump said in a Feb. 7 call. "And so that's a very tricky one. That's a very delicate one. It's also more deadly than even your strenuous flus."

"This is deadly stuff," the president repeated for emphasis.

At that time, Trump was telling the nation that the virus was no worse than a seasonal flu, predicting it would soon disappear and insisting that the U.S. government had it totally under control. It would be several weeks before he would publicly acknowledge that the virus was no ordinary flu and that it could be transmitted through the air.

Trump admitted to Woodward on March 19 that he deliberately minimized the danger. "I wanted to always play it down," the president said. "I still like playing it down, because I don't want to create a panic."

[…]

The book is based in part on 18 on-the-record interviews Woodward conducted with the president between December and July. Woodward writes that other quotes in the book were acquired through "deep background" conversations with people in which information is divulged and exchanges recounted without the people being named.

"Trump never did seem willing to fully mobilize the federal government and continually seemed to push problems off on the states," Woodward writes. "There was no real management theory of the case or how to organize a massive enterprise to deal with one of the most complex emergencies the United States had ever faced."
Trump's Democratic opponent, Joe Biden, has called this "almost criminal" and it's hard to disagree with that assessment. Given that all the public health experts were correctly telling what they understood about the virus, there was no avoiding "panic." All Trump's downplaying accomplished was to make the public response a partisan issue, with his supporters treating everything from the lockdowns to the wearing of masks as "fake news" and some kind of conspiracy.
There's all sorts of other gossip and juicy details in the various published accounts, all of which will likely reinforce your pre-existing view of Trump.
Woodward, who came to fame with is reporting on the Watergate scandal and co-authorship of "All the President's Men," his insider account of said reporting, has become a Washington institution. He produces at least one of these books with every presidential administration following the same formula: his fame gets him unprecedented access and those who cooperate with him get treated much more favorably than those who keep their private conversations private.
As always, when news breaks months after the fact in one of these books, the natural question arises: Why wasn't this published in the Washington Post, Woodward's ostensible employer, rather than saved to goose book sales?
Margaret Sullivan, WaPo's media reporter, tackles it in "Should Bob Woodward have reported Trump's virus revelations sooner? Here's how he defends his decision."
Woodward is hardly the first journalist to save juicy information for a book. But "is this traditional practice still ethical?" tweeted David Boardman, dean of the Temple University journalism school and the longtime editor of the Seattle Times.

Other critics were less circumspect: "This is really troubling. As journalists we're supposed to work in the public interest. I think there's been a failure here," wrote Scott Nover, a reporter for the industry journal Adweek.

[…]

I took the questions and complaints to Woodward, who initially was reluctant to speak on the record until after a "60 Minutes" segment airs on Sunday because he had promised the publisher and CBS not to give any interviews until then. But because my questions were about process, rather than the content of the book, he agreed to address the ethical issues.

Woodward told me that — contrary to speculation — he did not have any signed agreement or formal embargo arrangement with Trump or the White House to hold back their conversations until the book published.

"I told him it was for the book," he said — but as far as promising not to publish in real time, or signing such an agreement, "I don't do that."

Woodward said his aim was to provide a fuller context than could occur in a news story: "I knew I could tell the second draft of history, and I knew I could tell it before the election." (Former Washington Post publisher Phil Graham famously called journalism "the first rough draft of history.")

What's more, he said, there were at least two problems with what he heard from Trump in February that kept him from putting it in the newspaper at the time:

First, he didn't know what the source of Trump's information was. It wasn't until months later — in May — that Woodward learned it came from a high-level intelligence briefing in January that was also described in Wednesday's reporting about the book.

In February, what Trump told Woodward seemed hard to make sense of, the author told me — back then, Woodward said, there was no panic over the virus; even toward the final days of that month, Anthony S. Fauci was publicly assuring Americans there was no need to change their daily habits.

Second, Woodward said, "the biggest problem I had, which is always a problem with Trump, is I didn't know if it was true."

Trump spoke with Woodward on more than a dozen occasions, and in some cases, "he started calling me at night." It took months, Woodward told me, to do the reporting that put it all in context, which is what he believes his mission as an author is: "My job is to understand it, and to hold him accountable, and to hold myself accountable." He added: "I did the best I could" toward those ends.

But why not then write such a story later in the spring, once it was clear that the virus was extraordinarily destructive and that Trump's early downplaying had almost certainly cost lives?

Again, Woodward said he believes his highest purpose isn't to write daily stories but to give his readers the big picture — one that may have a greater effect, especially with a consequential election looming.

Woodward's effort, he said, was to deliver in book form "the best obtainable version of the truth," not to rush individual revelations into publication.

And always with a particular deadline in mind, so that people could read, absorb and make their judgments well before Nov. 3. "The demarcation is the election."
I would be skeptical of all that but for a rather significant detail that Woodward and Sullivan should have led with:
Woodward, despite his longtime association with The Post, is no longer a Post employee, though he maintains an affiliation and the honorific title of associate editor. He's no longer in the daily journalism business.
Were Woodward the Post's White House correspondent, withholding the information so that he could flesh out the story for a book would be unconscionable. For that matter, holding it so that he could publish it to have maximum impact on the election would also be highly problematic. But if he's no longer a reporter but simply Bob Woodward, celebrity journalist and author of books, then I'm not sure what basis there is for criticism.
Aside from being an author and journalist, of course, Woodward is still a citizen. There's perhaps some point where there's a moral obligation to share information that could save lives. But Woodward's explanation that he didn't know what he had until weeks later is actually rather plausible.