Putin's Offramp?
It's hard to see how this crisis ends.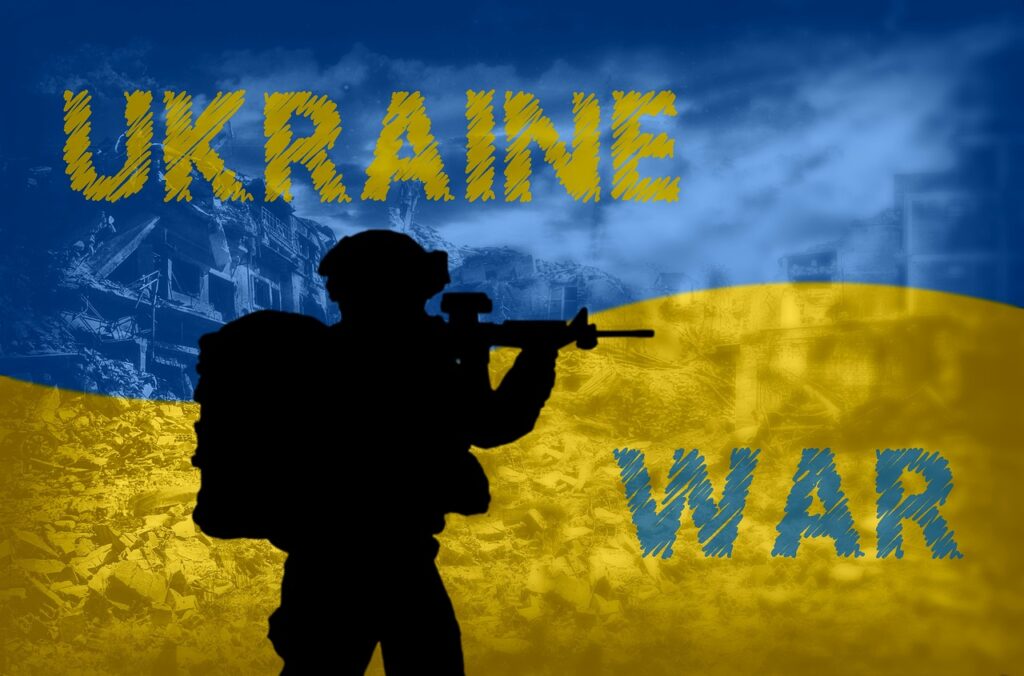 The News
WSJ ("Russia Recruiting Syrians for Urban Combat in Ukraine, U.S. Officials Say"):
Moscow is recruiting Syrians skilled in urban combat to fight in Ukraine as Russia's invasion is poised to expand deeper into cities, according to U.S. officials.

An American assessment indicates that Russia, which has been operating inside Syria since 2015, has in recent days been recruiting fighters from there, hoping their expertise in urban combat can help take Kyiv and deal a devastating blow to the Ukraine government, according to four American officials. The move points to a potential escalation of fighting in Ukraine, experts said.

It is unclear how many fighters have been identified, but some are already in Russia preparing to enter the conflict, according to one official.

Officials declined to elaborate on what else is known about the deployment of Syrian fighters to Ukraine, the status or precise scale of the effort.

According to a publication based in Deir Ezzor, Syria, Russia has offered volunteers from the country between $200 and $300 "to go to Ukraine and operate as guards" for six months at a time.

Chechen forces have also been deployed to Ukraine, according to a Reuters report citing Ramzan Kadyrov, the leader of the Chechen Republic and an ally of Russian President Vladimir Putin.

Fighters are also pouring into the country to fight on the side of the Kyiv-based government. Ukrainian President Volodymyr Zelensky said last week that 16,000 foreigners have volunteered to fight for Ukraine, part of what he described as an "international legion."

With volunteers from other countries flowing into Ukraine, the conflict there could become a new center of gravity for foreign fighters, said Jennifer Cafarella, national security fellow at the Institute for the Study of War in Washington, D.C.
NYT ("Arming Ukraine: 17,000 Anti-Tank Weapons in 6 Days and a Clandestine Cybercorps"):
In less than a week, the United States and NATO have pushed more than 17,000 antitank weapons, including Javelin missiles, over the borders of Poland and Romania, unloading them from giant military cargo planes so they can make the trip by land to Kyiv, the Ukrainian capital, and other major cities. So far, Russian forces have been so preoccupied in other parts of the country that they have not targeted the arms supply lines, but few think that can last.

But those are only the most visible contributions. Hidden away on bases around Eastern Europe, forces from United States Cyber Command known as "cybermission teams" are in place to interfere with Russia's digital attacks and communications — but measuring their success rate is difficult, officials say.

In Washington and Germany, intelligence officials race to merge satellite photographs with electronic intercepts of Russian military units, strip them of hints of how they were gathered, and beam them to Ukrainian military units within an hour or two. As he tries to stay out of the hands of Russian forces in Kyiv, President Volodymyr Zelensky of Ukraine travels with encrypted communications equipment, provided by the Americans, that can put him into a secure call with President Biden. Mr. Zelensky used it Saturday night for a 35-minute call with his American counterpart on what more the U.S. can do in its effort to keep Ukraine alive without entering into direct combat on the ground, in the air or in cyberspace with Russian forces.

Mr. Zelensky welcomed the help so far, but repeated the criticism that he has made in public — that the aid was wildly insufficient to the task ahead. He asked for a no-fly zone over Ukraine, a shutdown of all Russian energy exports and a fresh supply of fighter jets.

It is a delicate balance. On Saturday, while Mr. Biden was in Wilmington, Del., his National Security Council staff spent much of the day trying to find a way for Poland to transfer to Ukraine a fleet of well-used, Soviet-made MIG-29 fighter jets that Ukrainian pilots know how to fly. But the deal is contingent on giving Poland, in return, far more capable, American-made F-16s, an operation made more complicated by the fact that many of those fighters are promised to Taiwan — where the United States has greater strategic interests.

Polish leaders have said there is no deal, and are clearly concerned about how they would provide the fighters to Ukraine and whether doing so would make them a new target of the Russians. The United States says it is open to the idea of the plane swap.
CNN ("US and Europe weigh plans for Ukrainian government in exile"):
US and European officials have been discussing how the West would support a government in exile helmed by Ukrainian President Volodymyr Zelensky should he have to flee Kyiv, Western officials told CNN.

The discussions have ranged from supporting Zelensky and top Ukrainian officials in a potential move to Lviv in western Ukraine, to the possibility that Zelensky and his aides are forced to flee Ukraine altogether and establish a new government in Poland, the officials said.
The discussions are only preliminary and no decisions have been made, the sources said.

Western officials have also been wary of discussing a government in exile directly with Zelensky because he wants to stay in Kyiv and has so far rejected conversations that focus on anything other than boosting Ukraine in its fight against Russia, two Western diplomats said. They added that there have been discussions about sending one or more members of Zelensky's government to an external location where a government could be set up in case Kyiv falls and Zelensky is unwilling or unable to get out.

"The Ukrainians have plans in place that I'm not going to talk about or get into any detail about to make sure that there is continuity of government one way or another, and I'm going to leave it at that," Secretary of State Antony Blinken told CBS on Sunday.
WSJ ("Russian Artillery Kills Ukrainian Civilians Fleeing Kyiv Suburb"):
A line of yellow school buses pulled up on a forested roadside in this once-prosperous suburb of Kyiv on Sunday, ready to evacuate Ukrainian civilians. Then the Russian shells started falling.

People dove for cover, hugging the ground. Frightened pets ran into the woods. A man, woman and child were killed. The three bodies fell near one another by a monument to local soldiers who died fighting Germany in World War II. Their gray suitcase stood nearby, untouched by the blast.

In total, eight Irpin civilians were killed by the afternoon, as relentless shelling continued, said mayor Oleksandr Markushyn. A nearby house was on fire after receiving a direct hit. In the distance, plumes of gray smoke rose above Irpin, where Ukrainian forces fought to repel a Russian attack on what is a critical gateway to Kyiv.

Russia's military insists it isn't targeting civilians and blames Ukrainian "nationalists" for shelling their own, without any evidence. But deaths are mounting from Russian strikes on residential areas in cities throughout the country, while agreements to evacuate other towns and cities have fallen through.
Some Opinions
Boris Johnson, UK Prime Minister, NYT ("6 Steps the West Must Take to Help Ukraine Right Now"):
Never in my life have I seen an international crisis where the dividing line between right and wrong has been so stark, as the Russian war machine unleashes its fury on a proud democracy. Russia's reckless attack on the Zaporizhzhia nuclear power plant reminds us just how grave the stakes are for everyone. More than one million people have fled the violence, toward an uncertain future.

President Biden has displayed great leadership, consulting and convening allies, exposing the lie that America's commitment to Europe is somehow diminished. The European Union has undertaken a remarkable effort to align behind severe sanctions on Russia. Dozens of European countries are sending defensive equipment to Ukraine's armed forces. But have we done enough for Ukraine? The honest answer is no.

Vladimir Putin's act of aggression must fail and be seen to fail. We must not allow anyone in the Kremlin to get away with misrepresenting our intentions in order to find ex post facto justification for this war of choice. This is not a NATO conflict, and it will not become one. No ally has sent combat troops to Ukraine. We have no hostility toward the Russian people, and we have no desire to impugn a great nation and a world power. We despair of the decision to send young, innocent Russians into a futile war.

[…]

We have failed to learn the lessons of Russian aggression. For too long, we have turned the other cheek. No one can say we were not warned: We saw what Russia did in Georgia in 2008, in Ukraine in 2014 and even on the streets of Salisbury. And I know from speaking to my counterparts on recent visits to Poland and Estonia just how acutely they feel the threat.

[…]

It is no longer enough to express warm platitudes about the rules-based international order. We are going to have to actively defend it against a sustained attempt to rewrite the rules by force and other tools, such as economic coercion. We must restore effective deterrence in Europe, where, for too long, the very success of NATO and of America's security guarantee has bred complacency. What happens in Europe will have profound implications worldwide.
Shadi Hamid, The Atlantic ("There Are Many Things Worse Than American Power"):
If there was any doubt before, the answer is now clear. Vladimir Putin is showing that a world without American power—or, for that matter, Western power—is not a better world.

For the generation of Americans who came of age in the shadow of the September 11 attacks, the world America had made came with a question mark. Their formative experiences were the ones in which American power had been used for ill, in Iraq and Afghanistan. In the Middle East more broadly, and for much longer, the United States had built a security architecture around some of the world's most repressive regimes. For those on the left, this was nothing new, and it was all too obvious. I spent my college years reading Noam Chomsky and other leftist critics of U.S. foreign policy, and they weren't entirely wrong. On balance, the U.S. may have been a force for good, but in particular regions and at particular times, it had been anything but.

[…]

The narrative of a feckless and divided West solidified for years. We, as Americans, were feeling unsure of ourselves, so it was only reasonable that Putin would feel it too. In such a context, and after four years of Donald Trump and the domestic turmoil that he wrought, it was tempting to valorize "restraint" and limited engagements abroad. Worried about imperial overreach, most of the American left opposed direct U.S. military action against Bashar al-Assad's regime in the early 2010s, even though it was Russian and Iranian intervention on behalf of Syria's dictator that bore the marks of a real imperial enterprise, not just an imagined one.

Russia's unprovoked attack on a sovereign nation, in Europe no less, has put matters back in their proper framing. The question of whether the United States is a uniquely malevolent force in global politics has been resolved. In the span of a few days, skeptics of American power have gotten a taste of what a world where America grows weak and Russia grows strong looks like. Of course, there are still holdouts who insist on seeing the United States as the provocateur. In its only public statement on Ukraine, the Democratic Socialists of America condemned Russia's invasion but also called for "the U.S. to withdraw from NATO and to end the imperialist expansionism that set the stage for this conflict." This is an odd statement considering that Russia, rather than the United States, has been the world's most unabashedly imperialist force for the past three decades. But many on the anti-imperialist left aren't really anti-imperialist; they just have an instinctive aversion to American power.
Adam Taylor, WaPo ("Putin's extreme isolation leaves few world leaders to convince him of a peace deal"):
When conflict erupted between Russia and Ukraine in 2014, following Moscow's support for separatists in Donbas and its annexation of Crimea, European powers France and Germany played that mediating role in what was dubbed the Normandy format. Belarus's capital became the site of negotiations that eventually lead to the Minsk agreements. But the Minsk agreements stalled, in part because Kyiv felt they were unfair because they were negotiated from a position of weakness.

Now, almost eight years later, the idea that Belarus could be a neutral party is laughable; Belarusian leader Alexander Lukashenko, dependent on Moscow after huge protests against his rule in 2020, has allowed Russia to use its territory to stage attacks. Though Ukrainian officials have in the past attended peace talks with Russian counterparts in Minsk, they have insisted this time they be held close to Ukraine-Belarus borders.

Paris and Berlin, meanwhile, are likely to be unacceptable to Putin as mediators. Germany is supplying the Ukrainian side with considerable firepower, including antitank weapons and Stinger missiles. France, meanwhile, has provided defensive equipment and more general support to Ukraine. French President Emmanuel Macron is the only leader in Western Europe in regular contact with Putin, but he has offered grim signals about the Russian president's readiness for negotiations.

[…]

Last week at the United Nations General Assembly, there was an overwhelming show of support for a resolution to call on Russia to end the war. Even the Taliban in Afghanistan and the military junta in Myanmar signed on. So did Israel and Turkey.

Only five countries voted against the motion, a motley crew of Belarus, Eritrea, North Korea, Russia itself and Syria — hardly beacons of diplomacy. But a further 35 countries abstained, including powerhouses like India and China that have so far strived to avoid picking sides in the conflict.

India has offered to facilitate peace talks, though as a major buyer of Russian arms many analysts view it as too scared of angering Moscow. But some diplomats in Western Europe, and even Ukraine itself, believe the path for peace could run not through New Delhi but Beijing.

In an interview with the El Mundo published Friday, European Union foreign policy chief Josep Borrell said that when it came to mediating a peace deal, there was no alternative: "It must be China, I am sure of that." Borrell told the Spanish newspaper: "We have not asked for it nor have they asked for it, but since it has to be a power and neither the US nor Europe can be [mediators], China could be."
My Two Cents
The increased Russian brutality further demonstrates Putin's desperation in this self-created crisis. The price of this invasion is surely higher than he calculated and the combination of Ukrainian resolve and Russian aggression has unified the Western powers to a degree not even the staunchest Atlanticists would have dared hope.
But now what?
The NATO allies have, quite rightly, made clear they are not willing to go to war with Russia unless he invades a signatory to the Washington Treaty. Russia may not be able to install a puppet regime in Kyiv but neither are Ukrainian forces likely able to defeat the invaders altogether, even with increasing materiel supply (and, one presumes, intelligent, surveillance, and reconnaissance support) from the West.
Taylor's assessment that there really isn't a party credible to both sides of the conflict to help broker a peace strikes me as correct. So how does Putin wind this thing down in a way that allows him to save face and retain power? I haven't the foggiest.
The ideal, I suppose, would be for a regime change in Moscow. Maybe the oligarchs rally to oust Putin and replace him with Dmitry Medvedev or some other figure who's better for business. But that's likely too much to hope for.