Ukraine: Advantage Putin? Advantage NATO?
Expert opinion on the standoff differs sharply.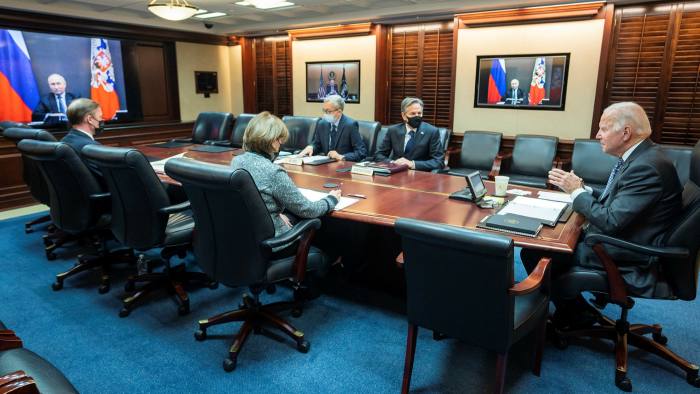 Writing in the op-ed pages of the NYT, seasoned Russia hand Fiona Hill declares "Putin Has the U.S. Right Where He Wants It."
The West's muted reactions to both the 2008 and 2014 invasions emboldened Mr. Putin.

This time, Mr. Putin's aim is bigger than closing NATO's "open door" to Ukraine and taking more territory — he wants to evict the United States from Europe. As he might put it: "Goodbye, America. Don't let the door hit you on the way out."

[…]

Ukraine is both Russia's target and a source of leverage against the United States. Over the last several months Mr. Putin has bogged the Biden administration down in endless tactical games that put the United States on the defensive. Russia moves forces to Ukraine's borders, launches war games and ramps up the visceral commentary. In recent official documents, it demanded ironclad guarantees that Ukraine (and other former republics of the U.S.S.R.) will never become a member of NATO, that NATO pull back from positions taken after 1997, and also that America withdraw its own forces and weapons, including its nuclear missiles. Russian representatives assert that Moscow doesn't "need peace at any cost" in Europe. Some Russian politicians even suggest the possibility of a pre-emptive strike against NATO targets to make sure that we know they are serious, and that we should meet Moscow's demands.

[…]

Mr. Putin is a master of coercive inducement. He manufactures a crisis in such a way that he can win no matter what anyone else does. Threats and promises are essentially one and the same. Mr. Putin can invade Ukraine yet again, or he can leave things where they are and just consolidate the territory Russia effectively controls in Crimea and Donbas. He can stir up trouble in Japan and send hypersonic missiles to Cuba and Venezuela, or not, if things go his way in Europe.

Mr. Putin plays a longer, strategic game and knows how to prevail in the tactical scrum. He has the United States right where he wants it. His posturing and threats have set the agenda in European security debates, and have drawn our full attention. Unlike President Biden, Mr. Putin doesn't have to worry about midterm elections or pushback from his own party or the opposition. Mr. Putin has no concerns about bad press or poor poll ratings. He isn't part of a political party and he has crushed the Russian opposition. The Kremlin has largely silenced the local, independent press. Mr. Putin is up for re-election in 2024, but his only viable opponent, Aleksei Navalny, is locked in a penal colony outside of Moscow.

So Mr. Putin can act as he chooses, when he chooses. Barring ill health, the United States will have to contend with him for years to come. Right now, all signs indicate that Mr. Putin will lock the United States into an endless tactical game, take more chunks out of Ukraine and exploit all the frictions and fractures in NATO and the European Union. Getting out of the current crisis requires acting, not reacting. The United States needs to shape the diplomatic response and engage Russia on the West's terms, not just Moscow's.

To be sure, Russia does have some legitimate security concerns, and European security arrangements could certainly do with fresh thinking and refurbishment after 30 years. There is plenty for Washington and Moscow to discuss on the conventional and nuclear forces as well as in the cyber domain and on other fronts. But a further Russian invasion of Ukraine and Ukraine's dismemberment and neutralization cannot be an issue for U.S.-Russian negotiation nor a line item in European security. Ultimately, the United States needs to show Mr. Putin that he will face global resistance and Mr. Putin's aggression will put Russia's political and economic relationships at risk far beyond Europe.

Contrary to Mr. Putin's premise in 2008 that Ukraine is "not a real country," Ukraine has been a full-fledged member of the United Nations since 1991. Another Russian assault would challenge the entire U.N. system and imperil the arrangements that have guaranteed member states' sovereignty since World War II — akin to the Iraq invasion of Kuwait in 1990, but on an even bigger scale. The United States and its allies, and Ukraine itself, should take this issue to the United Nations and put it before the General Assembly as well as the Security Council. Even if Russia blocks a resolution, the future of Ukraine merits a global response. The United States should also raise concerns in other regional institutions. Why is Russia trying to take its disputes in Europe to Asia and the Western Hemisphere? What does Ukraine have to do with Japan, or Cuba and Venezuela?

Mr. Biden has promised that Russia "will pay a heavy price" if any Russian troops cross Ukraine's borders. If Mr. Putin invades Ukraine with no punitive action from the West and the rest of the international community, beyond financial sanctions, then he will have set a precedent for future action by other countries. Mr. Putin has already factored additional U.S. financial sanctions into his calculations. But he assumes that some NATO allies will be reluctant to follow suit on these sanctions and other countries will look the other way. U.N. censure, widespread and vocal international opposition, and action by countries outside Europe to pull back on their relations with Russia might give him pause. Forging a united front with its European allies and rallying broader support should be America's longer game. Otherwise this saga could indeed mark the beginning of the end of America's military presence in Europe.
Meanwhile, foreign policy impresario David Rothkopf argues in The Daily Beast that "Putin's Making NATO Stronger, Whether He Starts a War in Ukraine or Not."
Vladimir Putin is in the midst of a colossal blunder—a miscalculation that will haunt the rest of his presidency.

Regardless of what happens next between Russia and Ukraine, Putin has given the NATO alliance a renewed sense of purpose. He might have even strengthened it. At the same time, he has helped to restore the U.S.' leadership role, which he has long sought to weaken.

Don't get me wrong. While NATO will almost certainly emerge stronger in the event Russia engages in a cold-blooded assault on a neighbor, the people of Ukraine would be certain to suffer and that is not to be minimized. Their government is at grave risk and a protracted struggle for control of Ukrainian territory will come at a high cost.

And whatever the outcome of Putin's current gambit, he will certainly call it a success, much as he has already sought to precede it with a tsunami of lies.

The mood among senior members of the Biden foreign policy and national security teams is, at the moment, grim but purposeful. U.S. diplomatic personnel and their families have been ordered to leave Ukraine. NATO is actively repositioning to deter and contain any Russian threat. The consensus among my sources is that it is more likely than not that Russian troops will, in the next few weeks, invade Ukraine in force, augmenting their incursion into that country that began in 2014.

[…]

A variety of scenarios are being considered by U.S. analysts. These range from Russia thinking better of action at the last minute, to more surgical attacks by Russia in order to claim specific pieces of Eastern Ukraine (such as the land bridge to Crimea), to a massive assault that could involve Russian elements entering the country from the south, east, and north. A lightning strike from Belarus to Kyiv is considered one possibility, with the intent of displacing the current Ukrainian government and replacing it with one more palatable to Moscow. While Russia denies this is their plan, U.S. officials believe one likely objective of a Russian move against Ukraine would be to force the Ukrainian government into a series of concessions ranging from promising not to join NATO to ceding greater autonomy to regions closer to Russia. This would have the effect of weakening central control of Ukraine and making it easier for Russia to pull the strings in those neighboring zones.

Officials with whom I spoke in the past few days have indicated that they believe the larger-scale scenarios are likelier to transpire than more limited Russian missions. In addition, they say the Russians are capable of rapidly mobilizing substantially more than the forces immediately on Ukraine's border.

The expectation is that Russia would seek to enter, strike hard, destroy as much of the Ukrainian military as possible, and exact the concessions they seek as soon as possible rather than entering into a protracted conflict. They have had experience with such conflicts—in Afghanistan—and it is believed they do not wish to repeat those mistakes.

Not only would the people of Ukraine fight fiercely, but one of the key differences between this instance and past Russian adventures in their near abroad is that the Western allies have agreed to and already started to supply Ukraine with lethal aid. Alliance aircraft and ships have been moved into Eastern Europe while, at the same time, NATO allies are in advanced discussions about the deployment of more alliance troops and resources closer to Russia and Ukraine. In addition, the EU is preparing a substantial economic package for Ukraine.

[…]

Many top members of the Biden team served in the Obama administration during the 2014 Russian invasion and its aftermath. They do not want to repeat the mistakes of hand-wringing, anguished internal debates that came back then—debates which had been characterized as being about whether or not we should send the Ukrainians "blankets or MREs (meals, ready-to-eat)."

The Biden team has also apparently taken to heart criticism of its withdrawal from Afghanistan by not only preparing for every eventuality and communicating carefully with allies but also conducting a well-orchestrated public diplomacy plan that ensures their efforts have been visible to the public.

[…]

Putin has reminded the world, and especially Europeans, of the threat he poses. He has mobilized NATO into strong action, with America in the lead. NATO may even emerge larger, with Sweden and Finland publicly contemplating membership.

In other words, at the end of all this, NATO and the West will be stronger, Putin will be more of a pariah, and Russia will emerge weakened and even further diminished.
I lean toward Rothkopf here in that, for the first time in a long time, NATO seems to be more-or-less on the same page here. The allies in what former defense secretary Donald Rumsfeld dubbed New Europe have long seen Russia as a threat to their security but key allies in New Europe, especially Germany and France, have been leery of confrontation. The 2014 putsch that took Crimea was a wake-up call. Putin's interference in multiple NATO country elections has heightened the sense of urgency.
I still maintain that Ukraine means more to Putin than it does to anyone in NATO. Despite the constant reaffirmation of 2008 Bucharest Summit Declaration that Ukraine (and Georgia) will become NATO members, few are willing to go to war with Russia to preserve their independence. And, Hill's declarations notwithstanding, the community of nations does not hang in the balance.
At the same time, we clearly stand ready and united to severely punish Russia. And, again, contra Hill I believe powerful economic sanctions targeted at Putin and his oligarchs are meaningful as both deterrent and punishment. Whether they will prove enough remains to be seen.
Regardless it is, I hope, a fantasy that the United States and NATO are prepared to face off with Russia militarily to preserve the territorial integrity of a non-ally. Indeed, the fact that, 14 years and two Russian invasions after Bucharest we still haven't made good on the declaration is all the evidence we should need on that front.