Despite Previous Promises Not To Do So, Obama Is Putting Boots On The Ground In Syria
Another day, another military escalation in the Middle East.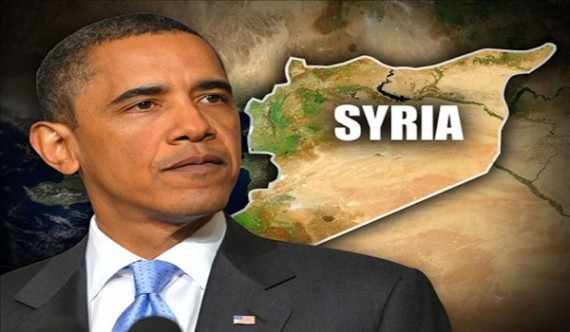 The White House announced today that President Obama has authorized a small force of American Special Forces to be sent to Syria for what is being described as a "train and equip" mission, but which is raising some rather obvious concerns that we are entering a new phase of escalation in the Administration's confused and contradictory anti-ISIS strategy:
WASHINGTON — President Obama will deploy a small number of American Special Operations forces to Kurdish-controlled territory in northern Syria to help local forces fight the Islamic State, the White House announced on Friday.

The team will advise and assist opposition forces who are fighting the Islamic State militant group in Syria, providing smoother and quicker access to equipment and logistical help, an official said before the announcement. The decision adds a new level of risk to the Syrian enterprise, as it could bring the Special Operations troops into closer contact with the Islamic State, even if they are in Kurdish territory.

While administration officials characterized the deployment as an enhancement of current strategy, it is actually a huge shift for a president who has said repeatedly that he will not put American combat boots on the ground in Syria.

The White House said that the number of Special Forces troops who would deploy to northern Syria would be "fewer than 50" and that their mission would be to help coordinate local ground forces and coalition efforts to counter the Islamic State, also known as ISIS or ISIL.

In addition, Mr. Obama has authorized deploying A-10 Warthog planes and F-15 fighter jets to Incirlik Air Base in Turkey, and has instructed his advisers to consult with the Iraqi government about establishing a Special Operations task force to further efforts to target Islamic State leaders there. He also ordered more military assistance to Jordan and Lebanon.

But administration officials emphasized that Mr. Obama saw the military efforts as supporting Secretary of State John Kerry's push for a diplomatic and political settlement to the Syrian war, with talks underway in Vienna.

"The president has been quite clear that there is no military solution" to the war in Syria, said Josh Earnest, the White House press secretary. "There is a political one."

Mr. Earnest insisted that "our strategy in Syria hasn't changed" and that "these forces do not have a combat mission." But he also said that the deployment of even a few dozen troops could make a difference by helping local forces that are fighting the Islamic State.

"I certainly wouldn't underestimate the capability and capacity of our U.S. Special Operations forces to be an important force multiplier," he said. "The president does expect that they can have an impact in intensifying our strategy for building local forces inside Syria for taking the fight to ISIL in their own territory."

(…)

Other steps were outlined earlier this week by Defense Secretary Ashton B. Carter and Gen. Joseph F. Dunford Jr., the chairman of the Joint Chiefs of Staff. They said the United States would provide more equipment to groups fighting the Islamic State in Syria and increase efforts to help Iraq retake Ramadi.

The Pentagon wants to build a firewall behind forces allied with the United States — both the Kurds and the Syrian-Arab coalition backed by Mr. Obama — to allow these fighters to hold what territory they have captured. Part of the way to do that, one Defense Department official said, is to ensure that equipment is delivered and that subsequent supplies will reach these forces quickly.

"We want a direct line to these forces," the official said, speaking on the condition of anonymity. "It's imperative that they can get what they need when they need it."

While Mr. Obama and his administration have maintained publicly that they are not putting American combat boots on the ground in Iraq or Syria, the definition of combat has changed several times since the United States began airstrikes against the Islamic State in August 2014. Special Operations forces have conducted several secret missions on the ground into Syria and Iraq.

In May, Delta Force commandos entered Syria aboard Black Hawk helicopters and V-22 Ospreys and killed an Islamic State leader and about a dozen militant fighters. They also captured the leader's wife and freed an 18-year-old Yazidi woman who Pentagon officials said had been held as a slave.

Last summer, two dozen Delta Force commandos raided an oil refinery in the northern part of Syria as part of an effort to free James Foley, an American journalist, but found after a firefight that he and other hostages were not there. Mr. Foley was later beheaded by the Islamic State.

And just last week, an American soldier was killed in action in Iraq for the first time since the renewed military intervention last year, during a Kurdish and United States commando raid to free prisoners being held by Islamic State militants. Some 70 prisoners were freed, American and Iraqi officials said.
The Washington Post's Greg Jaffe has more detail:
The latest deployment will involve fewer than 50 Special Operations advisers who will work with resistance forces battling the Islamic State in northern Syria but will not engage in direct combat, Obama administration officials said.

"This is an intensification of a strategy that the president announced more than a year ago," White House press secretary Josh Earnest said.

The move, which the president's national security team recommended late last week, reflects Obama's growing dissatisfaction with the halting progress in Iraq and Syria and his commanders' sense that the Islamic State has significant vulnerabilities that can be exploited.

The troops' main focus will be advising Syrian Arab and Kurdish forces who have fought to within 30 miles of Raqqa, the Islamic State's de facto capital, and are expected to attack the city in the near future.

The push against Raqqa, if it yields results, would mark a major victory for the forces battling the Islamic State.

The U.S. forces, even though they are focused on advising U.S. allies and not direct combat, still face real threat. "This is a dangerous place on the globe and they are at risk," Earnest said. "There is no denying it." The deployment, like the recent commitment to keep 5,500 troops in Afghanistan after 2016, would be essentially open-ended, he said.

The introduction of American advisers follows Russia's stepped-up involvement in the war in support of Syrian President Bashar al-Assad and the beginning of a hastily convened meeting of diplomats in Vienna on Thursday to discuss ways to end the increasingly bloody conflict.

Russian President Vladimir Putin said he has ordered his country's military to strike Islamic State forces, but White House officials said that the Russians are indiscriminately targeting all rebel forces arrayed against the regime. Russia's military actions on behalf of the Assad regime have complicated U.S. efforts to help rebels in northern Syria, where U.S. officials are worried that the forces they are backing in the north will feel compelled to shift their focus from battling the Islamic State to helping their beleaguered allies fight Assad.

The Russian operations have, in particular, sapped momentum from a push by Syria Arab fighters to drive the Islamic State from a 60-mile-long stretch of the border between Syria and Turkey, U.S. officials said. In the past few weeks, American airstrikes in Syria have dropped off dramatically, prompting concern from local fighters allied with the Americans.

The recent deployment of Special Operations forces along with new American warplanes headed to Turkey suggest that the airstrikes will soon intensify.
This decision does not come as a surprise, of course. It was just earlier this week that we learned of the fact that Obama was considering a move similar to this based on recommendations from the Pentagon and his national security advisers. It has also become apparent that the Administration has been searching in earnest for a new direction for U.S. policy in Syria in the wake of Russia's intervention in the air on behalf of the Assad regime and President Obama's decision earlier this month to end a program to arm and train "moderate" rebels based largely on the fact that it has been a demonstrable failure, especially since we learned that no more than sixty, and perhaps as few as five, actual fighters have been successfully trained by the American-sponsored program. Of course, what exactly the difference is between the program that the President canceled and this new "train and equip" program, other than the fact that it puts American forces closer to the fighting and closer to danger for no apparent good reason, is entirely unclear. Indeed, if the idea is to train the "moderate" Syrian rebels, it strikes me that the training should be taking place in some area other than where the actual combat is taking place, not the least because by the time these fighters are in the combat area it seems like it would be a little to late to train them. Additionally, putting American forces in a combat area, even if they aren't "officially" supposed to be engaged in combat increases the risk of something going wrong substantially, and it increases the odds that something will happen that ends up drawing the United States even deeper into the multi-faceted civil war taking place in Syria right now.
Perhaps what's most concerning about this move is the fact that it is yet another example of the haphazard escalation that the Obama Adminisration has engaged in with respect to the conflict against ISIS. What originally started out as a humanitarian mission to aid Yazedi refugees quickly morphed into a decision to directly intervene to help Kurds retake a crucial dam near the Iraqi city of Mosul. When ISIS forces because scoring significant victories against the American-trained Iraqi Army, usually because Iraqi soldiers were abandoning the battlefield even when they had numerical and tactical superiority, we started engaging in airstrikes to assist them and slow down the advance of ISIS forces. Two years ago, the President addressed the nation on his policy in Syria and explained why he was going forward with air strikes against ISIS and other elements inside the country while also pursuing the downfall of the Assad regime. As James Joyner noted in a piece that appeared at The National Interest, the policy that was announced was haphazard at best and dangerous at worst. Perhaps most significantly, though, it was during that speech that the President specifically stated that his plan would not involve American boots on the ground in Syria. Obviously, that statement is now coming back to haunt the Obama Administration given today's announcement and is likely to be a significant topic going forward, especially since it seems to be broadly exemplary of the escalation that has marked U.S. policy in Syria and Iraq over the past two years.
Daniel Larison puts it this way:
We should be able to recognize by now that Obama's response to conflicts in Syria and Iraq may be less aggressive than what others would like, but it hasn't really been careful or limited. On several occasions, Obama has rhetorically committed the U.S. to very ambitious goals without having any idea how those goals are going to be met and without considering whether they would be worth the cost required. He has repeatedly claimed that there were limits to what the U.S. would be willing to do in Iraq and Syria and then violated one after another. Just weeks after Obama said that the U.S. wouldn't function as the Iraqi government's air force, the U.S. started being exactly that. Months after pledging that there would be no boots on the ground in Syria, Obama has reversed himself again. It is always just a matter of time before each limit is erased or ignored.

(…)

It is also strange to think of Obama's response as "limited" when he keeps exceeding the limits that he set for U.S. involvement. The war on ISIS began last year ostensibly as a defensive mission to protect persecuted Yazidis and U.S. diplomatic outposts, but quickly became something entirely different. Then Obama declared that the U.S. mission was to "degrade and destroy" ISIS, and before we knew it U.S. planes were bombing targets in Syria. Now U.S. forces are being deployed in Syria, and presumably that will not be the last time that the administration ignores the limits it previously set. Note that at each step along the way, Obama was not "pulled" into any of these decisions. He made each one when he was never really compelled to do so.
As I've noted before, the history of Obama's policy moves in Iraq and Syria over the past two years has been one that seems to have no real coherence other than the fact that it is completely reactionary to the actions of others, whether those others by the governments of Iraq and Syria, the actions of ISIS itself, or most recently the actions of Vladimir Putin's Russia. The main result of that, of course, has been that the President keeps escalating the situation and America's commitments beyond the limits that he set for himself in manner that is going to present serious problems for whomever his successor ends up being. Things aren't much better at the other end of Pennsylvania Avenue, of course, since Congress has let this matter go on for two years now without even bother to have any serious debates about the Administration's policy or to consider the adopting of an Authorization For The Use Of Military Force. The result is that the White House is essentially free to act on its own, asserting without any real legal support that AUMF's drafted in response to the 9/11 attacks and to authorize the Iraq War are all the legal justification that they need to continue to drag America further and further into a conflict that doesn't seem to have an end that we can find acceptable. President Obama has, therefore, made his decision to further expand American involvement in a conflict that we only seem to have a limited understand of, and we're going to be the ones who end up paying the price for it.