Donald Trump: "Second Amendment People" May Be Only Way To Stop Hillary Clinton On Judges
Did Donald Trump really suggest assassination as a political weapon, even as a joke? It sure sounds like it.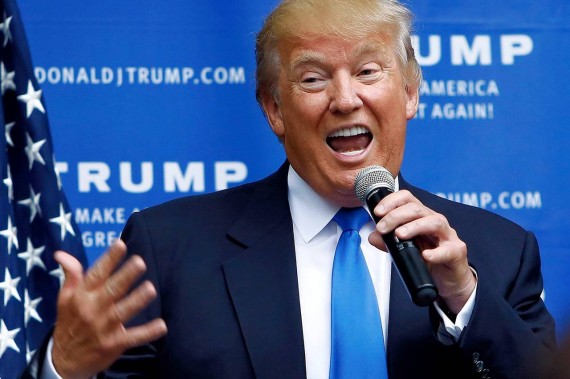 Donald Trump has started what seems likely to become this weeks campaign controversy with a comment suggesting that 'Second Amendment people' could stop a President Hillary Clinton from appointing Judges hostile to gun rights:
Donald Trump on Tuesday said "the Second Amendment" may be the only way to stop Hillary Clinton from getting to appoint federal judges if she wins the presidential election in November.

"Hillary wants to abolish, essentially abolish, the Second Amendment," he said, in what appeared to be a joke. "By the way, and if she gets to pick her judges, nothing you can do, folks. Although the Second Amendment people, maybe there is, I don't know. But I'll tell you what, that will be a horrible day."

The reference to the Second Amendment, the right to keep and bear arms, could be interpreted as a joke about using violence to stop Clinton or her judicial picks.

Trump was speaking at a rally in Wilmington, North Carolina, where he repeated his regular claim that Clinton intends to "abolish" the Second Amendment, presumably by appointing liberal justices to the Supreme Court. But Trump punctuated that line with an aside, suggesting that Second Amendment supporters might be in a position to stop her even if she's elected.

The Trump campaign rejected the notion that Trump was inciting violence against Clinton or anyone else with his aside at the Wilmington rally. Instead, the campaign said the Manhattan billionaire was simply appealing to the collective political muscle Second Amendment supporters possess.

"It's called the power of unification – 2nd Amendment people have amazing spirit and are tremendously unified, which gives them great political power," Trump's senior communications advisor Jason Miller said in a statement emailed to POLITICO. "And this year, they will be voting in record numbers, and it won't be for Hillary Clinton, it will be for Donald Trump."

Clinton did not take any questions after her event in Miami on Tuesday, but reached for comment, Clinton campaign manager Robby Mook condemned the comments. "This is simple—what Trump is saying is dangerous. A person seeking to be the President of the United States should not suggest violence in any way," he said in a statement.
The implication that many listeners drew from Trump's comments is obvious, that Trump was suggesting, albeit in a way that he seemingly dismissed as something that would be "horrible," that perhaps gun rights activists should consider killing President Clinton if she appoints Judges hostile to the Second Amendment. Given the fact that such an even would result in the elevation of Tim Kaine, who is just as supportive of gun control as Clinton if not more so given his experience of being Virginia's Governor when the Virginia Tech massacre took place, to the Presidency it's unclear why Trump would even think this would stop anything. Indeed, if anything it would seem like the type of event that would completely discredit the gun rights movement and perhaps shift the nature of the gun control debate in the United States. Of course, the kind of person likely to make a statement like this probably isn't thinking very clearly to begin with so asking that question is probably an exercise in futility. There was also some suggestion on social media that Trump was joking when he made the comment, but if that's the case then one has to wonder about the sanity and judgment of someone who would joke about the assassination of a potential future President.
For their part, the Trump campaign denies that Trump was talking about assassination at all:
Donald Trump's rapid response team on Tuesday tried to walk back the candidate's suggestion that Second Amendment enthusiasts could stop Hillary Clinton, remarks interpreted widely as the GOP nominee joking about an assassination.

"It's called the power of unification," Jason Miller, campaign spokesman, said in an email sent by the rapid response team. "2nd Amendment people have amazing spirit and are tremendously unified, which gives them great political power. And this year, they will be voting in record numbers, and it won't be for Hillary Clinton, it will be for Donald Trump."
This explanation makes no sense given the context of Trump's comments since it was clear that he was talking about something that would happen after the election in the event Clinton won, not the election itself. Additionally, his statement that such an event would be "horrible" seems to clearly indicate what he was talking about here, and it wasn't political coalitions and voting. Even if he was only joking, there's nothing acceptable about anyone who would suggest that murder is an acceptable alternative when political disagreements arise. Of course, Donald Trump has a long history of saying things that are unacceptable so this is hardly surprising. The question at this point is when his own party is going to acknowledge once and for all that this man lacks the judgment or temperament necessary to be President, not that I'm holding my breath waiting for that day.
The Washington Post's Philip Bump comments:
To be very clear: Trump is referring to remedies for judicial picks made by Hillary Clinton once she takes office. The remedy he proposes is that the "Second Amendment people" — gun owners — deal with it. There are at least two plausible ways to read this: Either Trump is casually suggesting that a sitting president could be shot or he's arguing that gun owners engage in armed conflict with federal officials sent to collect their weapons.

It's clear that some in the audience read it the former way. A couple sitting over Trump's left shoulder visibly reacted to the statement — with laughter, as Trump will argue he intended.

Trump's comments are without precedent in a modern presidential campaign. For weeks, he's argued without evidence that the election will be "rigged" against him, comments that seem to suggest that he won't accept a general election result that has him losing. (As polls currently suggest could well happen.) He's argued before that Supreme Court picks are a key reason to support him. But even a joking implication that a political opponent be killed is exceptional.
In any case, here is the video of Trump's comment:
And here's a slightly longer version that shows the comment in context.
This is the Republican nominee for President, my friends. It'is beyond pathetic.