Hillary Clinton Is Crushing Donald Trump In The Money Race
Donald Trump has almost no cash on hand. That doesn't bode well for his campaign going forward.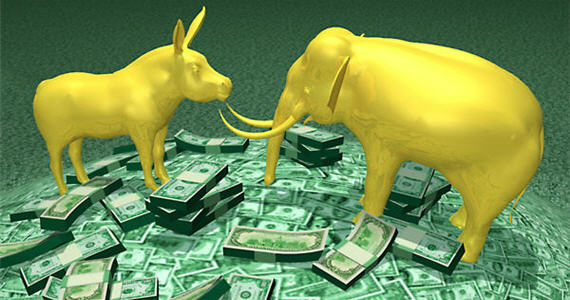 In yet another sign of how much trouble his campaign is in even at this early stage of the General Election campaign, campaign finance reports indicate that Hillary Clinton is absolutely killing Donald Trump in the money race, and it's going to take a lot of work on Trump's part to come even close to catching up to her:
Donald J. Trump enters the general election campaign laboring under the worst financial and organizational disadvantage of any major party nominee in recent history, placing both his candidacy and his party in political peril.

Mr. Trump began June with just $1.3 million in cash on hand, a figure more typical for a campaign for the House of Representatives than the White House. He trailed Hillary Clinton, who raised more than $28 million in May, by more than $41 million, according to reports filed late Monday night with the Federal Election Commission.

He has a staff of around 70 people — compared with nearly 700 for Mrs. Clinton — suggesting only the barest effort toward preparing to contest swing states this fall. And he fired his campaign manager, Corey Lewandowski, on Monday, after concerns among allies and donors about his ability to run a competitive race.

The Trump campaign has not aired a television advertisement since he effectively secured the nomination in May and has not booked any advertising for the summer or fall. Mrs. Clinton and her allies spent nearly $26 million on advertising in June alone, according to the Campaign Media Analysis Group, pummeling Mr. Trump over his temperament, his statements and his mocking of a disabled reporter. The only sustained reply, aside from Mr. Trump's gibes at rallies and on Twitter, has come from a pair of groups that spent less than $2 million combined.

Mr. Trump's fund-raising for May reflects his lag in assembling the core of a national finance team. In the same month that he clinched the Republican nomination, Mr. Trump raised just $3.1 million and was forced to lend himself $2 million to meet costs. Some invitations to Trump fund-raising events have featured the same short list of national Republican finance volunteers regardless of what city the event is held in, suggesting Mr. Trump has had some trouble lining up local co-hosts.

A spokesman for Mr. Trump did not respond to an inquiry about the campaign's spending plans. During an interview on Monday on CNN, Mr. Lewandowski defended the candidate's bare-bones approach.

"We are leaner, meaner, more efficient, more effective. Get bigger crowds. Get better coverage," Mr. Lewandowski said. "If this was the business world, people would be commending Mr. Trump for the way he's run this campaign."

But the shortfall is leaving Mr. Trump extraordinarily dependent on theRepublican National Committee, which has seen record fund-raising this campaign cycle and, long before Mr. Trump even declared his upstart candidacy, had begun investing heavily in a long-range plan to bolster the party's technical and organizational capacity.

In a first for a major party nominee, Mr. Trump has suggested he will leave the crucial task of field organizing in swing states to the Republican National Committee, which typically relies on the party's nominee to help fund, direct and staff national Republican political efforts. His decision threatens to leave the party with significant shortfalls of money and manpower: On Monday, the party reported raising $13 million during May, about a third of the money it raised in May 2012, when Mitt Romney led the ticket.

"It's like a waterfall," said Brian O. Walsh, a Republican campaign strategist. "There are things that have to happen, and someone has to pay for them."

Mr. Trump's cash crunch marks a stark reversal from the 2012 presidential campaign, which seemed to inaugurate a new era of virtually unlimited money in American politics, buoyed by the Supreme Court's Citizens United decision two years earlier. By the same point that year, President Obama and Mr. Romney were raising tens of millions of dollars per month with their parties. And while Mr. Romney faced a larger deficit overall against Mr. Obama in June 2012, he was raising far more money than Mr. Trump is now, with big donors flocking to his cause.

"The campaign has got to be the entity that's out there driving the fund-raising car," said Austin Barbour, a lobbyist who served as national finance co-chairman of the Romney campaign. "And it better be a big old Cadillac."
More from The Washington Post:
Presumptive GOP nominee Donald Trump loaned his campaign $2.2 million in May and collected $3.1 million in donations, ending the month with less than $1.3 million in bank, according to new campaign finance filings.

The real estate mogul's meager cash flow spotlighted the urgent need for him to dramatically ramp up the fundraising he's doing in conjunction with the Republican National Committee, a task he has fitfully embraced.

Trump's small haul came as presumptive Democratic nominee Hillary Clinton continued to stockpile money: she raised more than $28 million in May and started June with $42 million in cash. Clinton brought in nearly a third of her campaign funds last month through the Hillary Victory Fund, a joint fundraising committee with the Democratic National Committee and 32 state parties.

The billionaire developer has now loaned his campaign a total of $45.7 million and given it another $400,000, while collecting $17 million in contributions. In late May, Trump set up two joint fundraising committees with the RNC, a move that was supposed to help him and the party tap into a gusher of cash. But GOP fundraisers have said it has been difficult to line up donors to bundle checks from their friends and family.

Amid criticism from fellow Republicans about his tone and provocative statements, Trump suggested over the weekend that he would "just keep funding my own campaign" if GOP leaders did not rally around his candidacy. However, it is unclear if he could access the hundreds of millions needed to finance a national campaign. He suggested in May that to do so, he would have to "sell a couple of buildings."

Trump's limited cash meant that he spent just $6.7 million in May, down from $9.4 million in April. Nearly $1 million went to purchase hats and other campaign merchandise, while another $838,000 was spent on travel. The campaign spent just $150,000 on media buys.

Clinton's spending also ratcheted down last month after an intense buildup through the Democratic primaries. After shelling out nearly $29 million in March and almost $24 million in April, her presidential campaign committee spent just $13.7 million in May. The bulk of the money went to pay for the 683 staffers on payroll for the month, a cost of $3.8 million. The campaign spent $1.6 million on ad production and air time, and $1.6 million on travel.
To put these numbers in perspective, as things stand right now, or at least as they stood at the end of May when the last round of reports were filed, Donald Trump's campaign has less cash on hand right now than now only Hillary Clinton, but also Ted Cruz and Ben Carson, neither of whom has been an active candidate for President for some time now. To a large degree, this is because Trump has eschewed engaging in extensive fundraising for the past month despite warnings from Republican National Committee and top Republican donors that time was running short in that regard and that Trump risked falling well behind Clinton in this important measure if he didn't start following their advice. Perhaps most extraordinary, or maybe not depending on your point of view, is the fact that Trump has used his campaign to enrich his own companies to a degree seldom seen before:
NEW ORLEANS (AP) — Donald Trump's campaign likes to keep it in the family.

When Trump flies, he uses his airplane. When he campaigns, he often chooses his properties or his own Trump Tower in New York City, which serves as headquarters. His campaign even buys Trump bottled water and Trump wine.

The presumptive Republican presidential nominee has been on the campaign trail for a year now, and federal finance reports detail a campaign unafraid to co-mingle political and business endeavors in an unprecedented way — even as he is making appeals for donations.

Through the end of May, Trump's campaign had plunged at least $6.2 million back into Trump corporate products and services, a review of Federal Election Commission filings shows. That's about 10 percent of his total campaign expenditures.

Unlike in the primary when Trump touted his ability to pay his own way, he has been on an urgent fundraising quest for more than a month. His campaign began June with $1.3 million in the bank, compared with the $42 million presumptive Democratic nominee Hillary Clinton had amassed.

Wealthy political candidates in the past have walled off their business from their campaigns, but Trump embraces his companies. Public documents indicate his revenue has risen along with his presidential aspirations.

While Trump's controversial comments have cost his businesses money — for example, the PGA Tour recently announced it would move its World Golf Championship from a Trump course to one in Mexico City — Trump reported in documents filed in May with federal regulators that his revenue had increased by roughly $190 million over the previous 17 months.

Trump's campaign didn't respond to detailed questions about the intermingling of his businesses and campaign.

Trump isn't the first high-profile politician to run a campaign while managing large corporate assets. Former New York Mayor Michael Bloomberg and presidential contender Steve Forbes both ran companies bearing their name.

Both took great care to carefully separate their businesses and their campaigns, their former aides said, citing the complex maze of campaign finance regulations about using corporate resources. For instance, federal rules require a company to charge their campaigns fair-market value.

The Trump campaign— funded during the primary contest mostly by loans Trump made— appears to be properly documenting its use of the businessman's assets in federal reports, leaving a record of his campaign's finances and their impact on his self-reported financial largesse.

Some of Trump's revenue bump appears to be directly traced to his campaign. TAG Air Inc., the holding company for his airplane, had $3.7 million in revenue in the most recent reporting period — an amount that came largely from the campaign.

Trump's relentless product branding while on the campaign trail might be helping, too. Trump Ice LLC, the bottled water company, brought in income of more than $413,000 in the most recent reporting period, up from $280,000.

In the beginning months of his presidential bid, Trump paid about $350,000 out of pocket to rent campaign space in his own building and to cover the salaries of some of the Trump Organization employees he'd moved onto his campaign staff. FEC reports show the campaign reimbursed him for those costs. In May, the campaign paid Trump an additional $45,000 for more rent and payroll.

Trump also lent his campaign more than $46 million over the past year — money he has largely not recouped, according to FEC reports.
As long as they are properly documented and disclosed, there isn't necessarily anything wrong with Trump using Trump owned and branded companies to provide services and support for his campaign. The only problem that would arise would be if there were evidence that he was seeking to profit from the venture by, say, charging the Trump Presidential campaign a higher rate of rent at Trump Tower than an ordinary tenant would pay for the same space, or charging the campaign some premium when it uses Trump-branded products. At least from these initial reports, that doesn't appear to be true and one assumes that Trump, and more importantly his lawyers and accountants, know enough that even trying to do something like this is the kind of act that could abruptly end a campaign or even cause people to go to jail if they tried to conceal it from the Federal Election Commission. Additionally, it may even be the case that using his own assets like this actually ends up saving the campaign money, something that may well be true when it comes to using Trump's personal 757, for example. The bigger issue, and one no doubt on the mind of Republican officials, is that Trump could in theory use donations to repay himself the  $45 million he's already spent on their campaign rather than spending it on the campaign even though, in theory, the candidate is supposed to be last in line when it comes to repaying campaign debts.
This cash on hand disparity comes at a particularly troubling time for the Trump campaign and the GOP. Just yesterday, for example, it was announced that Hillary Clinton's campaign was getting ready for a massive ad buy at the same time that Trump's campaign has barely enough cash on hand to keep going:
"Do ads work anymore?" he asked.

If they do, Trump is getting left behind.

The presumptive GOP nominee is being massively outspent on television airwaves: Between Tuesday and Election Day, Trump has reserved zero dollars in television advertising, compared to $117 million from Hillary Clinton and her allies, according to data from the ad tracking firm Kantar Media/CMAG.

Compared to Team Clinton's spending, the buys from pro-Trump groups are a drop in the bucket.

Among the pro-Clinton spots is one that hammers Trump as "too dangerous for America."

That messaging, if it sticks, could pose yet another hurdle for Trump, whose campaign is in turmoil amid criticism that it has a barely functioning infrastructure. Trump, who on Monday fired his campaign manager, Corey Lewandowski, also hasn't built other common elements of a national campaign, such as a fundraising base or an extensive network of field staff.

The pro-Clinton effort looks like a traditional ad-buying campaign, with a mix of $21 million from her campaign and major buys from Priorities USA Action, the main super PAC supporting her bid. Clinton and the super PAC have already run $12 million of television advertising in eight battleground states since she clinched the nomination earlier this month, according to the ad tracker.

Trump, on the other hand, hasn't bought any television advertising since early May, when he spent a small amount for ads in Indiana and Nebraska.

The difference in what viewers see is stark: In the first week of the general election, Clinton and her super PAC ran nearly 4,000 more spots on broadcast and national cable TV than Trump and his allies, according to the Kantar Media data.
Outside of paid media, though, the Clinton campaign's massive money advantage at this point, which only seems likely to increase as time goes on even if Trump gets his fundraising on track, means that her campaign is far more able to get on the ground early in states like Florida, Ohio, Virginia, and elsewhere that will play a crucial role in the outcome of the race this year. It means she can fund a deep and extensive ground game akin to the one that President Obama and the Democrats were able to rely upon in 2008 and 2012 and which played a large role in bringing their supporters to the polls both for early voting in the states where that's an option and on Election Day. And, most importantly, it means that the Clinton campaign can spend the time between now and Labor Day using various methods to turn the November election into a referendum on Donald Trump. As I noted yesterday, if they are successful in doing that then the Republicans may as well write the Presidential race off and concentrate on saving as many of their down ballot candidates as possible while simultaneously preparing for what is likely to be a bloody and bitter aftermath to 2016 for the GOP that could make making up lost ground in 2018 and 2020 that much more difficult.
Reports claim that Trump's campaign is set to begin more extensive fundraising shortly, and there's always the possibility that Trump himself will put more of his own money into the campaign, but starting off this far behind is hardly a good sign for his campaign, especially since Clinton is expected to raise more than a billion dollars before the campaign is over. At this rate, there's no way Trump is going to catch up to that number and, while that doesn't mean that Clinton is guaranteed a win it certainly gives her an advantage that cannot be dismissed.