Donald Trump's Numbers Are Historically Bad
It's still early in the cycle, but Donald Trump's poll numbers are already historically bad.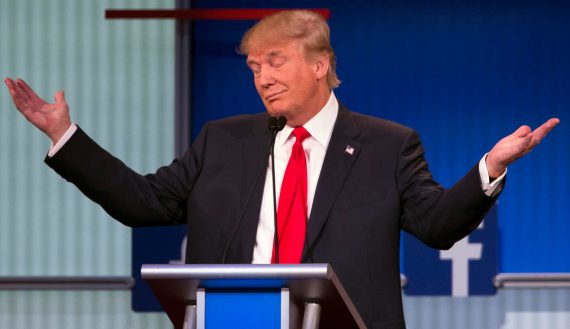 Donald Trump's poll numbers are bad, and getting worse, and that's before the negative ads start:
In 2016's race to the bottom, Donald Trump is going to find out if you can become president when two-thirds of Americans don't like you — and a majority can't stand you.

Recent polls have showed Trump's unfavorable rating spiking again, after a brief improvement last month. That's also coincided with a slide in national horse-race polls, which now unanimously show Hillary Clinton leading the presumptive Republican nominee. Clinton is also more unpopular than past nominees, but her negatives are neither as wide nor as deep as the broadly detested Trump.

Trump is setting modern records for political toxicity — at least for a major-party candidate this far out from an election. Seventy percent of Americans surveyed in an ABC News/Washington Post poll out this week had an unfavorable opinion of Trump, up 10 points over the past month. The poll showed Trump's favorable rating cratering at 29 percent, down from 37 percent last month.

The numbers were similar in a Bloomberg Politics poll: Trump's favorable rating is just 31 percent, with 66 percent viewing him unfavorably. That's only marginally better than in March, when 29 percent viewed Trump favorably, and 68 percent had an unfavorable opinion.

Gallup's latest figures show Trump at 31 percent favorable/63 percent unfavorable – significantly worse than Clinton's 41 percent favorable/54 percent unfavorable.

Those high unfavorables extend to the battleground states: A Marquette Law School poll out Wednesday found 64 percent of Wisconsin voters view Trump unfavorably — compared to only 26 percent who have a favorable opinion of him.

But it's not just the overall unfavorable numbers — it's the intensity of the antipathy toward Trump, and the lack of enthusiasm for him. In the ABC News/Washington Post poll, 56 percent of respondents had a "strongly unfavorable" opinion of Trump, compared to just 15 percent who had a "strongly favorable" opinion. In the Bloomberg poll, 51 percent had a "very unfavorable" opinion of Trump, with only 11 percent having a "very favorable" opinion.

(…)

Trump's unpopularity is without historical peer in the modern era of presidential campaigns. Mitt Romney averaged a 46-percent unfavorable rating in mid-June 2012, according to the HuffPost Pollster database. John McCain's unfavorable rating four years prior was only 40 percent, and more voters had a positive opinion of the Arizona senator than a negative one. In June 2004, then-Sen. John Kerry had a 58-percent favorable rating, according to Gallup, with only 35 percent viewing him unfavorably. Also from Gallup: Al Gore, in late June 2000, had a 52-percent favorable rating, and Bob Dole had a 55-percent favorable rating in June 1996.

Then-President George H.W. Bush is the last candidate to have a majority-unfavorable rating in June of an election year (51 percent unfavorable in June 1992), according to Gallup. But Bill Clinton's unfavorable rating that year (47 percent) was also high. In May 1988, according to an ABC News/Washington Post poll, Michael Dukakis had an otherworldly 67-percent favorable rating, with just 10 percent viewing him unfavorably.
These numbers come at the same time that we have seen Trump's favorable/unfavorable numbers sink to levels seldom seen with major party Presidential candidates just a few weeks out from having clinched their party's nomination. Ordinarily, this is a time when a candidate receives as at least something of a positive bounce in the polls due to the fact that the rest of his party is starting to rally around him after a long primary fight while others who may have just been watching the race from the sidelines start to line up behind one candidate or the other. In Trump's case, though, while the recent polling has shown most self-identified Republicans are lining up behind him, his controversial candidacy has also yielded considerable angst among long time Republicans as well as elected officials, many of whom are running away from the Trump campaign as fast as possible. At the same time, and for reasons that only he can explain, Trump decided to spend the last two weeks talking about an allegedly biased "Mexican" Judge presiding over the consumer fraud cases against Trump University, attacking the media for allegedly unfair coverage, repeating his call for a ban on all Muslim immigration for an unspecified amount of time, and insinuating that the President of the United States sympathizes with ISIS. Given that, it's entirely unsurprising that the public as a whole, which has long had a much more skeptical view of Trump than his hardcore supporters or even other Republicans, is turning negative against him.
What's somewhat remarkable is the fact that his campaign doesn't seem at all concerned by this, and that they don't seem interested in doing anything about it. The best example of this can be seen in the fact that the Clinton campaign, along with at least one of its supporting SuperPACs is about to unleash more than $100 million in negative ads against Trump in battleground states, while Trump's campaign has virtually no money with which to counter such an advertising blitz. In many respects, this reminds one of the manner in which the Obama campaign used the summer prior to the General Election to negatively define Romney by concentrating on his time at Bain Capital and the stories of people who were negatively impacted by the decisions that Bain executives made during the process of restructuring distressed companies. In addition to the fact that his campaign completely mishandled its own reaction to the effort to attack him for a part of his record they knew would come under attack, Romney essentially let the attacks go on unanswered for weeks to the point where they were successful in defining him for the General Election. The same thing appears to be about to happen to Trump, and the fact that the campaign doesn't even appear able to respond to attacks that should have been anticipated months ago shows just how badly things are apparently going at Trump Tower.
Dan Balz puts it best when he notes that, even at this point five months away, November appears to be set to become a referendum on Trump, If that happens, then it seems apparent that the election is effectively over as far as Republicans are concerned. First of all, it's unlikely that Trump will be able to effectively recover from the incredibly law favorable/unfavorable numbers plaguing him in such a short period of time. In order to do so, he'd essentially have to find a way for voters outside his hardcore base to forget not only about the past year and every controversial and offensive thing he's said, but also the past thirty-odd years he's been in the public eye. Hillary Clinton admittedly has a similar problem but as Balz and others note, Clinton's unfavorable numbers are nowhere near as bad as Trump's are across the board and Clinton has a strong reservoir of support among many groups and she isn't facing the problem of being abandoned by large segments of her own party. More importantly, at least for now the attacks by Trump and others on Clinton don't seem to be having nearly as much impact as the latest round of attacks are having on Trump, as long as that remains the case, Trump's numbers will likely continue to fall. And if Balz is right that, in the end, the race in November essentially becomes a referendum on Donald Trump, then things could end up being very bad for Republicans as a whole.