Donald Trump: The Only Way I Lose Pennsylvania Is If Democrats Cheat
Another day, another round of irresponsible demagoguery from Donald Trump.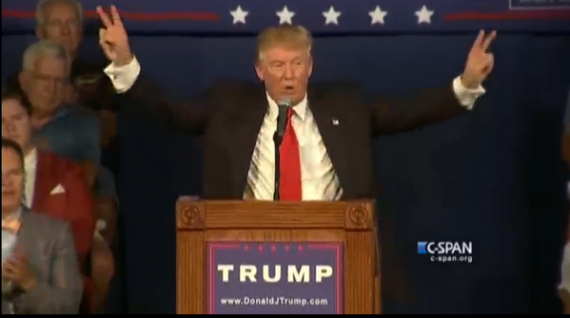 Donald Trump told a crowd in Pennsylvania that the only way he can lose the Keystone State is if Democrats cheat:
Donald Trump again raised the specter of election fraud Friday, saying that the only way he would lose Pennsylvania is to Hillary Clinton is if "they cheat."

The Republican nominee, speaking at a rally in Altoona, Pennsylvania, repeated his concerns about the fairness of the election.

"The only way we can lose, in my opinion — I really mean this, Pennsylvania is if cheating goes on and we have to call up law enforcement and we have to have the sheriffs and the police chiefs and everyone watching because if we get cheated out of this election, if we get cheated out of a win in Pennsylvania, which is such a vital state especially when I know what is happening here," he said. "She can't beat what's happening here. The only way they can beat it in my opinion, and I mean this 100 percent, if in certain sections of the state they cheat."

Trump has repeatedly claimed the election is "rigged" against him, laying some of the blame on the media.
This statement comes in the wake of a new set of polls, including three recent polls from Pennsylvania that show Clinton with a significant lead outside the margin of error in both a head-to-head match up with Trump and a four way race that includes Gary Johnson and Jill Stein. Moreover, as I've noted before, Pennsylvania is a state that Republicans have not won since George H.W. Bush won the state in his landslide victory over Michael Dukakis. Ever since then, the state has consistently, and rather overwhelmingly, gone for the Democratic candidate in every election. In 2008, for example, President Obama beat John McCain by more than 600,000 votes and beat Mitt Romney by roughly 300,000 votes in 2012. Even in relatively close election years such as 2000 and 2004, Al Gore and John Kerry both beat George W. Bush in the Keystone State by roughly 200,000 votes. The main reason for this is the fact that while wide swaths of Northern, Central, and Western Pennsylvania will go heavily for the Republican candidate it has become something of an historical norm that the largely Democratic, and heavily populated areas in and around Philadelphia and Pittsburgh are simply so large that they overwhelm whatever advantages Republicans have in the rest of the state. In off year and mid-term elections, turnout tends to be stronger in Republican parts of the state than in Democratic areas, so we end up with results like the GOP near-sweep of statewide offices that occurred in 2010, although that advantage wasn't sufficient to save the state's Republican Governor in 2014. Current polling shows that not only is Trump losing Pennsylvania, but he is losing badly in the Philadelphia and its suburbs, and in the Pittsburgh area. As long as that's the case, neither he nor any Republican is going to win the Keystone state. If Trump wins it won't be because of cheating but because Pennsylvania did what Pennsylvania has done in every election for the past twenty-four years.
In addition to being factually inaccurate this latest statement from Trump carries with it the same kind of danger that much of his other rhetoric about a 'rigged' system does, namely that it could have a significant and negative influence on how his supporters respond to what seems like an inevitable loss in November. If Donald Trump spends the next three months telling his supporters that the only way he can lose is if the other side cheats, which is of course a blatant lie, then he will contribute to undermining the legitimacy of another election, and that is likely to have a negative impact on how his supporters react to an election loss and how they act in the weeks, months, and years following the 2016. Much like his rhetoric about Mexicans, Muslims, and others, this is another example of how Trump appeals to the worst aspects of American politics and acts in a manner that does nothing but poison the well. Indeed, by claiming that only cheating can deny him the Presidency, Trump appears to be willfully establishing the license for his supporters to engage in violent or disruptive protests in response to a result that they simply chose not to accept. This is not the rhetoric of a reasonable, responsible candidate for office, it is the rhetoric of a demagogue who has come to enjoy whipping up a crowd into an irrational frenzy. Once again, it has come time to ask Trump's fellow Republicans, and especially those such as Paul Ryan, Reince Priebus, Mike Pence, and others who have rallied around him. They've let a demagogue take over their party and they're going to have to pay for it.