Trump Campaign Shakeup
After weeks of bleeding, the Trump campaign is undergoing a shake up, but it's unlikely to fix what's really wrong.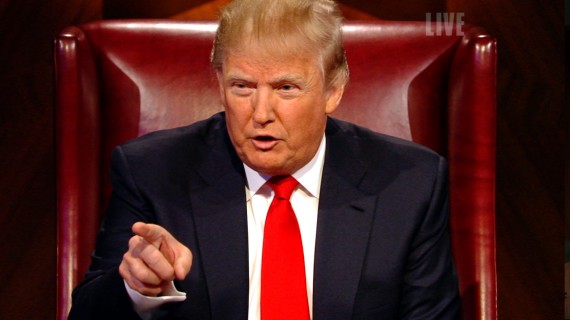 The morning's headlines bring news of a big shakeup at Trump Tower:
LAS VEGAS — Donald J. Trump has shaken up his presidential campaign for the second time in two months, hiring a top executive from the conservative website Breitbart News and promoting a senior adviser in an effort to right his faltering campaign.

Stephen Bannon, the executive chairman of Breitbart News LLC, will become the Republican campaign's chief executive, and Kellyanne Conway, a senior adviser and pollster for Mr. Trump and his running mate, Gov. Mike Pence of Indiana, will become the campaign manager.

Paul Manafort, the campaign chairman, will retain his title. But the staffing change, hammered out on Sunday and set to be formally announced Wednesday morning, was seen by some as a demotion for Mr. Manafort.

The news, first reported by The Wall Street Journal, was confirmed early Wednesday by Ms. Conway in a brief interview, but she rejected the idea that the changes amounted to a shake-up and said that Mr. Manafort was not being diminished.

"It's an expansion at a busy time in the final stretch of the campaign," she said, adding that Mr. Manafort and his deputy, Rick Gates, would remain in their roles.

"We met as the 'core four' today," Ms. Conway added, referring to herself, Mr. Bannon, Mr. Manafort and Mr. Gates.

People briefed on the move said that it reflected Mr. Trump's realization that his campaign was at a crisis point. But it indicates that the candidate — who has chafed at making the types of changes his current aides have asked for, even though he had acknowledged they would need to occur — has decided to embrace his aggressive style for the duration of the race.

Both Ms. Conway and Mr. Bannon, whose news organization has been very favorable to Mr. Trump since he entered the primaries, are close with Robert and Rebekah Mercer, the father-and-daughter conservative donors who have become allies of the candidate and are funding a "super PAC" that is working against Hillary Clinton.

Ms. Conway has past presidential experience in primary races, but the role in a general election represents a new one for her. She is well liked by Mr. Trump's daughter Ivanka and her husband, Jared Kushner, who had been serving as the de facto campaign manager.

Mr. Bannon has no experience with political campaigns, but he represents the type of bare-knuckled fighter that the candidate had in Corey Lewandowski, his combative former campaign manager, who was fired on June 20.

Mr. Bannon has been a supporter of Mr. Trump's pugilistic instincts, which the candidate has made clear in interviews he is uncertain about suppressing. He is also deeply mistrustful of the political establishment, and his website has often been critical of Speaker Paul D. Ryan and Senator Mitch McConnell, the majority leader.

Rudolph W. Giuliani, the former mayor of New York City who has become a close Trump adviser, has also urged the candidate to dig in and prepare to fight harder, and in a more focused way, in what has quickly become one of the nastiest presidential campaigns in modern United States history.
More from Robert Costa at The Washington Post:
Donald Trump, following weeks of gnawing agitation over his advisers' attempts to temper his style, moved late Tuesday to overhaul his struggling campaign by rebuffing those efforts and elevating two longtime associates who have encouraged his combative populism.

Stephen Bannon, a former banker who runs the influential conservative outlet Breitbart News and is known for his fiercely anti-establishment politics, has been named the Trump campaign's chief executive. Kellyanne Conway, a veteran Republican pollster who has been close to Trump for years, will assume the role of campaign manager.

Two Trump campaign aides confirmed the staff reshuffle early Wednesday, requesting anonymity to discuss personnel changes without permission.

Trump issued a statement hours later. "I have known Steve and Kellyanne both for many years. They are extremely capable, highly qualified people who love to win and know how to win," he said. "I believe we're adding some of the best talents in politics, with the experience and expertise needed to defeat Hillary Clinton in November and continue to share my message and vision to Make America Great Again."

The campaign played down the notion that Trump was reacting to the polls or saw his bid in crisis.

"These announcements come at a time of significant growth for Mr. Trump's campaign, with the first major TV ad buy of the general election slated to start later this week and with additional top-flight operatives joining the movement on a near-daily basis," the campaign said in the statement.

The Wall Street Journal first reported the moves.

Trump's stunning decision effectively ended the months-long push by campaign chairman Paul Manafort to moderate Trump's presentation and pitch for the general election. And it sent a signal, perhaps more clearly than ever, that the real-estate mogul intends to finish this race on his own terms, with friends who share his instincts at his side.

While Manafort, a seasoned operative who joined the campaign in March, will remain in his role, the advisers described his status internally as diminished due to Trump's unhappiness and restlessness in recent weeks.

(…)

In Bannon especially, Trump is turning to an alter ego — a colorful, edgy figure on the right who has worked at Goldman Sachs and made several films, including a documentary about former Alaska governor Sarah Palin.

Bannon, in phone calls and meetings, has been urging Trump for months not to mount a fall campaign that makes Republican donors and officials comfortable, the aides said. Instead, Bannon has been telling Trump to run more fully as an outsider and an unabashed nationalist.

Trump has listened intently to Bannon and agreed with him, believing that voters will ultimately want a presidential candidate who represents disruption more than a candidate with polished appeal, the aides said.

"I want to win," Trump told the Wall Street Journal. "That's why I'm bringing on fantastic people who know how to win and love to win."

The campaign said in its statement that Bannon, a former Navy officer, would be "temporarily stepping down from his role with Breitbart News to work full-time on Mr. Trump's campaign in a new position designed to bolster the business-like approach of Mr. Trump's campaign."

"Mr. Bannon," it continued, "once recognized by Bloomberg Politics as the 'most dangerous political operative in America,' will oversee the campaign staff and operations in addition to strategic oversight of major campaign initiatives in addition to working with Mr. Manafort."

Manafort, in a statement, said that he is sure the additions will "undoubtedly help take the campaign to new levels of success."
With Trump dropping like a stone in the polls over the past several weeks and his campaign going off the rails on a seemingly weekly basis, it's not entirely surprising that we'd see a campaign shake-up at some point along the way. We've seen similar restructuring on the fly in the past when the news has been bad after all, but the notable thing has generally been that it has often fallen into the category of 'too little, too late' and that the changes made end up doing little to reverse the course that the campaign in question has been on, In this case, with more than eighty days left until Election Day, it's arguably not 'too late,' but it's not at all that the moves here are either too little, or that they are too much in the sense that they are likely to send the Trump campaign off in a direction that will in the end do nothing but harm. Most of all, though, these changes seem to be mutually contradictory and designed to create more conflict inside a campaign that has become known for resorting to in-fighting as the news has gotten worse and worse over the past month or so.
Bringing in KellyAnne Conway, for example, seems like a smart move on Trump's part largely because her experience as a top pollster and campaign adviser to past Republican candidate would seem to send a signal that Trump has recognized that he needs some assistance in getting a message out beyond the core group of supporters that applaud his every word at campaign rallies. It's also arguably the case that Conway is being brought on to serve the role of someone who can show Trump the raw data from polls that indicates where his problems are and why he needs to moderate his tone if he's going to have any hope at all of appealing to Republicans who have, until now, rejected his candidacy and independents who are flocking to Hillary Clinton largely because Trump is giving them the impression that he can't be trusted with the reins of power. At the same time, though, with Stephen Bannon we have the person who has turned Breitbart News into a clearinghouse for paranoid, anti-Muslim, anti-immigrant hatred that seemingly spends more time attacking other conservatives than anything else. It's been under Bannon's leadership, for example, that the site has basically turned itself into little more than a mouthpiece for the Trump campaign and a comfortable place for bigots to come and air their opinion. Rather than moderating his tone or reaching out to moderates, Bannon is reported to be in favor of doubling down on the rhetoric that we saw from Trump throughout the race for the Republican nomination, rhetoric that has backfired for Trump as we've entered the General Election phase of the campaign. Going forward, the question will be which of these two advisers will have the most influence over Trump. If he listens to Conway and people like her, Trump may have a shot at turning his campaign around or at least stopping the bleeding before the debates start in September. If he listens to Bannon, which seems to be what Robert Costa's report is indicating is most likely going forward, then we can expect more of the same from Trump and the Trump campaign can most likely expect to continue to see Hillary Clinton gain ground in the polls to the point where it will in fact be too late to do anything to fix what's wrong.
Trump seemed to foreshadow what was coming yesterday when he addressed the issue of 'pivoting' from the way he had been during the primary into a more nuanced candidate for the General Election:
Donald Trump on Tuesday said he is not interested in moderating his tone for the general presidential election.

"Well, possibly I do, but you know, I am who I am," he told News 8 reporter Brittany Schmidt when asked whether he needs to change tactics before November as recent polls show him behind Democratic nominee Hillary Clinton.

"Everyone talks about, 'Oh, you've got to pivot,'" Trump added in La Crosse, Wis. "I don't want to pivot. I don't want to change."You have to be you. If you start pivoting, you're not being honest with people. No, I am who I am."
In the end, as in any campaign, it will be the candidate who makes the final decision about what kind of campaign he or she runs, and in this case Donald Trump clearly does not want to change, With Bannon there whispering in his ear that he should not only continue with the incindiery rhetoric but double down on it, it seems obvious who he is going to be more inclined to listen to. Given that, I wouldn't expect very much change from Donald Trump and I wouldn't expect the direction this campaign has been taking to change very much either.