Steve Bannon Is Out At The White House
Another one bites the dust.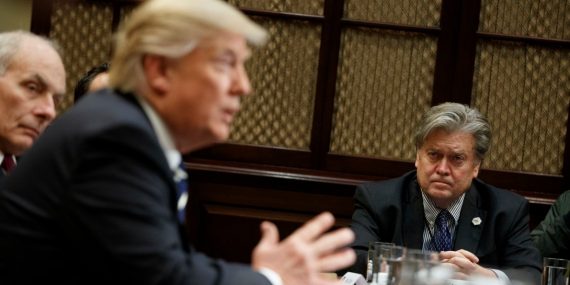 The New York Times is reporting that Steve Bannon, the controversial Presidential adviser who left his position with Breitbart News to become a top adviser to the President, is leaving the White House:
Stephen K. Bannon, the embattled chief strategist who helped President Trump win the 2016 election but clashed for months with other senior West Wing advisers, is leaving his post, a White House spokeswoman announced Friday.

"White House Chief of Staff John Kelly and Steve Bannon have mutually agreed today would be Steve's last day," the White House press secretary, Sarah Huckabee Sanders, said in a statement. "We are grateful for his service and wish him the best."

Earlier on Friday, the president had told senior aides that he had decided to remove Mr. Bannon, according to two administration officials briefed on the discussion. But a person close to Mr. Bannon insisted that the parting of ways was his idea, and that he had submitted his resignation to the president on Aug. 7, to be announced at the start of this week. But the move was delayed after the racial unrest in Charlottesville, Va.

The loss of Mr. Bannon, the right-wing nationalist who helped propel some of Mr. Trump's campaign promises into policy reality, raises the potential for the president to face criticism from the conservative news media base that supported him over the past year.

Mr. Bannon's many critics bore down after the violence in Charlottesville. Outraged over Mr. Trump's insistence that "both sides" were to blame for the violence that erupted at a white nationalist rally, leaving one woman dead, human rights activists demanded that the president fire so-called nationalists working in the West Wing. That group of hard-right populists in the White House is led by Mr. Bannon.

On Tuesday at Trump Tower in New York, Mr. Trump refused to guarantee Mr. Bannon's job security but defended him as "not a racist" and "a friend."

"We'll see what happens with Mr. Bannon," Mr. Trump said

Mr. Bannon's dismissal followed an Aug. 16 interview he initiated with a writer with whom he had never spoken, with the progressive publication The American Prospect. In it, Mr. Bannon mockingly played down the American military threat to North Korea as nonsensical: "Until somebody solves the part of the equation that shows me that ten million people in Seoul don't die in the first 30 minutes from conventional weapons, I don't know what you're talking about, there's no military solution here, they got us."

He also bad-mouthed his colleagues in the Trump administration, vowed to oust a female diplomat at the State Department and mocked officials as "wetting themselves" over the consequences of radically changing trade policy.

Of the far right, he said, "These guys are a collection of clowns," and he called it a "fringe element" of "losers."

"We gotta help crush it," he said in the interview, which people close to Mr. Bannon said he believed was off the record.
While it's being reported that Bannon resigned his position, reports are making it clear that Bannon was basically fired and that this is apparently something that has been building for the past two weeks. This, of course, It was only a few days ago, that I noted that there were signs that Bannon's days in the White House might be numbered based on reports from White House insiders. According to these reports, Bannon was under fire from a number of corners including newly installed Chief of Staff John Kelly and members of Trump's family such as his son-in-law Jared Kushner and daughter Ivanka. Additionally, there were indications that some members of Trump's foreign policy team, principally National Security Adviser H.R. McMaster but apparently including others, were pushing back against the influence that Bannon was trying to assert over Trump's thinking on foreign policy matters and questions of how to proceed forward on issues ranging from military strategy in Afghanistan and ISIS to North Korea. Reports are also saying that Trump and Bannon had talked about Bannon leaving as early as last week, but that the announcement was delayed in the wake of the events in Charlottesville and the furor that rose up in the wake of the President's remarks in the wake of that event.
This is, of course, the third major shake-up in the Trump Administration in just over six months. The first came less than a month ago on July 21st when Press Secretary/White House Communications Director Sean Spicer, who had been under increased pressure and scrutiny as the press coverage of Trump became more and more negative, left and Anthony Scaramucci was named to the position of White House Communications Director. Scaramucci, however, lasted only a week and he was out of by the end of July, which was actually several weeks before he was to officially begin working at the White House. In between, Chief of Staff and former Republican Reince Priebus resigned as White House Chief of Staff and was replaced by retired General John Kelly, who had been the Secretary for the Department of Homeland Security. And now we have Steve Bannon, who has been at Trump's side for the past year, leaving. All of this happened over the course of just 29 days.
As with Scaramucci's departure, Bannon's resignation coincided with an interview that he gave to a journalist which proved to be exceedingly controversial. In Scaramucci's case, it was a profanity-laced interview with The New Yorker's Ryan Lizza in which he attacked pretty much everyone in the White House from Priebus all the way to Bannon and seemed to contradict official White House policy on a number of points. In Bannon's case, it was an interview with The American Prospect's Robert Kutner in which Bannon seemed to come across as just as self-promoting as Scaramucci was and where he also seemingly undermined the President's positions on a number of issues, including his handling of the North Korea issue:
Stephen K. Bannon, the White House chief strategist, seemed to take issue with President Trump on North Korea, attacked white supremacists as "clowns" and "losers" and described his efforts against administration rivals in an unusual interview Wednesday with The American Prospect, a progressive magazine.

The interview with magazine co-editor and columnist Robert Kuttner was initiated by Bannon, Kuttner said, in an Anthony Scaramucci-style phone call out of the blue in response to a column Kuttner had written on China.

"Bannon was in high spirits when he phoned me Tuesday afternoon to discuss the politics of taking a harder line with China, and minced no words describing his efforts to neutralize rivals at the Departments of Defense, State and Treasury," wrote Kuttner.

"'They're wetting themselves,' he said, proceeding to detail how he would oust some of his opponents at State and Defense."

On North Korea, Bannon said: "'Until somebody solves the part of the equation that shows me that ten million people in Seoul don't die in the first 30 minutes from conventional weapons, I don't know what you're talking about, there's no military solution here, they got us.'"

That comment seemed at odds with Trump's "fire and fury" threats to use military force against North Korea.

On China, Bannon told Kuttner that the United States was at "economic war" and warned that "one of us is going to be a hegemon in 25 or 30 years and it's gonna be them if we go down this path," according to the article.

"On Korea, they're just tapping us along. It's just a sideshow," he said.

Bannon was also asked by Kuttner to comment on the deadly white supremacist rally in Charlottesville last weekend and President Trump's reluctance to condemn the participants.

"Ethno-nationalism — it's losers. It's a fringe element," Bannon told the magazine. "I think the media plays it up too much, and we gotta help crush it, you know, eh, help crush it more."

"These guys are a collection of clowns," he added.

The remarks were startling coming from Bannon, who spent more than four years running the far-right website Breitbart News before he was tapped to join Trump's campaign.

Bannon, the site's former executive chair, has called the Breitbart "a platform of the alt-right."
This interview hit the media only a few days ago and was proving to be quite controversial even though it was being somewhat overshadowed by the coverage of the controversy that has arisen over the President's remarks regarding the violence in Charlottesville. The fact that Bannon's dismissal came so quickly afterwards, though, raises at least some suspicion that it was in response to the interview and the fact that Bannon was stepping on the toes of not only the President but also his entire foreign policy team, not to mention the signals it sent to the Chinese and North Koreans by essentially signalling that Trump's increased bellicosity was nothing more than a bluff and that there was no real threat of American military intervention on the Korean peninsula.
Bannon's departure raises a number of questions both regarding his own future and the future of the Trump Administration.
With respect to Bannon, Gabriel Sherman at New York magazine is reporting on Twitter that Bannon would be returning to Breitbart, and it's worth noting that Sherman has proven to be someone who has very good sources inside conservative media notwithstanding himself that he is someone who leans decidedly to the left. Sherman is also saying that a Bannon friend is saying that Breitbart seems to be preparing to go to war against the Administration, saying that "It's now a Democrat White House." This second report from Sherman came after Joel Pollack, a senior editor at Breitbart, sent out a Tweet that had a single word, "#War," which appeared to signal that the reaction from the alt-right publication to Bannon's apparent dismissal would be a negative one. Shortly thereafter, an article appeared on Breitbart's front page under Pollack's byline with the headline "With Steve Bannon Gone, Donald Trump Risks Becoming Arnold Schwarzenegger 2.0." If this is an indication that Breitbart could be about to turn negative against Trump, it could make things very interesting indeed.
With respect to the Trump Administration, it's hard to predict exactly what this means. There are some who will argue that Bannon's departure constitutes a victory for people like Chief of Staff John Kelly, NSC Director H.R. McMaster, and Jared Kushner and Ivanka Trump, all of whom have been known to butt heads with Bannon over a number of issues. Ultimately, though, the idea that this could mean a change of direction for the Trump Administration seems unlikely. In the end, the Administration is Donald Trump and if the events of the past week prove anything, they prove that Trump is incapable of being anything other than what he has already been. In some respect, these changes may just solidify that reality, especially given the fact that Bannon's departure comes at the same time that Hope Hicks, who has been at Trump's side since his campaign started, took over as White House Communications Director. In the end, the problem with the Trump Administration isn't Sean Spicer, Reince Priebus, Anthony Scaramucci, or Steven Bannon it's Donald Trump. Nobody is going to be able to change him, not Jared and Invaka, and not John Kelly.  Without a doubt, though, this has been the most chaotic month of Trump's Presidency, and it's not even over yet.
We're only at Day 211, folks. This is going to get a lot worse before it gets better.
Update: To further emphasize the point I made about what kind of month it's been consider this video clip from CNN's coverage of the Bannon departure:
This CNN clip on Trump's last four weeks is jaw-dropping. Just… wow. pic.twitter.com/m3yY0oQzE9

— brad esposito (@braddybb) August 18, 2017
"