Steve Bannon Is Going To War Against The Republican Congress
Steve Bannon may be out of the White House, but his efforts to continue pushing President Trump, and the Republican Party, even further to the populist far-right continues.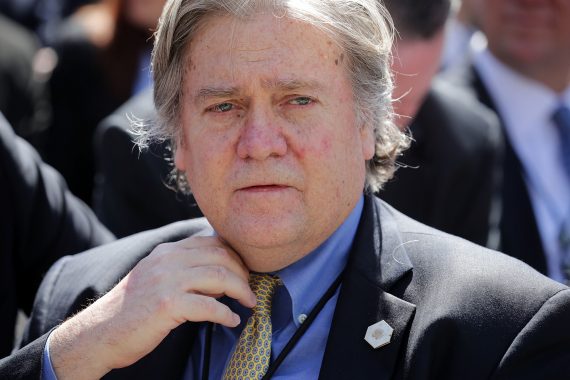 Steve Bannon was interviewed last night on 60 Minutes and, based on it comments, he appears to be ready to go to war with the Republicans in Congress:
Stephen K. Bannon — President Trump's former chief strategist who left the White House in August — declared war Sunday against the Republican congressional leadership, called on Gary Cohn, Trump's top economic adviser, to resign, and outlined his views on issues ranging from immigration to trade.

Bannon, in an interview on CBS's "60 Minutes," accused Senate Majority Leader Mitch McConnell (R-Ky.) and House Speaker Paul D. Ryan (R-Wis.) of "trying to nullify the 2016 election." It was Bannon's first television interview since leaving the White House and returning as executive chairman to Breitbart News, the conservative website he previously led.

He blamed them for failing to repeal and replace former President Barack Obama's signature health-care law and made clear that he would use his Breitbart perch to hold Republicans accountable for not helping Trump push through his agenda.

"They're not going to help you unless they're put on notice," he told CBS's Charlie Rose. "They're going to be held accountable if they do not support the president of the United States. Right now there's no accountability."

Stressing absolute loyalty to Trump, Bannon criticized members of the administration who, he said, had leaked to the news media their displeasure with the way Trump handled the white-supremacist-fueled violence in Charlottesville, which left one dead and more­ ­injured.

"You can tell him, 'Hey, maybe you can do it a better way.' But if you're going to break, then resign. If you're going to break with him, resign," he said. "If you find it unacceptable, you should resign."

He explicitly mentioned Cohn, Trump's director of the National Economic Council who had criticized Trump's response in an interview with the Financial Times, and said he "absolutely" thought Cohn should have resigned.

Bannon joined the Trump campaign in August 2016 and emerged as the president's ideological id, channeling his populist and nationalist impulses. Though he made many enemies in the West Wing, including the president's son-in-law and senior adviser, Jared Kushner, and clashed with John F. Kelly, Trump's second chief of staff, Bannon remains close to Trump.

Recalling a particularly low moment in the campaign — the emergence of the "Access Hollywood" tape that captured Trump bragging about groping women — Bannon dismissed it as "just locker room talk," but he said the moment served as an important "litmus test" for loyalty to Trump.

At the time, Reince Priebus, Trump's first chief of staff, urged the then-candidate to either drop out of the race or face a historic loss. And, Bannon said, Gov. Chris Christie (R-N.J.), who served as a campaign adviser overseeing Trump's transition plan, lost a likely spot in the president's Cabinet because of his response to the ­video.

"I told him: 'The plane leaves at 11 o'clock in the morning. If you're on the plane, you're on the team,' " Bannon said, referring to Christie. "Didn't make the plane."
When Bannon left the White House last month, there was a host of speculation over what exactly we'd come to see from him, and from Trump, in the future. From the outside, it seemed clear that Bannon's dismissal, despite being framed as a resignation, was, in fact, a dismissal that was part of the effort of Chief of Staff John Kelly to gain control of an especially chaotic White House. Additionally, it was unclear what the impact of Bannon's dismissal would be and whether he remained on good terms with President Trump, especially when he stated to a reporter after it was announced that he was returning to his old position at Breitbart News that the Trump Presidency was "over" and that the White House was now "Democratic" thanks to the influence of people like Kelly. Additionally, within hours after Bannon's dismissal, Joel Pollack, a senior editor at Breitbart, sent out a Tweet that had a single word, "#War," which appeared to signal that the reaction from the alt-right publication to Bannon's apparent dismissal would be a negative one. Shortly thereafter, an article appeared on Breitbart's front page under Pollack's byline with the headline "With Steve Bannon Gone, Donald Trump Risks Becoming Arnold Schwarzenegger 2.0." As Vanity Fair's Tina Nguyen noted at the time, this had all the signs of a "right wing army" preparing to go to war:
Bannon's return is likely to boost both himself and the site. "Breitbart is kind of rudderless right now," said Cernovich, an Infowars contributor who has been critical of Breitbart but echoed similar grumblings that I have heard from several people within the right-wing media orbit over the last several months. "There's a lot of discontent. People are claiming that Breitbart is being run by lawyers, and they lack an editorial vision. With Bannon back at the helm, they'll have an editorial vision again, and they'll get back to doing what they do best."

Even before Bannon's return was made official, the site's writers had a field day on Twitter, either declaring that they, too, were prepared to fight the globalist agenda with their former chairman, or trolling the jumpy politicos trying to figure out what the populist-nationalist organ would do next

Stranahan suggested that the White House's loss could be Breitbart's gain, and vice versa. "It wouldn't shock me if the president reconsiders this pretty quickly. But the only way he'll reconsider it is if he gets rid of the other globalists in the White House." As any good military strategist will tell you—even, perhaps, McMaster himself—sometimes you have to lose a battle in order to win a war.
In the time since then, though, Breitbart has by and large continued to be stalwart defender of the President's agenda even while attacking some members of the Trump Administration and the White House inner circle who the opinion site claimed were betraying the agenda that the President had run on and attempting to push him to the political left on a wide variety of issues. This interview seems to make clear that Bannon remains loyal to Trump and that he intends to use the voice that Breitbart News gives him on the right generally and with the Trump base inside the GOP to "protect" the President from the people he perceives to be the enemies of that agenda.
It's unclear at this point what form Bannon's "war" would take. For the time being, obviously, it will likely be limited to attacks on Twitter on people such as Speaker Paul Ryan and Senate Majority Leader Mitch McConnell, both of whom have been targets of the Tea Party/Trump crowd for some time now. Beyond that, though, one has to wonder what Bannon might be planning for the 2018 election. For example, are we talking about openly backing candidates in primary elections? In that case, it's not clear exactly what he thinks he might accomplish. Yes, it's possible that a grassroots effort could cause serious problems for Republican incumbents in the House and Senate who are deemed to be insufficiently obsequious toward the Trump agenda, but that risks putting in their place nominees who could end up being so far to the right that their seats end up being in jeopardy in much the same way that the Tea Party's support for candidates such as Christine O'Donnell and Sharron Angle caused the GOP to lose races that it arguably could have won with less radical, more experienced candidates. There have also been rumors that Bannon is plotting the creation of a media empire that would compete with outlets like Fox News Channel and Glenn Beck's The Blaze. Such an outlet would give him the ability to spread the populist message outside of Breitbart and to continue his efforts to ensure that Trump adheres to the agenda that he adopted during the campaign notwithstanding the influence of people like General Kelly, Jared Kushner, and Ivanka Trump. Whichever avenue he chooses, though, it seems clear that Bannon intends to be around for awhile, and that we're likely to hear more from him now that he is out of the White House and free to speak out in a way he wasn't before. That means, of course, continuing his efforts to push the Republican Party further to the populist far-right that was represented by Trump's 2016 campaign, and that is by no means a good thing.
Here's Bannon's full interview: