The End Of The Trump-Bannon Bromance?
Whatever goodwill may have existed between the Trump Administration and Steve Bannon appears to have evaporated.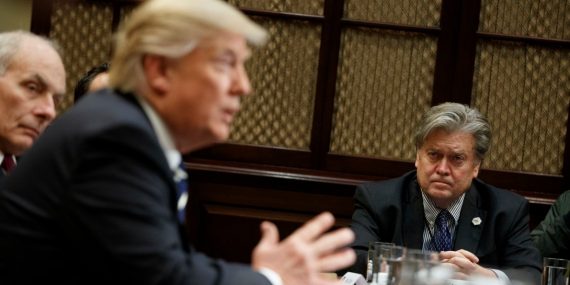 In the wake of a new tell-all book about the Trump campaign and the early days of the Trump White House in which former White House adviser Steve Bannon is quoted as making several disparaging remarks about top Trump advisers and criticizing Donald Trump Jr.'s decision to meet with a Russian lawyer with ties to the Russian government, President Trump fired back with a statement saying that his former adviser has 'lost his mind':
WASHINGTON — President Trump essentially excommunicated his onetime chief strategist Stephen K. Bannon on Wednesday, dismissing him as an aide who had "very little to do with our historic victory" and has now "lost his mind."

In a written statement, Mr. Trump fired back at Mr. Bannon, who had made caustic comments about the president and his family to the author of a new tell-all book about the Trump White House. While Mr. Bannon had been pushed out of the White House last summer, he had remained in touch with Mr. Trump, but the two now appear to have reached a breaking point.

"Steve Bannon has nothing to do with me or my Presidency," Mr. Trump said in the statement. "When he was fired, he not only lost his job, he lost his mind."

Mr. Trump berated Mr. Bannon for the loss of a Senate seat in Alabama and said the former adviser did not represent him but is "only in it for himself."

"Steve pretends to be at war with the media, which he calls the opposition party, yet he spent his time at the White House leaking false information to the media to make himself seem far more important than he was," Mr. Trump added. "It is the only thing he does well. Steve was rarely in a one-on-one meeting with me and only pretends to have had influence to fool a few people with no access and no clue, whom he helped write phony books."
Here's the full statement:
Trump totally torches Bannon: "When he was fired, he not only lost his job, he lost his mind." Full statement: pic.twitter.com/ElhChPiOx8

— Jennifer Epstein (@jeneps) January 3, 2018
The statement followed several articles detailing portions of a new book covering the Trump campaign and the early days of the Trump White House in which Bannon is quoted as making several disparaging remarks about Trump Jr. and others in the President's inner circle:
Donald Trump's former chief strategist Steve Bannon has described the Trump Tower meeting between the president's son and a group of Russians during the 2016 election campaign as "treasonous" and "unpatriotic", according to an explosive new book seen by the Guardian.

Bannon, speaking to author Michael Wolff, warned that the investigation into alleged collusion with the Kremlin will focus on money laundering and predicted: "They're going to crack Don Junior like an egg on national TV."

Fire and Fury: Inside the Trump White House, reportedly based on more than 200 interviews with the president, his inner circle and players in and around the administration, is one of the most eagerly awaited political books of the year. In it, Wolff lifts the lid on a White House lurching from crisis to crisis amid internecine warfare, with even some of Trump's closest allies expressing contempt for him.

Bannon, who was chief executive of the Trump campaign in its final three months, then White House chief strategist for seven months before returning to the rightwing Breitbart News, is a central figure in the nasty, cutthroat drama, quoted extensively, often in salty language.

He is particularly scathing about a June 2016 meeting involving Trump's son Donald Jr, son-in-law Jared Kushner, then campaign chairman Paul Manafort and Russian lawyer Natalia Veselnitskaya at Trump Tower in New York. A trusted intermediary had promised documents that would "incriminate" rival Hillary Clinton but instead of alerting the FBI to a potential assault on American democracy by a foreign power, Trump Jr replied in an email: "I love it."

The meeting was revealed by the New York Times in July last year, prompting Trump Jr to say no consequential material was produced. Soon after, Wolff writes, Bannon remarked mockingly: "The three senior guys in the campaign thought it was a good idea to meet with a foreign government inside Trump Tower in the conference room on the 25th floor – with no lawyers. They didn't have any lawyers.

"Even if you thought that this was not treasonous, or unpatriotic, or bad shit, and I happen to think it's all of that, you should have called the FBI immediately."

Bannon went on, Wolff writes, to say that if any such meeting had to take place, it should have been set up "in a Holiday Inn in Manchester, New Hampshire, with your lawyers who meet with these people". Any information, he said, could then be "dump[ed] … down to Breitbart or something like that, or maybe some other more legitimate publication"

Bannon added: "You never see it, you never know it, because you don't need to … But that's the brain trust that they had."

Bannon also speculated that Trump Jr had involved his father in the meeting. "The chance that Don Jr did not walk these jumos up to his father's office on the twenty-sixth floor is zero."

Bannon has criticised Trump's decision to fire Comey. In Wolff's book, obtained by the Guardian ahead of publication from a bookseller in New England, he suggests White House hopes for a quick end to the Mueller investigation are gravely misplaced.

"You realise where this is going," he is quoted as saying. "This is all about money laundering. Mueller chose [senior prosecutor Andrew] Weissmann first and he is a money-laundering guy. Their path to fucking Trump goes right through Paul Manafort, Don Jr and Jared Kushner … It's as plain as a hair on your face."

Last month it was reported that federal prosecutors had subpoenaed records from Deutsche Bank, the German financial institution that has lent hundreds of millions of dollars to the Kushner property empire. Bannon continues: "It goes through Deutsche Bank and all the Kushner shit. The Kushner shit is greasy. They're going to go right through that. They're going to roll those two guys up and say play me or trade me."

Scorning apparent White House insouciance, Bannon reaches for a hurricane metaphor: "They're sitting on a beach trying to stop a Category Five."
This isn't the first sign of a break between Bannon and Trump, of course. In addition to the fact of his abrupt dismissal from the White House back in August, which came just days after reports that Bannon's days were numbered, Bannon openly backed Roy Moore in the fight for the Republican nomination to replace Jeff Sessions in the White House while the President backed former Senator Luther Strange, who has since been replaced by Democrat Doug Jones as of today. Additionally, when he was dismissed in August, Bannon was quoted as saying that the Trump White House was "now a Democratic White House" and that the Trump Presidency was over. For the most part, though, Bannon reserved his fire for critics of the President such as Senators Jeff Flake, John McCain, and Bob Corker and there were several reports that the President continued to speak with his former adviser notwithstanding his dismissal from the White House. These latest statements, though, would seem to make clear that the break between Bannon and  Trump is far more permanent than seemed apparent in the wake of Bannon's dismissal.
What this means going forward is unclear, but it could make for some interesting political developments over the coming year. For the most part, Bannon and the reporters at Breitbart News, where he returned after leaving the White House, have been supportive of the President If this is the beginning of a more serious split between Trump and Bannon and the forces that Bannon controls, that could have interesting implications for the future, including the upcoming primary battles in advance of the 2018 midterms. Potentially, we could be seeing the beginning of a year where Trump sides with the GOP "establishment" while Bannon takes on the role that the Tea Party has dominated in the past of backing insurgents that seem more intent on beating Republicans than winning elections in November. If so, then it could make the next ten months interesting to say the least. Get out the popcorn ladies and gentlemen, it's going to be an interesting year.