Sean Spicer Out As White House Press Secretary
A big but not unexpected personnel change at the White House.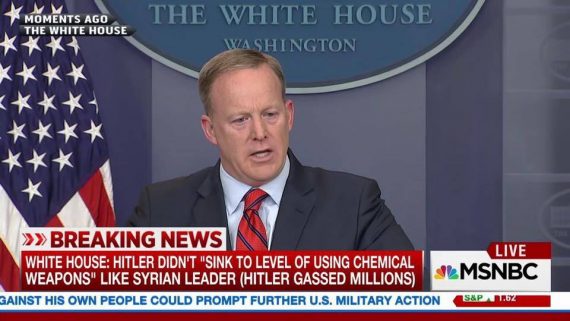 Just one day after the six-month anniversary of President Trump's inauguration, White House Press Secretary Sean Spicer has resigned in the wake of what appears to be a shakeup in the White House communications staff:
WASHINGTON — Sean Spicer, the White House press secretary, resigned on Friday morning, telling President Trump he vehemently disagreed with the appointment of the New York financier Anthony Scaramucci as communications director.

Mr. Trump offered Mr. Scaramucci the job at 10 a.m. The president requested that Mr. Spicer stay on, but Mr. Spicer told Mr. Trump that he believed the appointment was a major mistake, according to person with direct knowledge of the exchange.

Mr. Scaramucci, who founded the global investment firm SkyBridge Capital and is a Fox News Channel contributor, is known for his spirited on-air defense of Mr. Trump, but he also enjoys good relationships with journalists from an array of outlets, including those the president has labeled "fake news."

Mr. Spicer's turbulent tenure as the president's top spokesman was marked by a combative style with the news media that spawned a caricature of him on "Saturday Night Live."

His rumored departure has been one of the longest-running internal sagas in an administration brimming with dissension and intrigue. A former Republican National Committee spokesman and strategist, Mr. Spicer was a frequent target of the president's ire — and correctives — during the first few months of the administration.

His resignation is a blow to the White House chief of staff, Reince Priebus, the former Republican Party chairman who brought Mr. Spicer into the West Wing despite skepticism from Mr. Trump, who initially questioned his loyalty.

Mr. Scaramucci was to meet with Mr. Priebus on Friday, according to a West Wing official — and applause could be heard in the second-floor communications hallway when Mr. Scaramucci was introduced.

During the transition, Mr. Trump had planned to appoint Mr. Scaramucci, a 52-year-old Harvard Law graduate from Long Island, as director of his office of public liaison, but the offer was pulled at the request of Mr. Priebus over concerns about Mr. Scaramucci's overseas investments.

His appointment Friday came two months after the previous communications director, Mike Dubke, stepped down. Mr. Trump was frustrated with Mr. Priebus over the slow pace of finding a replacement, according to a half-dozen people familiar with the situation.

Mr. Trump made the appointment over the objection of Mr. Priebus, who thought Mr. Scaramucci lacked the requisite organizational or political experience. But the president believed Mr. Scaramucci, a ferocious defender of Mr. Trump's on cable television, was best equipped to play the same role in-house, and he offered him a role with far-reaching powers independent of Mr. Priebus's.
On some level, Spicer's departure is hardly a surprise since it has been rumored for some time now. Virtually from the beginning of the Administration, there have been reports from sources inside the Administration indicating that the President was displeased with Spicer's performance on the job at various points over the past six months. More often than not, those reports have indicated that the displeasure came from the fact that Trump believed that Spicer was not being aggressive enough in pushing back against what Trump and those around him view as being a 'biased' White House Press Corps. There have also been rumors at various points in the past six months that Trump was on the verge of firing Spicer and others in the inner White House circle as it has become clearer and clearer that the Administration has been an utter failure at anything resembling a coherent communications strategy. In that regard, the hiring of Anthony Scaramucci, who has appeared on cable news shows as one of the more outspoken surrogates for the Administration, can be seen as an effort to undercut Spicer since he would be taking a job that Spicer was also handling in addition to being Press Secretary. Finally, Spicer has been mostly on the sidelines in recent months since the increasingly rare White House press briefings have been handled by Deputy Press Secretary Sarah Huckabee Sanders, who has now been named as the new White House Press Secretary.
While much of the narrative of the coverage of today's personnel changes at the White House have been portrayed as being somewhat sympathetic to Spicer's fate, the truth of the matter is that he knew what he was getting into. Before coming to the White House a Press Secretary and Communications Director, Spicer worked for the Trump campaign and was front and center for all of the utter foolishness that campaign represented. On the President's first full day in office, he went out in front of the White House Press Corps and repeated what were rather obvious lies about the size of the crowd on Inauguration Day. From that day forward, he should have known what he was getting himself into. So, don't feel sorry for Sean Spicer. He did this too himself.