Sean Spicer Says He Regrets The Lie That Set The Tone For His Time At The White House
Sean Spicer now says he regrets the lies that defined his time at the White House.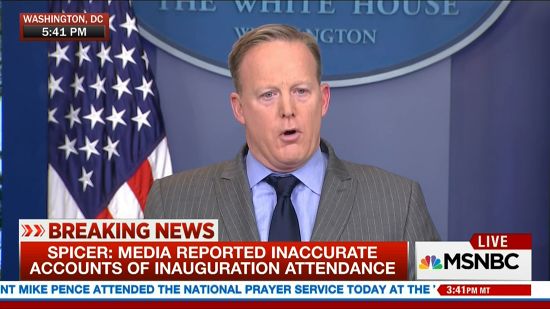 One day after a surprise appearance at the Emmy Awards ceremony that earned criticism from many pundits, former White House Press Secretary expressed regret for the incident that defined his time in the Trump Administration:
During his surprise comedy skit at the Emmys on Sunday, Sean Spicer may have made light of his six-month tenure as the White House press secretary, but a message was also embedded in his performance.

In an interview on Monday morning, Mr. Spicer said he now regrets one of his most infamous moments as press secretary: his decision to charge into the White House briefing room in January and criticize accurate news reports that President Barack Obama's inauguration crowd was bigger than President Trump's.

"Of course I do, absolutely," Mr. Spicer said.

For Mr. Spicer, who resigned this summer after repeated clashes with the news media and a sharp disagreement with Mr. Trump over the appointment of Anthony Scaramucci as communications director, the Emmys were his latest attempt to court the largely liberal coastal entertainment and news elites he so acidly disdained as the president's alter-ego spokesman. The once-obscure party spokesman has been elevated to a level of celebrity he scarcely dreamed possible a year ago. And, like many before him, he hopes to translate his embattled tenure into something more lasting and lucrative. So the Emmys were also a chance for Mr. Spicer to cultivate a television industry audience that he may need as he seeks speaking engagements and paid television appearances in his post-White House life.

Mr. Spicer's arrival on the Emmys stage garnered mixed reviews, however — not so much for his star turn with Stephen Colbert of "The Late Show" on CBS, but for Hollywood's sudden embrace of a man once viewed as a not-so-truthful mouthpiece for a president that much of the town despises.

As Mr. Spicer prepared to return to Washington, he was asked if he was worried that Mr. Trump would take offense over the skit, which many viewers saw as lampooning the president's preoccupation with the size of his inauguration crowd.

"I certainly hope not," Mr. Spicer said after a brief pause. "This was an attempt to poke a little fun at myself and add a little bit of levity to the event."

Mr. Spicer made his Emmys appearance at the end of Mr. Colbert's opening monologue, which included a long riff about Mr. Trump's uneasy relationship with the entertainment industry and his apparent frustration that his NBC reality series "The Apprentice" never won an Emmy Award.

Mr. Colbert, a frequent critic of both Mr. Trump and Mr. Spicer, went on to say that the president was primarily concerned with TV ratings, but that there was no way to know how large his audience was.

Mr. Colbert asked, "Sean, do you know?"

At that point, Mr. Spicer shot out of the wings — pushing a podium similar to the one immortalized by Melissa McCarthy in her impersonation of him on "Saturday Night Live."

He recited his briefing room statement, nearly word for word. "This will be the largest audience to witness an Emmys, period — both in person and around the world," he declared with a semi-straight face.

Laughter and applause could be heard throughout the Microsoft Theater, and celebrities in the audience were seen on the telecast, reacting with their mouths agape.

Mr. Spicer said he did not give the president or senior White House staff a heads up about his appearance, which had been in the works for several days.

In fact, virtually no one knew about it. According to Mr. Spicer, Mr. Colbert suggested the idea himself, and passed it to the former press secretary through his producer at CBS, who had gotten to know Mr. Spicer well years earlier when he was a producer on MSNBC's "Morning Joe."
Perhaps the most amusing piece of news is the cloak and dagger manner in which Spicer's appearance was handled:
When Mr. Spicer and his wife left Washington for Los Angeles on Saturday morning, he donned a disguise. He would not say what it was, though a friend of his hinted that it might have included fake facial hair. After checking in, he stayed in his hotel room, leaving only for a walk-through that took place after the hall had been cleared. When scripts were handed out to crew members and performers, his name was nowhere to be found — replaced by an innocuous surname that began with the letter "S."
As I noted on the day that Spicer made the obviously false comments regarding Inauguration Day crowd size, the fact that the Administration chose to begin its first day on the job did not set a very positive tone for how things were going to proceed into the future for the then-new President. Little did we know, however, how bad things would get. It's worth noting, for example, that the briefing room incident that made Spicer infamous among reporters occurred hours after the new President himself had made identical claims about the size of his crowd the day before during a speech at the C.I.A. in front of the memorial wall honoring the more than 100 agency employees who had died in the line of service. Days later, Trump adviser KellyAnne Conway was citing a 'massacre' that never happened to justify the President's controversial travel ban directed at nations where Muslims comprise a majority of the population. In the months that have followed, there have been numerous examples of blatant lies from Trump himself and those that work for him that have made that question a self-fulfilling prophecy. (See here, here, here, and here for just a handful of the most egregious examples over the past eight months)
This latest mea culpa from Spicer follows a week-long media tour that seems carefully planned to rehabilitate his image after what turned out to be a disastrous six months at the White House for him personally and professionally. As I noted at the time Spicer appeared for that first press conference, there was a time when Spicer had what could describe as a relatively good reputation among the Washington press corps. He worked as a press liaison for a number of Republican members of Congress during the late 90s, as well as for House organizations such as the House Budget Committee, the House GOP Conference, and the National Republican Campaign Committee, the principal organization responsible for recruiting and backing Republican candidates for the House of Representatives as well as serving for a brief time in George W. Bush's White House, a time which also included him playing the role of the Easter Bunny at the White House Easter Egg Roll. When Reince Priebus became Chairman of the Republican National Committee, Spicer became Communications Director at the RNC and appeared on television as the spokesperson for the RNC many times throughout the years. Whatever goodwill he had built up with reporters in those roles over the years, though, was utterly destroyed in a matter of minutes on January 21st, 2017.
Whether all of this will work or not remains to be seen. According to some reports, Spicer is hoping to be hired as a pundit by one of the cable news networks but has faced resistance in no small part because of his association with Trump and the manner in which his relationship with reporters deteriorated during the time he was in the White House. These latest media appearances he's been making, whether it's on Jimmy Kimmel's show or at the Emmys, along with yesterday's mea culpa, are obviously designed to try to make that transition easier. Whether they work is something only time will tell.