Once Again, Trump Lies And The Truth Dies
President Trump's reaction to the terror attack in Spain included an easily debunked lie about one of America's most decorated Generals.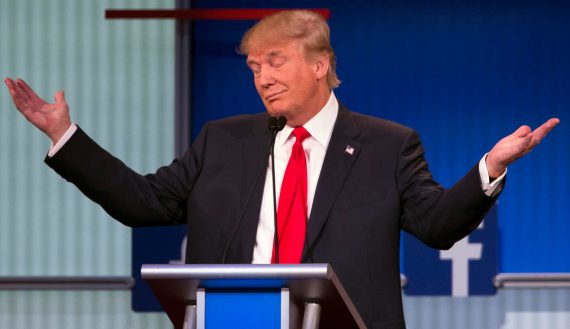 As I noted in my post about today's terror attack in Spain, President Trump reacted to the tragedy fairly quickly after the incident was first reported. One of those posts on Twitter included this claim against General John Pershing, who for a time commanded American forces in The Phillippines in the years shortly after the United States took control over the island nation after its victory over Spain in the Spanish-American War:
Study what General Pershing of the United States did to terrorists when caught. There was no more Radical Islamic Terror for 35 years!

— Donald J. Trump (@realDonaldTrump) August 17, 2017
During the time that Trump is referring to, Pershing and the forces he commanded were forced to deal with pro-independence rebels who were resorting to attacks on the civilian population and on American targets in a war that had started when Spain still controlled the territory. This all took place at the turn of the 20th Century, a decade or more prior to the World War One, which is when Pershing would become nationally famous due to his leadership of the American expeditionary force that fought alongside the British and French against Germany and the remaining Central Powers until the war ended in November 1918.
According to legends that appear to have started long after Pershing's death, and which started to become widely circulated among conservatives in the year after the September 11th attacks, Pershing dealt with these terror attacks, which were largely committed by groups that arose out of the Muslim population of The Phillippines, by ordering his troops to dip their bullets in pigs blood and to bury the bodies of executed terrorists with pigs, which is supposedly some sign of disrespect that was meant to horrify the terrorists. The legend goes on to claim that the terror attacks largely ceased after the groups committing them got wind of what Pershing was doing.
As it turns out, there is absolutely no historical evidence to substantiate this apparent myth:
The idea of subduing militant Muslims by threatening to bury them with pigs has held currency for many years. Just a few weeks before the September 11 terrorist attacks on America in 2001, Deputy Israeli police minister Gideon Esra suggested in the Israeli newspaper Yediot Aharonot that Palestinian suicide bombers be buried in pig skin or blood. In the 1939 film The Real Glory, Gary Cooper portrays Dr. Bill Canavan, an American Army doctor in 1906 Manila who "tries to protect the native population from ruthless invaders" (i.e., "Muslim fanatics"). At one point in the film, the Dr. Canavan character drapes a captured Muslim in a pigskin and proclaims that henceforth all slain Muslim rebels will be buried in pig skins, thereby discouraging their "savagery" by threatening to prevent their entry into paradise. And, of course, the above-cited anecdote about General Pershing's handling of terrorists in the Philippines has circulated widely on the Internet ever since 9/11 and even made the rounds at the top levels of U.S. government

(…)

Suffice it to say that General John J. "Black Jack" Pershing was part of the process as Governor of the troublesome Moro Province between 1909 and 1913. We found no references to this alleged incident in Pershing biographies, however, nor does it match the way Pershing is generally recorded as having dealt with the Moros in 1911. When they refused to obey Pershing's order banning firearms by surrendering their weapons, his response was to draft a letter to the Moros expressing sorrow that his soldiers had to resort to killing them to enforce the order:

I write you this letter because I am sorry to know that you and your people refuse to do what the government has ordered. You do not give up your arms. Soldiers were sent to Taglibi so that you could come into camp and turn in your guns. When the soldiers went to camp a Taglibi, your Moros fired into camp and tried to kill the soldiers. Then the soldiers had to shoot all Moros who fired upon them. When the soldiers marched through the country, the Moros again shot at them, so the soldiers had to kill several others. I am sorry the soldiers had to kill any Moros. All Moros are the same to me as my children and no father wants to kill his own children …

When negotiations stalled and matters came to a head, Pershing was still reluctant to be responsible for any more loss of life than was necessary:

[Pershing] went to his offices on [14 December 1911] only to hear a message from the Sulu district governor: hundreds of hostiles gathered on Jolo's Bud Dajo! The message had dread portent. Mount Dajo, awesomely high and capped with the creater of an extinct volcano, meant sacred things to Moros. It was the refuge against fate, the last bastion of the hopeless, the place where their ancestors stood off great waves of enemies. Once on the mountain, esconced in its big cotta, Moros would die gladly, as Leonard Wood had grimly learned. Retreat to Dajo meant a clear declaration of war.

Sobered and depressed, Jack wrote of an overriding worry: "I am sorry these Moros are such fools, but … I shall lose as few men and kill as few Moros as possible." Memories of Wood's massacre of men and families on Dajo rankled in the army and still bothered the chief of staff. Obviously another such slaughter in the winter of 1911 could adversely influence the 1912 elections in the States.

Pershing's strategy was to surround the Moros and wait them out while attempting to induce them to surrender, a strategy that worked effectively: the Bud Dajo campaign ended with only twelve Moro casualties. But in his report Pershing seemed keenly aware that the best approach was not to take any action that would encourage religious fanaticism:

There was never a moment during this investment of Bud Dajo when the Moros, including women, on top of the mountain, would not have fought to the death had they been given the opportunity. They had gone there to make a last stand on this, their sacred mountain, and they were determined to die fighting … It was only by the greatest effort that their solid determination to fight it out could be broken. The fact is that they were completely surprised at the prompt and decisive action of the troops in cutting off supplies and preventing escape, and they were chagrined and disappointed in that they were not encouraged to die the death of Mohammedan fanatics.
The Snopes article linked above does go on to note that there were some contemporaneous reports that at least part of the legend may be accurate in that some Moro rebels were buried with pigs and Pershing was apparently aware of this practice via reports from junior officers. However, there is absolutely no evidence that the practice had any impact at all on the attacks by the rebels, or that there was even any correlation between the practice and the eventual reduction in terror attacks that was apparent by the time Pershing left The Phillippines in 1913. Instead, that drop off appears to be related to a combination of efforts to resolve the rebellion by peaceful means and simply the fact that many of the rebels gave up their fight as the reality of American rule over the islands, which was at least far less severe than the way Spain treated the native population, sank in during the decade after the Spanish-American War ended.
This isn't the first time that Trump has made this claim, of course. He cited the legend several times during the course of his campaign, prompting historian William Lambers to look into the matter and concludes that there was no merit to Trump's claims:
During a campaign rally in South Carolina, [Donald] Trump told his audience a story about General John Pershing executing Muslim prisoners in the Philippines. Trump said Pershing, in the early 1900's, "caught 50 terrorists that did tremendous damage and killed many people and he took the 50 terrorists and he took 50 men and he dipped 50 bullets in pig's blood."

Trump went out to describe a mass execution shooting of 49 of the prisoners, with the last one being sent to tell the others what happened. It was Trump using this "story" to demonstrate that America needed to get tough on terrorism, using brutal methods, and that he would be the man to do it.

But the story is not true. There was no mass execution led by Pershing. That is a rumor created on the Internet.

A Chicago Daily Tribune article from 1927 has a story where Pershing had prisoners from the Moro Rebellion in the Philippines. The Moros were Muslims who resisted American or any other occupying force.

The Moros had swordsmen, called Juramentados, who were killing Christians in this uprising. It had to be stopped. General Pershing was given this difficult task.

The Tribune article says Pershing sprinkled some prisoners with pig's blood, which the Juramentados believed would condemn them for eternity. But then Pershing let the prisoners go. He issued a warning to others about being sprinkled with the pig's blood. The Tribune article said "those drops of porcine gore proved more powerful than bullets."

There were no executions as described by Trump.

In fact, Pershing was more inclined toward peace talks with the Moros rather than violence.

(…)

If Pershing were around today he would be advocating food for the hungry child refugees, which are at unprecedented levels today because of the war in Syria. They never talk about hunger during the presidential debates, but it's a top foreign policy issue, which Pershing and other great leaders have understood. Pershing was also deeply concerned about high levels of military spending. He often spoke about achieving global arms reductions and disarmament. Nations could work together to achieve this noble goal.

As a man who understood more about warfare than perhaps anyone in our country's history, Pershing knew well the danger of excessive armament. He might have some questions for Trump or others who talk about pouring on the military spending.

But instead of trying to learn from Pershing, Trump cites a false story in an attempt to sound tough and get a sound bite on TV. The last thing this world needs is more people talking or advocating violence, especially someone running for President.
Jake Tapper also talked about Trump's lie in its report on the terror attacks:
.@jaketapper: In the face of a horrific terror attack, President Trump told the world to study a story that's not true, a lie. pic.twitter.com/95dURyipWw

— The Lead CNN (@TheLeadCNN) August 17, 2017
So, once again, Trump is telling a lie, and he's insulting the memory of one of most decorated Generals and war heroes in the process. Not that he cares about the truth, of course.
Update: The New York Times fact checked the story, and similarly found it implausible given the available evidence:
Various versions of this myth began circulating around the time of the Sept. 11, 2001, attacks, often in email chains and on discussion boards online. In one version, Pershing also buried the rebels with "hog guts dumped atop the bodies." And in another, in a column published in National Review in December 2002, a few months before the invasion of Iraq, the act was attributed to unnamed troops under Pershing's command.

"This is a repeated myth that has no basis in truth," said James R. Arnold, the author of "Moro War: How America Battled a Muslim Insurgency in the Philippine Jungle, 1902-1913."

Mr. Arnold's view was echoed by eight other historians who were interviewed by PolitiFact when Mr. Trump made his original claim. (It earned him the website's lowest rating, "Pants on Fire.")

Further dispelling this event and the suggestion that it was highly effective and ushered in an enduring peace is its dubious timeline. Most versions of the tale say the episode occurred around 1911, but the Moro Rebellion officially lasted another two years. After 1913, Americans back home lost interest and United States troops withdrew.

Studying Pershing's historically documented actions during the Moro Rebellion — generally "a carrots and stick" approach, Mr. Arnold said — confers no silver bullets on how to approach terrorism.

Pershing "understood the imperative of having American forces involved at the grass-roots level," wrote Col. Robert M. Cassidy of the Army, a professor of strategy and policy at the U.S. Naval War College. But Pershing could also be brutal, killing women and children in one large battle, for instance.

To the extent that the Americans "won" over the rebels, Mr. Arnold attributes that to an outsize battle: The Moros had no outside support, were insulated on an island and were outgunned.
And, as noted above, Politifact also examined the claim when Trump made it on the campaign trail:
he idea that pig's blood could serve as a weapon against Muslims has been around in popular culture for decades.

For instance, a 1939 Hollywood movie, The Real Glory, stars Gary Cooper as a doctor on the Philippine island of Mindanao who drapes a captive in pigskin "to serve as an abject lesson to all would-be attackers," Luis H. Francia, a Filipino-born professor of Asian American Studies at Hunter College, wrote recently.

Snopes has been tracking Internet-based rumors of this sort since 2001, and a California National Guard facility removed a poster telling the Pershing story in 2005.

But the only historical evidence that something like this actually happened appears to come from a letter written by a soldier who served in the Philippines.

"Mr. C.C. Booth of Dallas, Texas, who served in Mindanao under Pershing, recalls seeing him hang a Moro chieftain by the heels over an open grave, kill a pig, and then drop the Moro into the grave with the bloody animal," according to a 1962 article by Donald Smythe in the Pacific Historical Review, an academic journal.

However, David J. Silbey, a Cornell University historian and author of A War of Frontier and Empire: The Philippine-American War, 1899-1902, raised red flags about its sourcing. This claim came from one letter — and one that was written in 1960, more than half a century after the events in question. (And for the sake of this fact-check, the details differ significantly from the story Trump told.)

Other historians agreed that the evidence is thin, to say the least.

"This story is a fabrication and has long been discredited," said Brian McAllister Linn, a Texas A&M University historian and author of Guardians of Empire: The U.S. Army and the Pacific, 1902-1940. "I am amazed it is still making the rounds."

Christopher Einolf, a professor at DePaul University and author of America in the Philippines, 1899-1902: The First Torture Scandal, added that he trusted the conclusion of the late military historian Frank E. Vandiver, who told About.com in 2003 that "I never found any indication that it was true in extensive research on his Moro experiences. This kind of thing would have run completely against his character."

Indeed, other historians noted that Pershing pursued a less brutal approach to "pacifying" the rebels in the southern Philippines than Leonard Wood, one of his predecessors.

"He did a lot of what we would call 'winning hearts and minds' and embraced reforms which helped end their resistance," said Lance Janda, a military historian at Cameron University. "He fought too, but only when he had to, and only against tribes or bands that just wouldn't negotiate with him. He wasn't solely committed to fighting as people like Trump who tell the pig blood story imply."

Another wrinkle: Historians said the premise that the rebels would have been motivated by a fear of pigs is not as certain as Trump suggests. It's unclear how religiously observant the insurgents were and whether such a policy would have made a difference in their actions.

"The Moros were fighting for a lot of reasons, not just because they were Muslims," Janda said. "This is another fact that gets lost in many modern discussions of terrorism."
The site also notes that, in the end, it was effectively an edict from the Sultan of the Ottoman Empire that persuaded the Moro rebels to lay down their arms:
"Even if the tale is true, the pacifying effect that Trump claims is nonsense," said Michael H. Hunt, an emeritus historian at the University of North Carolina and author of Arc of Empire: America's Wars in Asia from the Philippines to Vietnam. The region "remained in constant unrest during the period of American rule and into the period of independence, right down to the present."

Silbey of Cornell agreed. "Where Trump's remark becomes ridiculous is in the idea that this actually worked," he said. "The Moro War did not end until 1913, and even that's a bit of a soft date, with violence continuing for quite a while afterward. Defilement by pig's blood isn't — and wasn't — some magical method of ending terrorism."

If anything, a more complete account of the Moro insurgency involves some subplots that run contrary to Trump's narrative.

"The Ottomans under Sultan Abdul Hamid II sent a letter to the Sulu Moros asking them not to resist the Americans at the start of the Moro Rebellion, and the Moros on Sulu complied," Janda said. "It's a nice example of diplomacy working to our advantage, and a reminder that then and now, not all Muslims or Moros are the same and that many were and are U.S. allies."
As John Adams once put it, facts are stubborn images.