At Least Thirteen Dead, Dozens Injured, In Apparent Terror Attack In Spain
At least thirteen dead in an apparent terrorist attack in Spain.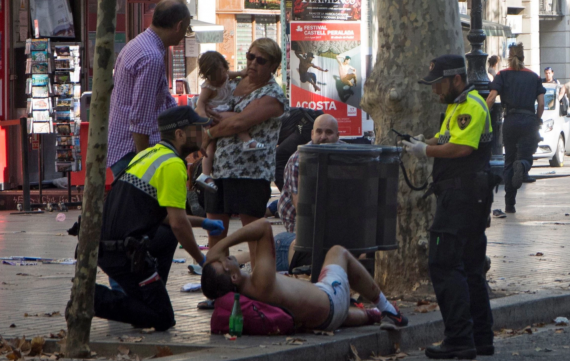 At least thirteen people are confirmed dead, and dozens injured, after a van rammed into a crowd at a tourist spot in Barcelona, Spain in what authorities have already labeled a terrorist attack:
A van crashed into pedestrians thronging a popular tourist area in the center of Barcelona, Spain, on Thursday, killing at least 13 people in what the police were calling a terrorist attack. At least 50 were wounded, Catalan officials said, and one man had been taken into custody.

Witnesses described people screaming and running for their lives as the driver of the van wove back and forth, apparently trying to hit as many people as he could. Police officers swept through the area near Las Ramblas, a wide boulevard with a large pedestrianized section, telling people to get out of the area.

"I heard a crowd screaming," Tom Markwell, a tourist from New Orleans, told the BBC. "It sounded like they were screaming for a movie star."

It was not immediately clear who was behind the assault, but Islamist militants have staged several attacks in Europe recently involving vehicles plowing into crowds.

The police were requesting that people not pass through the area near Plaza de Cataluña and Las Ramblas in the heart of the city, popular destinations for tourists.

The Barcelona police said they had put in place their protocols for dealing with serious attacks, the Catalan emergency services said that they had asked the authorities to close metro and train stations in the area.

"There has just been a massive trampling on the Ramblas in Barcelona by a person with a van," the Catalan police said on Twitter.

Keith Fleming, an American who lives just off Las Ramblas, told The Associated Press that he was watching television when he heard a noise, looked out over his balcony and "saw women and children just running and they looked terrified."

Mr. Fleming said that the street was deserted, with the exception of police officers with guns drawn or in riot gear. "It's just kind of a tense situation," The A.P. reported him as saying. "Clearly people were scared."

American counterterrorism officials in Washington said they were in contact with Spanish authorities to offer any assistance, but underscored that the investigation had just started.

Pro-Islamic State accounts on the Telegram messaging service shared news of the attack. One channel, called "Expansion of the Caliphate," posted video of the scene of the violence alongside a message in Arabic. "Terror is filling the hearts of the Crusader in the Land of Andalusia," it said, using the Arabic name for the Iberian Peninsula.

Since the lead-up to last year's Olympic Games in Brazil, the Islamic State has devoted resources to translating their channels and messages into Spanish.

Although countries like France and Britain have repeatedly been named in Islamic State propaganda urging followers to plan and stage attacks, Spain has been less in the cross hairs.

The country has, however, been a transit point for recruits of the militant group, both for those going to Syria and those returning. The Spanish police arrested nine people in April who they said may have been connected with deadly attacks in France and Spain.
More from The Washington Post:
 A driver swerved a van onto a pedestrian area Thursday in Barcelona's historic Las Ramblas district, ramming into crowds and leaving at least 13 people dead and more than 50 injured scattered along a stretch of tree-shaded sidewalk. Authorities described the incident as a terrorist attack.

Joaquim Forn, the interior minister of the Catalan regional government, confirmed the casualty toll in a Twitter message.

Some of those injured were in serious condition, raising the possibility that the death toll could rise.

Earlier, Spanish police described the carnage as "massive."

Spanish police did not immediately give details on the driver or other aspects of the incident.

Regional police arrested one man in connection with the attack, Catalan police authorities announced on Twitter, without offering additional identification. They said there was no hostage situation in a bar in the city center, denying rumors that quickly spread in the confused hours after the van plowed through the crowd.

Cities around the world have been on higher alert for vehicle-linked attacks after terrorist crashes in London, Stockholm, Berlin and other places in the past year.

Islamic State supporters celebrated the Barcelona attack on Thursday and promoted previous threats made against Spain, but the group did not immediately issue a claim of responsibility, according to the SITE Intelligence Group, which monitors extremist activity.

The Islamic State, also known as ISIS, has called on supporters to carry out attacks using vehicles. The group has claimed responsibility for car attacks carried out in Europe, as well as on the campus of Ohio State University last year.

(…)

Video posted on social media showed at least four people sprawled on the sidewalk, some apparently not moving. Hats, handbags and other items were strewn nearby. Some people ran screaming from the scene.

The white van that veered into the pedestrians came to stop with its front scratched and crumpled.

"All of a sudden, the police just shouted at everyone, telling them just to run. There was a really loud kind of crashing noise. I didn't stop to look back," Ethan Spieby, a witness caught up in the commotion, told the BBC.

He said he was holed up in a church with about 80 tourists and locals. "They have locked the doors, and I think the police are outside. We're just waiting in here right now to hear more news. It's quite scary to be caught up in it."

Andrew Roby, 35, a tourist visiting from Washington, told The Washington Post he saw a small white van that had plowed into pedestrians on the busy central street, lined with bars, cafes and shops. "All of sudden, everyone started running, so we ran, too."

Roby said he saw several people, apparently wounded, lying in front of and beside the van. "We saw people on the ground. . . . I heard a bunch of people screaming."

Tom Markwell, another American tourist, told the BBC that he saw a white van "going entirely too fast. It looked to me as if he was going left to right, hitting people with the little stand. . . . All of a sudden, people were just screaming and running."

Police immediately cordoned off the area in the center of Barcelona. Stores and restaurants were ordered closed.

Las Ramblas is one of the city's top tourist zones, with a wide pedestrian promenade flanked by roadways on either side.

The bustling avenue in the heart of Barcelona was packed with tourists at the height of vacation season. Spain has been largely spared major terrorist incidents since a 2004 attack on the Madrid commuter train system, but authorities have been concerned about terrorist risks for some time as neighbors were repeatedly struck.

The Catalonia region of Spain has also faced repeated terrorist attacks over decades from the ETA Basque separatist group. Catalonia is planning an independence vote Oct. 1 over the objections of the national government in Madrid, which says it is unconstitutional.
It seems unlikely, though, that this attack is connected to the ETA, other Basque terrorist groups, or the Catalan independence vote. Instead, this attack is consistent with attacks we've seen over the past year from apparent lone wolves who ultimately seem to have been inspired or radicalized in some way by ISIS, usually via the Internet, and who decided to rent a van and carry out an attack in an area known to be popular with the many tourists who visit Barcelona. Last summer, for example, a truck plowed into a Bastille Day crowd in Nice, France and killed dozens while injuring dozens more. More recently, there has been a spate of these types of attacks in London, with one in March resulting in three deaths on a bridge within sight of Parliament and another occurring on a June night near London Bridge. In between, the United Kingdom also dealt with a bombing at a concert in Manchester that killed more than twenty people and what appears to have been a copycat attack with a vehicle outside a mosque in London by a person who had previously voiced strongly anti-Muslim opinions. Elsewhere in Europe, in April five people were killed in an attack in Stockholm when a truck struck a crowd in a tourist area of the city. With the exception of the attack on the mosque, all of those attacks were committed by men who appear to have been ISIS
While the identity of the suspects in this matter has not yet been identified, the fact that this attack is consistent with so many others that we've seen just this year makes it seems likely that we're dealing with another "lone wolf" type of attack by someone who was inspired in some way by ISIS. In this case, police have apparently already arrested three people, including both the apparent driver of the van and two others who they believe may be connected to the attack in some way although it's not clear at this point in what capacity that might be. Beyond that, authorities are being rather tight-lipped and have yet to hold a formal news conference briefing the media about the attack. Until we get those details, of course, we are mostly going by guess work and speculation, but that speculation seems to be well-informed and the consistency with previous attacks makes the likely suspects rather apparent.
Update: Not surprisingly, President Trump was quick to respond on Twitter, much quicker than he responded to the events in Charlottesville last Saturday:
The United States condemns the terror attack in Barcelona, Spain, and will do whatever is necessary to help. Be tough & strong, we love you!

— Donald J. Trump (@realDonaldTrump) August 17, 2017
Study what General Pershing of the United States did to terrorists when caught. There was no more Radical Islamic Terror for 35 years!

— Donald J. Trump (@realDonaldTrump) August 17, 2017
In that second Tweet, Trump is apparently referring to a claim about how General "Black Jack" Pershing dealt with a terrorist problem in The Phillippines during the time that he was in command of American military forces there According to the legend, which has spread widely since the September 11th attacks and most notably among conservatives, Pershing instructed his soldiers to dip their bullets in pigs blood and bury dead terrorists with pigs in some apparent intent to insult their religion. As Snopes reports, multiple historians have debunked these legends and history instead attributes to the decline in terror attacks under Pershing command to a combination of enhanced security and the terrorists simply giving up as American control of the country became a reality. So, once again, our President is lying.