Dozens Dead, Dozens More Injured, As Truck Rams Bastille Day Crowd In Nice
A night of terror mars Bastille Day celebrations in France.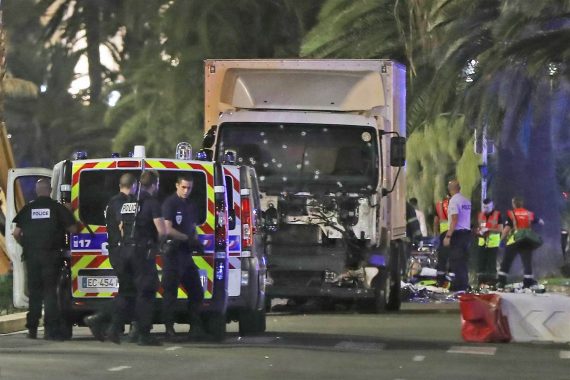 Up to 60 people, and perhaps more, are reported dead, and at least 100 injured, after a truck rammed into a crowd gathered in Nice, France to celebrate Bastille Day:
PARIS — A truck plowed into a large crowd watching the annual Bastille Day fireworks on the promenade in Nice on Thursday night, and a number of people were feared dead. There was no official confirmation of the number of casualties, but witnesses reported hearing gunshots.

A Twitter message from Christian Estrosi, the deputy mayor of Nice, said that there might have been "tens of deaths" but he did not provide exact numbers or other details. It was not clear what motivated the driver to veer into into the crowd.

Officials asked people to stay indoors.

Conflicting accounts of the deaths and injuries emerged from multiple sources after the episode, with many reporting high numbers of casualties.

The sub-prefect of the Alpes-Maritimes department, Sébastien Humbert, told the French network BFMTV: "There are several dozen dead. The total is very high, thirty dead. Maybe 100 wounded. There was a truck that drove into the crowd, over a very long distance. There were shots. The driver was shot. This is on a big scale."

Daphne Burandé, 15, who was at a bar near the beach to watch the fireworks, said: "We were enjoying the celebrations when we suddenly saw people running everywhere and tables being pushed down by the movement of panic."

"No one explained to us what was happening and I heard some gunshots not very far away," she said. "I waited at the bar for more information because I thought it was a false alert. But then, people were still running."

France has been on alert for a terrorist attack for months, and officials have warned repeatedly that another attack is likely. Last November, attacks in and around Paris killed 130 people.

On Twitter, a woman who said her terrace overlooked the promenade where the episode unfolded reported hearing gunfire.

Several witnesses spoke on iTele, a French television station. A man who gave his name as Michel, working at the Voilier Plage restaurant in front of the Promenade des Anglais, said that around 10:30 pm a large white truck drove into a crowd that had gathered near the beach to watch Bastille Day fireworks, apparently killing dozens of people. "A huge number of people started running, then there was a lot of gunfire," he said. The police arrived on the scene and engaged in a shootout with the two occupants of the truck.

Another witness who owns a restaurant nearby, whom iTele did not identify, said that when the truck plowed into the crowd, it "crushed everyone in its path." Then two men got out of the truck "and started shooting into the crowd, about 50 shots," the witness said.
More from The Washington Post:
A truck rammed into a crowd celebrating Bastille Day in the French Riviera city of Nice on Thursday night, killing at least 30 people in an apparent attack, French news media reported.

The truck struck the crowd on the Promenade des Anglais, a seaside walk in center of the city in southern France, according to Nice Matin, a regional newspaper. About 100 people were reported injured.

A federal prosecutor in Nice put the death toll at about 60.

Local authorities were treating the incident as an attack and urging people to stay home, the French television channel BFM TV reported. It occurred as a large crowd was watching a fireworks display celebrating the French national holiday.

CNN quoted an American witness as saying he saw one person in the large white truck and heard gunfire, although it was not clear whether it came from the driver or was being fired at the vehicle.

The witness said the driver accelerated as he was mowing people down.

The Associated Press quoted Wassim Bouhlel, a Nice native, as saying that after slamming into the crowd, the truck driver emerged with a gun and started shooting.

"There was carnage on the road," Bouhlel said. "Bodies everywhere."

The Interior Ministry in Nice said about 100 people were injured and that the truck's driver was shot by police.

France was rocked by a devastating terrorist attack in November, when heavily armed suicide bombers killed 130 people in several places around Paris. The Islamic State claimed responsibility for that attack, the worst bloodshed on French soil since World War II.

In March, Islamic State attackers killed 32 people in suicide bombings at the Brussels airport and a metro station.

News footage from the scene of the Nice incident showed the truck's windshield riddled with bullet holes.

Analysts noted that the Islamic State has called on its followers to kill civilians in Western countries by any means possible, including vehicular attacks.
And BBC News:
A lorry has struck a crowd during Bastille Day celebrations in the southern French city of Nice, killing about 60 people, officials are quoted as saying by local media.

The incident took place on the famous Promenade des Anglais during a firework display.

One image on Twitter showed about a dozen people lying on the street.

The local prefecture has urged people in the area to remain indoors, calling the incident "an attack".

Nice Mayor Christian Estrosi said that "a lorry driver appears to have killed dozens of people".

Sebastien Humbert, the prefect of the Alpes-Maritimes region, told France's BFM TV that the lorry driver had been shot dead.

French media later quoted Nice prosecutors as saying that about 60 people were dead.

(…)

Some reports spoke of shots being exchanged between police and the occupants of the lorry but these have not been confirmed.

Social media video showed people running through the streets in panic following the incident.

A journalist with the Nice Matin newspaper reported from the scene that there was "a lot of blood and without doubt many injured".

(…)

One eyewitness told BFM TV: "Everyone was calling run, run, run there's an attack run, run, run. We heard some shots. We thought they were fireworks because it's the 14th of July.

"There was great panic. We were running too because we didn't want to stick around and we went into a hotel to get to safety. "
It's obviously far too early to say for sure, but the initial reporting seems to clearly indicate that this was clearly some kind of deliberate attack. In addition to the fact that the truck drove for more than two kilometers as it struck people standing in the crowd, it's now being reported that the driver of the truck was firing into the crowd before he began driving into it at an increasingly fast speed, seemingly deliberately aiming to kill or injure as many people as possible. Additionally, it is being reported that the truck was carrying firearms, explosives, and other dangerous items that could have killed and maimed many more people if they had exploded on its own. Taken together with all the other events in France specifically and Europe in general over the past year or more, the most logical conclusion is that this was some kind of deliberate attack, most likely one planned by a cell affiliated with ISIS or at least inspired by the terrorist organization.
More details will be forthcoming as the night goes on, and tomorrow morning, obviously, but it's worth noting that this would not be the first time that jihadist terrorists used or attempted to use a vehicle as a weapon in a terrorist attack rather than simply a means to deliver a bomb. Similar attacks, albeit on a smaller scale, have occurred in places such as Canada and France in recent years. None of them have been on this scale, however, nor have they resulted in a death and injury toll as high as this apparent attack has. The question that this type of attack raises, though, is exactly what could be done to stop an attack like this given the fact that there doesn't appear to have been any advance warning of an attack in the Nice area, or anywhere else in France for that matter. Additionally, the attack took place at a time when the emergency security protocols that President Francois Hollande put in place after the Paris attacks remain in effect throughout the country. Those protocols appear to have had little impact on the ability of authorities to stop an attack, which makes one wonder what could stop these ISIS-inspired terrorists at this point.