Donald Trump Resurrects The Worst Of Clinton Derangement Syndrome
For Donald Trump at least, the start of the General Election campaign is the perfect time to dredge up decades old conspiracy theories.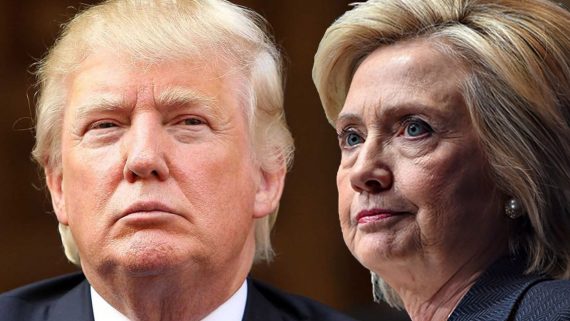 The General Election campaign has barely started and, already, Donald Trump has chosen to single-handedly drag it into the gutter by turning to a regurgitation of 90s conspiracy theories about the Clinton's and a visit back to President Bill Clinton's alleged sexual misconduct:
Republican presidential candidate Donald Trump is reviving some of the ugliest political chapters of the 1990s with escalating personal attacks on Bill Clinton's character, part of a concerted effort to smother Hillary Clinton's campaign message with the weight of decades of controversy.

Trump's latest shot came Monday when he released an incendiary Instagram video that includes the voices of two women who accused the former president of sexual assault, underscoring the presumptive Republican nominee's willingness to go far beyond political norms in his critique of his likely Democratic rival.

The real estate mogul has said in recent interviews that a range of Clinton-related controversies will be at the center of his case against Hillary Clinton.

"They said things about me which were very nasty. And I don't want to play that game at all. I don't want to play it — at all. But they said things about me that were very nasty," Trump told The Washington Post in an interview. "And, you know, as long as they do that, you know, I will play at whatever level I have to play at. I think I've proven that."

Clinton's campaign has largely refused to engage the recent attacks directly, instead focusing — as Clinton did Monday during an appearance in Detroit — on Trump's demeanor and job qualifications.

Clinton campaign spokesman Brian Fallon said Monday on Bloomberg TV that Trump's attacks were part of a "strategy to try to distract from an issues-based campaign, which is what we intend to run. . . . To me, every day he spends in this type of stuff is a misspent opportunity by him in terms of doing the outreach he needs to do to improve his numbers."

The race already appears to be teed up as a referendum on the two candidates' pasts rather than their visions for the country's future. Clinton has increasingly directed fire at Trump's long history of derogatory statements about women, his bankruptcies and other controversies to argue he is unfit for office.

Trump, meanwhile, has sought to brand the former secretary of state as "Crooked Hillary," pointing to such issues as the Whitewater real estate controversy in the 1990s and foreign donations to her family's philanthropic organization over the past decade. Trump also regularly accuses the Clintons of hypocrisy on women's issues and argues that Hillary Clinton has been an "enabler" of her husband's actions and attempting to discredit the women in question.

In one recent interview, Trump said another topic of potential concern is the suicide of former White House aide Vincent Foster, which remains the focus of intense and far-fetched conspiracy theories on the Internet.

"It's the one thing with her, whether it's Whitewater or whether it's Vince or whether it's Benghazi. It's always a mess with Hillary," Trump said in the interview.

The presumptive Republican nominee and his associates hope that his tactics will bring fresh scrutiny to the Clintons' long record in public life, which conservatives characterize as defined by scandals that her allies view as witch hunts. Through social media and Trump's ability to garner unfiltered attention on the Internet and the airwaves, political strategists believe he could revitalize the controversies among voters who do not remember them well or are too young to have lived through them.

"The Clintons collectively have dodged many, many, many bullets. So much that was suppressed [by the media] is going to get re-analyzed. So many of the things that they slipped by on will get reexamined," Trump confidant Roger Stone said Monday. "That's something they should have counted on before getting into the race."

At the same time, Trump has often dismissed scrutiny of his own behavior, including his questionable treatment of women, which served as tabloid fodder in New York City in the 1980s and 1990s. He has regularly criticized the media for reporting on events from decades ago.

"When was this? Twenty-five years ago? Wow, you mean you're going so low as to talk about something that took place 25 years ago," Trump said earlier this month when asked about pretending to be his own publicist in the 1990s.
Trump didn't always feel this way about Clinton's personal scandals. In the past, Trump was been quoted in interviews as dismissing the importance of the stories about former President Clinton's sex life, including an interview as recently as 2008 when Trump said Clinton never should have been impeached, said that the former President got into trouble over something 'totally unimportant,' and contrasted the impeachment of President Clinton with what he asserted were the more serious issues regarding the record of George W. Bush such as the Iraq War. It's only been since he began expressing interest in running for President as a Republican four years ago that Trump has shifted ground on the relevance of the allegations against President Clinton and asserted the claim that Clinton's personal behavior, and Hillary Clinton's alleged complicity in that behavior, is somehow relevant twenty years later when there is an entire generation of new voters who have no real memory of the more sleazy aspects of the Clinton years. Given the fact that he's trying to appeal to Republican voters, among many of whom the controversies and allegations of the 1990s are as fresh and relevant today as they were when the likes of Rush Limbaugh were talking about them on a daily basis tw0 decades ago.
On some level, hearkening back to the 'scandals,' real and imagined, of the 1990s is simply a continuation of a strategy that Trump has been following since the beginning of his campaign. Just as he was able to successfully undercut his Republican opponents by attacking them as "low energy" and labeling them with nicknames that stuck like clue such as "Little Marco," Lyin' Ted,' and others, Trump has been seeking to get the "Corrupt" nickname to stick to Hillary Clinton for some time now. His stump speeches regularly refer to her as "Corrupt Hillary" now, and by adding in the allegations from the 90s, Trump is clearly attempting to both appeal to the far right of the Republican Party and throw the Clinton campaign off balance by forcing them to address allegations that they haven't had to face on a regular basis for quite a long time now. Additionally, bringing up the allegations from the 90s, and especially Hillary Clinton's alleged involvement in attacking these women in the media during the Clinton Administration, is also aimed at undercutting the Clinton's campaign's own effort to attack Trump on sexism and gender issues. Ask a Trump campaign adviser about this, and they will tell you that there is an entire generation of young female voters who have no memory of the Clinton Era and for whom these allegations about sexual assault and worse could be seen as far more serious than one might expect. So far at least, there is no evidence in the polls that Clinton's standing among women at any level has been all diminished by Trump's attacks.
In any case, the fact that Trump has jumped so quickly to what is arguably the sleaziest part of any campaign against Clinton does not bode well for the race going forward. Rather than a serious debate over policy issues and the future direction of the country, the 2016 campaign appears to already be headed down a path that can seemingly only end with both campaigns seeking to hit each other with the worst aspects of the allegations about each other. Given the fact that the Republicans have nominated a candidate who has no substance, no real policy ideas, and regularly displays ignorance about even some of the most basic matters of foreign and domestic policy this is, I suppose, unsurprising. The fact that it's not surprising, though, doesn't make it acceptable, and one would hope that the voters would punish a candidate like Trump whose first instinct is to rely on conspiracy theories and innuendo to win an election rather than giving them a reason to vote for him. Sadly, though, the strategy that Trump is following now is the same one that worked for him during the race for the GOP nomination, so he's unlikely to change strategies unless there's evidence it isn't working.