Michael Cohen Hearing Paints Trump In Horrible Light
Michael Cohen pulled back the curtain and revealed much about the true nature of Donald Trump yesterday. It's not a pretty picture.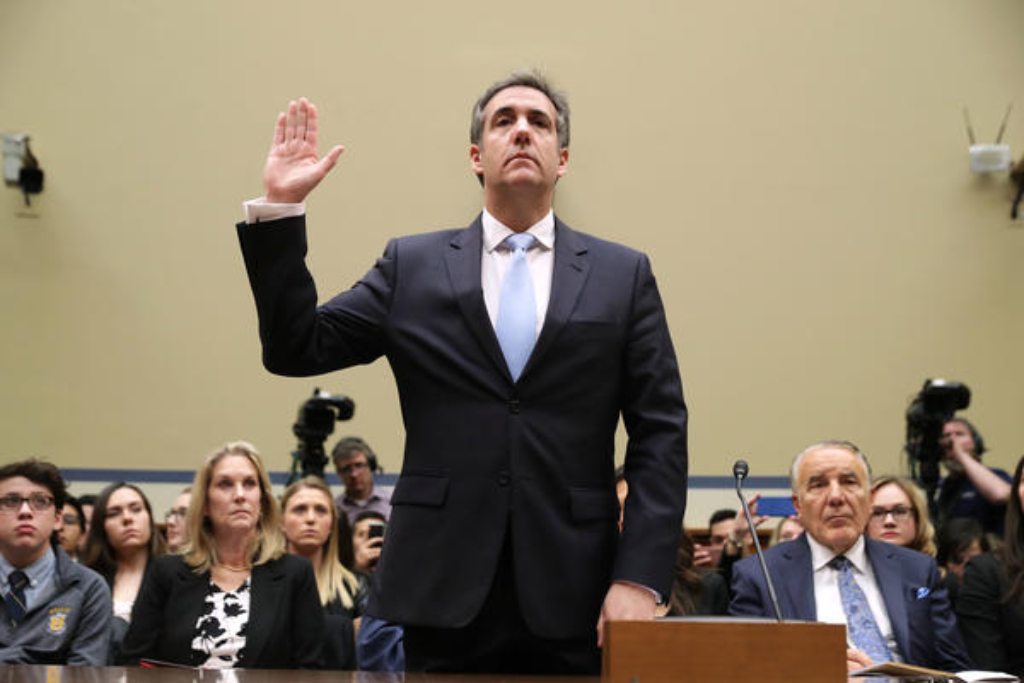 Yesterday's testimony by Donald Trump's lawyer and "fixer" Michael Cohen before the House Government Oversight Committee was riveting, eye-opening, and did not go well for the President of the United States:
WASHINGTON — President Trump's longtime lawyer and fixer accused him on Wednesday of an expansive pattern of lies and criminality, offering a damning portrayal of life inside the president's orbit where he said advisers sacrificed integrity for proximity to power.

Michael D. Cohen, who represented Mr. Trump for a decade, laid out for Congress for the first time a series of deceptions by the president. He charged that Mr. Trump lied to the public about business interests in Russia, lied to reporters about stolen Democratic emails and told Mr. Cohen to lie about hush payments to cover up sexual misconduct.

The accusations, aired at a daylong hearing before the House Oversight and Reform Committee, exposed a dark underside of Mr. Trump's business and political worlds in the voice of one of the ultimate insiders. Perhaps no close associate has turned on a president in front of Congress in such dramatic fashion and with such high stakes since John Dean testified against President Richard M. Nixon during the Watergate scandal.

"He is a racist. He is a con man. And he is a cheat," Mr. Cohen said of the president. Mr. Cohen, who has pleaded guilty to lying under oath to Congress, among other crimes, said he did so to protect Mr. Trump. "I am not protecting Mr. Trump anymore," he said.

While the details have been different, his portrait of the president broadly resembles those provided by others who have split with Mr. Trump, including former aides, business associates and even his onetime ghostwriter, who likewise have described a president who bullies, dissembles and cheats to serve his own interests.

But it remained unclear whether Mr. Cohen's testimony would change the political dynamics of a series of scandals that have already polarized Washington and the country and that could lead to an impeachment battle this year. Representative Elijah E. Cummings, Democrat of Maryland and the committee chairman, said afterward that Mr. Trump may have committed a crime while in office, but Republicans were unmoved.

Assailing Mr. Cohen as a proven liar, they denounced the hearing as a "charade" and an "embarrassment for our country" orchestrated by partisan Democrats seeking a pretext to try to remove Mr. Trump from office. Democrats said Republicans "ran away from the truth" as they sought to defend a corrupt president who has employed "textbook mob tactics."

The hearing took place while the president was halfway around the world in Vietnam for a meeting with North Korea's leader. His family and advisers expressed anger at the timing, arguing that Democrats were undercutting Mr. Trump during sensitive nuclear diplomacy for political gain.

As with so many other moments of the Trump era, the hearing seemed to be as much about partisan theater as fact-finding. Democrats and Republicans set forth their conflicting narratives about the man who once served Mr. Trump, either as a duplicitous disgruntled former employee or a fallen sinner trying to redeem himself by coming clean.

Through it all sat Mr. Cohen, 52, with dark circles under his puffy eyes, already tired from eight hours of testimony behind closed doors the day before and awaiting a three-year prison term that begins this spring. Apologizing repeatedly to his family, Mr. Cohen portrayed himself as a broken man brought down by hubris, at one point choking up and wiping tears from his eyes at the mention of the effect on his daughter.

Through some five hours of nationally televised testimony, Mr. Cohen described his years working for Mr. Trump as a trip into a world of deceit in which the now-disbarred lawyer ignored his own conscience to get close to a magnetic person of power.

"Sitting here today, it seems unbelievable that I was so mesmerized by Donald Trump that I was willing to do things for him that I knew were absolutely wrong," Mr. Cohen said. When he met Mr. Trump, he knew him as "a real estate giant and an icon" at the center of the action. "Being around Mr. Trump was intoxicating," he said.

In private business, Mr. Cohen said he rationalized Mr. Trump's dishonesty as "trivial," but as president, he said, "I consider it significant and dangerous."

The president's re-election campaign organization dismissed Mr. Cohen on Wednesday as a convicted perjurer who should not be trusted. "This is the same Michael Cohen who has admitted that he lied to Congress previously," Kayleigh McEnany, the campaign's national press secretary, said in a statement. "Why did they even bother to swear him in this time?"

Republicans on the committee aggressively challenged Mr. Cohen along the same lines. Representative Jim Jordan of Ohio, the ranking Republican, called Mr. Cohen a "fraudster, cheat, convicted felon and, in two months, a federal inmate."

Mr. Jordan questioned Mr. Cohen's motives in assailing Mr. Trump's character and actions, suggesting that the former lawyer was embittered because the new president did not bring him to Washington.

(…)

Mr. Cohen laid out a series of actions by Mr. Trump that bolster previous accusations and news stories, presenting documents to corroborate his account, including copies of checks issued by the president or his trust that he said were reimbursements for $130,000 in hush payments Mr. Cohen made to Stormy Daniels, a pornographic film actress who alleged an affair with Mr. Trump.

Mr. Cohen said that Mr. Trump, as a candidate, initiated the hush payment plan and, while president, arranged for 11 checks reimbursing the lawyer "as part of a criminal scheme to violate campaign finance laws," a crime to which Mr. Cohen has pleaded guilty.

After news reports about the payments in February 2018, Mr. Cohen told lawmakers, the president called and told him to say that Mr. Trump "was not knowledgeable of these reimbursements and he wasn't knowledgeable of" Mr. Cohen's actions. Mr. Trump himself later told reporters he did not know about it.

Mr. Trump's signature on a $35,000 check to Mr. Cohen, however, appeared to contradict that. Asked later by reporters if that meant Mr. Trump committed a crime while in office, Mr. Cummings said, "Based on looking at the checks and listening to Mr. Cohen, it appears that he did."

Mr. Trump likewise did not report the debt to Mr. Cohen on his annual financial disclosure statement in 2017, but did report paying it off on his 2018 form.

Mr. Cohen told lawmakers that Mr. Trump personally monitored negotiations to build a Trump Tower in Moscow, asking about it "at least a half-dozen times" between January and June 2016, even while running for president.

"Mr. Trump knew of and directed the Trump Moscow negotiations throughout the campaign and lied about it," Mr. Cohen said. "He lied about it because he never expected to win. He also lied about it because he stood to make hundreds of millions of dollars on the Moscow real estate project."

In previous testimony before his prosecution, Mr. Cohen lied to Congress by saying negotiations ended in January 2016. Mr. Trump did not explicitly instruct him to lie to Congress, Mr. Cohen said, but through his actions, he "made clear to me" that "he wanted me to lie," and the president's lawyers reviewed and even edited Mr. Cohen's false statement to Congress.

Mr. Cohen said he had no "direct evidence that Mr. Trump or his campaign colluded with Russia." But, he added, "I have my suspicions."

He pointed to the June 2016 meeting at Trump Tower in which Donald Trump Jr., the candidate's eldest son; Jared Kushner, his son-in-law; and Paul Manafort, the campaign chairman; met with visiting Russians after being told that they had "dirt" on Hillary Clinton from the Russian government.

The president has denied knowing about the meeting. But Mr. Cohen cast doubt on that, saying he was in Mr. Trump's office one day in June 2016 when Donald Jr. came in, went behind his father's desk and, speaking in a low voice, said, "The meeting is all set." The candidate, he said, replied, "O.K., good. Let me know."

Mr. Cohen said that might have referred to the Russia meeting because "Mr. Trump had frequently told me and others that his son Don Jr. had the worst judgment of anyone in the world" and that his son "would never set up any meeting of significance alone and certainly not without checking with his father."

Mr. Cohen also recalled being in Mr. Trump's office shortly before the Democratic National Convention in 2016 when Roger J. Stone Jr., a longtime adviser, called. Mr. Trump put him on speaker phone and Mr. Stone reported that he had just spoken with Julian Assange, the founder of WikiLeaks, who said "that within a couple of days, there would be a massive dump of emails that would damage Hillary Clinton's campaign."
As I noted when I previewed Cohen's testimony yesterday, there are plenty of reasons to doubt Cohen's testimony as it stands by itself. This is, after all, a man who has pled guilty to lying to Congress, among other fraud-based charges regarding both his own personal finances and his work for the President before he became a Presidential candidate, while he was running for the Republican nomination, during the General Election campaign, and to some extent after he became President. In a court of law, Cohen would be the kind of witness who would have been subjected to withering cross-examination based on his previous admittedly untruthful statements and fraudulent conduct. The fact that he has admitted to lying in the past, though, doesn't necessarily make what he testified to yesterday, and what he has and will testify to before the Intelligence Committees, untrue. This is especially true with regard to those matters that there is corroborating evidence such as documents like those that Cohen made available to the committee as well as the testimony of other potential witnesses, some of whom Cohen named yesterday inside the Trump Organization and the Trump 2016 campaign who likely have information regarding incidents that Cohen testified to during the course of the hearing. Moreover, given the fact that Cohen has a plea agreement with the Department of Justice that makes clear that any future crimes he might commit, including lying to Congress could lead to the revocation of the plea agreement and the imposition of a much tougher sentence than the three years he will have to serve beginning in May, Cohen has a significant incentive tell the truth.
As for the substance of the hearing, it ended up following roughly along the lines that Cohen set in his opening statement, which was perhaps the most dramatic moment in the hearing. For example, Cohen detailed the circumstances surrounding the negotiation of the agreements with Stormy Daniels and Karen McDougal under which the two women were paid a total of $260,000 for their silence in the closing weeks of the campaign. With respect to the McDougal payment, this included the role that American Media Group, the publisher of the National Enquirer, and its President David Pecker played in the process and the effort that Trump and Cohen made to purchase the McDougal story rights from AMI in order to make sure that they never became public. Cohen also made clear that he was reimbursed for the Daniels payment by Trump himself and by The Trump Organization. This includes at least one reimbursement that was signed off on by Donald Trump while he was President and another that came from The Trump Organization via a check signed by both Donald Trump Jr. and Weisselberg, the long-time CFO of The Trump Organization.
Additionally, while Cohen's testimony did not directly deal with the Russia investigation due to a pre-existing agreement between the Committee and the Office of Special Counsel that matters under investigation would not be discussed in public, Cohen did touch upon several matters related to the investigation that shed new light on areas that we've long known about. With respect to the leak of Democratic National Committee emails in advance of the Democratic National Convention in 2016 that Trump appeared from his public statements to have some advance knowledge of, Cohen offered testimony that would explain where the President may have gotten that information. Specifically, Cohen stated that he was in Trump's office shortly before the emails were released and that Trump received a phone call from Roger Stone said he had spoken with Julian Assange who told him that there would be a cache of embarrassing emails released in the coming days. Both Stone and Wikileaks have denied this claim, but Cohen's testimony is consistent with previous reports about Stone's contact with the Wikileaks founder.
Cohen also testified about an incident in June 2016 when he was in Trump's office and Donald Trump Jr. came into the office while Cohen was there and, in whispered tones, told his father that "the meeting" was set. This was allegedly just before the now infamous Trump Tower meeting between Trump Jr., Paul Manafort, and Jared Kushner on one side and nd a Russian lawyer named Natalia  Veselnitskaya, a Russian attorney who had previously been linked to the Russian government and who has since admitted to being an informant for the Russian Government. As we now know, that meeting was initially sold to the Trump campaign as being one at which "dirt" about Hillary Clinton would be revealed. When this meeting was made public a year later, the Trump Administration and Donald Trump Jr. would initially claim that the purpose of the meeting was to discuss the state of the law regarding adoption of Russian babies by American couples. It soon became apparent, though, that this claim was false. This is significant because we learned soon after news of the meeting broke that the President himself participated in drafting that initial false statement on the way home from a trip to Europe on Air Force One.
Perhaps the most interesting thing that Cohen said, though, is something that he didn't go into detail about. Under questioning from Republican Congressman Justin Amash, who was perhaps the only Republican who didn't spend his time yesterday obsequiously defending the President by attacking the witness, Cohen testified that there was another pending matter under criminal investigation that he was cooperating with the Justice Department on but which he could not testify to. While it's unclear what Cohen may have been referring to, much of the speculation afterward was that the additional matters involving The Trump Organization and the Trump Foundation, which are both believed to be under investigation by the U.S. Attorney for the Southern District of New York and by the New York Attorney General. The President himself is believed to be a potential target in both of these investigations.
If the President was looking for anyone to play defense yesterday, of course, it was the Republican committee members, but in the end, they did a pretty horrible job of it. As I noted, the focus of these Members of Congress (with the exception of Congressman Amash) was on attacking Cohen and his credibility rather than defending the President. Indeed, as Chris Christie observed during a break in coverage on ABC News, none of the Republicans even tried to defend the President or the actions he took or authorized based on Cohen's testimony. Instead, they sought to undermine Cohen as a liar even when he had evidence to corroborate his testimony while others sought to divert attention away from what Cohen was testifying to by bringing up issues that had no real relevance to the committee's proceedings. All in all, it came off as a tremendous failure on their part and something that, as Christie said, ought to worry the White House as we move forward toward further public hearings that will seemingly serve to corroborate much of what Cohen testified to.
In the end, notwithstanding his history as an admitted fabulist, Cohen came across to me, and apparently to many other observers, as a credible witness who revealed more about this President than we've known at any time in the past. The picture he painted is not a pretty one and, to the extent it can be corroborated, it is one that makes it clear that Donald Trump is a flawed character, a liar, a cheat, a racist, and a conman. These are things, of course, that was obvious to many people long before yesterday, but to hear it laid out in detail by one of his closest advisers is fairly shocking and ought to give anyone who isn't blindly partisan pause. All of this was known long before Trump became President, though, and the fact that Trump was elected anyway says as much about the party that nominated him and the people that voted for him as it does Trump himself.