Trump Played Key Role In Drafting False White House Statement On Trump Jr.'s Russia Meeting
President Trump was apparently directly involved in drafting a false statement regarding his son's meeting with a lawyer tied to the Russian government.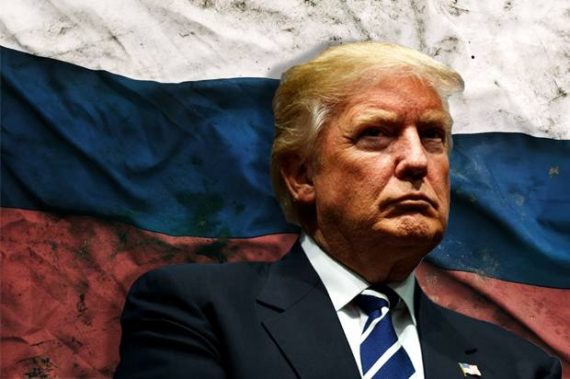 The Washington Post is reporting that President Trump played a direct role in writing a White House statement regarding Donald Trump Jr.'s meeting with a Russian lawyer that turned out to be utterly false:
On the sidelines of the Group of 20 summit in Germany last month, President Trump's advisers discussed how to respond to a new revelation that Trump's oldest son had met with a Russian lawyer during the 2016 campaign — a disclosure the advisers knew carried political and potentially legal peril.

The strategy, the advisers agreed, should be for Donald Trump Jr. to release a statement to get ahead of the story. They wanted to be truthful, so their account couldn't be repudiated later if the full details emerged.

But within hours, at the president's direction, the plan changed.

Flying home from Germany on July 8 aboard Air Force One, Trump personally dictated a statement in which Trump Jr. said that he and the Russian lawyer had "primarily discussed a program about the adoption of Russian children" when they met in June 2016, according to multiple people with knowledge of the deliberations. The statement, issued to the New York Times as it prepared an article, emphasized that the subject of the meeting was "not a campaign issue at the time."

The claims were later shown to be misleading.

Over the next three days, multiple accounts of the meeting were provided to the news media as public pressure mounted, with Trump Jr. ultimately acknowledging that he had accepted the meeting after receiving an email promising damaging information about Hillary Clinton as part of a Russian government effort to help his father's campaign.

The extent of the president's personal intervention in his son's response, the details of which have not previously been reported, adds to a series of actions that Trump has taken that some advisers fear could place him and some members of his inner circle in legal jeopardy.

As special counsel Robert S. Mueller III looks into potential obstruction of justice as part of his broader investigation of Russian interference in the 2016 election, these advisers worry that the president's direct involvement leaves him needlessly vulnerable to allegations of a coverup.

"This was . . . unnecessary," said one of the president's advisers, who like most other people interviewed for this article spoke on the condition of anonymity to discuss sensitive internal deliberations. "Now someone can claim he's the one who attempted to mislead. Somebody can argue the president is saying he doesn't want you to say the whole truth."

(…)

Although misleading the public or the news media is not a crime, advisers to Trump and his family told The Washington Post that they fear any indication that Trump was seeking to hide information about contacts between his campaign and Russians almost inevitably would draw additional scrutiny from Mueller.

Trump, they say, is increasingly acting as his own lawyer, strategist and publicist, often disregarding the recommendations of the professionals he has hired.

"He refuses to sit still," the presidential adviser said. "He doesn't think he's in any legal jeopardy, so he really views this as a political problem he is going to solve by himself."

Trump has said that the Russia investigation is "the greatest witch hunt in political history," calling it an elaborate hoax created by Democrats to explain why Clinton lost an election she should have won.

Because Trump believes he is innocent, some advisers explained, he therefore does not think he is at any legal risk for a coverup. In his mind, they said, there is nothing to conceal.

The White House directed all questions for this article to the president's legal team.

One of Trump's attorneys, Jay Sekulow, declined to discuss the specifics of the president's actions and his role in crafting his son's statement about the Russian contact. Sekulow issued a one-sentence statement in response to a list of detailed questions from The Post.

Apart from being of no consequence, the characterizations are misinformed, inaccurate, and not pertinent," Sekulow's statement read.
Sekulow's reticence to comment now is interesting considering the fact that, when this story about the meeting between Trump Jr. and the Russian lawyer, which we quickly learned also included Paul Manafot, who was Trump's Campaign Manager at the time, and Trump son-in-law Jared Kushner, Sekulow was front and center as a member of the President's legal team. During his numerous media appearances in the wake of those initial reports, Sekulow repeatedly denied that the President was involved in any way in the drafting of the initial White House statement regarding the meeting, which claimed that the sole purpose of the meeting was to discuss the issue of the adoption of Russian babies by American couples. As this report indicates, though, that claim turns out to be utterly untrue and it now appears that the President was a key player in drafting what seems to all the world to have been a willfully false statement about the nature of the meeting between his son and someone who, as we later learned, was represented to him to be a person with ties to the Russian government who had damaging information about Hillary Clinton.
As noted above, issuing misleading press statements isn't a crime, however, that doesn't mean that this report doesn't point to potential problems for the President and for the Administration going forward. If the report is true, for example, then it would seem to suggest that the President himself is willing to engage in what amounts to a cover-up in order to protect himself and those close to him. No doubt, this will have an impact on the direction of the investigation being conducted by special counsel Robert Mueller, which reportedly is already looking closely at the relationship between Russian officials and people close to Trump such as Michael Flynn, Paul Manafort, and Jared Kushner. After all, if Trump is willing to lie to the American people about the reason for a meeting that went undisclosed for more than a year then one has to wonder what other actions have taken place that may have been authorized or sanctioned by the senior Trump himself. Additionally, as Chris Cillizza notes at CNN, the revelations raise a whole host of questions that will likely be of interest not only to Mueller but also to the committees in the House and Senate that are just beginning their inquiries into Russian interference in the 2016 election and the ties between Trump officials and Russian officials or people representing the Russian government.
Given the fact that this story could only have come from someone very deep inside the White House, the very fact that it is being leaked is rather remarkable. The Washington Post's Aaron Blake, for example, likens it to a cry for help from inside the White House:
In this story, they're admitting that he is personally responsible for deliberately misleading the American people about a major topic of the Russia investigation. They're saying that he did something that could very well be construed as a cover-up and could damage his legal defense. The reason? Because they apparently can't prevail upon him in person and they think he simply doesn't get what kind of jeopardy he is putting himself in.

Part of it may simply be exasperation, as well. When you, as a White House staffer, continue to have to put up with the boss's unpredictable whims and furthering of unhelpful story lines (i.e. Russia was on my mind when I fired FBI Director James B. Comey), it's liable to lead to this kind of leaking.

Trump will surely view this as an effort by the deep state and/or the media to undermine him. He'd be better off understanding it for what it is: a desperate effort to help him help himself. After all, in this case, the advisers were right. The truth all came out in rather short order, and Trump only made it worse.
What the real motivation for these kinds of leaks is something we can't know for sure unless and until the leaker(s) come forward or otherwise identify themselves. At the very least, though, it's clear that reports like this guarantee that the reports about the Russia investigation that, based on his Twitter feed alone, are clearly something that Trump is obsessed with, will not be ending anytime soon and that the investigations themselves are just beginning.