Robert Mueller Has Some Questions For Donald Trump
Robert Mueller has some questions for the President, and the wide range of topic areas should worry President Trump significantly.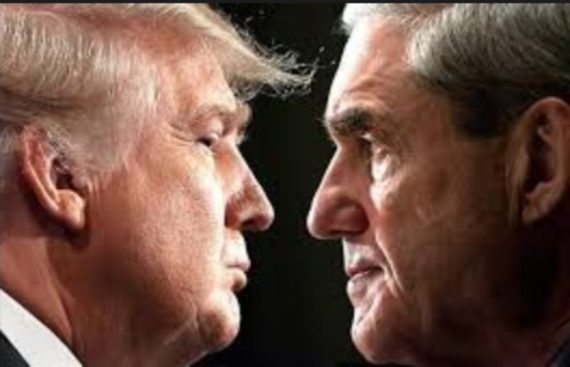 The New York Times has gotten hold of a list of questions and topic areas that Special Counsel Robert Mueller reportedly wants to touch upon in an interview with the President, and it's fairly revealing about where his investigation is head and what it may have uncovered that we don't know about already:
WASHINGTON — Robert S. Mueller III, the special counsel investigating Russia's election interference, has at least four dozen questions on an exhaustive array of subjects he wants to ask President Trump to learn more about his ties to Russia and determine whether he obstructed the inquiry itself, according to a list of the questions obtained by The New York Times.

The open-ended queries appear to be an attempt to penetrate the president's thinking, to get at the motivation behind some of his most combative Twitter posts and to examine his relationships with his family and his closest advisers. They deal chiefly with the president's high-profile firings of the F.B.I. director and his first national security adviser, his treatment of Attorney General Jeff Sessions and a 2016 Trump Tower meeting between campaign officials and Russians offering dirt on Hillary Clinton.

But they also touch on the president's businesses; any discussions with his longtime personal lawyer, Michael D. Cohen, about a Moscow real estate deal; whether the president knew of any attempt by Mr. Trump's son-in-law, Jared Kushner, to set up a back channel to Russia during the transition; any contacts he had with Roger J. Stone Jr., a longtime adviser who claimed to have inside information about Democratic email hackings; and what happened during Mr. Trump's 2013 trip to Moscow for the Miss Universe pageant.

Mr. Trump said on Twitter on Tuesday that it was "disgraceful" that questions the special counsel would like to ask him were publicly disclosed, and he incorrectly noted that there were no questions about collusion. The president also said collusion was a "phony" crime.

The questions provide the most detailed look yet inside Mr. Mueller's investigation, which has been shrouded in secrecy since he was appointed nearly a year ago. The majority relate to possible obstruction of justice, demonstrating how an investigation into Russia's election meddling grew to include an examination of the president's conduct in office. Among them are queries on any discussions Mr. Trump had about his attempts to fire Mr. Mueller himself and what the president knew about possible pardon offers to Mr. Flynn.4

"What efforts were made to reach out to Mr. Flynn about seeking immunity or possible pardon?" Mr. Mueller planned to ask, according to questions read by the special counsel investigators to the president's lawyers, who compiled them into a list. That document was provided to The Times by a person outside Mr. Trump's legal team.

A few questions reveal that Mr. Mueller is still investigating possible coordination between the Trump campaign and Russia. In one of the more tantalizing inquiries, Mr. Mueller asks what Mr. Trump knew about campaign aides, including the former chairman Paul Manafort, seeking assistance from Moscow: "What knowledge did you have of any outreach by your campaign, including by Paul Manafort, to Russia about potential assistance to the campaign?" No such outreach has been revealed publicly.

Jay Sekulow, a lawyer for Mr. Trump, declined to comment. A spokesman for the special counsel's office did not respond to a request for comment.

The questions serve as a reminder of the chaotic first 15 months of the Trump presidency and the transition and campaign before that. Mr. Mueller wanted to inquire about public threats the president made, conflicting statements from Mr. Trump and White House aides, the president's private admissions to Russian officials, a secret meeting at an island resort, WikiLeaks, salacious accusations and dramatic congressional testimony.

The special counsel also sought information from the president about his relationship with Russia. Mr. Mueller would like to ask Mr. Trump whether he had any discussions during the campaign about any meetings with President Vladimir V. Putin of Russia and whether he spoke to others about either American sanctions against Russia or meeting with Mr. Putin.

Through his questions, Mr. Mueller also tries to tease out Mr. Trump's views on law enforcement officials and whether he sees them as independent investigators or people who should loyally protect him.

For example, when the F.B.I. director, James B. Comey, was fired, the White House said he broke with Justice Department policy and spoke publicly about the investigation into Mrs. Clinton's email server. Mr. Mueller's questions put that statement to the test. He wants to ask why, time and again, Mr. Trump expressed no concerns with whether Mr. Comey had abided by policy. Rather, in statements in private and on national television, Mr. Trump suggested that Mr. Comey was fired because of the Russia investigation.

Many of the questions surround Mr. Trump's relationship with Mr. Sessions, including the attorney general's decision to recuse himself from the Russia investigation and whether Mr. Trump told Mr. Sessions he needed him in place for protection.

Mr. Mueller appears to be investigating how Mr. Trump took steps last year to fire Mr. Mueller himself. The president relented after the White House counsel, Donald F. McGahn II, threatened to resign, an episode that the special counsel wants to ask about.
In a separate piece, Times reporters Michael Schmidt and Matt Apuzzo go through many of the questions and try to parcel out what they tell us about what Mueller hopes to cover in a potential interview with the President, and what these questions tell us about the direction his investigation is headed. Their analysis is far too long and detailed to fairly summarize here without unfairly copying and pasting large segments of their work, so I'll simply refer the reader to their article. Adding to what Schmidt and Apuzzo conclude, though, my own read through the questions makes it clear that Mueller's investigation is focusing on some rather obvious areas.
On the collusion side, he's obviously heavily interested in what Trump may have known about contacts that former campaign and Administration officials such as Roger Stone, Michael Flynn, Paul Manafort, Rick Gates, George Papadopoulos, and others may have had with Russian officials. In that regard, it's worth noting that three of these individuals have pled guilty to a variety of charges and are cooperating with Mueller's investigation. This means that Mueller and his team most likely already know everything those three men know, and have had access to whatever electronic or other communications they may have had with Russians or with other officials affiliated with the Trump campaign. The questions also cover the June 2016 meeting in Trump Tower between the President's eldest son Donald Trump Jr., Manafort, and Presidential son-in-law Jared Kushner and Russian lawyer Natalia V. Veselnitskaya, who recently admitted that she is an informant for the Russian government and was apparently one at the time of this meeting.
In addition to collusion, Mueller is quite obviously focusing on issues of potential obstruction of justice by the President and his Administration. In that respect, the questions focus on a wide range of topics, all of which go to efforts by Trump to impede investigations regarding him or the people around him. Mueller proposes to ask the President about his conversations with F.B.I. Director James Comey to lay off an investigation of Michael Flynn's contacts with Russian officials. Also included in the long list of question on this side of the ledger are rather obvious questions about Trump's decision to fire F.B.I. Director James Comey, the reasoning behind that decision, and his subsequent public statements that he fired Comey because of the Russia investigation. Additionally, Mueller appears interested in efforts that Trump may have made to persuade intelligence officials and Members of Congress to bring their respective investigations to a close. Finally, and not surprisingly, Mueller is obviously interested in what role, if any, Trump played in responding to the reports about the aforementioned Trump Tower meeting with Ms. Veselnitskaya. This is particularly relevant since it has been reported that the President himself was personally involved in drafting a White House statement that was later proven to be deliberately misleading regarding the purported purpose of the meeting when it was first scheduled.
One interesting question is where this leaked document may have come from. Given the extent to which he has managed to keep a lid on the operation of his investigation, I find it somewhat hard to believe that this would have come from someone on Mueller's team. In that regard, it is worth noting that it seems apparent that this list of question is likely part of the back-and-forth communication that has taken place between Trump's legal team and Mueller's office regarding the scope and timing of an interview with the President. Part of that communication would include an effort on the part of Trump's attorneys to reach an agreement on the scope of the questions that Mueller and his investigators would ask, and this list is likely part of that negotiation. In that regard, it's worth noting that initially those negotiations were being handled by John Dowd, who left the Trump legal team several weeks ago. Dowd served as Mueller's primary contact on the legal team, and his departure meant that negotiations had shut down for some period. Recently, though, Trump brought former New York City Mayor Rudy Giuliani on to his team to take on roughly the same job that Dowd did. In the past, Giuliani has been a known leaker and the possibility that he or someone working under him is the source seems quite likely.
Whatever the source is, though, this list of questions seems to make clear that the main purpose of Mueller's questioning of the President would be to determine whether or not the investigators should consider the President to be a target of their investigation going forward. This would be significant because it has been reported previously that Trump's lawyers have been told that while the President is a "subject" of the Mueller investigation he is not presently considered a target. If that were to change, it could pose significant risks for the Presidents, particularly if Democrats retake control of the House of Representatives in November, thus giving them the power to pursue an impeachment investigation. It also seems clear that Mueller is focused on other individuals close to Trump, potentially including both Jared Kushner and Donald Trump Jr. While it's generally agreed that a sitting President cannot be indicted while in office, no such protection extends to his family members. Any indictment that hits that close to home could be devastating for the President's fortunes.
The final question, of course, is whether this release of the areas that Mueller is focusing on will make it less likely that the President will agree to an interview with Mueller. If he doesn't then Mueller could take the extraordinary step of attempting to subpoena the President to appear before one of the two Grand Juries that he has convened in this matter. That could set off one of the most epic court battles we've seen since the Watergate Special Prosecutor subpoenaed the Watergate tapes from President Nixon, and we all know how that turned out.